What can designers learn from the Travis Scott burger at McDonald's? Storytelling and the power of a successful partnership (not to mention some merchandising tips). From fast food to furniture, business is on the move. Read on for our weekly roundup of headlines, launches and events, recommended reading, and more.
BUSINESS NEWS
On Monday, Airbnb revealed the paperwork for its IPO, showing that after three quarters of pretty hefty losses, Q3 finally saw the home-sharing platform turn a profit. Over the first nine months of 2020, the company hemorrhaged $697 million as travel restrictions and stay-at-home orders brought travel to a standstill—but to keep the company afloat, CEO Brian Chesky laid off about a quarter of its staff and redesigned the website to focus on local stays during the pandemic, reports The Wall Street Journal. Sure enough, Airbnb bounced back, and its performance this past quarter has impressed investors, so much so that the company is expected to net a valuation of about $30 billion when it goes public.
The Ikea Foundation has donated nearly $5 million to the state of Texas, reports Furniture Today, to match the amount that the state paid in unemployment insurance to Ikea workers furloughed due to stay-at-home orders. The donation was part of the company's initiative to give back to the organizations that helped it weather shutdowns.
In light of the pandemic, many individuals have relocated to spend quality time with loved ones, especially older family members. Across the U.S., assisted living facilities and independent living centers have seen a 2.5 percent downturn in occupancy in each of the last two quarters, the largest drop on record, reports WSJ. Home builders that specialize in accessory dwelling units (backyard houses that can function as separate living quarters) are selling more houses designed for multigenerational living, rolling out additional designs for homeowners who want their elderly relatives to live with them. With increasingly stylish prefab options and a high demand, the multigen home market is growing fast.
Houzz has released its 2021 Home Design Predictions. Among the top 10 trends are multizone kitchens, sconce lighting, a return of brown and beige tones, and, as could be expected, elevated home offices and work nooks. The once sought-after open floor plan is also likely to be phased out in the year to come: "Anyone who had multiple family members attempting concurring video meetings in an open layout quickly saw the disadvantages to a lack of walls," reports Houzz. "The open plan isn't going away for everyone, but many people are considering sliding doors or partitions that can close off rooms for much-needed privacy."
The National Kitchen & Bath Association has released its 2021 Design Trends report, noting how the global pandemic has played a role in shifting tastes. Kitchens and bathrooms will continue to grow in size, with natural and organic aesthetics driving preferences for natural finishes and larger windows. For faucets, motion-control and hands-free solutions are on the rise, and in surfaces, quartz will continue to lead. In the bathroom, bidets and self-closing lids, floating vanities and motion-sensor lighting are among the dominant trends in the market. To see the whole report, click here.
LAUNCHES, COLLABORATIONS & PARTNERSHIPS
The Black Artists + Designers Guild has announced the 23 designers for its inaugural Obsidian Virtual Concept House, a futuristic departure from the typical showhouse, which will see each design team explore a vision of living for Black families. The designers will use smart home technology and sustainable systems as a font for their spaces, exploring a gamut of Black family identities. Obsidian Virtual Concept House will launch this winter, in partnership with Elle Decor, House Beautiful, Town & Country and Veranda, with California Home + Design serving as the regional media partner. The featured creators are Malene Barnett of Marlene Barnett Inc.; Kelly Finley of Joy Street Design; Cheryl Umbles of Cheryl Umbles Interior Design; Lisa Turner of Interior Obsession; Laura Hodges of Laura Hodges Studio; Danielle Fennoy of Revamp Interior Design; Anishka Clarke and Niya Bascom of Ishka Designs; BOA of OI Studio; Cristina Casañas-Judd and General Judd of Me and General Design; Linda Allen of Linda Allen Designs; Leyden Lewis of Leyden Lewis Design Studio; Everick Brown of Everick Brown Design; Sheryl T. McLean of McLean & Tircuit; Linda Hayslett of LH.Designs: Marie Burgos of Marie Burgos Design; Erin Shakoor of Shakoor Interiors; Lynai Jones of Mitchell Black; Kīyonda Powell of Kīyonda Powell Design Studio; Nikki N. Klugh of Nikki Klugh Design Group; Penny Francis and Casi St. Julian of Eclectic Home; and Bernadette Berry and Cheryl R. Riley of Cheryl R. Riley.
Meanwhile, this week, the Black Interior Designers Network opens the doors to its Iconic Home, a virtual showhouse produced in partnership with Architectural Digest. From November 18 to 24, the modernist upstate New York home will be on display on AD.com, featuring the work of 19 Black designers: Leah Alexander of Beauty Is Abundant; Ariene C. Bethea of Dressing Rooms Interiors Studio; Jason Bolden and Adair Curtis of JSN Studio; Michel Smith Boyd of Michel Smith Boyd; Tiffany Cobb of Tiffany René Interior Design; Brenda Danso of BD Interior Design; Anthony Dunning of Traders Haven Design; Christopher Charles Evans of Christopher Charles Interiors and IndigoRed; Tavia Forbes and Monet Masters of Forbes + Masters; Amhad Freeman of Amhad Freeman Interiors; Elaine Griffin of Elaine Griffin; Carmeon Hamilton of Nubi Interiors; Samantha Josaphat and Luis Medina of Studio 397 Architecture; Keia McSwain of Kimberly + Cameron Interiors; Brigette Romanek of Romanek Design Studio; and Eneia White of Eneia White Interiors. For a preview of the Iconic Home, click here.
West Elm has announced a partnership with Muji, marking the Japanese brand's largest product assortment offered through a U.S. retailer. Nearly 100 items for kitchen, bath and office will now be available through West Elm.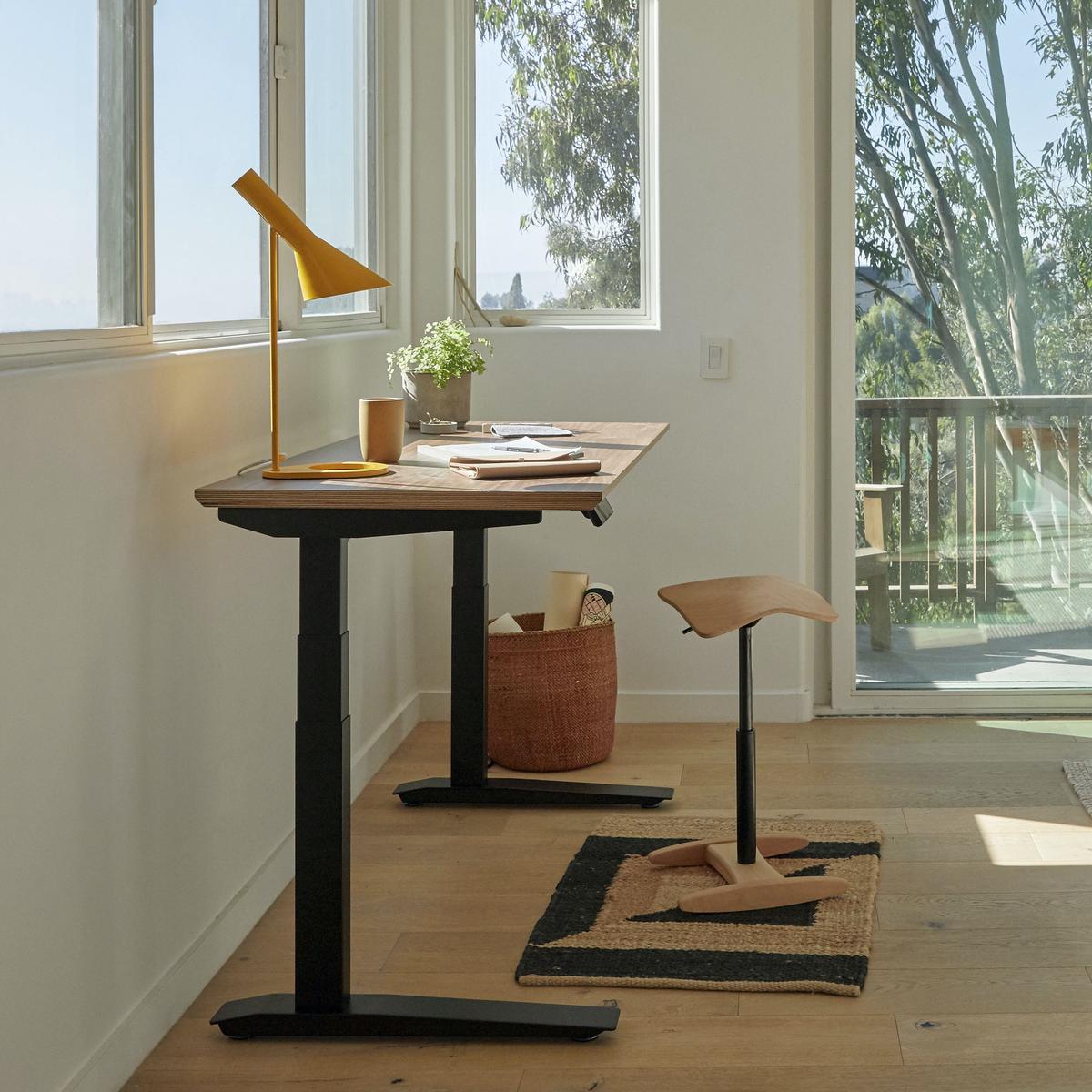 Detroit-based furniture company Floyd has partnered with standing desk manufacturer Fully (recently acquired by Knoll) to release a standing desk design. Featuring Fully's programmable frame design and Floyd's signature plywood table surface, the desk boasts a 350-pound lifting capacity in an FSC-certified finish.
RECOMMENDED READING
In The Wall Street Journal this week, writer Anne Marie Chaker explores how the coming winter has homeowners rethinking their backyards. From pizza ovens to fire pits, it seems that outdoor spaces won't lose their popularity on account of the thermometer—vinyl igloo workspaces are just the start.
T: The New York Times Style Magazine's dive into a restored South African pied-à-terre examines an impressive art deco mansion tinged by a deeply fraught imperial past. "Perhaps the most spectacular—and troubling—space is the Assembly Room," writes Nancy Hass. "Around the perimeter, the Afrikaner artist Le Roux Smith Le Roux painted five 18.7-foot-tall murals glorifying more than 100 years of brutal colonial history. … In pre-apartheid Cape Town, segregation was less formally enforced than it would later become, which meant that Le Roux was able to depict Black men alongside white people in the paintings. But those men were almost always shirtless, often seen from the back or with their faces obscured by a shovel or an arm in motion."
CUE THE APPLAUSE
The American Society of Interior Designers Foundation has announced the recipients of its 2020 research grants, which support projects that pursue the annual theme—this year, funding was granted to those prioritizing design equity, social justice, inclusion, and adaptive environments. The winners are Pam Light and Rachel Rouse of HOK for their project addressing how design can support those experiencing trauma, and Erika Eitland and Stephen Messinger of Perkins+Will for their healthy affordable housing toolkit.
AN Interiors has announced its third annual Top 50 list, recognizing a fleet of architects and designers that are creating cutting-edge contemporary interiors. Among those named are Accra, Ghana–based Adjaye Associates; New York and Richmond, Virginia–based ArchitectureFirm; and Portland, Oregon–based Hacker. To see the full list of honorees, click here.
The Diamond Exchange, Capital C Amsterdam building has been awarded the 2021 German Design Award for its renovation, which was led by architecture studio ZJA and Heyligers Design + Projects. The two roof towers and tile panelings have been reinstated, and atop the building, a new glass dome.
At the close of this year's Greenbuild Virtual conference, hosted by the U.S. Green Building Council, the organizers announced the individual and organization recipients of its 2020 Leadership Awards. The honorees represent public and private sector leaders who have demonstrated a commitment to LEED and sustainable design. The individual winners include: Chris Castro, director of sustainability and resilience for City of Orlando; Geoff Morgan, president and CEO of First Community Housing in San Jose, California; Kim Shinn, principal and senior sustainability wizard at TLC Engineering Solutions; Kenya Stump, executive director of the Kentucky Office of Energy Policy; and Gail Vittori, co-director at the Center for Maximum Potential Building Systems. Winning organizations include Autodesk, Chumash Casino Resort, TCF Center, Vanderbilt University and Vornado Realty Trust.
Also at the Greenbuild conference this year, the USGBC announced a new program that provides funding to 500 individuals in underserved communities to earn their LEED professional credential. As part of its broader efforts to increase equity in the design industry, the USGBC has launched All In, a strategy outlining 12 priorities and commitments to address social, health and economic disparity throughout green building. The organization is seeking feedback on the plan; to share your thoughts, click here.
The Sustainable Furnishings Council has been awarded the 2020 Forest Stewardship Council Leadership Award, which recognizes nonprofit organizations that drive progress on conserving forests, fighting climate change, and protecting wildlife.
The New York School of Interior Design has named Karina Infante as the first recipient of the Nate Berkus Scholarship for Socially Conscious Design. Infante is a first-generation American of Dominican descent in her final year of study for a master of fine arts in interior design.
Amerlux's Aerus lighting design has been awarded an Architectural Products Product Innovation Award for its innovative design features, including anidolic optics, an out-of-sight power feed, and high-angle LED luminosity.
CALL FOR ENTRIES
The Harvard Graduate School of Design has announced the opening of its 2021 cycle for the Wheelwright Prize, an annual international competition that awards $100,000 to an outstanding early-career architect to support research and a traveling fellowship. Applications will be accepted until January 31, 2021. For more information, click here.
IN MEMORIAM
Manlio Armellini, president of Salone del Mobile.Milano, passed away on November 16 at the age of 83 at his home in Italy. For more than 40 years, Armellini worked in the furniture industry working across trade shows, media and broader cultural events; he had been part of Salone del Mobile since its beginning in 1961, playing a pivotal role in shaping the event as designers know it today, and will be remembered for his passion for the Salone brand.
Homepage image: Courtesy of West Elm