"When we started this back in 2011, we could not have imagined how it would grow." That happy admission comes from Haily Zaki, co-founder of the Los Angeles Design Festival, on the eve of the show's ninth edition, kicking off June 20. If that sounds a bit bright-eyed, give a girl a moment: It's no easy feat to create a relevant design event that takes place across multiple venues but still has the easy vibe of weekend brunch.
Zaki co-founded the annual event with former Dwell on Design general manager Michael Sylvester (he's no longer involved in LADF) to answer a simple question: Why doesn't L.A. have its own citywide design event? Designers are spoiled with industry stalwarts like Legends of La Cienega, WestWeek, WestEdge, even buzzy newcomer Frieze, but summoning that overlapping creative flow is harder to achieve.
"We saw that there was so much great and innovative design happening in L.A. across all the disciplines but that perhaps the traditional trade show model was cost-prohibitive for some of the independent brands," Zaki tells Business of Home of the original concept. "It also seemed insane that a city as creative as L.A. did not have an official design week or festival. Perhaps due to our geography, it just felt like everyone worked in silos, and each industry had its own events, but there was no collective moment on the calendar when we all celebrated together."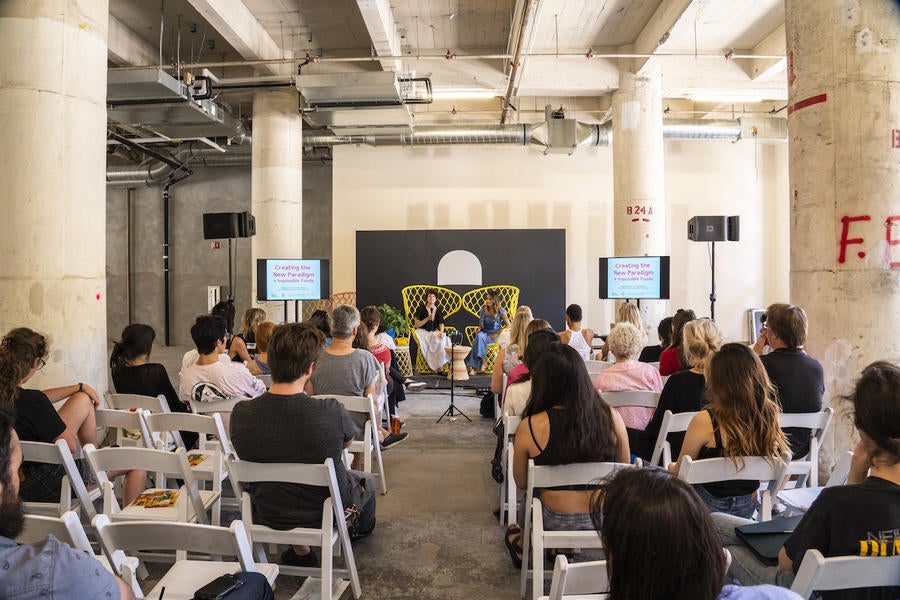 Last year's edition had more than 80 events around the city and about 10,000 attendees. Zaki estimates there will be more than 12,000 this year. We asked her what it takes to put on a show of this size, how she keeps programming interesting, and the challenge of courting sponsors while maintaining independence.
Tell us about the early days.
At first, we acted like a calendar aggregator and the festival was three weeks long to give participants a wider window. We soon realized that was utter insanity and we shortened it to four days! And we started taking more of a curatorial role, trying to geo-bunch events, and eventually that led to us curating talks, exhibitions, installations and more. I remember our first opening-night event on the roof of The Standard, and there were 20 of us. Last year, on the roof of the ROW DTLA for our opening night, we had over 250 guests.

And how did it grow from there?
The turning point really came once we found a physical home for the Festival at ROW DTLA. The L.A. Design Festival curates what is essentially the nucleus of a much larger ecosystem of creative communities, spaces and places. In the grand scheme of things, the L.A. Design Festival is young, only one year shy of a decade. But, like our city, we're scrappy and constantly changing.
How did you market the festival?
We could definitely stand to market more and earlier! Unfortunately, participants often register so late that our runway for promo is shortened. Luckily, we have great media brands to help spread the word, and the Festival participants are so plugged in to their communities. Honestly, social media is our best and most effective tool. One day we hope to have an advertising budget!

How did you originally get sponsorships? And how did you finance the event? How is that done today?
Back in the day, the Festival was very grassroots, and if there were any operational expenses, I would absorb them. Then, as we grew, we started sourcing sponsorships from local brands and partners, people in the community who we knew. As we've grown, brands now come to the Festival. We also work with a sponsorship consultant who helps us bring in larger brands and we build specific programming around those sponsors. We work tirelessly to keep that balance between being able to underwrite the programming without becoming overly brand-driven.

How do you keep a balance between independent exhibitors and corporate sponsors?
I think it's all too easy to get blinded by the dollar signs, but we always remind ourselves that content is key. Maintaining a narrative, having something to say, creating something unifying that everyone can get behind is so essential when trying to strike that balance. That's why we've started coming up with a main theme, however abstract, to organize the content around. This year, the theme is "Design With Purpose." Last year, it was all about accessibility and the idea that "Design Is for Everyone." And in 2020, our 10-year anniversary, the theme will be "Design for the Future."
You're a 501(c)(3) nonprofit organization—can you walk us through what that means financially for the festival?
From the outset, we wanted to establish a brand-agnostic organization, which is why we chose to be a nonprofit rather than a for-profit. All funds raised through sponsorship go directly back into programming and operations. We have no employees, there are no salaries pulled from sponsorship. Some critics out there might think that there is no transparency here. But let me be transparent, we are a nonprofit—nay, zero-profit—organization, whose main goal is to shine a spotlight on L.A.'s creative community. Ultimately, our goal is to raise more funds, maybe go after some grants, and create a stronger financial infrastructure and a design scholarship program.

In 2011, things were so different. Instagram was just getting started. Online brands were growing in home but not nearly to the degree they are now. What have you learned about growing this festival in the Instagram age?
I'm not sure where we would be without Instagram. Since we don't have an official advertising budget, we use social media to communicate with participants, sponsors and the public. Design is something that lends itself so well to the platform, and we're still learning and working to improve the ways that we leverage it. But we did recently give up our podcast (which is a separate business model in and of itself and not our forte) and transform it into an IGTV channel, which allows us to share content in a fun and accessible way. We love sharing the stories behind the brands, and social media is a great way to do that. We've grown our Instagram steadily over the years to close to 15,000.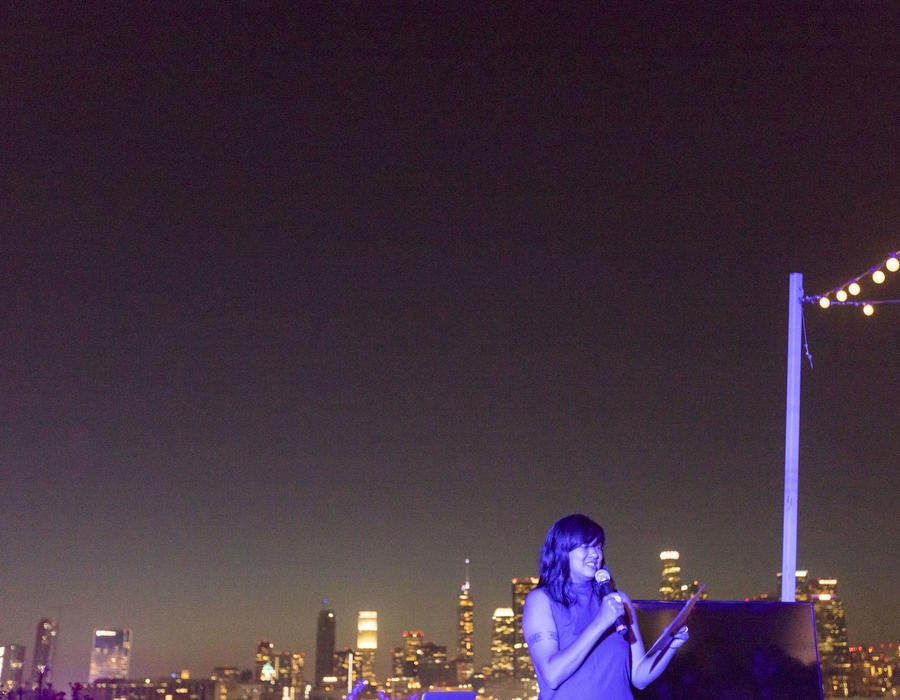 Design shows are hard to produce. What are the biggest challenges with this kind of project?
Where do I start? I suppose we're not really in the business of producing design shows. We're more in the business of galvanizing the design community and getting design shows like Intro/LA to be part of the Festival; this year, IDS Vancouver will also be participating, really celebrating that West Coast kindred design spirit. The L.A. Design Festival itself is not a show, but more of an ecosystem of shows, events and tours. The main challenge is building the financial partnerships that will make it possible for the Festival to continue to grow and evolve.
Tell us what's new or different this year.
We are so excited to host the first-ever ADU Home Tour. ADUs [accessory dwelling units] are a hot topic of conversation in our city, which faces an acute housing shortage. This modest typology has the potential to create density, encourage a car-free lifestyle, and turn homeowners into micro-developers. Now that state policies have changed to make it easier to codify and build these structures, there's a market for them and more designers are getting into the ADU typology.
We're hosting a tour of six backyard domiciles, including one prefab ADU that we're building on-site at ROW DTLA. We're also launching the Design Supper Club, which is an itinerant dinner party series that takes guests home with some of L.A.'s most notable designers and architects. Intro/LA also returns with an all-star cast of California designers. This is such an impeccably curated show that really features the cool kids of design in town.
Last but not least, the L.A. Design Festival recognizes one amazing woman for her contributions to her industry, city, and society at large with the ICON award. This year, the ICON recipient is architect, educator, designer and rebel Elena Manferdini.
How is the L.A. Design Festival catering to the working interior designer?
The L.A. Design Festival is not a trade show; our programming is not transactional, nor is it meant to be. Designers should come to the Festival to be inspired, to meet and see work by independent makers, to see what other creatives in other design disciplines are doing, to understand what makes L.A. such a creative place. I think we all benefit from creative enrichment, seeing what lies a bit outside of our everyday. It's like why we all should take vacations. Sometimes you just need to stop and refresh to be inspired. The L.A. Design Festival is kind of like a four-day design vacation. You experience it, soak up and explore your own city through a different lens, then go back to your day-to-day inspired—and possibly with a few new contacts.
Homepage photo: Paul Vu