Kohler's booth at the annual Kitchen & Bath Industry Show is always something of a showstopper, not only because of its massive footprint (the most recent exhibit was 13,700 square feet), but also because the brand has water piped into many of the more than 2,000 fixtures on display. It's quite a feat for a booth in the main hall of a convention center. The tactile experience is one the brand prides itself on offering year after year, giving designers and other attendees the chance to see the latest product introductions in their full splendor. But with the pandemic still raging, KBIS, held each February, has shifted to a virtual model for 2021. While Kohler will have a presence at the virtual event, the brand will also separately launch a digital summit called Kohler@Home.
The virtual symposium, scheduled for February 2 and 3, will feature the debut of more than 80 products. Additional programming aims to explore the impact of COVID-19 and future technology on kitchen and bath design, through discussions with designers like Amy Lau, Courtney McLeod, Jean Stoffer and Nicole Gibbons. "It was important for us to translate the experience of our annual booth—where we tell the story of these new products and let people see the beauty of the details and the innovation—into this virtual platform," says Shawn Oldenhoff, Kohler's North American president of kitchen and bath. To do that, Kohler will reallocate much of its booth budget toward highly produced video content that captures a feeling similar to the in-person experience.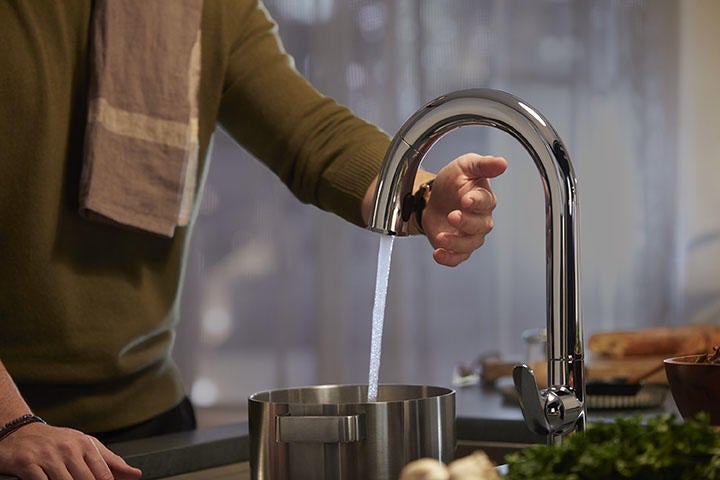 Digital programming does present the brand with some unique opportunities that are less conducive to an in-person event. By going virtual, for example, Kohler can host more in-depth product sessions. "While we may not have had the budget to send everyone who worked on a new product to KBIS in person, we can have a whole team on these virtual panels—you're not just hearing from our marketing team or sales reps, but from the people who designed and constructed it, as well," says Oldenhoff.
Other than product knowledge, the main focus of the programming will be the future of the kitchen and bath sector, which has been profoundly impacted by the pandemic. "We're seeing that COVID-19 has accelerated a lot of the trends we were already seeing, like voice-activated and touch-free technology," says Oldenhoff. In 2020, Kohler has seen cleansing seats and bidet seat sales grow significantly in every channel—brick-and-mortar locations are noting double the typical number of orders, and online sales are up four times, with some sites experiencing growth up to 10 times what it was pre-pandemic. ("Hygiene is definitely at the forefront of people's minds," Oldenhoff confirms.)
While in-person events will return eventually, he views Kohler's foray into virtual programming not as a one-off, but as a permanent addition to the brand's yearly schedule. Even when trade shows are safe again, he thinks people will expect digital programming if not as an alternative, at least as a supplementary option. "Experts say that it takes six months to adopt a new habit—well, we've all been doing Zoom calls for nine months," says Oldenhoff. "The world has forever changed, and trade shows aren't immune to that. We have to adapt and be agile in order to deliver to the expectations of our customers."
Homepage photo courtesy of Kohler