These days, it's about creating small rituals that help us feel like our sharpest selves. For some, like Obama White House interior designer Michael S. Smith, that means carving out time to learn from design icons like Billy Baldwin; for others, it might mean exploring uncharted design principles, like feng shui. Read on for headlines, launches and events, recommended reading, and more.
BUSINESS NEWS
Last week, New York–based rental and co-living platform Common announced a $50 million series D funding round led by Swedish investment company Kinnevik, bringing its total venture capital funding to $110 million. Common currently operates across 11 U.S. cities—with this new injection of capital, the company will continue to expand, with several thousand units under development and plans to expand into 26 cities around the world. (Founder Brad Hargreaves outlined his plans for the brand earlier this year on an episode of the BOH podcast.)
Detroit-based direct-to-consumer online gardening center Bloomscape has secured $15 million in a series B round led by General Catalyst, Revolution Ventures and Rock Ventures, bringing its total fundraising to $24 million. The company plans to use the investment to grow its product offerings, expand its team and strengthen its distribution model. On top of this additional capital, Bloomscape has announced its acquisition of Vera, a plant care app, which will provide customers with support through tips, troubleshooting and watering reminders.
Lexington, Kentucky–based bedding giant Tempur Sealy International is introducing a new antimicrobial and antiviral technology that is expected to be included on select products beginning in early 2021. The EPA-registered SurfaceGuard technology kills 99 percent of bacteria on mattress surfaces, and is 99 percent effective against viruses (including the coronavirus) within five minutes.
Last week, a proposed expansion of Industry City in Brooklyn, a development that promised 20,000 new jobs, was canceled after facing opposition from the community, reports The New York Times. The owners argued that the project would draw commerce and work opportunities to the neighborhoood, but it required the city's approval for a major rezoning and was countered by the neighborhood's city councilman out of concerns about exacerbating gentrification in the area.
The American Institute of Architects has released its 2030 Commitment survey, which analyzed energy use in buildings from 311 companies, tracking recent statistics around predicted energy use (pEUI) reduction, and extrapolating the data to predict energy consumption in 2030. Of the 20,300 projects surveyed, there has been a 69 percent increase in firms that achieved a goal of 70 percent pEUI reduction since 2018.
LAUNCHES, COLLABORATIONS & PARTNERSHIPS
On October 2, the Black Interior Designers Network is hosting its first-ever Master Class, a full day of panels and presentations that will help foster business growth for the organization's members. BIDN president Keia McSwain will deliver welcoming remarks with global design maven Patti Carpenter, followed by lessons on sourcing for profitability with Veronica Solomon, content creation for brand partnerships with Arianne Bellizaire and Emily Henderson, and more, all capped off by a cocktail hour hosted by Michel Smith Boyd. For more information about the event, click here.
New York–based design education nonprofit Be Original Americas has published on-demand virtual programming from its 2020 fellowship, which offers a behind-the-scenes look at the processes of 22 member companies, from Bernhardt Design and Fritz Hansen to Georg Jensen and Maya Romanoff.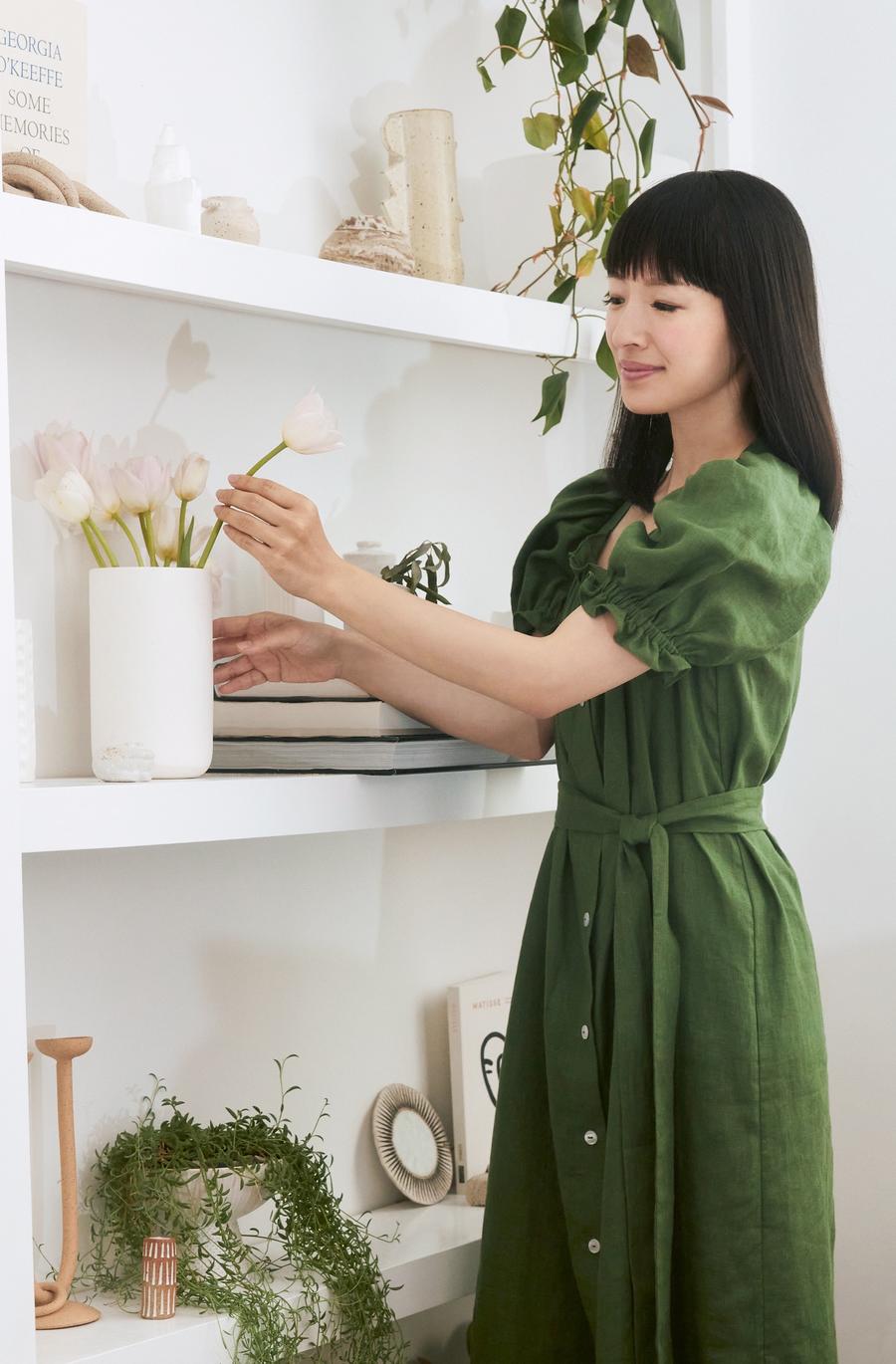 Courtesy of KonMari Media, Inc.
Marie Kondo has launched an online tidying course, KonMari Method: Fundamentals of Tidying. The 10-episode video series offers step-by-step instruction and visual inspiration for how to bring the organizational guru's bestselling tidying strategies into your own home.
Amazon-owned home security company Ring has announced the launch of a new, autonomous camera drone that flies around inside your house, reports The Verge. The Always Home Cam is designed to give a perspective of any room in the home when its owners are away, and is expected to retail at $249.99 when it begins shipping next year.
Bed Bath & Beyond and its subsidiary brand, online nursery marketplace BuyBuyBaby, will launch same-day delivery for the holiday season, working with Shipt and Instacart to ship products directly to shoppers' doorsteps.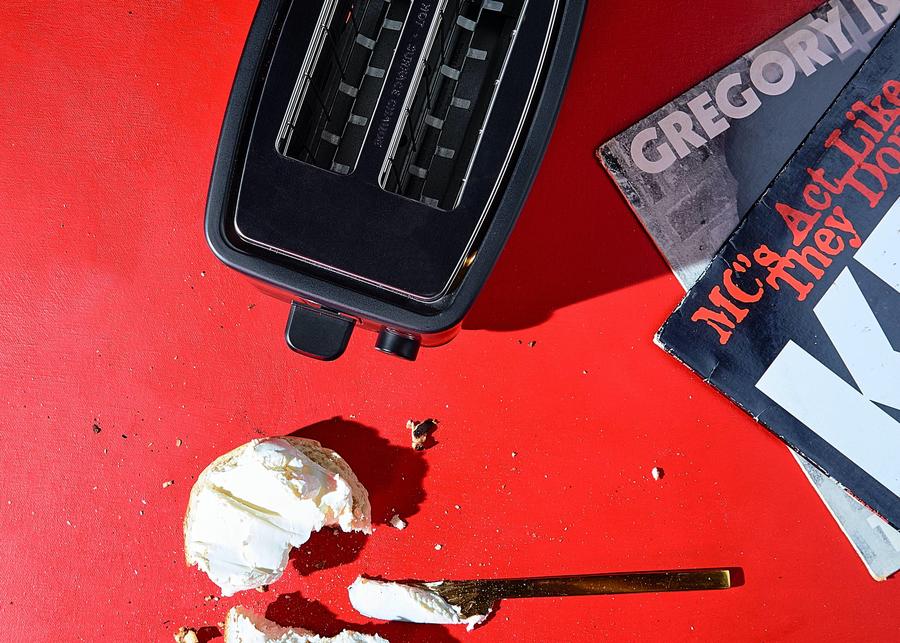 Courtesy of Williams-Sonoma, Inc.
Bronx-based culinary collective Ghetto Gastro and New York–based kitchenware brand Crux have partnered with Williams-Sonoma Inc. to release a collection of small kitchen appliances, including a programmable coffee maker, blender, bread maker and toaster. Inspired by a younger generation of cooking enthusiasts, the collaboration draws on the talents of culinary leaders that are working to advance social justice through conversations about race, class and inclusion.
Columbus, Ohio–based Value City Furniture has announced a partnership with Grand Rapids–based interior designer and social media influencer Farah Merhi, who will serve as the brand's first-ever style expert.
COLORS OF THE YEAR
Pittsburgh-based global paint brand PPG has announced its color palette of the year for 2021: Transcend, a sandy brown; Misty Aqua, a cousin of Robin's Egg Blue; and Big Cypress, a soft shade of terra cotta.
HGTV Home by Sherwin Williams has also announced its color of the year: Passionate—a warm berry-toned red.
RECOMMENDED READING
The recent return of The Metropolitan Museum of Art was a bright cultural beacon in the drab landscape of dreadfully slow COVID reopenings—and design discoveries await! Robin Standefer and Stephen Alesch, the principals of Roman and Williams Guild, have reimagined the British decorative arts galleries. Author and former Bon Appétit editor Christine Muhlke spotlights the incredible transformation for Prior, with behind-the-scenes photos of the process: "Gone are the Chippendale and the staged vignettes cordoned off by dusty ropes," Muhlke writes. "Instead, you'll find soaring bronze-edged vitrines in which over 100 teapots, from gilt to humble slip, are lit like jewels."
Everyone has at least one item in their home that carries special meaning, whether ephemera from far-flung locales or a treasured family heirloom. Food52's Garrett Fleming interviewed 11 design experts, asking each to tell the stories behind their most cherished objects at home.
"For many Black designers, it is a complicated moment. While eager to seize the momentum, some see little reason to trust that talk of greater inclusiveness will translate into results," writes Stephen Wallis for The New York Times in an article that profiles a number of initiatives spotlighting the incredible talents of Black designers. He taps creatives like Stephen Burks, Malene Barnett and Jomo Tariku for their experiences and thoughts as design finds a more equitable keel.
In The Wall Street Journal Magazine's "My Monday Morning" series, self-motivated individuals share the moments that kick off their weeks—and for design legend Frank Gehry, every morning begins with a swim (yes, even at age 91). "It's changed how I feel about the day," he tells the magazine. "I feel very good. In normal [times], without the lockdown and stuff, it would be harder to start a regime like that."
Here's a fun one: TheToyZone tapped some seriously talented CGI artists to create six fictional homes reimagined as Polly Pockets. From Stranger Things to The Lord of the Rings, these miniature models capture the essence of several beloved on-screen characters and their homes.
CUE THE APPLAUSE
Having received the largest number of entries in over a decade, the International Society of Furniture Designers 2020 Pinnacle Awards has announced its list of finalists—come October 24, interior designer Corey Damen Jenkins will keynote the YouTube-streamed awards ceremony, where this year's winners will be announced. To see the full list, click here.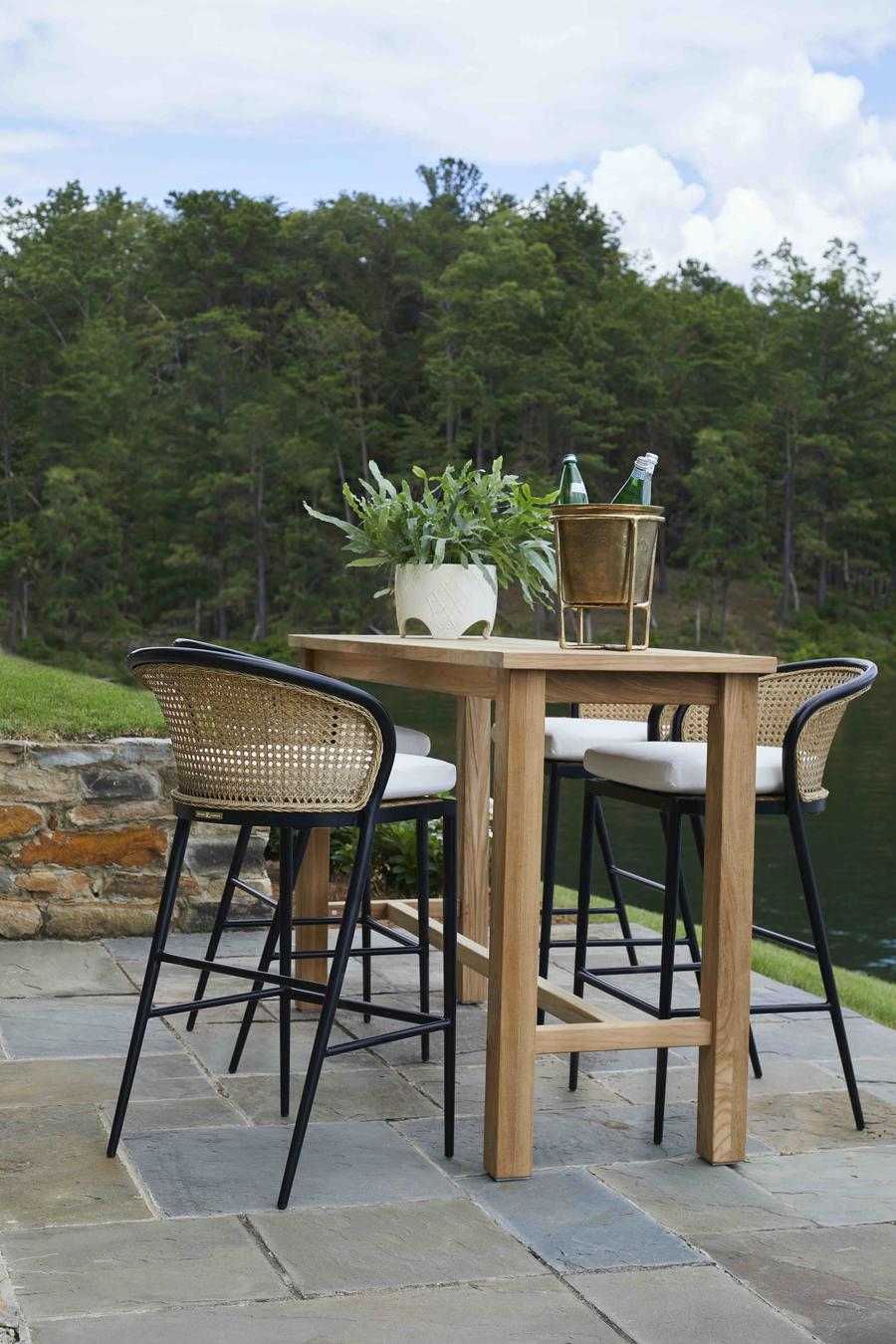 Courtesy of Summer Classics
Gabriella White LLC, the Alabama-based parent company to furniture brands Summer Classics and Gabby, has been awarded two 2020 Design Excellence Awards from the International Casual Furnishings Association. Summer Classics was named the winner in the Complimentary Casual Products category for its Brant coffee table, and also won best Dining Bar Chair for its Havana 30-inch bar stool.
Boston's Society of Arts + Crafts announced that North Carolina–based designer Aspen Golann has won the 2020 John D. Mineck Furniture Fellowship, along with its $25,000 prize. The award, funded by the John D. Mineck Foundation, honors the late Boston-area businessman who developed an appreciation for fine furniture and nurturing the early-career artists who make it.
IN MEMORIAM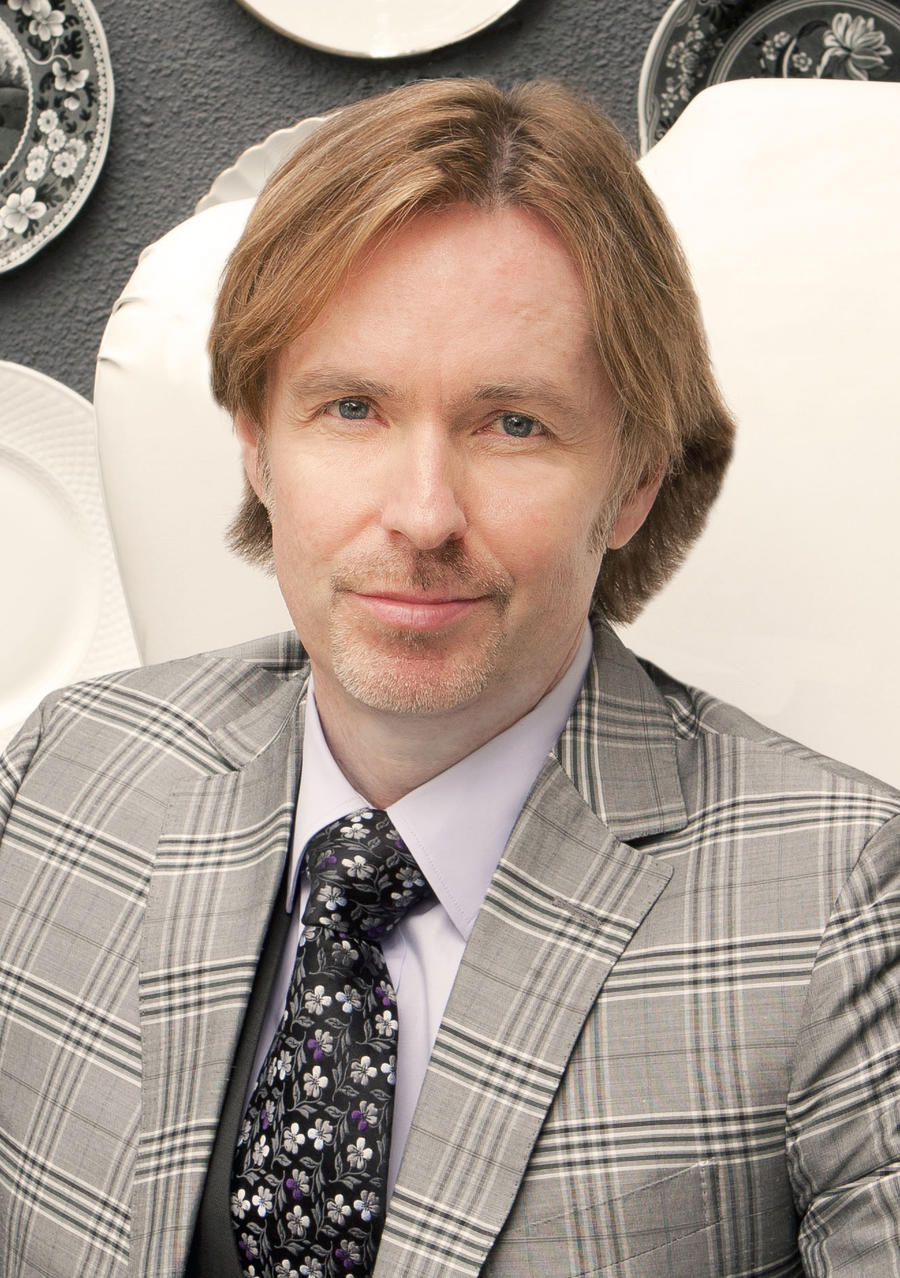 On September 24, design visionary Jeff Sampson passed away after a nine-month battle with brain cancer. Most recently, Sampson served as the vice president of marketing at the Pacific Design Center in West Hollywood, but he has served as a central figure to the Los Angeles design community for years. His passion for the design industry will be missed.
Homepage image: A living room featuring the HGTV Sherwin-Williams 2021 Color of the Year, Passionate | Courtesy of Sherwin-Williams