Running an interior design business is not just about creating beautiful spaces for clients. In today's world, it's a multifaceted enterprise that can include furniture design, product licensing, brand partnerships and content creation. Increasingly, entrepreneurial designers are turning to real estate in order to bring all the aspects of their business together in a cohesive package—and sell it, of course.
Flipping houses is not a new concept for designers—HGTV has built a rabid following based entirely around the idea—but digitally savvy designers see the process as more than just a real estate transaction. It's an opportunity to showcase their vision without having to answer to a client.
Here's how three different designers approach the process.
The Lifestyle Tastemaker
For the launch of California-based fashion and decor designer Jenni Kayne's home collection two years ago, her team turned an Airstream into a traveling pop-up shop that looked like a Jenni Kayne home. They hit nine cities in three months, and received "tons of press" about the renovation process. Her team took it as a sign: We should try this again.
"Ever since then, we've been wanting to dip our toe into more home projects," says Julia Hunter, president of Jenni Kayne Design, adding that two of Kayne's homes have been featured in shelter magazines. "We've been wanting to integrate the way that she lives in her homes with content that helps us show our products together."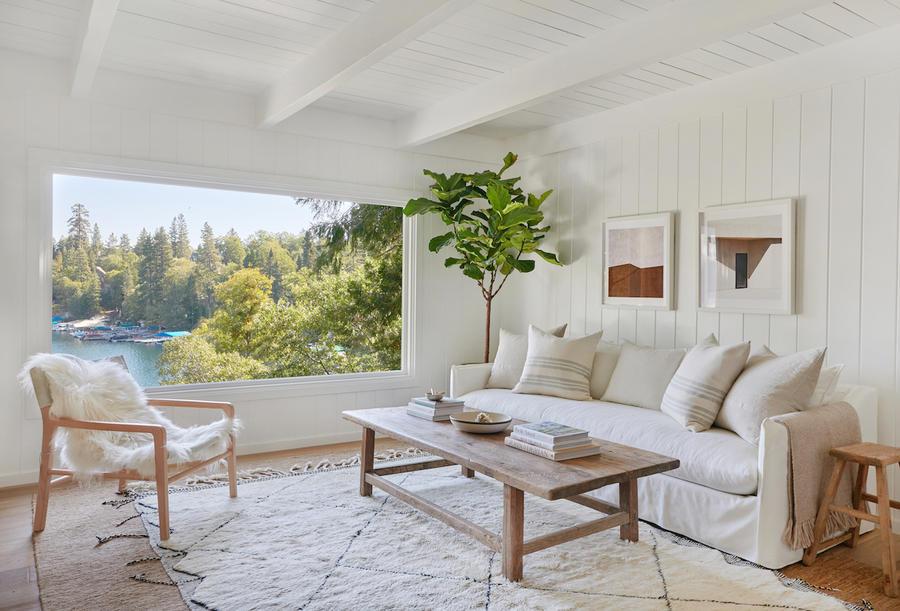 Kayne's team finally found the right opportunity this spring: a 2,678-square-foot home in Lake Arrowhead, California, purchased for $1.1 million in April. Kayne's team documented the five-month renovation process, shooting photography and video of every room before, during and after, in order to deliver content that resonates with her audience.
The bountiful harvest included an Instagram TV tour that has 100,000 views and a video and photo tour for the blog, all distributed to press. When the home was completed in September, Kayne's team invited 50 influencers to spend the day at the property and post about it on social, then hosted a contest for a follower to win a stay at the home. The home has also been the set for numerous photo shoots for brand partners that contributed product.
Of course, like any renovation, Kayne's project had its headaches. As the project progressed, the spend increased (the team declined to share exact numbers, only that the remodel went over budget), highlighting the necessity to sell the house at a profit—it's now on the market for $2.195 million. Assuming the deal works out ("Selling this home is a requirement for us to do more in the future," says Hunter), Kayne's team is currently on the hunt for the next flip—maybe a ranch-style home in Ojai or Santa Barbara—and hope to reveal Jenni Kayne house No. 2 next year.
The Queen of Content
Blogging and social media are not secondary to Emily Henderson's design business—in many ways, content creation is her business. She has 835,000 Instagram followers and counting, more than 10 million monthly viewers on Pinterest, and a blog with a full-time staff. She's been blogging for a decade, and she knows well what performs best: posts about her personal projects. She gets upwards of 20 posts out of a single project by revealing it piecemeal, offering inspiration, and sharing lessons learned.
"Unlike with client work, I can be the most honest and transparent on process, mistakes, resources and prices—and I can execute much faster," Henderson wrote in 2017 when announcing a new fixer-upper project in, coincidentally, Lake Arrowhead.
The Mountain House, as it's known to her followers, was not a flip, because Henderson never intended to sell, though it is available for rent, in part because it was "the world's most over-budget project." But the content strategy behind it ultimately led her to branch out into the flipping business.
In January 2018, Henderson revealed a new project: the Portland Fixer Upper. Her brother wanted to invest in real estate, and she "was looking for an investor in which to do more high-end projects with no client, for content." They struck a deal: Her brother and his wife would buy the house, Henderson would design and document the whole thing, and then they would sell it, with Henderson getting a portion of the profit.
Together they paid $850,000 for the home in January 2017 (they spent a year planning and demoing the house before sharing any content on the blog), listed it for $2.6 million in July 2018, and it sold for $2.398 million last month. Henderson hasn't revealed the entire cost of the renovation, but she implies in this post that it wasn't profitable.
She's careful to note that the project was not a typical flip: "I cost us a lot by making big mistakes and choosing to do some more custom (and therefore expensive) things to the house that no one would EVER do in a flip," she wrote in April.
Henderson continued: "The intent of this house for me wasn't to make a ton of money. It was a portfolio project, so I'm very glad it looks the way it does, but I now know where all the profits disappeared to: custom cuts, at my request. Do I think that doing these things helped the overall price of the house and helped create more of an emotional sale? Not as much as I had hoped."
The Modern Luxury Marketer
To give you a sense of the budget for designer Windsor Smith's latest flip, consider this: The team spent $250,000 on marketing alone, with nearly half of that cost going to production of a 2:40 minute video. "I wanted to tell a story, visually, about a day in the life of the house, in a Fellini-esque way," says Smith of the video. "Something that's part fantasy, and yet tactile enough so people could see themselves living in it."
The house itself, called The New Homefront, is a 13,000-square-foot mansion in the Brentwood neighborhood of Los Angeles. It was a "radical reconstruction" of an existing house that Smith originally paid $7.5 million for, according to records. The project took four years to complete, and it's currently on the market for $33 million.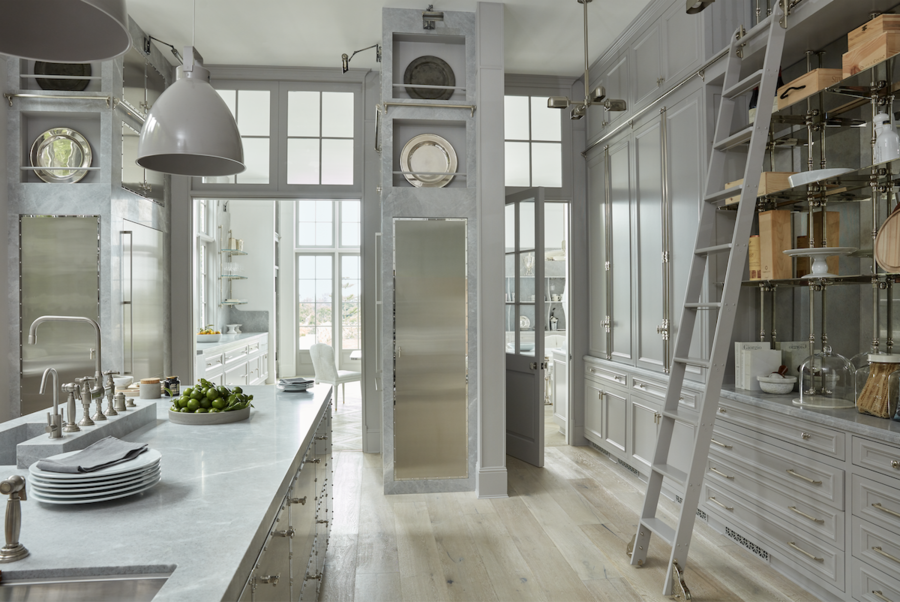 Smith has been flipping houses for years. Her husband is a real estate agent, and the pair often turn their own homes into projects, steadily increasing their real estate cache and the level of luxury. In the late 2000s, Windsor branched out into spec houses, and her first project, The House of Windsor, an 8,000-square-foot Brentwood home, sold to Gwyneth Paltrow for $10 million in 2012.
She sees the latest project as a sequel to the House of Windsor. "I'm making an architectural commentary on where I think the luxury family is when I'm building them; that's always where design emanates out for me," says Smith, who attributes her success to a deep understanding of her clientele—and presentation.
That entails the high-touch video, as well as the products and brands represented in the space. Nearly a third of the furniture in the home comes from Smith's Opus collection, and her line of Kravet textiles is throughout, as well as her line of Arteriors lighting. Smith says that the home has been a solid lead generator for new projects.
"It's the best business card you could have," she says. "It's the ultimate showcase."
Homepage photo: Design, Emily Henderson | Photo, Sara Ligorria-Tramp