In its first step toward circularity, Pottery Barn has launched Pottery Barn Renewed, a line of recycled products made in partnership with The Renewal Workshop. The products consist of imperfect and returned Pottery Barn textiles, from bedding to table linens, that The Renewal Workshop will restore to like-new quality and resell.
"Circularity is something we see often in the fashion industry but less in the home furnishings space, and we wanted to continue to be a leader by example," Pottery Barn president Marta Benson tells BOH. "We wanted to go beyond just the materials we use and think about our approach to recycling and reuse. Landfill diversion and circularity are two areas where we had already been working to reduce waste while improving our carbon footprint; however, we also saw opportunities to do more."
Courtesy of The Renewal Workshop
After deciding to pursue a circular endeavor last year, Benson and her San Francisco–based team sought out The Renewal Workshop, an Oregon-based company that operates a zero-waste circular system that upcycles discarded apparel and textiles. "The Renewal Workshop is a subject matter expert," says Benson. "They have helped industries move away from the take-make-waste linear system and embrace circular practices. We were excited to be able to work together to make further strides in the home furnishings space and lean on their expertise."
Pottery Barn Renewed will feature bedding, bath, curtains, pillows, throws, table linens and robes, with prices ranging from $10 to $215.
Though The Renewal Workshop has partnered with home and apparel brand Coyuchi (in addition to fashion companies from Prana to Mara Hoffman), the Pottery Barn collaboration will be its largest partner in the home space. "Our most recent research indicates that 82 percent of what brands consider waste can be renewed and resold," says Nicole Bassett, co-founder of The Renewal Workshop. "Pottery Barn has tapped into this new supply chain with their Renewed collection, and the results are both beautiful and sustainable."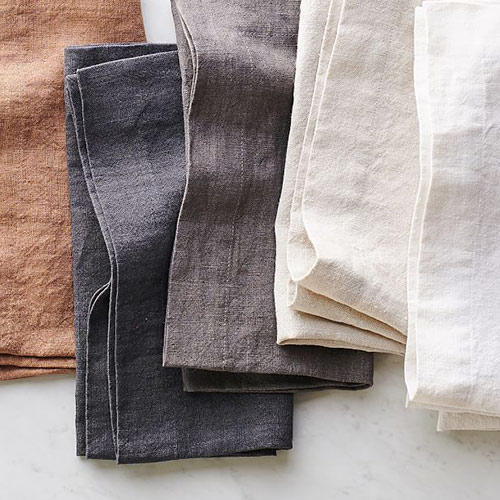 Speaking at the Future of Home conference with Coyuchi CEO Eileen Mockus earlier this week, Bassett discussed how the home industry's slow shift toward circularity seems to be ramping up. "With the pandemic and the economy shifting, more companies are recognizing that business as usual is not the way they're going to recover from this," said Bassett. "It makes a lot of sense. Brands already own and control this product in the market—why not get it back?"
The move is part of a larger goal for Pottery Barn's parent company, Williams-Sonoma Inc., to reach 75 percent landfill diversion—the process of deflecting waste away from landfills toward recycling systems—across the company by 2021. "We recognize the importance of extending a product's life as the best way to avoid the landfill and let that guide us as we sought out a solution and embarked on this partnership," says Benson. "We wanted to bring this program to life as quickly as possible so we could begin to make an impact. We see it as an opportunity to gain knowledge and will continue to evolve for the benefit of our customers and our planet. Pottery Barn Renewed is just the start."
Homepage photo: Renewed Pottery Barn pillows and throws | Courtesy of Pottery Barn