La Cienega Design Quarter's 11th-annual Legends has a theme that, to be honest, is a bit on the nose this year: "Legendary: Icons of Design." Opening on May 7, the three-day design festival is focused on shopping, exploring and grandly celebrating living and past stars. Forty designers took to LCDQ shop display windows to pay homage to their mentors and guides. Read on to hear some of them dish on who inspires them the most.

Brooke Giannetti
Giannetti Home, Ojai, California
Window: Compas Stone International, 845 N. La Cienega Blvd.
Icon: Bunny Mellon
Inspiration: "Although not a trained designer, Bunny Mellon inspires us with the way she thoughtfully created her own homes and gardens that reflected her passion for horticulture and art while maintaining a relaxed, elegant lifestyle. Like Mellon, we design with the belief that beauty can be found in everyday objects and that all spaces can be aesthetically pleasing, comfortable and well designed. We are paying homage to one of our favorite spaces that she created, her greenhouse at her main home in Virginia. Boxwood topiaries and an antique stone floor from Compas will be both inside and outside, blurring the line between the window and the space beyond."

Cathy Austin
Catherine M. Austin Interior Design, Charlotte, North Carolina
Window: Janet Yonaty, 8642 Melrose Ave.
Icon: Alberto Pinto
Inspiration: "Inspired by the enchanting exoticism of the Orient, my window is an homage to Alberto Pinto, the master of converging cultural aesthetics. He was an expert at mixing patterns and objects from different cultures to create magical interiors that felt timeless and current at the same time. Our homes reflect our travels and experiences, as well as provide a respite from the grind of everyday life. I try to create an oasis at home for my clients, [where they're] surrounded by their favorite objects that tell the story of their lives."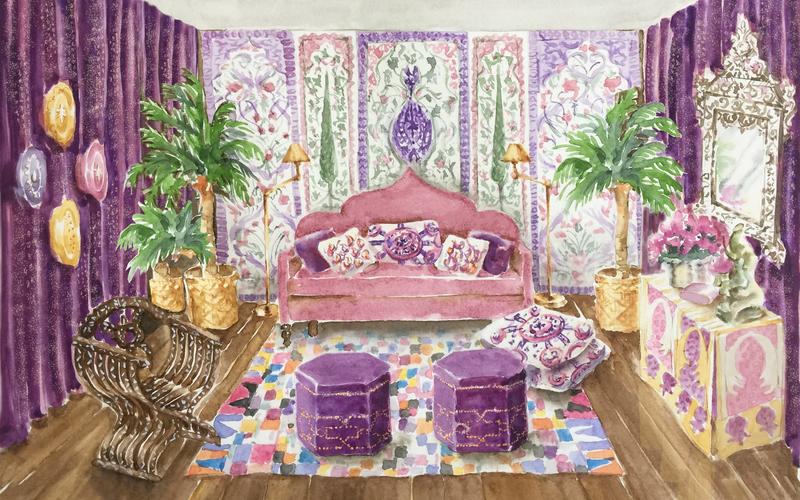 Courtesy of Catherine M. Austin Interior Design

Brooke Wagner
Brooke Wagner Design, Corona Del Mar, California
Window: Serena & Lily, 8422 Melrose Ave.
Icon: Dorothy Draper
Inspiration: "Draper's exuberant use of color and oversized patterns played a large part in the inspiration of our window design. She was designing at the pinnacle of the bygone days of old Hollywood glamour, and our poolside scene at the Beverly Hills Hotel pays homage to all that Draper's designs epitomized. Every project that we work on, whether it be a family beach home or a bachelor pad, we try and instill a sense of sophistication and timelessness."

Chad Dorsey
Chad Dorsey Design, Dallas
Window: Mehraban Rugs, North Window, 545 N. La Cienega Blvd.
Icon: Eileen Gray
Inspiration: "Gray's international style, her love and understanding of architectural spaces, and her functional but elegant, well-designed furniture inspired my window design. Gray took traditional crafts and combined them in a radical manner to create truly unique furniture and unfettered living spaces—she was the first designer to work in chrome. Like Gray, elegant simplicity and restraint resonates with me. A simple form, if designed well, can bring life and creativity to a room."

Colette van den Thillart
Colette van den Thillart Interior Design, Toronto
Window: Marc Phillips Decorative Rugs, 815 N. La Cienega Blvd.
Icon: Cedric Gibbons
Inspiration: "While stylistically diverse, Gibbons epitomizes luxury, glamour and elegance, yet each set has its own personality much as I believe my projects do. I'm known for my use of plaster, mirror and large-scale impactful visual moments. … I think of Cedric in particular for those 'big-white-sets' with their colossal scale and tonal intrigue that still make those of my ilk, and indeed anyone with a pulse, fall over with sheer delight and awe."

Dan Mazzarini
BHDM Design, New York
Window: Arteriors, 8620 Melrose Ave.
Icon: Cedric Gibbons
Inspiration: "From An American in Paris to The Wizard of Oz, Gibbons's spaces, sets and imagination became an important part of the story being projected. Coming from a branding and retail background, I've learned the importance of a clearly defined narrative, and that distinctiveness is important."

Edel Legaspi & Christopher Courts
Legaspi Courts Design, Los Angeles
Window: Waterworks, 8431 Melrose Place
Icon: Michael Taylor
Inspiration: "Michael Taylor is best known for creating the 'California Look.' We are inspired by his innovative style of mixing materials and incorporating natural elements in form and materiality in his spaces. I think being Southern California designers, born and bred here, we inherently are influenced by Michael Taylor, whether we know it or not. We are always trying to use natural materials in all projects and design in a way where we are mixing periods and design styles to create a space specific to our client."

Gary Hutton
Gary Hutton Design, San Francisco
Window: Mehraban Rugs, South Window, 545 N. La Cienega Blvd.
Icon: Verner Panton
Inspiration: "Verner Panton is kind of my spirit animal. One of my first design jobs was managing a textile showroom that sold Panton's rugs and fabrics, so I was immersed in his world early on. Panton was Danish, so he was rooted in cool classicism, but knew how to drop those expectations with pleasing results. In my way, I do that too. Also, Panton was a utopian. He experimented with new materials, a simple geometric language and radical lifestyles as the path to a brave new world. I think we could all use a little utopian thinking in the current dystopia."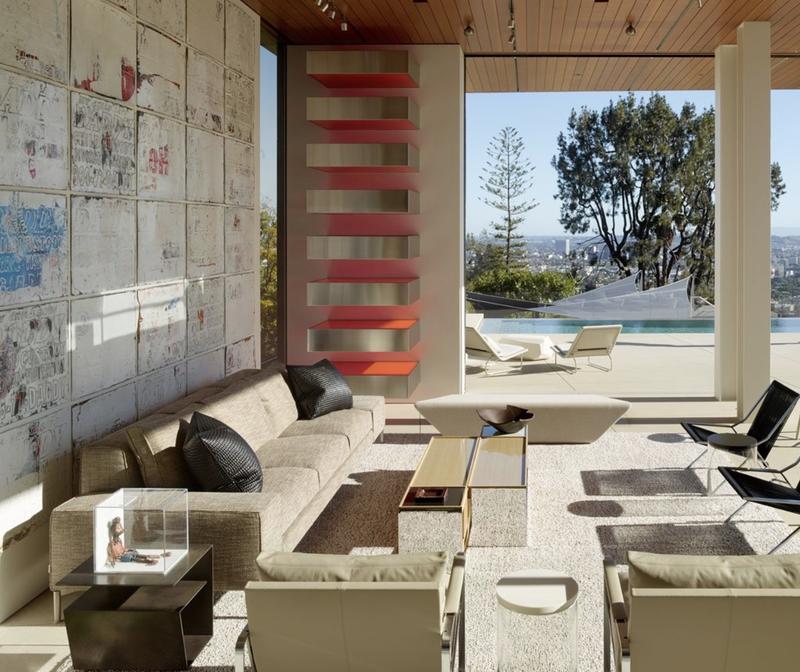 Courtesy of Gary Hutton Design

Julia Wong
Julia Wong Designs, Los Angeles
Window: Cache, 806 N. La Cienega Blvd.
Icon: Cecil Beaton
Inspiration: "His captivating images of elegance, glamour and style has influenced me all my life, from fashion photography to stage design. I have chosen my love of fashion and interiors for the Cache window—one can imagine one of Cecil Beaton's models posing in front of my newly interpreted hand-painted-on-silk panels in monochromatic tones."

Jake Arnold
4C Design Group, Los Angeles
Window: Hollywood at Home, 703 N. La Cienega Blvd.
Icon: Rose Cumming
Inspiration: "Rose Cumming's prints and humor inspired our window design. It's amazing how timeless they are—still fresh and relevant to this day. When we researched her we discovered that she was one of the first to keep the lights on in her window display after-hours. The window will be a modern take on a French patisserie."

Jeff Andrews
Jeff Andrews Design, Los Angeles
Window: Dragonette, 711 La Cienega Blvd.
Icon: Billy Haines
Inspiration: "Billy Haines was integral in creating the idea of Hollywood glamour. In my own projects, we are always looking for ways to reinvent and redefine what glamour means today. Ultimately, it means something different for every client and every project, and that's both the challenge and the inspiration."

Kristi Nelson
KMNelson Design, Los Angeles
Window: Cache, 806 N. La Cienega Blvd.
Icon: Renzo Mongiardino
Inspiration: "Mongiardino's richly layered patterns, textures and colors draw you into his rooms to thoroughly investigate and experience them. Details abound, big and small. For me, design at its best considers who the client is, where they came from, how they want to live. Every design must connect spaces to a client's personal story and history to make it a home. It's my job as a designer to tell that story as they live it, allowing rooms to evolve as they do."

Kelly Morris & Elizabeth Barondes
Barondes Morris Design, Los Angeles
Window: West Hollywood Fireside BBQ & Appliances, 839 N. La Cienega Blvd.
Icon: Pierre Paulin
Inspiration: "Pierre Paulin's best-known work consists of cushy, organic forms sheathed in stretchy swimwear fabric. These avant-garde designs brought a whole new approach to form and function of furniture and space. We are thrilled to have an archival piece of his on loan from Ralph Pucci as the centerpiece of our window. Paulin is almost invariably described using the adjective 'groovy,' so our window will be a little New Wave, have a not-so-subtle nod to France, and the rest is a surprise!"

Kelly Schandel
Thinkpure, Santa Monica, California
Window: Marc Phillips Decorative Rugs, 815 N. La Cienega Blvd.
Icon: Elsie de Wolfe
Inspiration: "We are using one of de Wolfe's many brilliant quotes to inspire our window: 'I believe in plenty of optimism and white paint, comfortable chairs with lights beside them.' We've taken part of the quote and made it into a piece of neon artwork for our backdrop. We selected a statement chair, table and lamp to sit in front of the backdrop, along with a gorgeous rug from Marc Phillips."

Laura Umansky
Laura U Interior Design, Houston
Window: Janet Yonaty, 8642 Melrose Avenue
Icon: Kalef Alaton
Inspiration: "Kalef Alaton's aesthetic combined crisp, tailored drapery and upholstery with collected antiques and vernacular pieces in an extraordinarily modern way. My window will celebrate this forward-thinking look and the designer who championed curioriosy and adventure in his tastefully layered and worldly spaces. There will be a draped backdrop, honoring Alaton's use of crisp white. A console will float in the center, surrounded by collected objects and books. I don't want to give it all away, but there will be iconic antique chairs, animal print, and a one-of-a-kind art piece from the very talented Josh Young."

Martyn Lawrence Bullard
Martyn Lawrence Bullard Design, Los Angeles
Window: Martyn Lawrence Bullard Atelier, 8550 Melrose Ave.
Icon: Tony Duquette
Inspiration: "His work is always inspiring; as an original set designer in the golden days of Hollywood, he created great fantasies, which he later translated into his interiors. His work was never bridled, always allowing his imagination to create his own version of great luxury, whether achieved with a glue gun and some faux painted coral or a museum-quality antique. I am creating the scene of a dining room, richly decorated with Tony's signatures of malachite, coral, leopard print … Comfort for me is always the key, but [he taught us that] dramatic and bold interiors can be both comfortable and scene-stealing."

Max Humphrey
Max Humphrey Interior Design, Portland, Oregon
Window: Tufenkian Artisan Carpets, 501 N. La Cienega Blvd.
Icon: Luis Barragán
Inspiration: "I'm inspired by how Barragán was opposed to design being all about functionality and more about emotion, and how he was somehow able to make a house painted hot pink still feel serene. I use this inspiration in my own projects because I like bright colors and big statements and I go with my gut when designing for clients. I'm allergic to all-white rooms. Barragán said a house wasn't supposed to be a 'cold piece of convenience.' My window design … will be soaked in fuchsia and canary yellow and turquoise and full of plants and plywood and leather and rattan."

Melissa Warner Rothblum
Massucco Warner Miller, Los Angeles
Window: Hollywood at Home, 703 N. La Cienega Blvd.
Icon: Sister Parish
Inspiration: "Sister Parish's projects were brimming with color and bold mixes of pattern, which is also a signature of our work. In our eyes, there's no such thing as too much pattern. We're utilizing a few of Sister Parish's favorite things, so we'll have showstopping large-scale white wicker chairs sitting in front of wallpaper designed to look like a bookshelf."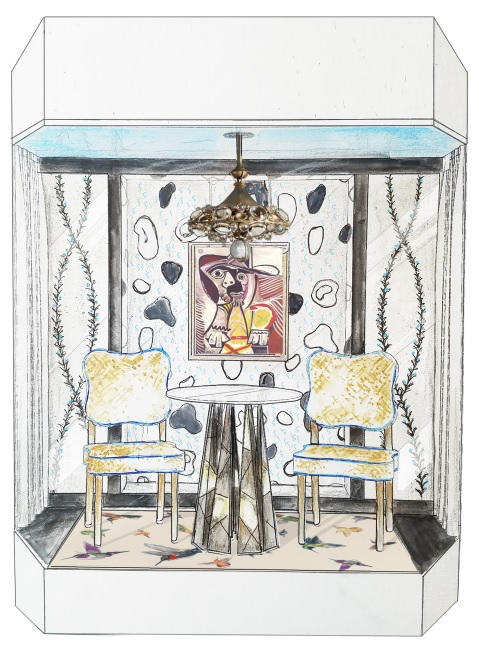 Courtesy of Nicole Fuller Interiors
Nicole Fuller
Nicole Fuller Interiors, New York
Window: Galerie Carole Decombe, 8629 Melrose Ave.
Icon: Henri Samuel
Inspiration: "Henri Samuel worked with Valentino and several members of the Rothschild family. He was known as the supreme master of progressive historicism and was arguably the very last interior designer trained in the French tradition dating back to the ancient regime, with its special knowledge and methods. The window will be a tribute to Samuel, interpreted through my adoring eyes. We will be using warm metals, jewel-toned hues and circuitous structures, and melding them together to establish a beautiful dialogue of contrasting pieces."

Ohara Davies-Gaetano
Ohara Davies-Gaetano Interiors, Corona Del Mar, California
Window: Barakat Gallery, 941 N. La Cienega Blvd.
Icon: François Catroux
Inspiration: "I admire Catroux's incredible ability to create the most incredible juxtapositions and compositions within a space. I have always strived to modernize a classical interior, all the while being true to the architecture, and I feel that François is the master as a modernized classical interior designer, and for years his work has been an inspiration to me."

Patrick Sutton
Patrick Sutton Design Studio, Baltimore
Window: Jamal's Rug Collection, 657 N. La Cienega Blvd.
Icon: Billy Baldwin
Inspiration: "I chose Billy Baldwin not just because we are fellow Baltimoreans, but because we share a similar attitude toward design: A great interior should balance both invention with that which makes us feel comfortable. We are all constantly evolving—one foot is rooted in the warmth and familiarity of tradition and the other steps forward with an eye to the future—and when we tilt the scale too far in either direction, we get stuck in nostalgia or feel divorced from our humanity. Baldwin intuitively understood this and was masterful in making rooms that were both evocative and comfortable, and he did it ahead of everyone else. For the window, we actually partnered with Billy Baldwin Studios and had his classic sofa, slipper chair and side table made for the space."

Patrick Tennant
Tim Barber Architecture, Los Angeles
Window: Renaissance Design Studio, 972 N. La Cienega Blvd.
Icon: Timothy Pflueger
Inspiration: "Pflueger's intricate patented backlit ceiling and wall panels inspired our window design. We adapted one of his Neo-Grec-inspired panel designs for the ceiling of the Paramount Theatre in Oakland and reimagined his lighting system for our display. … We connect with Pflueger because we're also innovators who design for function and beauty. Like Pflueger, we are sometimes seen as traditional architects. Really, our work is tradition-informed modern design."

Penny Drue Baird
Dessins, New York
Window: Dragonette, 711 N. La Cienega Blvd.
Icon: Mario Buatta
Inspiration: "Mario and I were colleagues starting in the early '90s when I was first selected to be in the AD100. … In those days, we would joke he was the Prince of Chintz and I was the Doll of Toile. My fab fine feature craftsmen from Beacon, New York, have created two iconic Mario doors—yes, doors—as the backdrop, as a gesture to the grand Old World houses that Mario embellished over the years."

Tammy Connor
Tammy Connor Interior Design, Charleston, South Carolina
Window: Harbinger, 752 N. La Cienega Blvd.
Icon: Albert Hadley
Inspiration: "Albert Hadley was a master of balancing sophistication with livability, and our window features some of his favorite decorating techniques. We are layering a pop of red (an iconic Albert color!) with zebra print, chintz, conical lighting and geometric patterns to create a sense of liveliness and glamour. I've always admired the way that Albert Hadley's interiors have a sense of being collected—nothing was ever stuffy or too 'decorated,' but at the same time every detail had a sense of meaning and was perfectly scaled. We want the vignette to feel as though, were Mr. Hadley to stop by, he would take one look at the patterned floor, chintz, zebra and conical lighting, mix himself a drink, pull up a chair and stay awhile."

Tom Stringer
Tom Stringer Design Partners, Chicago
Window: Harbinger, 752 N. La Cienega Blvd.
Icon: Billy Baldwin
Inspiration: "Certainly the hallmark of Billy Baldwin's work was his use of saturated color. There was a certain fearlessness about his use and repetition of pattern coupled with a real sense of editorial restraint. Finally, and most importantly, it was the joy in his use of found objects and the commonplace mixed with exotic materials. For example, we are covering the whole ceiling with three colors of Japanese paper lanterns that cost $3 apiece. Baldwin never balked at using clients' own possessions in their homes. He felt the rooms of a home should have a great deal of personal expression, which would serve in turn to enhance his own work. He never quivered to use a grandmother's old collection of chairs or someone's existing sofa. We try our best to exercise exuberance with restraint."
Legends is held on May 7 to 9 at La Cienega Design Quarter in West Hollywood. Register here.