"I want to design furniture that grows out of the floor," the late Danish architect and designer Verner Panton famously said. "To turn the furniture into something organic, which never has four legs." Undoubtedly, the most famous example is the Panton Chair, which he designed for Vitra in 1968. This year, the model, which originally debuted at the IMM Cologne interiors fair, celebrates its 50th anniversary.
Like many ideas born in the late 1960s, Verner Panton's goal for a fluid, stackable chair that could be produced in one plastic piece was radical. The sculptural result, recognized as the first molded plastic chair, quickly became an icon of the era.
"It was the biggest investment [Vitra] had ever made in a technology we didn't really know," said Eckart Maise, chief design officer of Vitra, in his opening remarks of the 2018 IIDA annual meeting. "A 10-year development that ended in 1968 with a chair like the world hadn't seen before."
In honor of the iconic design's 50th anniversary, Vitra has announced the debut of two, limited-edition styles: Panton Chrome and Panton Glow (yes, it actually glows in the dark). The special debuts mark a vision coming to fruition for the late designer. Always fascinated by mirrored surfaces and reflectivity, Panton had long been in search of a way to cover the curvilinear chair in a reflective coating.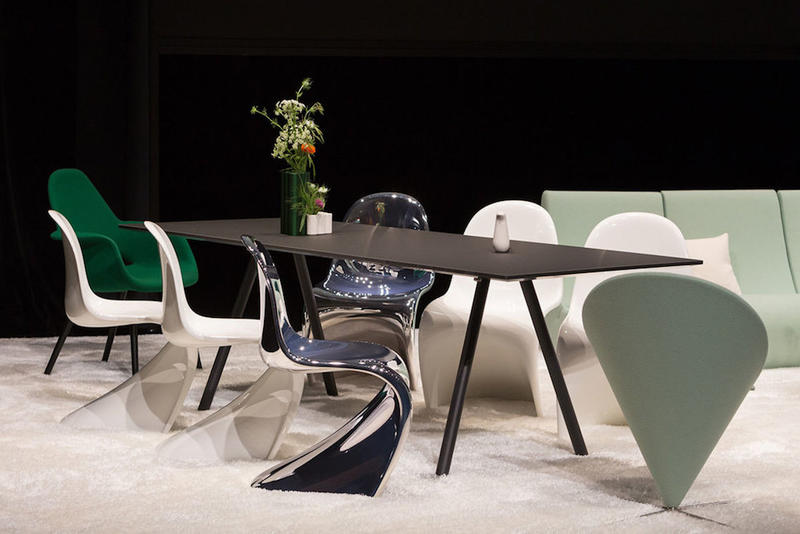 Throughout the course of the manufacturing line, molten plastic gets molded into the Panton design. Once cooled, the gravity-defying forms are then refined by hand for a smooth finish. In the special-edition designs, Vitra's metallization process embeds metal particles onto the chair's surface using several layers of varnish—all in an effort to highlight "the chair's sculptural qualities in a spectacular way." Now that's reflecting on 50 years.