It's a fight to the finish as designers Patrick Sutton and Susan Ferrier tackle the finer points of timeworn patina and hand-hewn metals versus glimmer and shine.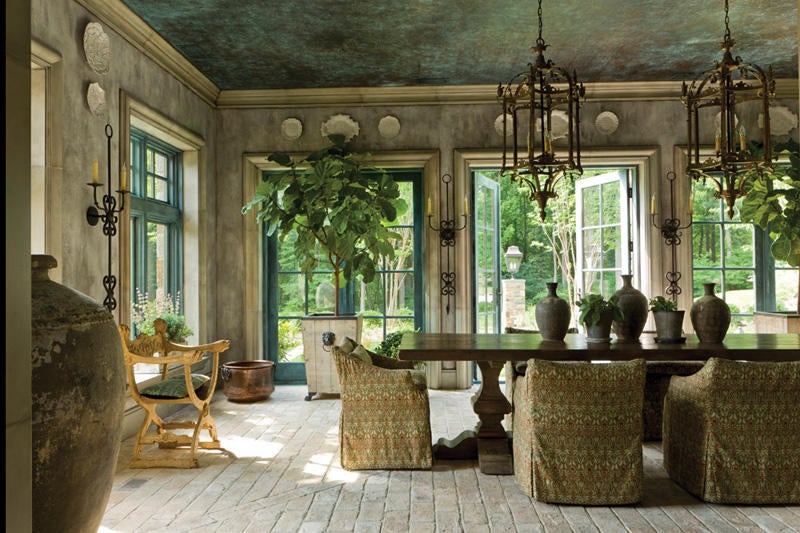 "I gravitate toward materials that have character, where you can see the craftsman's hand, like the subtle pitting from grains of sand in sand-cast bronze hardware. Unlike a polished gold or brass fitting, where every piece is exactly the same, matte finishes project a sense of individuality. They seem the most honest to me, as they present themselves without gloss or hype.
I'm also drawn to the romance of travel and the patina of time. Think about aged copper and pewter, galvanized or waxed blackened steel, and zinc countertops—these timeworn finishes convey qualities of authenticity and endurance. They are living finishes whose beauty is only amplified with use. Grand old European buildings with their fading plaster walls and the sophisticated, highly edited palette of Japanese architecture are both sources of inspiration for me. Shine has no place in either aesthetic.
Don't get me wrong, I can appreciate a blingy chandelier—in someone else's dining room. But for me, shine is a lot like that boisterous, attention-seeking guest at a party: entertaining for a while, but by the end of the evening, you can't wait for them to leave." —Patrick Sutton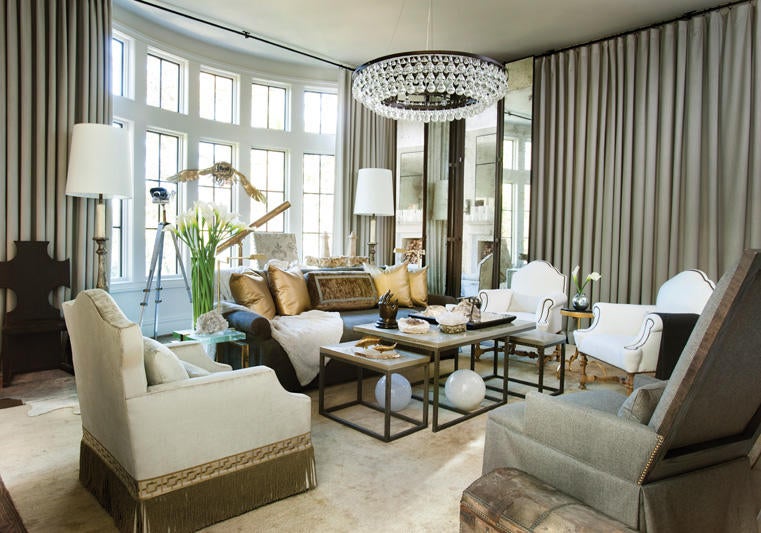 "Shiny surfaces reflect light and share it around the room, but matte is selfish. Matte finishes grab the light and keep it all for themselves. Shine does for a room what a smile does for the face—we all look better smiling, and the same is true for an interior with a little brightness. Distressed mirrors, gilded woods, silk velvet pillows, metallic leathers, rock crystal lighting, bamboo rugs, glistening trims, glass, and exceptional hardware are just a few of my favorite shiny elements. And, of course, I'm not afraid to mix my metals!
Shine creates movement in the same way that bubbles make a flute of Champagne sparkle. Who doesn't want to be greeted with a glass of Champagne? Shiny is the person who keeps the conversation going at the dinner table; matte is the drab bore you hope you don't get seated next to! Think of shiny furnishings and finishes as jewelry for a room: It's the final touch, the detail that takes an otherwise nice outfit and gives it real style.
Patrick's not flashy, but I think there's a secret shiny-loving side of him just waiting to come out. He's welcome to check out my jewelry box for inspiration anytime. I'll serve Champagne." —Susan Ferrier