Not one, but two Tony Duquette collections are debuting at High Point Market this week. Hutton Wilkinson, president of Tony Duquette Inc., collaborated with Maitland-Smith and Pearson on the collections, inspired by the pieces from Duquette's and Wilkinson's homes.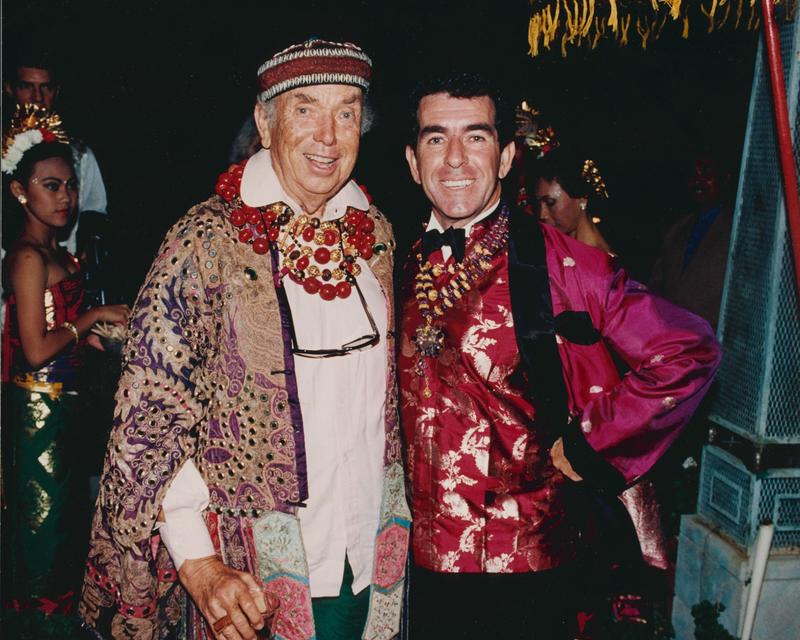 Wilkinson and Duquette worked together for 25 years before Duquette's death in 1999, and Wilkinson and his wife lived next door to Duquette's Dawnridge estate in Beverly Hills. The Dawnridge compound is the headquarters for Tony Duquette Inc. and is still decorated in Duquette's signature maximalist style. It was a significant inspiration for both of the collections.
"While Pearson is steeped in history and tradition, we see Pearson as an elegant lady who loves fashion, style and elegant fabrics," says Parker Goss, vice president of merchandising at Pearson. "We are confident that interior designers will fall in love with the beauty and elegance of the Tony Duquette Collection. We look forward to applying their one-of-a-kind fabric, leather and trimmings to these new pieces that are made by our talented team of craftsmen in our Hickory workroom."
The Tony Duquette Collection for Pearson is the brand's first licensed collection, and spans sofas, banquettes, chairs and cocktail ottomans in unique sculptural shapes. Many of the pieces in the collection, as well as the Maitland-Smith collection, have been re-created from Duquette's and Wilkinson's personal custom collections. The Maitland-Smith collection includes boxes, lighting, furniture and accessories.
"It has always been our desire at Tony Duquette to inspire individuality and creativity through our work, and with this collection for Maitland-Smith I, like Tony before me, look forward to seeing the smile on the face of the observer," says Wilkinson.
Over the last few years, the Maitland-Smith brand has been focused on expanding its offerings to fit the evolving trends of the industry, and the new collection fits into that effort. The Maitland-Smith craftsmen used new skills to work with gold leaf, coral, abalone, pen shell, bronze and more to manufacture the collection.
"Working with Hutton to create this extraordinary collection has been a true honor. We have enjoyed collaborating to create these new pieces with exotic materials using manufacturing techniques that have stood the test of time," says Todd Sessa, vice president of merchandising at Maitland-Smith. "It was our goal to create pieces from the finest materials that will arouse curiosity, induce pleasure and visually stimulate due to their beauty and craftsmanship."