This week, we celebrated Pride—perhaps a little differently than usual, but nonetheless championing the boundless ways that people find connection. And with the holiday weekend on the horizon, BOH wishes you a warm and relaxing July 4th. Until then, stay in the know with our weekly news digest, including business headlines, launches and events, recommended reading and more.
BUSINESS NEWS
Direct-to-consumer mattress company Casper is grappling with some legal trouble: The sleep industry's former unicorn is facing a lawsuit that accuses the company of misleading investors leading up to its February IPO by withholding critical figures on narrowing profit margins. While Casper denies the foul play, there's no denying that investors are disappointed in the returns from the bed-in-a-box disruptor. According to Bloomberg, when the company went public, it closed its first day with a market capitalization that amounted to less than half of the $1.1 billion it was valued at in a private funding round in 2019. Flash forward a few months, and Casper's market value has plummeted to $337.2 million.
On June 29, High Point, North Carolina–based Fine Furniture Design announced that it will close its U.S. offices and distribution operations after more than 18 years of manufacturing, as reported by Furniture Today. The company is known for its two collections with Veranda, as well as its detailed, handcrafted case goods and upholstered furniture. As it winds down operations, the manufacturer will accept orders on stocked inventory while supplies last.
Following a surge of orders during the coronavirus pandemic, Amazon announced that it will pay $500 million in one-time bonuses to employees, front-line workers, delivery drivers and some contractors, reports The Wall Street Journal. Those in part-time positions will receive $250, full-time employees $500, and leaders at Amazon and Whole Foods $1,000.
The Grand Tour's flagship retail shop in Palm Beach will close as co-owners Caroline Rafferty and Julie Cummings pivot their focus toward the home goods brand's growing e-commerce presence and to-the-trade showroom. The move reflects changing shopping patterns in the pandemic era; since launching the online portion of the business last July, 70 percent of The Grand Tour's business has come from online and trade sales.
Hospitality startup Sonder has raised $170 million in a series E round of funding led by Fidelity, Westcap Group and Inovia Capital, reports Forbes. The San Francisco–based company, valued at $1.3 billion, leases and renovates apartments in desirable urban neighborhoods, renting them to customers through Airbnb, Expedia and its own site—and the model seems to have adapted well to the COVID-era collapse. Sonder directed its marketing toward those displaced by the virus, and while some painful cuts were made in the early days of the pandemic, the occupancy rate has returned to its pre-pandemic level of near 80 percent.
Facing a slow recovery from the coronavirus-ravaged retail landscape, Macy's is laying off approximately 3,900 corporate staffers. The cuts represent about 3 percent of the company's total workforce (excluding seasonal employees), adding to the 2,000 corporate employees who already lost their jobs in February, reports WSJ.
In a wave of controversial press over Facebook's underwhelming response to hate speech, a number of major brands have pulled millions of advertising dollars from the platform. According to The New York Times, the growing list of boycotters ranges from Ben & Jerry's and Coca-Cola to the Clorox Company and Unilever, but the financial pressure from the pandemic puts smaller companies in a tough spot. As business ramps back up, many will go under if they don't generate sales: "Facebook is a double-edged sword. You don't want to support it, but you have to use it in order to reach a large audience," says Jason Dille of ad agency Chemistry. While no major home retailers have pulled their ads yet, the movement spotlights the evolving landscape of ethical consumerism in the age of Black Lives Matter, #MeToo and climate change.

LAUNCHES, COLLABORATIONS & PARTNERSHIPS
Domino is launching a new podcast, "Design Time," in which editor in chief and host Jessica Romm Perez sits down with design visionaries to explore the emotional side of design. The first episode will debut on July 2, featuring guest (and Domino cover star) Kelly Wearstler.
Perigold, Wayfair's luxury off-shoot, has onboarded nearly 100 additional design brands —of note, trade-focused companies like Visual Comfort, Bernhardt Design and Simon Pearce will now sell through the e-commerce platform.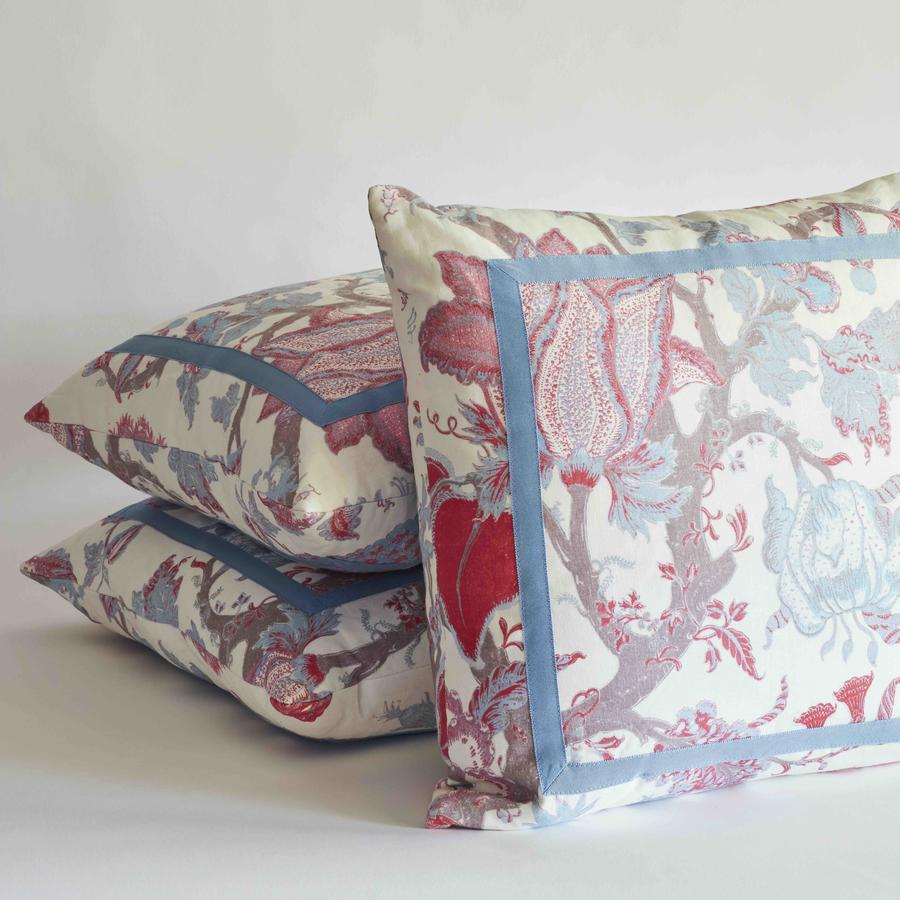 Interior designer Alessandra Branca has launched a new brand, Casa Branca. Infused with healthy doses of color, it features fabrics, table linens, wallpaper, lighting and accessories in patterns inspired by travel and exploration.
Design Miami has launched a new e-commerce platform, Design Miami Shop. In partnership with 52 galleries from around the world, the online marketplace offers more than 800 pieces of 20th- and 21st-century design directly to collectors.
Norwalk, Connecticut–based Diane James Home, known for its luxury faux-floral arrangements and plants, has partnered with Aerin Lauder to pair its high-end botanical creations with vases and cachepots from her home and lifestyle brand, Aerin.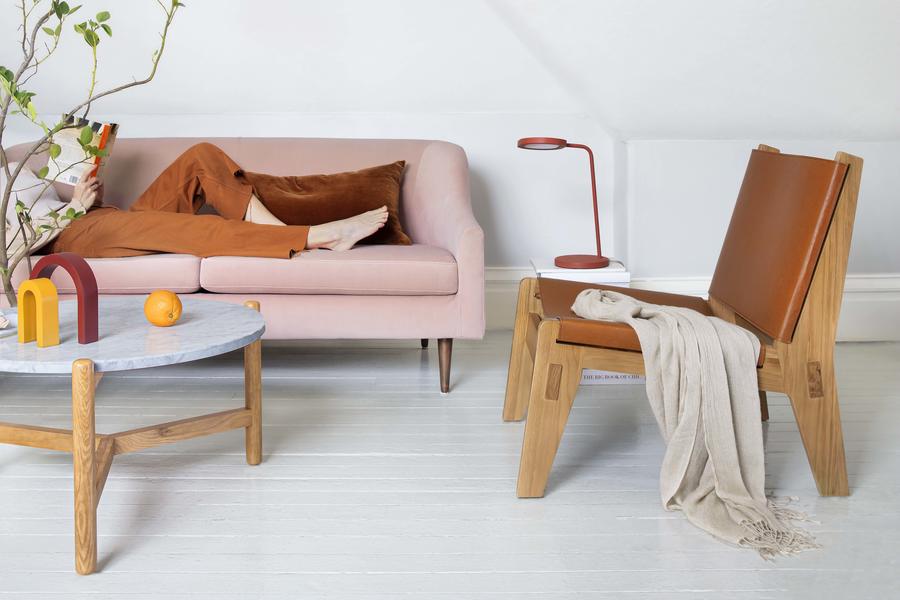 Feather, known for its hand in disrupting the furniture rental sector, has launched its own home decor collection. With more than 200 pieces of furniture manufactured exclusively for its customers, the private label items join the hundreds of offerings from the site's partner vendors, including West Elm and Leesa. In addition to its in-house collection, the New York–based brand has expanded the categories of rental items, introducing rugs and artwork to its rental platform.
The Venetian decorative lighting manufacturer Studio Italia Design has been rebranded as Lodes, marking a new phase for the company as it commemorates its 70th anniversary.
SHOWROOM REPRESENTATION
Benjamin Moore paints and stains are now available through Ace Hardware stores across the country. Ace is now the only national retailer offering the brand's products and color sampling program, which allows for in-home wall testing.
CALENDAR UPDATES
Cersaie, the world's largest exhibition of ceramic tile and bathroom furnishings, has announced the cancellation of its 2020 show, which had previously been postponed until November. The next edition will be held in Bologna, Italy, from September 27 to October 1, 2021, accompanied by an immersive digital experience.
Christie's auction house has reopened globally and is once again hosting live auctions—from Geneva to New York to Paris, events will be taking place beginning in the next few weeks, the soonest of which is a pre-sale exhibition in Hong Kong, opening July 4.
RECOMMENDED READING
"Marketing during the early pandemic was hard, but the end of lockdown might be even more complicated," writes Nat Ives for WSJ. As businesses navigate a reopened world, advertisers across the globe are adjusting their messaging—and balancing optimism with pragmatism is the name of the game: "Brands can't act like the danger is gone."
"When people get cabin fever, it can translate to spending fever," says Corey Damen Jenkins in a recent interview with Mansion Global covering the Birmingham, Michigan, designer's COVID-era project budgets, rules to live by, and reasons why he would choose a town house over a mansion any day.
CUE THE APPLAUSE
Last week, Elle Decor revealed its 10th annual A-List issue, highlighting 125 of the top talents in the design world. The list heralds industry favorites like Martyn Lawrence Bullard and Sheila Bridges, as well as a slew of 2020 newcomers, including Kerry Joyce and Danielle Colding. This year, each winner received a wax-candle bust in their likeness, sculpted by artist Janie Korn. For the full list, click here.
Winners have been announced for the 2020 San Francisco Design Week Awards—and for the first time, the local designers, firms and creatives were celebrated in an online ceremony. The honorees include Eche, which received the Interior Design/Residential award for its Presidio Heights project, and Walker Warner Architects, which won both the Architecture/Commercial and Architecture/Residential awards for its Flower House winery project in Sonoma County and its Kua Bay Residence in Hawaii, respectively.
The Dallas Market Center, Lightovation and Furniture Lighting & Decor magazine announced the winners of the 11th annual Lighting Showroom of the Year awards. Geneseo, Illinois–based Village Home Stores; Mount Prospect, Illinois–based Northwest Lighting and Accents; and Sterling, Virginia–based Dulles Electric Supply won in the main categories.
GTM Architects of Bethesda, Maryland, received a number of honors at the Maryland Building Industry Association's 2020 Custom Builder Awards. The firm won for several custom home projects, as well as Best Bathroom Feature (for a project led by Doug Roberts) and Best Outdoor Living Space (for a project led by Luke Olson).
IN MEMORIAM
Milton Glaser, the designer and commercial artist best known for the iconic "I ♥ NY" logo, passed away on June 26 at 91 years old. Glaser designed prolifically, shaping the public perception of iconic personalities and brands ranging from Bob Dylan to Mad Men. His artistic vision and humorous spirit will be missed.
Homepage image: Faux florals from Diane James in ceramic vases from Aerin | Courtesy of Diane James Home