Here's a trend we'll raise a glass to: Entertaining at home is on the rise, and the bar cabinet is becoming a household essential.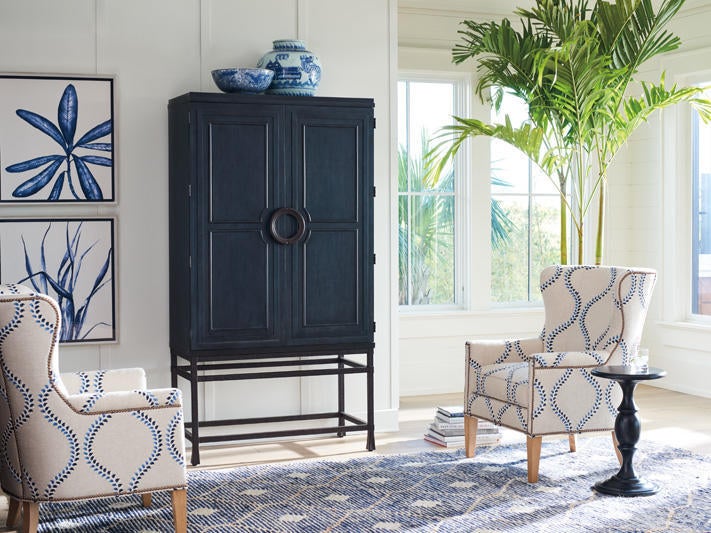 Courtesy of Lexington Home Brands
"My clients love to end their days unwinding in a comfortable room with their favorite cocktail, and I know I do too," says interior designer Barclay Butera, whose Newport collection for Lexington includes the Jade bar cabinet (above). Research supports the idea: 55 percent of respondents in a survey by market research firm Mintel preferred mixing drinks themselves in the relaxed ambiance of their own spaces over an evening socializing at a bar or restaurant. Furniture manufacturers have taken note, with brands like Christopher Guy and Vanguard billing at-home bars as a collection necessity. "The entertaining and receiving of friends at home is on the climb," says Jon Spurlock, director of visual merchandising and sales for Christopher Guy's Southeastern region. "Because of these 'needs and wants,' we have developed several new bar cabinet and concierge pieces for the home." Vanguard experienced the same phenomenon: "The demand for bar cabinets has grown dramatically," says company president Andy Bray. These industry best-sellers bring the party home.
| | | | | | |
| --- | --- | --- | --- | --- | --- |
| | | | | |          |
| X marks the spot at Bernhardt, whose sleek Clarendon bar cabinet perches atop a shapely base. | | | | | With its sapphire-hued aniline dye, Century's Lotus bar takes center stage. |
|            | | | | |             |
| In a taupe lacquer with mirrored brass geometric details, the Kelly Hoppen-designed Sting bar cabinet from Resource Decor oozes British glamour. | | | | | With its reclaimed elm wood in a chevron pattern, the Langston bar cabinet from Universal Furniture has a rustic flair. |
|       | | | | |           |
| The dreamy Pollock drinks cabinet from Julian Chichester rocks a vellum cloud motif—and an églomisé back panel hidden inside. | | | | | In a white lacquer, the geometric detailing of the Knickerboker bar cabinet, from Michael Weiss's collection for Vanguard Furniture, feels especially cosmopolitan. |
|      | | | | |          |
| The reeded front of the Chez Harrods cabinet by Christopher Guy was inspired by the intricately carved walls of an old staircase in the tony London department store. | | | | | The Karges Queen Anne cabinet, with its hand-carved base, ball and claw feet, and elaborate brass details, was inspired by lacquer cabinets of the period. |
|     | | | | | |
| The elegant teak veneer surfaces of Currey & Company's Bohlend cabinet features hand-cut ginkgo-leaf marquetry. | | | | | Fling open the top of the Mitchell Gold + Bob Williams Roxbury bar to reveal a mirrored backdrop for mixing drinks. |