In a year largely defined by tragedy, finally some good news: On June 15, the Supreme Court ruled that employers cannot discriminate on the basis of sexual orientation or gender identity. Meanwhile, as states open back up for business, the design industry carries on. Stay in the know with BOH's weekly news digest, including business headlines, launches and events, recommended reading and more.
BUSINESS NEWS
Following three consecutive months of losses, U.S. retail sales rose 17.7 percent in May, reports The Wall Street Journal—a figure that measures well above the Department of Commerce's forecast of 8 percent. While the jump marks the largest monthly increase dating back to 1992, overall sales still fell well below pre-pandemic levels: Retail sales totaled $486 billion in May, compared to $527 billion in February. Despite the uptick, economists project that it could take years for the economy to recover, with unemployment still measuring at 13.3 percent in May.
The International Interior Design Assocation announced yesterday that it is temporarily furloughing the staff at its Chicago-based headquarters through July 19. During this time, commerical design organization will pause regular business operations and all scheduled webinars, programming and outreach.
Following the recent announcement of CEO Randy Fiser's upcoming departure, the national board of directors of the American Society of Interior Designers has selected Gary Wheeler to act as interim CEO. For over 30 years, Wheeler's influential design career has seen him as a leader at Perkins&Will, Gensler, and most recently, HDR, where he has designed workplaces for companies like Apple, Time Warner, American Express, and J.P. Morgan.
Pinterest is initiating its second attempt at a story feature, reports Adweek. Social media platforms like Facebook, Instagram and Snapchat have touted the feature for quite some time, but unlike those competitors, Pinterest's stories will not be ephemeral: Rather, "story pins" will allow creators to use video, images and text to develop longer-form content that users can discover and save as they would a regular pin.
Shopify stock leapt 7.6 percent on Monday following the company's announcement of its deal with Walmart, a partnership that seeks to help small businesses sell their products online. According to Business Insider, Walmart plans to add as many as 1,200 Shopify sales to its Marketplace platform by the end of the year, a move that comes just weeks after the mega-retailer closed down its Jet.com brand.
French design agency Rinck has acquired JCT Interior Design, the 40-year-old international luxury design firm. The acquisition will allow Rinck, which already has a strong presence in North America, the U.K. and Europe, to bolster its reach in Middle Eastern markets.
MEDIA NEWS
Vox Media, home to Curbed, New York magazine and other media outlets, announced last week that it would create a fellowship program with historically black colleges and universities, in addition to making Juneteenth a company holiday, writes The Wall Street Journal. The announcement comes as companies like Twitter and Square have made similar announcements around the June 19 holiday, which commemorates the end of slavery in the United States.
Last week, Hearst Magazines named Samira Nasr the new editor in chief of Harper's Bazaar. Beginning July 6, Nasr will oversee all operations across the brand's print and digital platforms, making her the first Black editor in chief in the publication's 153-year-old history.
The leaders of several style publications have stepped down in response to Black employees speaking out about the inequity they've faced in their workplaces. A Tweet calling out unequal pay and treatment at Refinery29 sparked a Twitter crusade against the media company—shortly after came the resignation of editor in chief Christene Barberich. Man Repeller founder Leandra Medine Cohen has also "stepped back" from her post, after a letter she wrote earlier this month expressing the company's allyship was met with claims of favoritism, cliquishness and outright racism from former employees of color.
Joining a wave of companies reevaluating their commitments to racial equity in the workplace, employees at Condé Nast came together to produce a salary sharing spreadsheet "for the sake of transparency." Using a Google Form, individuals were invited to anonymously list their job title, annual salary and race, along with other relevant data, in an effort to lift the veil surrounding the media company's compensation policies. At its height, the sheet boasted the information of nearly 400 employees, from freelancers to senior management; it has since been wiped clean of its data.
LAUNCHES, COLLABORATIONS AND PARTNERSHIPS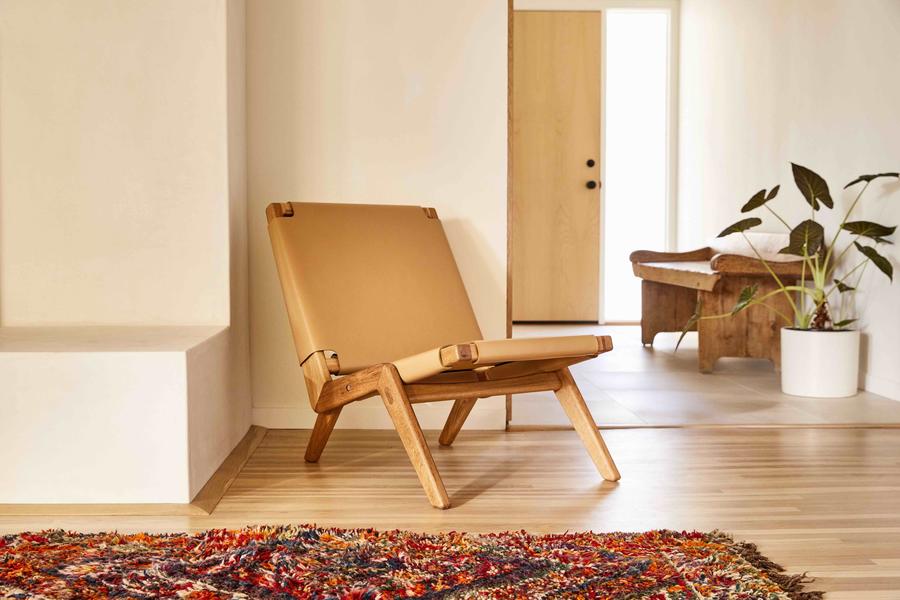 Oakland, California–based company Revival Rugs has launched a collection of furniture and home accessories. From dining chairs to a slim wooden desk, the pieces have been designed to work in tandem with the brand's selection of handwoven rugs.
Known for its small-scale removable wallpaper products, New York–based brand Chasing Paper has paired the launch of a traditional wallpaper collection with the unveiling of its new e-commerce experience, complete with visualization tool.
Luxury prefab home builder Dvele has acquired Blu Homes, a fellow pioneer in the factory-built housing and technology space. The two Northern California–based brands plan to unite Dvele's self-powered home initiative with Blu's residential designs.
CALENDAR UPDATES
The Dallas Market Center announced that its Showroom of the Year Awards will take place on June 24 at 5 p.m. EST via Facebook Live. The interactive event, co-sponsored by Furniture, Lighting & Decor magazine and Lightovation, the Dallas-based international lighting show, will recognize leading lighting retailers.
The 56th annual Pasadena Showcase House of Design will livestream a preview on June 26 at 6 p.m. PST, offering a behind-the-scenes look at the space post-construction, plus designer interviews, product demonstrations and musical performances. Ticket sales benefit musical enrichment nonprofit Pasadena Showcase House for the Arts. For details, click here.
Leading up to its summer event (August 13 to 18), Atlanta Market will host "Shop the Show: Alumni at Home Edition," a new online series of programming. Across five design themes in the gift and home decor categories, the digital event will offer exploratory programming in the form of blog posts, Q&A sessions, a digital lookbook and social media posts, all of which will include links to exhibitors' digital showrooms.
Upstate New York–based biannual artisan fair Field + Supply announced the launch of its first-ever digital market, Field + Supply Virtual MRKT. The four-day event will launch in late July and feature live demonstrations, interactive programming and an e-commerce marketplace that will remain as a permanent feature on the company's website.
The San Francisco Decorator Showcase has announced dates for its digital programming, with a possible live event. Virtual tours, launching on August 29, will involve a walk-through video tour and interactive 3-D self-guided tour with links to designer interviews. Pending local and state health guidelines, in-person tours may be allowed—updates will be posted here.
The September 2020 edition of Maison&Objet will take place in a virtual format September 3 through 12 in Paris, by way of digital showrooms and talks on the Maison&Objet platform. The next physical edition of the show is scheduled for January 2021.
SHOWROOM REPRESENTATION
De Sousa Hughes Outside welcomes Pennington, New Jersey–based outdoor furniture brand Danao to its showrooms.
Howard's, the Southern California–based appliance, TV and mattress retailer, has announced a partnership with luxury kitchen and home appliance brand Dacor. All of Dacor's products will now be available at Howard's, including cooktops, range hoods, refrigerators and more.
RECOMMENDED READING
"Corporate America's wings are clipped, and some CEOs say it is better that way," writes Chip Cutter for WSJ. After months of working from home, many executives and employees believe that business travel in the future will be reduced and redefined, causing a significant impact on the airline and hospitality industries.
In a conversation with Fast Company's Julia Gamolina, Washington, D.C.–based designer Kia Weatherspoon—a fierce advocate for design equity who also happens to be an Air Force veteran and Air National Guard member—explains why good interior design is a human right, not a luxury for the few.
"Is now the right time to buy a holiday home abroad?" asks The Financial Times. With the slow easing of lockdowns around the globe, well-to-do individuals may be thinking now is the time to strike a deal on a vacation property. But airline fleets are grounded, and many countries are considering implementing travel restrictions, if they don't already have them in place. A first-world conundrum for the ages: Is now the best or worst time to snatch up a European villa?
The country is slowly reopening, and with it, museums. In answer to the emotional blitzkrieg of the last few months, several institutions are adding arts therapy to their missions, among them the Metropolitan Museum of Art, the Rubin Museum of Art and the Cincinnati Art Museum.
CUE THE APPLAUSE
For the second year in a row, New York–based design brand Atelier Alain Ellouz has been honored by NYCxDesign for its outstanding lighting products. This year, its Infinity Design collection won in the Best Floor & Table Lamps category.
Farooq Kathwari, president, chairman and CEO of Ethan Allen, received a 2020 Ascend A-List Award, given to honor the accomplishments of impactful Pan-Asian business leaders.
The Designing a Better Chicago initiative announces the inaugural recipients of its 2020 Design Impact Grant program, supported by NeoCon and theMART, the Chicago Department of Cultural Affairs and Special Events, and the Design Museum of Chicago. This year's two grantees are the Chicago Mobile Makers, a design-driven community youth nonprofit, and Maplewood Housing for the Visually Impaired, a nonprofit supportive living community.
Hartmann&Forbes, known for its luxury window coverings, wallcoverings and textiles, has been named one of Oregon Business magazine's 2020 100 Best Green Workplaces in Oregon.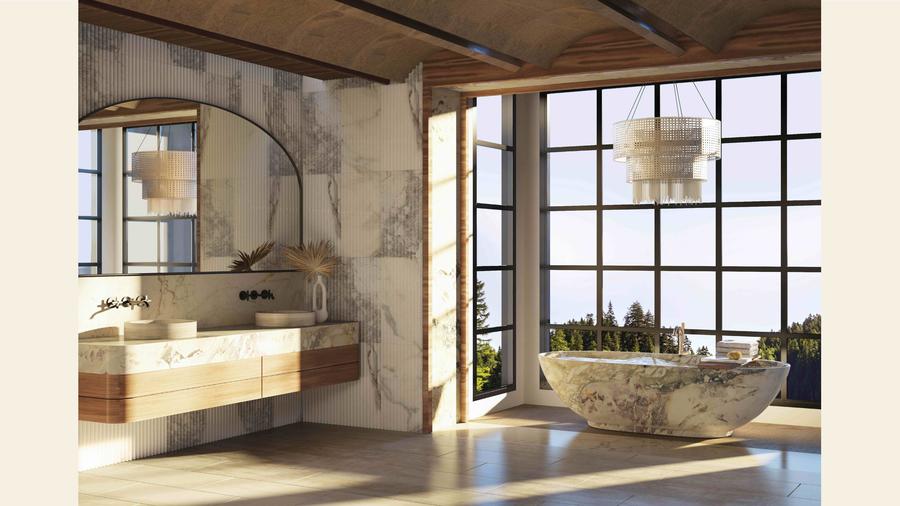 Courtesy of Plan Architecture
On June 15, Artistic Tile and Interior Design announced Dan D'Agostino of the Ridgewood, New Jersey–based firm Plan Architecture, Luba Libarikian of New York–based Born on Bowery Interiors and Ron Nemec of his eponymous New York–based architecture firm as the winners of their Design From Home Challenge, which tasked designers to create a master bath with products sourced from Artistic Tile. The follower favorite award went to Nicole Forina, based in Tinton Falls, New Jersey.
IN MEMORIAM
"He said he wasn't sure he saw the point of a chair, since human beings could sit on pretty much anything except a cactus," reads a New York Times tribute to Ralph Caplan, the celebrated New York design critic. Caplan passed away on June 4 at age 95 at his home on the Upper West Side. He started his career in 1957 as an editor at Industrial Design (also known as I.D.) magazine, and his decades of witty and incisive columns and critiques helped shape the product design industry.
London-born designer Paul Fortune passed away on June 15, leaving behind a significant legacy in the Los Angeles design scene. After founding his eponymous California firm in 1982, Fortune received widespread acclaim for his work—his own Laurel Canyon home was featured in Phaidon's Interiors: The Greatest Rooms of the Century. The designer will be remembered for his tasteful interiors and infectious spirit. In an Instagram post remembering Fortune, Architectural Digest editor in chief Amy Astley says of his book Notes on Decor, Etc.: "Paul wrote with the same wit and integrity he brought to his design and the projects are remarkably current and also timeless."
Homepage image: The Revival dining chair from Revival Rugs's new furniture line | Courtesy of Revival Rugs