If the phrase prefab home doesn't conjure up images of health and serenity, there's a reason for that. In Europe, manufactured housing can be a luxury product, but in the States, the concept has taken a long time to shake the stigma of association with low-cost homogeneity. However, the tides may be turning as a new generation of entrepreneurs explores the possibilities of prefab. This time around, the appeal isn't just price point—it's also wellness.
"You see more and more people with some sort of knowledge that there are more ways to build homes that won't have a negative impact on your health," says Brandon Weiss, chief innovation officer of three-year-old San Diego–based prefab building company Dvele, which raised a $14 million series A round last spring. The company has designed features to address air quality, mold, moisture, water filtration and nontoxic building materials; a Dvele-built home is also self-powered by solar panels (with a battery backup) and designed with efficiency in mind—a planet-friendly solution that fights climate change while increasing grid resilience. According to Weiss, its homes use 84 percent less energy than a conventional home.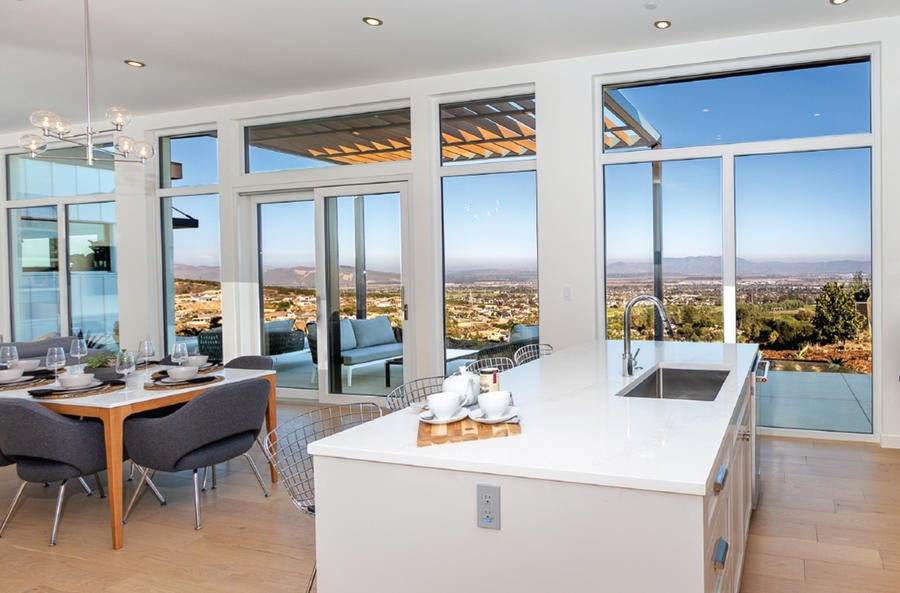 Another player in the market is Plant Prefab, a Rialto, California–based prefabricated design and manufacturing company that makes LEED Platinum factory-built homes that are sold on Amazon (which invested in the company last year). The company bakes efficiency into the home building process with its Plant Building System, pairing modular units with a compatible construction system that includes plumbing, electrical and finish materials—a combination that reduces costs, cuts down on manufacturing waste and results in shorter build times. "If you're interested in building a new home, we make the process easier and more efficient," says Steve Glenn, founder and CEO of Plant Prefab. "There's a growing number of homes we've designed, or you can hire an architect and we can build their plan. You get the home faster and with lower costs than if you work with a local general contractor."
Both prefab builders offer smart options to monitor and customize utilities and appliances. Plant Prefab coordinates a visit from an Amazon Expert to help new owners set up their Alexa-compatible smart home devices. Dvele has created on-site user dashboards that show homeowners' health data, and is currently developing proprietary smart home software with the aim of protecting personal data ("Home automation shouldn't mean giving up privacy," says Weiss). 
Perhaps more extreme are startups like Nevada City, California–based Geoship, whose crowdfunding campaign aims to tackle healthy-home building through the development of a cooperative of dome-shaped prefab homes. The domes are constructed from nontoxic, disaster-resistant bioceramic materials. Co-founder Bas Kools envisions low-maintenance homes that will cost less to maintain than conventionally built properties, and although his startup hasn't built its first home, he has big plans for its futuristic planned communities—including a partnership with Zappos and several foundations to gift its first "regenerative geodesic village" to the homeless population of Las Vegas. "We started wondering why homes are still built in the traditional way," says Kools. "Why is it so hard and unaccessible? How can we do this differently?"
In a June 2019 report, McKinsey & Company noted that, while prefab is not a new concept, technological advancements and the changing economics of modular construction have contributed to a resurgence of interest in the homes. The upsides of such a shift are immense: The study found that modular projects are generally completed 20 to 50 percent faster, and can save up to 20 percent in construction costs—not to mention reduced running costs throughout the property's lifetime.
According to the study, though factory-built homes currently account for just 3 percent of the building market in the United States, they have far wider adoption abroad—15 percent of the market in Japan, and 45 percent in Finland, Norway and Sweden; projections suggest the market value for modular construction in new real-estate construction alone could easily reach $130 billion in Europe and the U.S. by 2030.
The McKinsey report also found that prefab construction is likely to gain the most traction in regions where labor and housing shortages are the strongest—including, notably, the U.S. West Coast. Plant Prefab and Dvele are both feeling the impact already: The former is building new factories to accommodate demand, while the latter expects to triple its year-over-year revenue growth in 2020.
"Our purpose is to create a new generation of self-powered, healthy homes that will inspire society's transition to a clean energy future," says Weiss. "We've redesigned the home from the ground up. Our approach results in ultraefficient living environments that ensure the health and wellness of its occupants as well as their safety." 
Homepage image: A prefab home by Dvele | Courtesy of Dvele