Strawberry-printed Crocs are trending, and Facebook is trying to make its own Bitmoji. These are seriously strange times, but despite it all, the design industry pushes forward. Read on for headlines, launches and other events, recommended reading and more.
BUSINESS NEWS
Ikea has its eye on American retail real estate, reports Reuters. The Swedish company's shopping mall business is looking to establish a presence in major U.S. cities, specifically New York, Los Angeles, San Francisco and Chicago, said Gerard Groener, managing director of Ingka Centres, a division of the Ingka Group (which owns most Ikea stores). At present, the company is in talks to buy and convert old post offices and department stores, in a bid to take on mall giants like Westfield, Simon Property Group and General Growth Properties.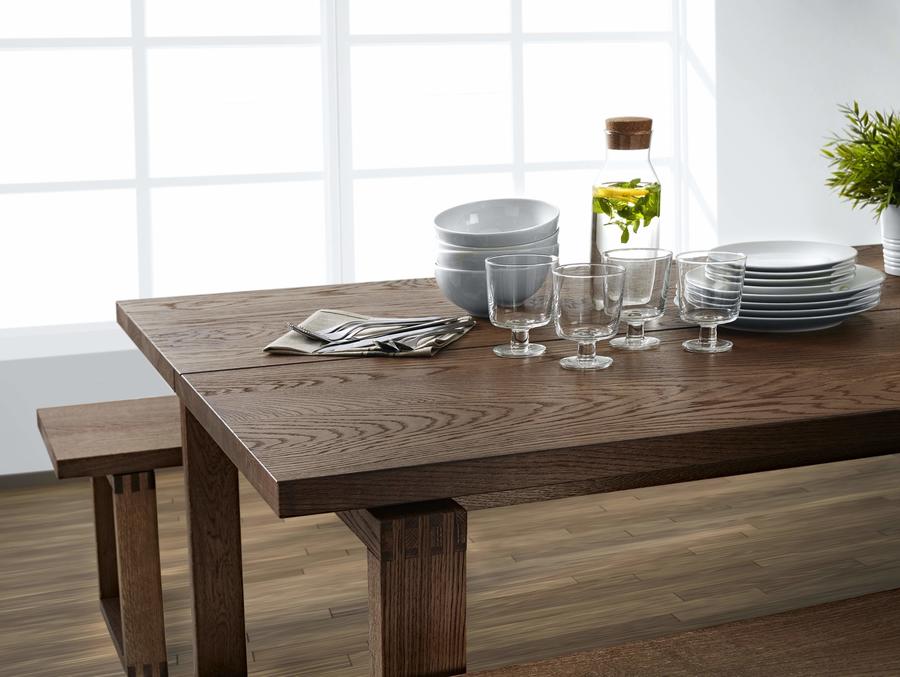 The bankruptcy filing came in February, the pandemic-related store closures in March—and today, Pier 1 announced its plans to fully shut down after 60 years of business, reports The Wall Street Journal. The company is seeking approval from bankruptcy court to begin an orderly wind-down of its operations as soon as possible after its roughly 540 stores reopen.
J.C. Penney survived the Great Depression, but the pressures of the retail climate combined with the pandemic led the company to file for Chapter 11 bankruptcy last week. As reported by WSJ, J.C. Penney filed in Texas, and in the days since has announced that it will close over 240 locations, or nearly 30 percent of its stores.
In the retail sphere, April saw a record-breaking plunge in both sales and manufacturing, reports WSJ. Retail sales fell a seasonally adjusted 16.4 percent in April from March, the biggest historical drop since record keeping began in the 1990s. Home furnishings were no exception, with sales down 18.5 percent compared to 2019. On the manufacturing side, The Federal Reserve said that output fell by 13.7 percent in April, its largest monthly decline on record since 1919. Overall, industrial production reported its steepest drop in over a century.
Yes, the big picture is showing losses, but there are some players reporting gains. Walmart, for instance, has reported a 10 percent jump in quarterly U.S. sales, with a 74 percent leap in e-commerce sales. Foot traffic may have fallen, but the mega-retailer saw an 8.6 percent increase in global revenue, reports WSJ.
Home improvement app downloads are also setting records, with The Home Depot (706,000 downloads), Lowe's (527,000), and Menards (116,000) all hitting all-time highs in the U.S. for the month of April. Other high performers include Wayfair, Overstock and HomeAdvisor.
On Friday, the U.S. Treasury Department and Small Business Administration released an 11-page loan forgiveness application, a resource for the hundreds of thousands of small businesses that took advantage of the Paycheck Protection Program. While the application has uncovered the path to loan forgiveness, Inc. points out that a number of key issues have not been addressed: Here are the four main takeaways that do provide clarity.
To protect its network of employees, FedEx is limiting the number of items that it will ship from certain locations of about two dozen major retailers, reports WSJ. Many of these companies, including Kohl's, Bed Bath & Beyond and Nordstrom, have seen upticks in e-commerce sales, and FedEx has been feeling the strain. According to a company spokesperson, the limits are similar to those that it puts in place during the holiday season.
Condé Nast has laid off just under 100 employees in the U.S., reports WSJ, as publishers across the world grapple with declining print advertising revenue and as marketers cut back on their spending. The layoffs are expected to affect advertising, editorial and corporate employees.
With the release of its April issue, San Diego Home/Garden Lifestyles has announced that it will close, concluding 41 years of editorial coverage. The closure comes as a result of financial pressures brought on by the pandemic, including declining advertising revenue.
Over the last decade, installations by Ventura Projects had become must-see attractions during Milan Design Week. The curated exhibition company has closed due to constraints brought on by the coronavirus, not least among them the cancellation of Salone del Mobile. The program originated in 2010 as Ventura Lambrate until 2017, when it was rebranded as Ventura Centrale and relocated to the cavernous vaulted warehouses beneath the tracks leading into Milano Centrale railway station.
LAUNCHES, COLLABORATIONS AND PARTNERSHIPS
Bed Bath & Beyond Inc. has launched the Bringing Home Everywhere program, a $10 million plan to donate essential items—towels, sheets and pillows, in addition to medical-grade supplies and food—to communities in the U.S. and Canada, as well as to those fighting on the front lines of the pandemic.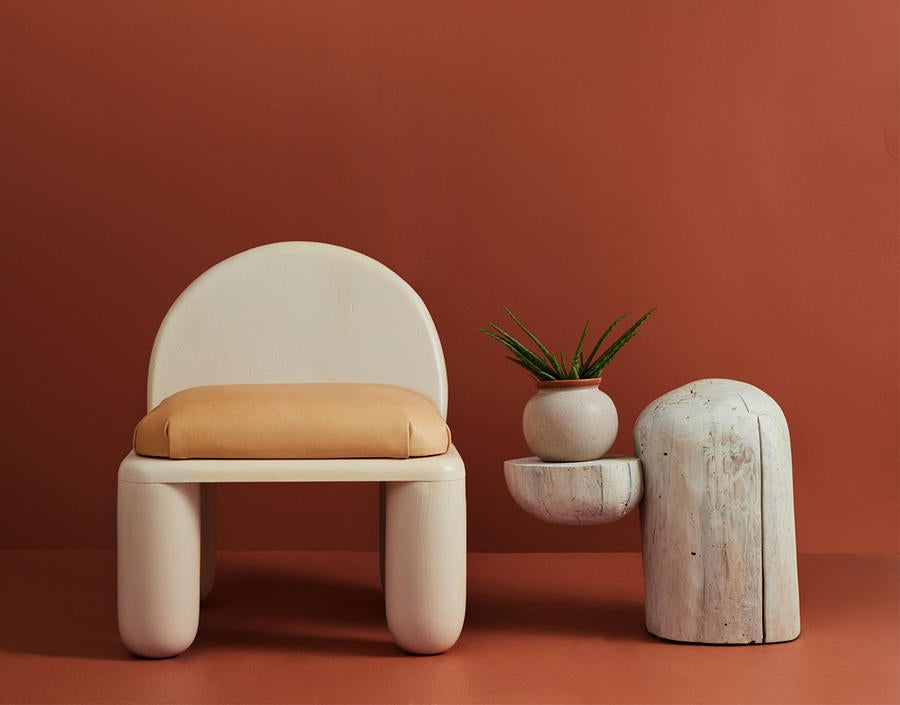 Yesterday, Sight Unseen launched Offsite Online, its first-ever entirely digital design fair. The curated web-based presentation will run until June 12, featuring new furniture and objects from 60 designers and brands, along with four weeks of related programming across the online magazine's channels. The fair has partnered exclusively with 1stdibs as its e-commerce provider, which will offer a selection of the featured products for purchase.
BridgeTower Media, the publisher of Furniture Today and other home industry titles, has launched a new media platform called Total Home Market. The platform seeks to connect buyers and sellers in light of the tsunami of market and industry cancellations.
Last week, Business of Home debuted Collections, a new vertical to showcase products. Home brands are able show product images to BOH's audience of interior design professionals, who have the ability to view the collection in its entirety, download a tear sheet, save and share images, and link to the product or company page for additional details.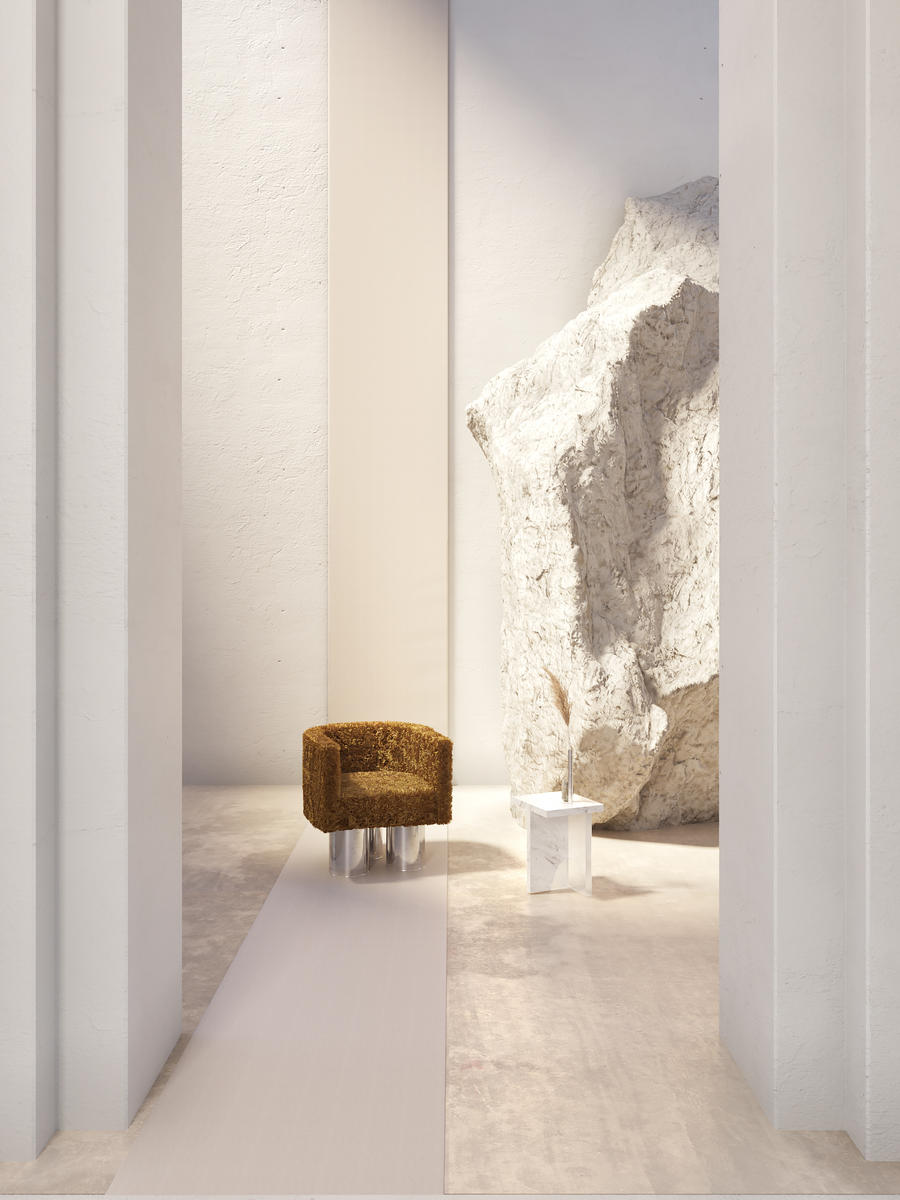 New York–based showroom and designer TRNK announces the opening of "REND," a group exhibition of four designers featuring newly commissioned and, in some cases, limited-edition pieces in metal and stone. The exhibit will be held in a virtual format.
The Bard Graduate Center announced the launch of its Digital Artist Residency, expanding its Artist in Residence programs to artists and makers who are working to advance critical thinking in the realm of digital art. The New York–based collective Foreign Objects has been selected as the inaugural Digital Artists in Residence, working to create an interactive project that explores smart cooking technologies in the contemporary home, inspired by BGC Gallery's exhibition "Eileen Gray" exhibition.
Schumacher announced last week its second collection with Williams-Sonoma. The collection includes tabletop, linens, pillows and other home accessories, united by vibrant blue and green tones and graphic patterns.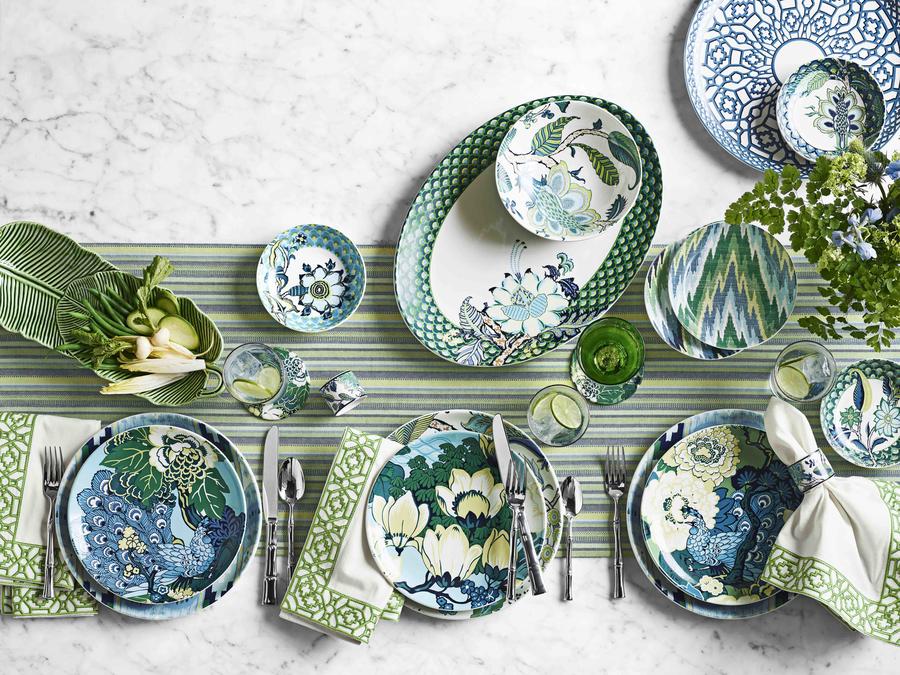 Amazon and Vogue have come together to launch Common Threads, a new e-commerce platform for independent fashion designers. Working with the Council of Fashion Designers of America, the two companies hope that the platform will help designers who are struggling during the pandemic, reports Business of Fashion.
RECOMMENDED READING
Consulting giant McKinsey recently released an article addressing how businesses can plan for the uncertainty that will come with reopening in the weeks and months ahead. With forecast earnings and five-year plans scrapped entirely, the company's consultants suggest that business leaders instead begin embracing systematic approaches to performance management: "The financial-planning team should focus on the following five steps: Get a clear view of the company's starting position; build a fact base and use it to develop a range of scenarios; align on a financial plan with the 'direction of travel'; determine best actions and moves; and, finally, identify the 'trigger points' that will prompt the business to adjust and adapt forecasts and financial plans with alacrity."
On firm ground (and with good humor), House Beautiful senior editor Hadley Keller takes a look at how the coronavirus will shape the future of design. "First, and perhaps most instinctual, is an increased understanding of the home as a safe space. Any threat or uncertainty leaves us as humans longing for security, and in this instance, we've been pushed more than ever to find that in our homes," she writes. The New York Times takes a look at a similar topic this week: Writer Tim McKeough explores how the pandemic will change the future of apartment design. In his crystal ball, visions of "flex spaces" and greater access to the outdoors are more pressing predictions, while reimagined storage spaces and smarter home tech are the underdog suggestions.
Hotels, too, are having to rethink their identities. In a recent article from architecture firm Gensler's ongoing look at how the virus is impacting design, writer Tom Ito explores the considerations of the hospitality industry in a post-COVID world. At the top of the list is how hotels will continue to support local communities and economies, whether providing shelter in disaster relief situations or employing hundreds of local citizens.
Through a robust body of furniture designs—and perhaps most notably the Eames lounge chair, a midcentury synecdoche whose legacy is alive and well—Charles Eames left his indelible mark on design. His wife, Ray Eames, is forging her own way. As part of "The Misses Files," a new series from The New York Times, a retrospective by culture editor Jennifer Schuessler shines a light on the designer who was hiding in plain sight all along.
"Despite what local and national leaders may say, governments don't open economies—economies reopen when citizens feel safe enough to resume their usual activities. And it's possible many of your employees aren't there yet," writes Lindsey Blakely, managing editor at Inc. The pandemic has raised a lot of new questions around comfort: How well have you adjusted to virtual meetings and presentations? Are employees ready to go back to work? What will professional environments look like once people are ready to go back? Inc. has some thoughts.
A big number: Two-and-a-half trillion dollars. No, this isn't the stimulus package, it's the estimated value of the fast-fashion supply chain. Sustainably minded watchdogs have been talking about ridding the world of $5 swimwear and mass-produced flip flops for years now, but with the pandemic, that production cycle has screeched to a halt. As The Financial Times reports, the virus has shuttered shops in major world cities—and as a result, factories in places like Bangladesh and Vietnam have closed too. Cotton stockpiles are overwhelming in central India, and no matter how you spin it (a "surplus sale" here, an extra 20 percent off there), brands on the consumer-facing end of the supply chain are taking extreme measures to clear house and keep orders rolling.
CUE THE APPLAUSE
The IIDA announces the 2020 recipients of its annual Of the Year Awards, recognizing outstanding commitment, passion, professionalism and dedication to the organization and to the design community. The Member of the Year award goes to HDR senior interior designer and architectural studio leader Abby Scott; the Student of the Year award goes to Tyler Hatton, a graduating senior at The Ohio State University; and the Educator of the Year award goes to Katherine Ankerson, dean of the College of Architecture at the University of Nebraska–Lincoln.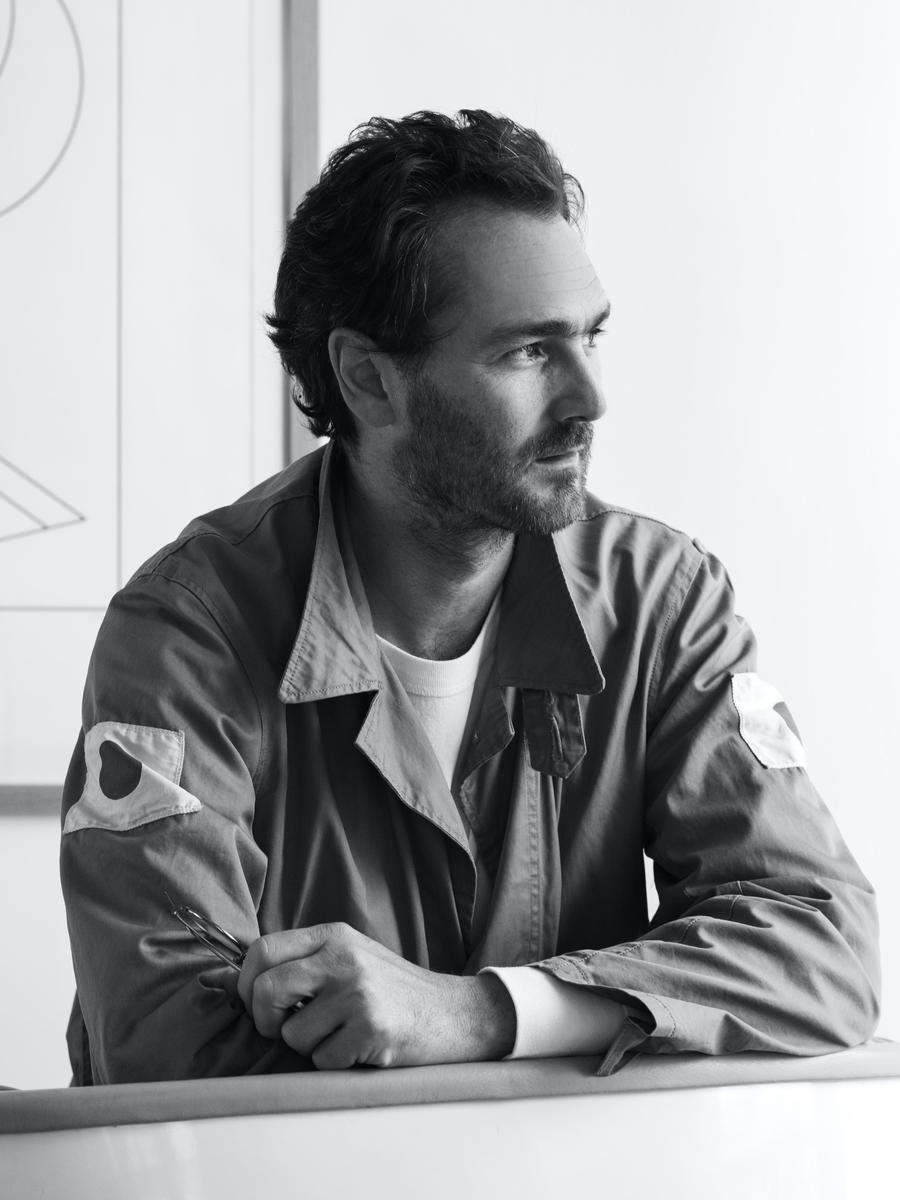 Maison&Objet has named French architect and designer Franklin Azzi as its Designer of the Year for the September 2020 edition. For the second year in a row, the September fair is themed "Work!"—a decision that aligns with the show's goal of bringing inspiration to commercial architects in addition to Maison&Objet's retail, hospitality and residential interior design audiences.
CALL FOR ENTRIES
The custom upholstery company Sam Moore has launched "80 Great Room Designs Featuring Sam Moore," a contest for the interior design community. In celebration of the company's 80th anniversary, the contest is encouraging designers to share photographs of design projects that use Sam Moore products—the top three submissions will receive a $500 credit to their account to use toward their next purchase. For more information, click here.
The Paris-based wallpaper atelier Maison Pierre Frey announces the "Draw Me a Wall!" competition for the children of its customers and employees. In the spirit of fostering creativity among children who have been out of school, the contest invites children ages 3 to 12 to submit their drawing until June 30. In September, 25 winners will be announced, and the selected drawings will be converted into a wallpaper to be launched internationally through the Pierre Frey network in the autumn of 2021. For more information, click here.
Homepage image: A display from TRNK's 'REND' exhibition | Courtesy of TRNK