Last month marked the Manhattan opening of TRNK Apartment, a 1,300-square-foot concept gallery and live-in showroom located on a busy SoHo street. With the new space, occupied by TRNK co-founder Tariq Dixon, the e-commerce company follows the path forged by brands like Snowe, Menu and Skagerak—all of which have demonstrated the feasibility of the live-in showroom model. Dixon had never considered doing so himself until he began looking for a new showroom last spring; during the search, a broker explained that a space he was considering was zoned live-work, meaning someone had to live there. The notion was fairly surprising to Dixon, and though he passed on that space, his interest in the concept was piqued. A short time later, the right space became available in SoHo—another live-work unit, next door to the Judd Foundation's headquarters on Spring Street—and he made the call to unite work and home. "The one thing that you have to be more mindful of is when to draw the line that separates life and work," he admits.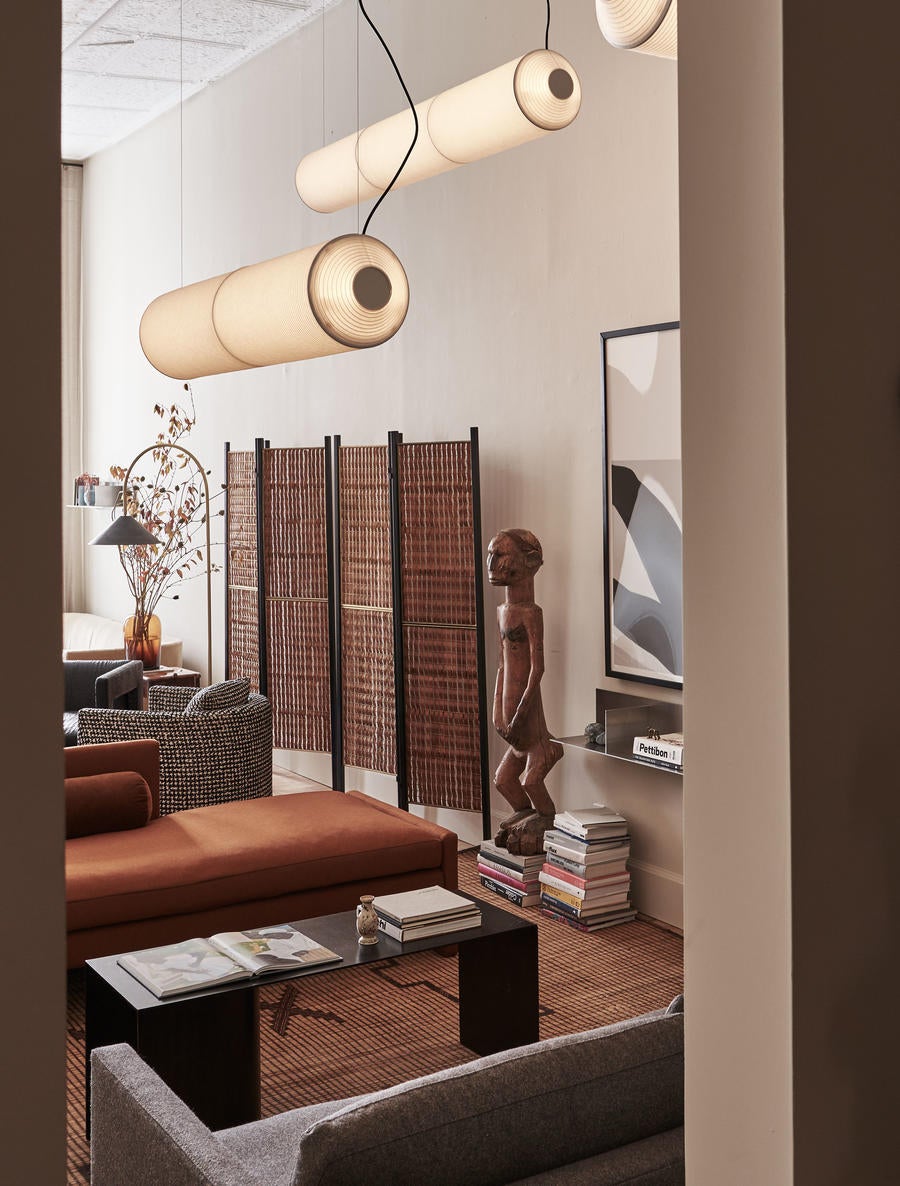 Dixon and his team began the process of moving into the current space in May 2019, which underwent renovations through the fall. Now, the loft—which boasts soaring tin ceilings and ample natural light—is filled with pieces from the TRNK collection and a selection of items by other brands TRNK represents. One showroom feature you won't find in the apartment? Price tags. The space, while shoppable, lacks any traditional retail fixtures, lending to the lived-in atmosphere. "These products are used—people actually come in and sit on these sofas and they get wear and tear," explains Dixon. "We can speak to someone spilling red wine on the sofa, and we got it cleaned up. It's not a museum." Objects collected from Dixon's travels punctuate the loft and heighten its intimate feel.
Most of the clients that call upon the TRNK Apartment and shop with the brand are designers, but that wasn't always the case. Dixon's business began as an e-commerce site in 2013, when he carried an assortment of one-of-a-kind antiques and home products sourced from various digital marketplaces; in 2017, he noticed a shift in his customer base after launching his first in-house line of upholstered seating, the Truss series. Following the line's debut—and subsequent interest from the trade—Dixon began to invest more energy in the TRNK collection. As the line became the company's most significant source of revenue, Dixon decided to shift his focus. He cut ties with several partners and streamlined his inventory, saving on operational costs by managing products from between 20 to 25 vendor partners, who have become close collaborators, rather than more than 200.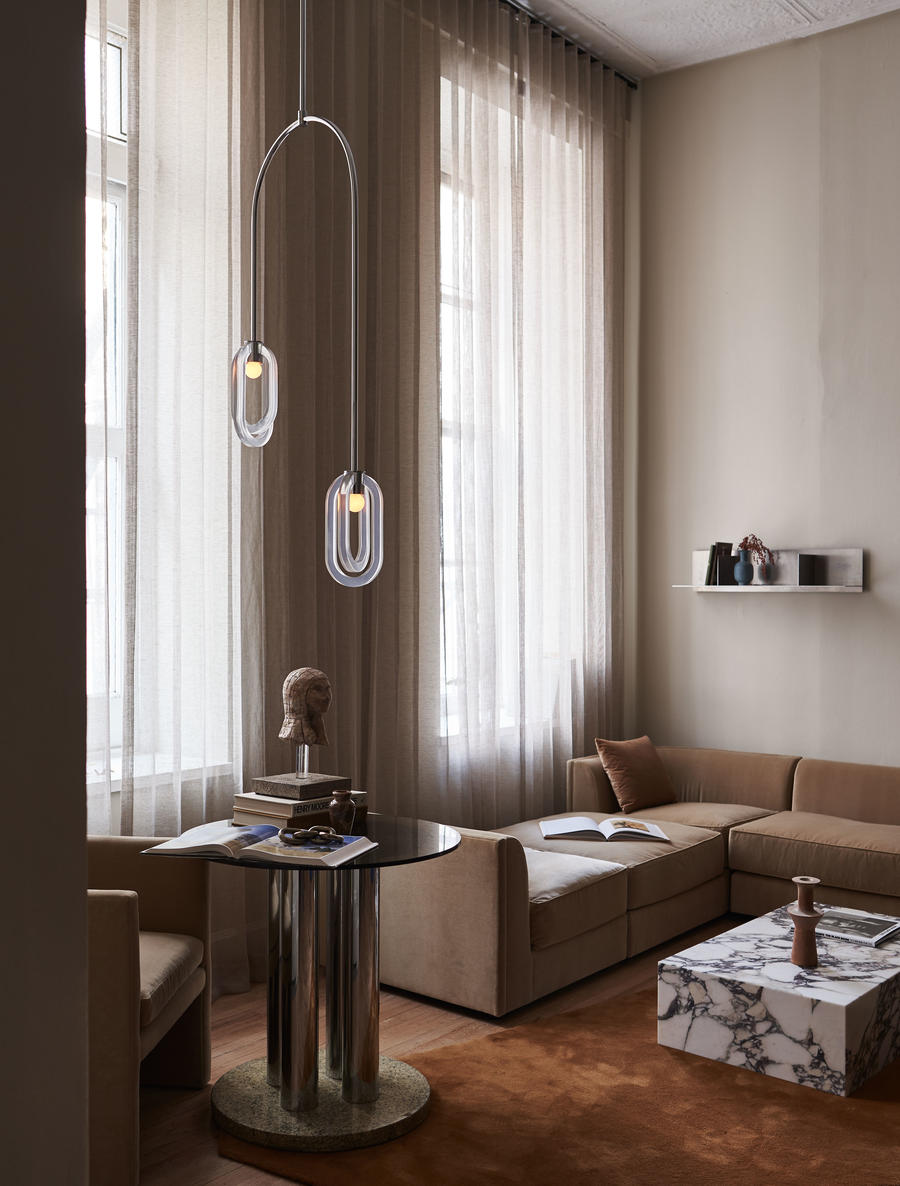 While the pieces that end up on TRNK's website are widely sourced—plinth-like marble tables and sleek wooden benches from Scandinavia; a timeless Paulo Mendes da Rocha–designed lounge chair from France, rendered in chain mail, canvas or leather; and handwoven rugs from Dallas-based Loloi—the furniture from the TRNK Collection is all fabricated domestically, which means customers can receive a customizable product in six to eight weeks. Such short lead times have been an important part of the brand's appeal: "We're finding that [the time customers are willing to wait] is getting shorter and shorter," says Dixon. "We did upholstered seating so that there was a design product [in the TRNK portfolio] with the option to make it custom, whether it's choosing the fabric or even the length in some cases, that hearken to a European sensibility without the European 16-week lead time."
Dixon has been careful to grow his line without stepping on the toes of existing vendors. He sources rugs from India, but is introducing a line of TRNK-branded rugs in asymmetrical, angular shapes and more than 30 colorways after fielding repeated requests for custom offerings. (The made-to-order rugs, made of New Zealand wool, will ship in 4 to 6 weeks.)
He has also curated the collection with a specific look and feel in mind: "We're thinking about a city-minded customer—that's the sensibility [of the] design, but also function," says Dixon. "A lot of the product we feature is more small-scale, more small-space friendly, suitable to both rental and owned environments. We're also price-point conscious—when you compare it to fashion, it would be like Theory, with a very urban ethos, a relatively clean but super-modern palette, but a price point with a certain amount of accessibility."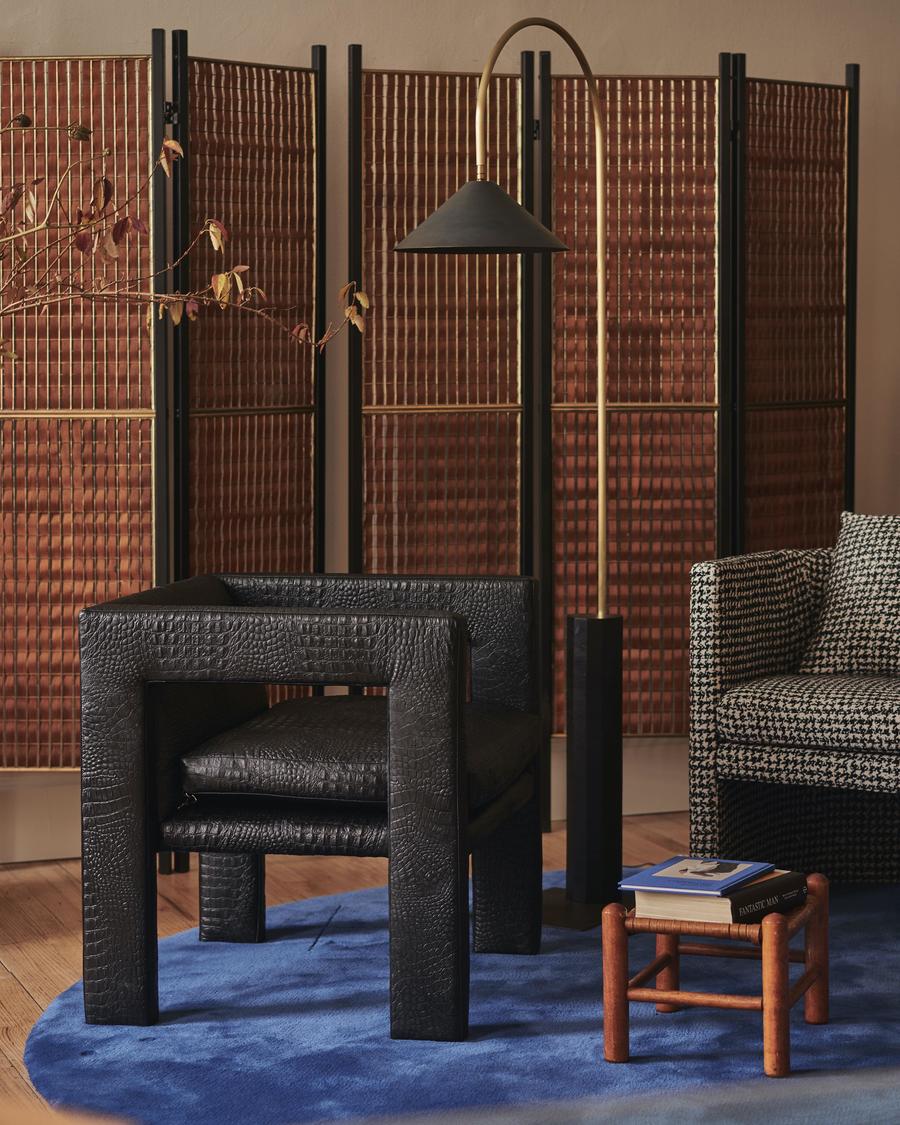 Dixon has big plans to venture into a host of new product categories this year—including those custom rugs, an in-house fabric line for the brand's upholstered pieces, and occasional tables, as well as experiments with tabletop design. The company has recently grown to include TRNK Editions, a program that features exclusive partnerships with emerging artists from around the world, offering limited-edition series of fine art prints (and soon, sculpture).
The new showroom fits neatly with the brand's fresh outlook. "[Previous] spaces felt more like showrooms—that's what they were and how they operated, and that's something you could sense in the energy of the space," he says. "[This] lends a voyeuristic, experiential setting that was missing from some of the others, which didn't feel activated."
The new home also strikes a balance that Dixon has honed over the years. "We're trying to service our clients, listening to their feedback and responding to it," he says of the brand's changing, growing assortment. "We need to make sure we're actually adding value."
Homepage image: Paulistano lounge chair in Mesh by Objekto | Courtesy of TRNK