For direct-to-consumer brands, success often depends on making sure a potential customer knows who you are and what you sell before they even Google you. Take Brooklinen, for example—anyone who's ridden the New York subway or listened to a podcast in the last three years knows the brand, even if they've never bought so much as a washcloth from them. Getting your product on a customer's radar is crucial, which is why when a group of D2C brands (Snowe, Outer, Industry West and Uprise Art) were asked to contribute to a shoppable penthouse at luxe New York real estate development 70 Pine, none hesitated.
"We've seen the success of these offline, experiential setups repeatedly since we launched our brand," Snowe co-founder and co-CEO Rachel Cohen tells Business of Home. (One of Snowe's earliest IRL experiments was a pop-up run out of Cohen's own apartment.) "It's always in the back of our minds that we need to continue to find ways to bring the store to the customer. Real estate and retail are both changing, and the way that customers interact with products and the experience that they expect has changed too. ... Being able to create a shoppable design experience in a residential building made so much sense."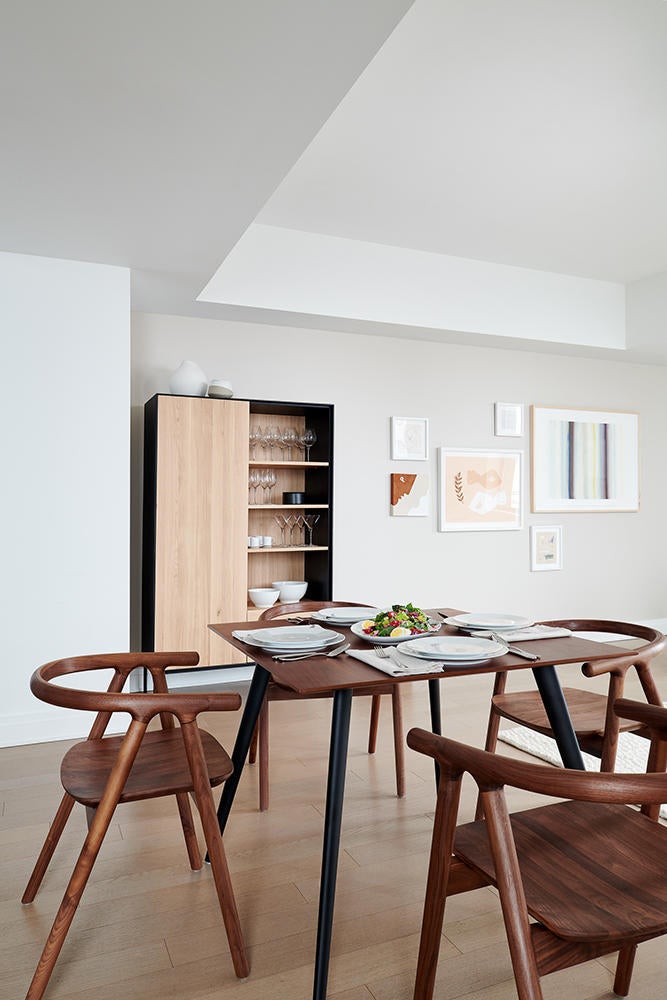 Open to residents of 70 Pine as well as to the public via appointment, the penthouse is set up just like a thoughtfully designed apartment, but everything that visitors see is available to purchase. The concept fits in nicely with the development's overall "Give tenants everything" strategy—amenities include a fine-casual restaurant by Michelin-starred chef James Kent, a higher-end gym concept from New York Sports Club called Elite, a coffee shop, a market and a flower store. So, why not top the veritable vertical village off with an updated take on a multiline showroom?
"70 Pine wants to be a one-stop shop for its residents, and Industry West prides itself on creating that same experience for furnishing a home and designing it," says the furniture brand's co-founder, Anne England. "You can go to one place and outfit everything in your home. I think we have that same idea in mind, which we found cool."
Partnerships between real estate and retail are becoming more common as brands vie for the attention of affluent urbanites. The Everset, a new furniture rental company, went directly to real estate developers like Brodsky before it even launched, hoping to leverage the fact that the people who are most likely to need to furnish an apartment are those who are, well, looking for an apartment.
"On a surface level, this might not seem like a super scalable concept," says Cohen. "But real estate partnerships have been really top of mind for us. When people are outfitting their homes, they want to do it all at once, and they're craving guidance in the home space. They want to see the product before they buy it and know exactly how to set it up. You have to give customers the chance to see themselves in the space."
The penthouse at 70 Pine will be open to the public via appointment for the next year.