The sharing economy has dramatically dropped our defenses. We routinely accept rides from strangers, invite them to stay in our houses and check into theirs. We trust them to walk our dogs and provide on-demand massages—but to date, we seem to have drawn the line at buying furniture.
Outer, a new direct-to-consumer outdoor furnishings company, wants to extend that sacred covenant into the backyard. Instead of relying exclusively on their website to market and sell product, the Santa Monica–based digital startup enlists actual customers to turn their outdoor spaces into showrooms—and get paid to do so.
"We're imagining our Neighborhood Showroom as Airbnb-meets-retail, where we're turning our customers' backyards into physical showrooms," says Outer co-founder and CEO Jiake Liu of the concept. "It allows potential customers to go see our product—touch, feel and sit on the sofa; talk to a real customer instead of salesperson; and then make the purchasing decision afterwards."
The process is simple: Anyone who wants to view the product in person can book an appointment with a host online. All of Outer's neighborhood showrooms are currently located in the Los Angeles area, but the company plans to announce new markets soon. The brand has received thousands of applications, including some from Alaska and Hawaii, says Liu. That is especially impressive considering Outer debuted in March with one product: an understated weather-resistant modular seating unit made with eco-friendly materials that can be ordered in various configurations, from individual chairs and loveseats to sectional sofas.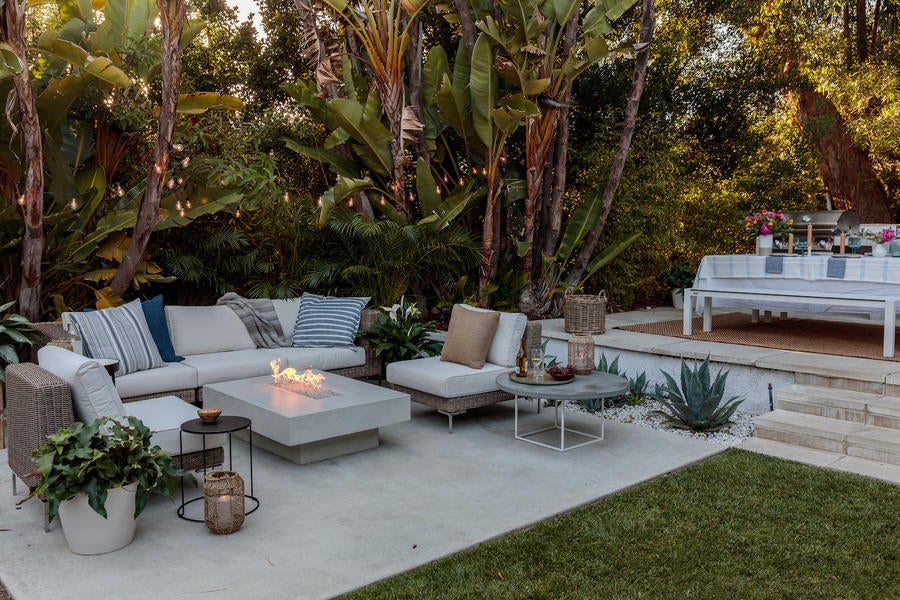 At the moment, a dozen hosts are activated; Liu estimates that they can conceivably earn between $200 to $2,000 a month, though it's still early in the program. The vetting process for hosts includes availability, location, space, friendliness, lifestyle and other considerations—including an interest in expressing their feelings about the product, not just the money.
Liu and co-founder Terry Lin don't coach or prep hosts on what to say to visitors. "One of the insights I learned about retail at a previous company is the idea of social proof," says Lin, the company's chief design officer, who was the head of design at Pottery Barn and a former Casper executive. "It goes like this: 'I trust friends, family, strangers, brands, and then retailers.' So if friends, family and strangers are the most important things [to a consumer], why isn't retail doing that? With our hosts, you can ask them your burning questions. If a customer has kids and there are accidents with ice cream, or muddy dog paws, how easy is it to clean the sofa? All those things we claim about our product, you can find out [if they're true]. We think about this as Yelp in real life."
This customers-as-ambassadors approach is in line with a wider social movement toward authenticity—a well-documented shift in consumer behavior, where individuals now expect information on sourcing, ingredients, manufacturing and sustainability practices.
But in addition to stripping away the veneer of a five-star review, Outer's approach is yielding results: One in every three visits turns into a sale, says Lin. "The conversion rate is quite high. When a person is committed to visiting a stranger's backyard to see some furniture, at that point they've made up their mind. They already know about the price point, they know how it looks, they know they probably want it. When they go to that physical space, they're looking for reasons not to buy, not the other way around."
As part of the early launch of the Neighborhood Showroom program, Outer offers vetted hosts complimentary styling services with Lin for their outdoor space. It's a value-add that also helps the duo gain insight into what customers are looking for as the company grows.
"Scaling is important, and we want to do it in a way that's measured," says Lin. "We're going to start bringing in hosts from around the country. We want to demonstrate that our furniture can work in different regions, but also help people see that our furniture is pretty transitional. We want to show it in classic, modern and traditional settings. If a customer has kids or pets or several decks or lives in a wooded area, we want them to browse our Neighborhood Showrooms and get inspired." The brand has also considered partnering with interior designers and landscape designers in the future.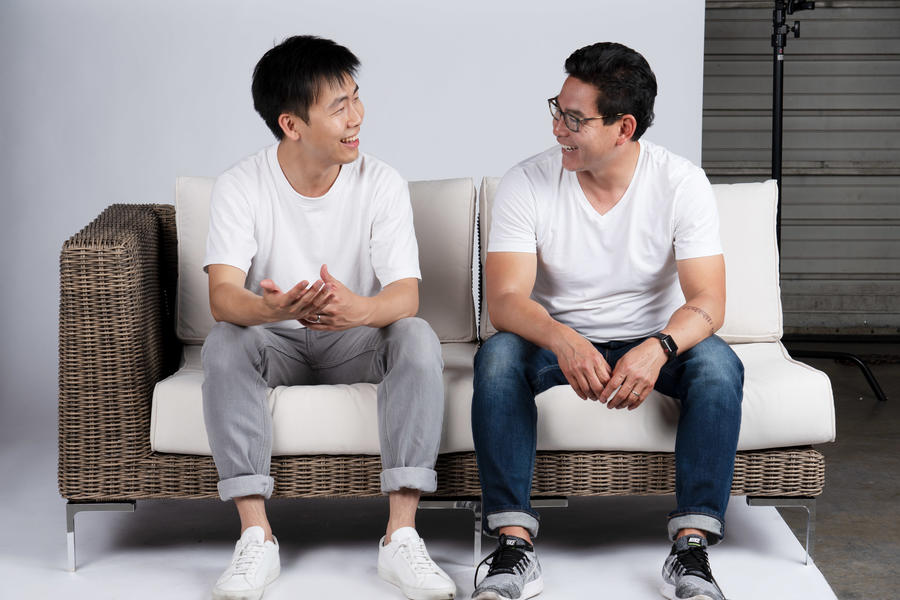 This nontraditional approach fits the company's quest to reimagine the outdoor category; Lin and Liu spent more than a year developing their modular sofa, focusing not only on comfort and durability, but also sustainability. The end result uses an eco-friendly foam with a waterproof cover for the cushions and a fabric made of polypropylene that borrows from performance apparel manufacturing techniques and has the hand of indoor upholstery. "We want it to be as stylish as your indoor furniture, as durable as your outdoor equipment and as comfortable as your mattress," says Lin. The Outer collection starts at $1,600 for two armless chair units; a traditional sofa is $2,500.
Aside from the materials, one of its biggest category-defying characteristics is a patented OuterShell, a fabric cover that rolls on and off easily, enabling clients to scoop up cushions and carry them in like a suitcase with a handle, rather than one-by-one. The innovation is Outer's response to a problem the founders believe has plagued most upholstered outdoor furniture: It can get gross. Cushions become wet or mildewed; dealing with bringing in the cushions nightly becomes a hassle. "What that means is that people aren't enjoying their backyards that much," says Lin. "We realized that was a problem no brand had solved, so that was part of our product requirement."
The collection is made in China—a connection that Liu brought to the startup early on. His family owns a factory that specializes in patio furniture, which is an equity partner in the venture. Touring the facility sparked his interest in the category—a market he was unfamiliar with as an entrepreneur. Looking for ways to innovate, Liu cold-emailed executives at Casper on LinkedIn; San Francisco–based Lin was intrigued by Liu's message and two eventually met—a setup not unlike a first date, they joke. Early on, friends, family and Liu's investor network supported the endeavor. (Actor Patrick Schwarzenegger is an investor and admitted his own trials with an outdoor sofa from a big-name retailer that couldn't survive the elements.) They closed their first institutional round of funding last August and are in the middle of raising their second.
As for how Outer is poised in the marketplace, the startup discovered another opportunity in its market research: Most consumers can't name-check an outdoor furniture brand. "They may name a few retailers, but not Janus et Cie, Dedon or Gloster," says Lin. "We realized the playing field was pretty level, meaning the market share was very fractured. So if we were to launch a brand, we could get the scale and grow our market share relatively quickly if we thought a lot about the branding and marketing and developed a high-quality, thoughtful design."