Just this week, a beloved 84-year-old family-owned furniture retailer in Massachusetts announced that it was headed for liquidation. Last month, it was a Philadelphia store shutting down. Sad to say, next month there likely will be another; we're in the midst of a tough time for furniture retailers. But amid the closings, a startup, Mine, is announcing openings—a startlingly large number of them. The Bay Area–based company claims 1,200 furniture showrooms spread out across the country, a total that puts its square footage in the millions, well above most retail chains. Why haven't you heard of it?
There's a catch (or a hook, depending on how you look at it). Mine's showrooms are not sign-on-the-door, cash-register-at-the-desk affairs. Instead, the brand has partnered with homebuilders like Pulte and Tri Pointe Homes to turn model homes into shoppable destinations. If a homebuying couple is touring a unit in a new development and happens to like the sofa, they can buy it directly from Mine's site. Likewise, if an online shopper falls in love with an armchair but wants a sit test before clicking "buy," they can browse a list of nearby model homes and check it out in person.
The idea for Mine came to founder Eoin Harrington in the midst of buying a home in Sausalito. "I'm that guy you see in restaurants and hotel lobbies turning furniture over and trying to see where it came from," says the former RH senior vice president of innovation. "When my wife and I were looking, we went to an open house that had been designed by a Bay Area designer, and we loved about half the furniture in it. We tried to buy it, but the staging company needed it for the next project—and they didn't even know where it was from. That got me thinking: There's something here."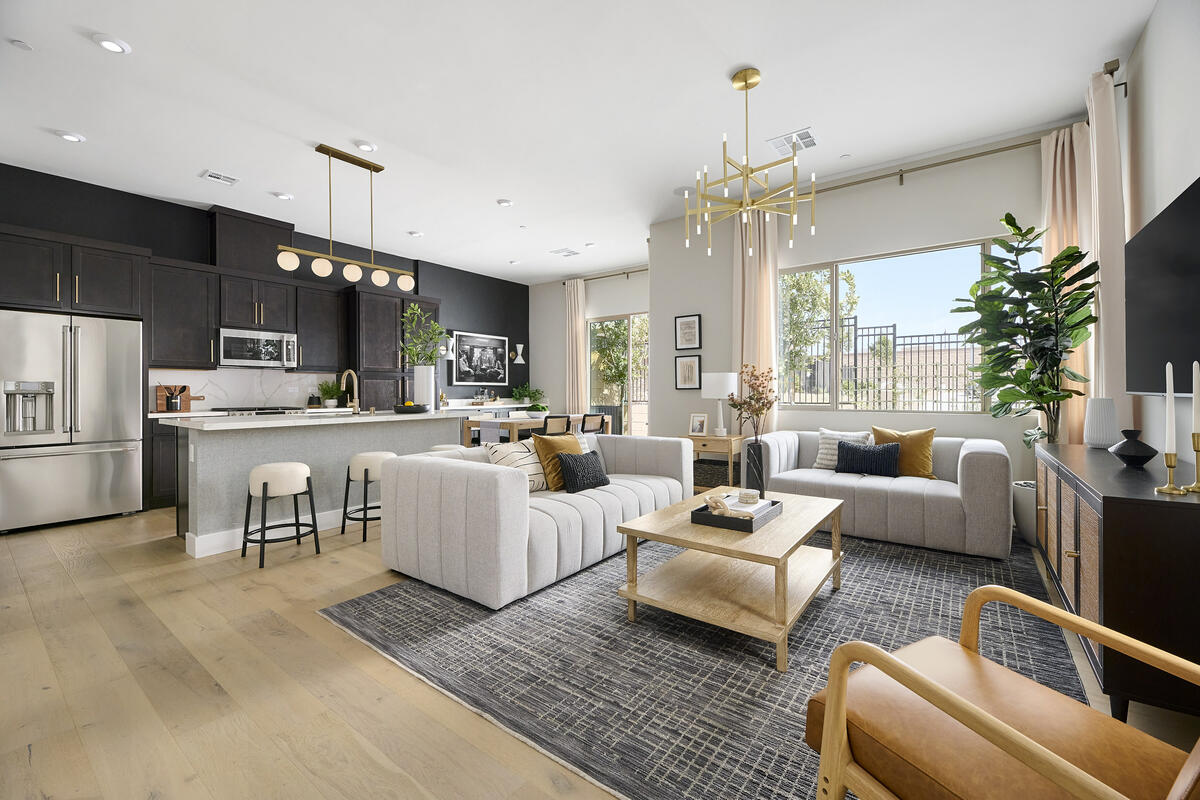 Damian Tsutsumida of Tsutsumida Pictures for Tri Pointe Homes
Harrington raised a seed round from investors (he declined to provide numbers) and launched Mine in 2019. Much of the past four years has been spent quietly building the relationships and the software required to unite three constituencies that don't normally occupy the same space at the same time: home builders, furniture brands and online shoppers. Now, Harrington is bringing Mine out of stealth mode, with the goal of creating a unique solution that solves one of the fundamental challenges of selling home goods online.
"Airbnb convinced the world that homes can be hotels. From that, we've seen this complete transformation of the hospitality industry," he says. "I think there's a path toward an equivalent in the retail space, especially with furniture. E-com has eaten the world, as they say, but it has not completely torn apart the furniture world, because if you ask shoppers, they'd rather sit on a sofa first than purchase it sight unseen."
On the supply side, currently Mine works with a portfolio of more than 300 brands, many of which will be familiar to habitués of High Point Market, like Century, Four Hands, Surya and Noir. The company collaborates with homebuilders to fill their models with furniture from its partners, then builds a corresponding e-commerce store that browsers can shop. (Discreet in-person signage lets visitors know that the house is shoppable.) Mine holds no inventory and fulfills via drop-shipping, though Harrington says the company has developed a system to consolidate some large deliveries into a single shipment for white glove delivery.
Harrington says that Mine is largely designed to address the pain points of furniture shoppers, especially those who don't live in a major metro area and have far easier access to model homes than they do a CB2. It also addresses a classic furniture e-commerce problem: If customers have seen a piece in person, they're far less likely to ask for a return—the bane of many digital retailers.
But Mine is also looking to catch a tailwind that is very #2023: the ascendancy of homebuilders. While rising interest rates have slowed real estate transactions to a crawl, new home construction has remained one of the few bright spots in the market, especially as the supply chain frustrations of the Covid era fade into the background. Homebuilding stocks have outperformed the Nasdaq, and local contractors are finding their waitlists backed up until 2028.
If there's one thing newly cash-rich homebuilders hate, it's the necessity of building model homes. Among the world's most expensive sales tools, model units, requiring constant upkeep, sit unoccupied for years—and there are a lot of them. Harrington says that Pulte alone has 2.5 million square feet of model home space. Lennar has more model units than there are Targets in America. Harrington's promise to turn these liabilities into a source of revenue (homebuilders get a cut of sales) is likely a welcome proposition.
"Model homes exist two to three years on average, and they're open seven days a week, so you can only imagine all the foot traffic that goes through them," says Harrington. "[Builders] always get these requests like, Hey, where is that table from? And often it's from wholesale vendors, and it's not easy to make a direct transaction happen. So when we started talking to the builders, they were like, Wait a minute, we've wanted this to exist for quite some time."
Recently, Harrington has been more consciously trying to add designers into the mix as well. On the commercial side, designers who create public spaces like hotel lobbies, bars and restaurants can—with the cooperation of the client—make their spaces shoppable, setting up a recurring revenue stream for all involved. (Like that light fixture at your favorite Italian joint? If you visit the restaurant's page on Mine and buy it there, both the designer and the eatery would get a cut).
On the residential side, Harrington is hoping to make a splash as well. His team has developed a surprisingly robust project management tool, Design Studio, tricked out with presentation tools, a mood board creator, and a product browser that allows users to search in a variety of ways, including filters for product that will be in stock six months from now. Having kept the software in beta until now, Harrington is hopeful that a wider release of the tool will connect with designers, who can grow the reach of the site. And if those designers want to take their clients to a model home for a sit test on anything in particular? All the better.
There are plenty of challenges on Harrington's plate. The company's unique twist is compelling, but it takes some explaining to buyers. Then there are more structural issues. Homebuilders may be doing well, but furniture shopping overall is still in the doldrums. And no matter what the hook, e-commerce is still a beast—Mine is as vulnerable to the same "reverse image search and find it on Google for $5 cheaper" problem as all digital retailers. The company, which fields a staff of 50, is not profitable. Still, Harrington is full of enthusiasm for where his unique concept might ultimately go.
"The goal of the company is really to make the world shoppable," he says. "We started a while ago, but I feel we're in stage one of the overall story."