Cast your mind back to the bygone days of 2021, cryptocurrency's most recent boom, a time when the mainstream media was scrambling to explain NFTs to the masses and monkey JPEGs were fetching millions at auction. Two years later, crypto prices have cratered, and the market for online apes has cooled considerably. But through the ups and downs of the hype cycle, digital artists have continued to experiment, and now a new platform, Tonic, is launching with the goal of translating (and selling) their work to a lay audience. The twist? Interior designers are invited to the party.
First announced at Future of Home last September, Tonic was founded by Mariam Naficy (founder of Minted) and Susannah Maybank (Gagosian's former head of digital), who say the platform aims to be a "safe space" for the curious-if-not-seasoned collector of digital art. "We believe incredible work is being done in this space," Maybank tells Business of Home. "We're trying to increase access for new participants, and create a welcoming community for both crypto and non crypto natives."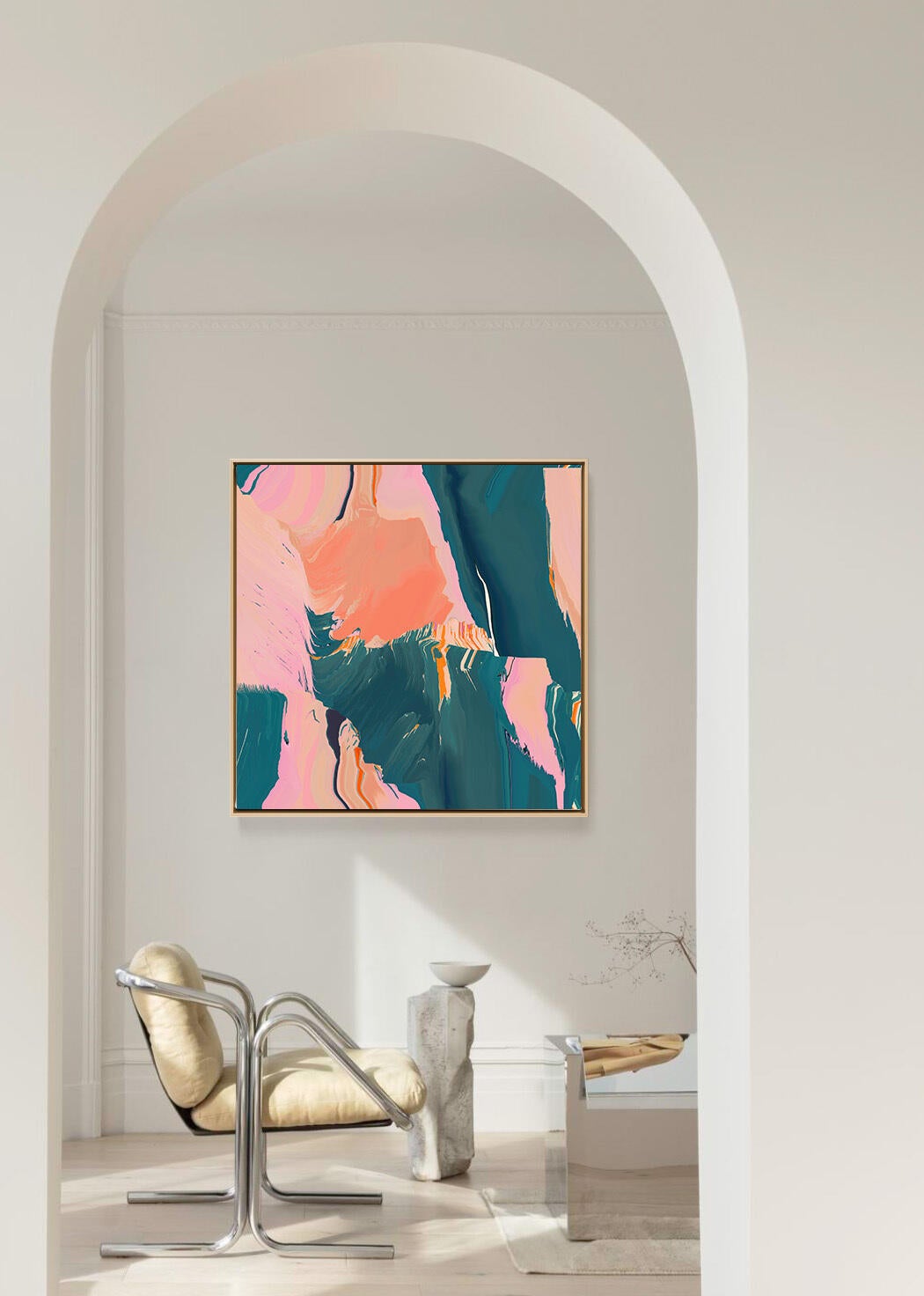 To that end, much of the platform is structured to make things easy for newcomers. Traditionally, buying NFTs has required users to go through the somewhat complex process of converting dollars into cryptocurrencies like Ether, then setting up a digital wallet to transact and store assets. Tonic, by contrast, allows users to pay by credit card and keep their digital art in a simplified wallet system.
"A lot of what we do is about education, because there's a lot of complexity here, and we want to be a resource for anyone who's curious about this [so they can] get involved," says Maybank. "There's even a concierge service if you just need someone to help walk you through it."
One of the biggest challenges of digital art is that even the most enthusiastic collectors don't always know what to do with it once they've bought it. To help address that, Naficy and Maybank have taken pains to tie their digital offerings to the physical world—at checkout, buyers can purchase an exclusive print of the artwork they've just scored. The pair have also tapped a murderer's row of design talent to launch the platform: Yves Béhar, Brit Morin, India Mahdavi, Ken Fulk, Brigette Romanek, Sarah Sherman Samuel and Christiane Lemieux are all founding partners. "To me, it seemed obvious that the people who could explain how to [live with digital art] were the people who deal with interiors," says Naficy. "They are the critical conduit to people understanding how to use this art."

Designers are not only creatively involved, but they can also participate financially. For every sale on the platform, Tonic will give artists 87 percent and take the remainder as a commission. In exchange for helping to promote a drop—by creating renderings that contextualize the art in a "real" environment, sharing on social or hosting a launch event—designers can earn in the neighborhood of 3 percent taken from Tonic's side of the split.
The artist featured in Tonic's debut launch—Jaime Derringer—is no stranger to the world of interior design herself. Derringer, the founder and former chief creative officer of Design Milk, has been experimenting with digital art since 2021. Her collection, Chromesthesia: Ascend, is composed of 200 pieces created through the manipulation of MIDI controllers—devices usually used to make music.
"I dove into making my own art NFTs after seeing something on Twitter, and I quickly fell into a rabbit hole—it's exciting! The art NFT community is incredibly welcoming," says Derringer, who has also joined Tonic as head of community. "We want to educate and help onboard the next generation of art collectors, so it's a lot about approaching web3 from the perspective of someone who knows little about collecting NFTs. This excites me because I'm a futurist. I have so much enthusiasm and passion about what's possible with the blockchain."
Starting today, Derringer's work will be sold in a Dutch auction format on Tonic's site. In the months ahead, the platform will debut collections by buzzy digital artists Stefano Contiero and William Mapan. Beyond that, Naficy and Maybank want Tonic to become the home of "blue chip" digital art as the medium enters a more mature era.
In that regard, Maybank believes their timing is optimal, despite the broader crypto market's stagnancy. "In some ways, this is a really wonderful time to be starting a gallery in this space," she says. "There's less volatility, and what you see is an incredible community that's already formed around generative art. Maybe the speculation piqued their interest, but then they got to know the space, got to know the artists and fell in love."
Homepage image: An artwork by Jaime Derringer | Courtesy of Tonic