We're live at Day 2 of the fourth annual Future of Home conference, where experts from entrepreneurs and business coaches to bestselling authors will take the stage, unpacking the forces of change sweeping and shaping the industry. Check back for top takeaways throughout the day.
---
Kevin Lau for Business of Home
Digital Transformation of Home
In the day's first presentation, author and futurist Tom Goodwin illuminated the complexities of the current mid-technology era, pointing out that new tech has largely augmented existing ways of living instead of reimagining them. In contrast, when the elevator was invented in 1853, it transformed architecture on a sweeping scale, allowing for the creation of skyscrapers and other innovative structures. These days, we tend to use technology to automate or streamline existing processes, using robots to replace human assembly lines or a Roomba instead of an old Hoover. Goodwin encouraged attendees to rethink the possibilities that exist now, from prefabricated housing to 3D-printed structures, car-free communities and augmented-reality shopping.
Best quote: "This is a wonderful time to do our jobs. We have the best tools ever. We live in a very turbulent time when things seem to change a lot. The way to deal with that is disruption. Take control by making your own reality and your own future." —Tom Goodwin

Key takeaway: Architecture and design professionals can lead the way in adopting technology and re-imagining the way we live in and shop for our homes.
Kevin Lau for Business of Home
Sustainable Supply Chains With Phillip Raub and Whitney Frances Falk
There is hope on the horizon for the future of sustainable furniture manufacturing, according to Phillip Raub and Whitney Frances Falk, the leaders of two sustainable-first luxury home brands. They joined host Dennis Scully to discuss steps designers and manufacturers can take to be more accountable for their carbon footprint. Falk encouraged designers to ask suppliers not to ship furniture with foam (use cornstarch substitutes instead) and to inquire about materiality, which is often disclosed for products in the food and fashion industries. "Change in the industry is happening—it just needs more hands," said Falk, referencing an interview with climate scientist Katharine Hayhoe featured in an episode of philosophical podcast On Being. Falk, whose company ZZ Driggs is a Certified B Corporation, explained how organizations can use the B Impact Assessment as a road map for improving sustainable operations before actually submitting an application for approval.
Local manufacturing is going to make a major comeback, theorized Raub, the CEO of Model No., a company that delivers luxury furnishings made from plant resin and other green ingredients. "You've started to see it in the fashion industry—people are realizing the supply chain has been so screwed," said Raub. "I don't think it's 'Ra-ra-ra, built in America.' I think it's localized. Wherever you are doing business, you should be sourcing materials that are close to the end user. It's globalization through localization." The pair ended on a high note, reminding the audience that making a difference can start with small and tangible changes.
Best quote: "We're in an era of accountability. If you're an organization or business and you're not thinking about ESG and DEI efforts, then you'll become obsolete—we have to be thinking about that. We're in an educational moment, and we have to get ourselves up to speed." —Whitney Frances Falk
Key takeaway: Although climate change is often framed through a doomsday lens, Raub took a more optimistic position. "There's this idea that we're screwed with climate change and the planet. If you start to dive into the materials, there is true hope. It starts with implementing change, and it doesn't have to be this huge groundswell—it's one thing at a time."
ACTIVATION: UNIVERSAL x HUNTER DOUGLAS —A Beautifully Designed Day
Universal's Love.Joy.Bliss collection with style icon Miranda Kerr offered guests a soft place to land just past the registration desk. Plush barrel chairs and curvy sofas, upholstered in tactile, beckoning boucle were paired with coffee and martini tables in pale burled wood, all framed by Hunter Douglas's Pirouette Sheer Shades in a dusky coral. With its patented PowerView technology, the brand's shades can be scheduled to automatically adjust throughout the day, maximizing daylight or ensuring privacy—perhaps to steal a moment to dab on a few drops of soothing aromatherapeutic oils from Kerr's skin care collection. And for a farther-flung escape, Future of Home attendees were presented with the chance to enter a contest to meet Kerr in Malibu.
Kevin Lau for Business of Home
Growing a Better Future With Danielle Trofe and Tessa Callaghan
BOH editor in chief Kaitlin Petersen led a conversation with Danielle Trofe and Tessa Callaghan on the successes and challenges of developing products from new, plant-based materials. Trofe, founder of Danielle Trofe Design, began formulating the idea for her signature mycelium-made ceiling lamp eight years ago and has since seen her mushroom-based products hit commercial spaces like the 1 Hotel Brooklyn Bridge. In her experience, the lag in consumer adoption can be attributed to the misguided expectation that sustainable products should perform exactly the same as traditional products. Rather than lasting thousands of years, she explained, the goal is for products like her own lamps to eventually decompose naturally at the end of their life cycle—and from an environmental perspective, that's their strength. Still, it's been a challenge to communicate that adjusted value proposition to buyers, even if the end result is highly beneficial to the planet.
Callaghan, co-founder and CEO of AlgiKnit, which offers kelp-based products, chimed in with her perspective from an earlier stage in the development process. While Trofe's products are hand-made at a smaller scale, AlgiKnit is eyeing larger-scale production by tapping into existing supply chains and manufacturing processes to get items created from kelp to market faster. In pursuit of that goal, the company is also partnering with brands and marketplaces in fashion and interiors to understand how they can scale products to meet the needs of various markets. To that end, AlgiKnit recently moved into a new headquarters in textile hub North Carolina in order to better collaborate with the industry (one example of that in action: the new site's kitchen features Trofe's lamps). Both founders agreed that better education and industry cross-collaboration is the surest route to getting more consumers and designers on board with emerging materials.
Best quote: "I hope to see the onus of sustainability shifting away from clients, away from designers, and more onto the people that are actually making the goods. That responsibility needs to come from them because it is so hard to differentiate what is healthy for us and what could potentially harm us." —Danielle Trofe
Key takeaway: Sustainable materials are slowly making their way to the mass-market, but it's going to take an industry-wide effort to reach mass adoption—including more demand from consumers, advocacy from designers, flexibility from manufacturers and education across the board.
ACTIVATION: POLISHED—The Future of the Kitchen
Set to launch in the first quarter of 2023, Polished aims to streamline the selection process for purchasing kitchen appliances and provide unparalleled support through its new eponymous platform, which will include such prestigious brands as Forté, Viking and GE Café. As the parent company of Appliances Connection, Polished has had a front row seat to the home renovation boom of the pandemic years, and it is now positioned to aggregate that interest on its platform. "We want to be the go-to place not just to shop a curated selection of all the different brands, but also to answer any questions about features and specs," said Zakaria Ali, sales representative for Polished, explaining that customer support for the design trade is often overlooked. Visitors at Future of Home who just can't wait till the site premieres next year were encouraged to try their luck and toss their business card into a raffle for a Forté portable pizza oven.
Kevin Lau for Business of Home
The Future of Product Discovery With Clark Boyd
In a presentation from digital strategy consultant, professor and author Clark Boyd, attendees learned about visual search technology and its implications for the home industry. At the moment, the tool is primarily used when people either don't have the language to describe what they want, or when they don't know exactly what they want, but feel that they'll know when they see it. As such, visual search often functions as more of a party trick than a day-to-day tool, but Boyd predicts that the tide will turn as the technology continues to evolve.
One such evolution is already available on Pinterest, where a Complement the Look function can suggest accessories if a user uploads a photo of a certain outfit. It's easy to imagine the application that such a tool can offer for the home, by suggesting accent decor and furnishings. Boyd sees visual search becoming more of a copilot, helping designers seamlessly discover furnishings and accessories.

Best quote: "AI can't replicate your knowledge, but working with the tech will be beneficial at critical mass."—Clark Boyd
Key takeaway: While visual search technology is currently more of a specialist tool than a general one, expect applications for brands in the home space, as well as for designers, to continue to grow over the coming years.
ACTIVATION: PARACHUTE—Come Find Cozy
Tempting any jet-lagged Future of Home travelers, Parachute's comfy bedroom vignette just off the main stage invited guests to "Come Find Cozy." Dressed in Egyptian cotton sheets in clay topped by a duvet in terra and pillows in ochre, both of linen, the centerpiece bed epitomized the ultimate California crash pad. "The sunset palette reflects the desert landscape and warm West Coast vibes of Parachute's home base," said Gigi Marafioti, trade specialist for the brand, adding that cooler tones like moss and cobalt are available too. What visitors might have been surprised to learn, she continued, was that Parachute manufactures not just textiles but furnishings as well, including the Canyon bed frame and white oak veneered nightstands on view. "We'll be launching living room soon," she said.
Kevin Lau for Business of Home
Curation Commerce With Athena Calderone and Colin King
When designer and influencer Athena Calderone met stylist Colin King at an Architectural Digest photo shoot for her Brooklyn apartment, she didn't want to like him because she had never seen his work—now, they're teaming up to offer their designer and styling services together. The duo told host Dennis Scully how their professional relationship blossomed. "I've learned so much from both photographers and stylists because you design a space to be this emotive, finished product you live in and experience day to day," said Calderone, who is launching a furniture line with Crate and Barrel this Thursday. "But to see it through the lens is a very different point of view. I feel like stylists are essential to projects and the last layer."
King, who now works with New York–based home goods company Roman and Williams Guild, spoke about experiencing a space through the lens of his phone versus in person. Calderone added that when she composes vignettes, she likes to think about the principles of the overall composition and dissect why the design is working. As companies are getting smarter and more ambitious in how they show their work and products, it's increasingly common for brands to realize the need for stylists.
Best quote: "This [conference] is about community, and this is why we're all here. I wholeheartedly believe there is room for all of us. I'm not stingy with my information or sources. I think it's so important to honor and appreciate the people who help you get where you are." —Athena Calderone

Key takeaway: In an industry that focuses on emotion and energy, building relationships—like the one between designers and stylists—is key to creating and executing an artistic vision that resonates with everyone involved in a project.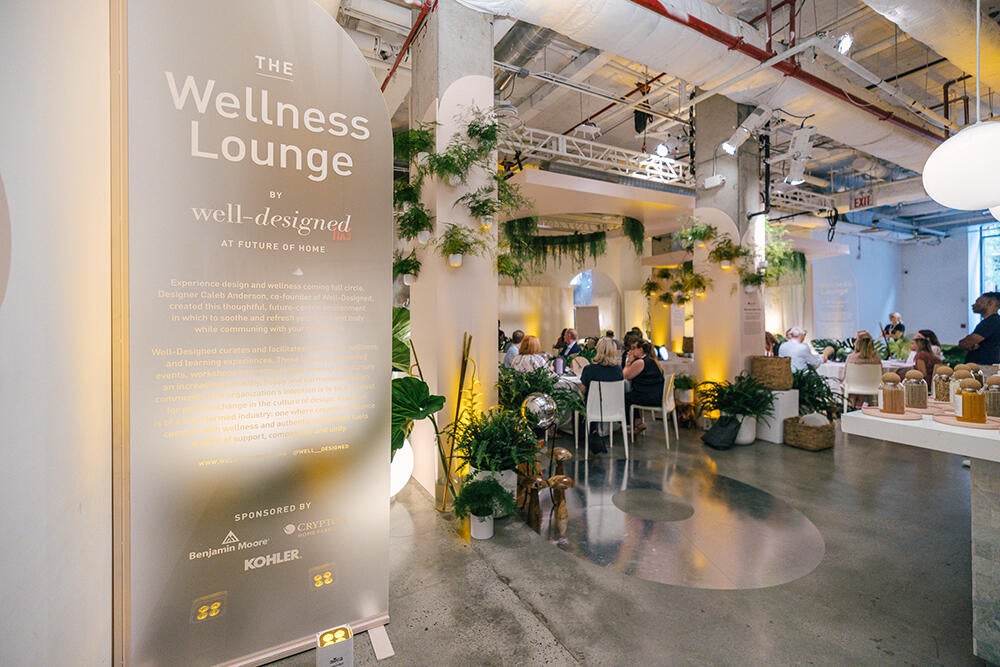 Kevin Lau for Business of Home
ACTIVATION: WELL-DESIGNED LOUNGE
Visitors got a taste of the peaceful, feel-good vibes that come with thoughtful design when they stepped into the Well-Designed lounge, which was enveloped in a soothing shade of soft pink paint (Love & Happiness by Benjamin Moore) and clad in glowing orbs, vining plants and curvaceous seats (including portable floor cushions upholstered in Kravet's bio-responsive Namaste Boucle in Oreo). Along with a Health-Forward bar serving antioxidant-rich elixirs and a DIY aromatherapy station—where wellness lifestylist Keisher Glymph helped visitors mix custom essential-oil blends—the space served as the meeting place for an array of wellness-minded activities, such as a guided sound-bath session, a self-reflection workshop and a desk yoga demonstration. "Not only are we offering these experiences to the design community, we're holding space for them," said Well-Designed co-founder Caleb Anderson.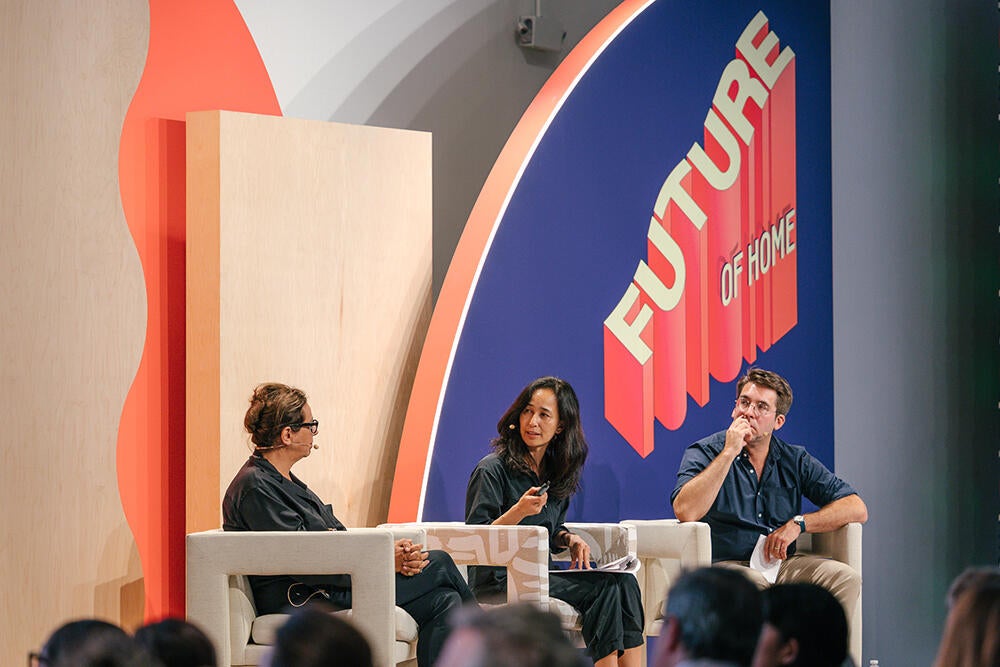 Kevin Lau for Business of Home
NFTs and the Future of Interior Design With Mariam Naficy and India Mahdavi
Mariam Naficy, founder of the online art platform Minted, and architect and designer India Mahdavi joined BOH executive editor Fred Nicolaus onstage to discuss the fast-rising value of the NFT market. The term "NFT" might conjure images of cartoon monkeys, Naficy acknowledged, but in reality it refers more broadly to a digital contract that links ownership to any unique physical or digital item by minting it on the blockchain (another seemingly murky term, which really just refers to the use of crowdsourcing to ensure the singularity of an item). She also shared some surprising statistics: In 2021, NFTs comprised 16 percent of the global art market, pulling in $2.8 billion in sales. For artists, the market's growing popularity could be a good thing, as the minting of NFTs on the blockchain offers creators the opportunity to earn residuals on secondary sales of their work. As Mahdavi explained, when she designed the now-iconic pink interiors of London's Sketch restaurant, she didn't expect images of the space to become ubiquitous on social media—though with NFTs, future designers and artists may be able to have a stake in that virality.
Building off of that introduction, Naficy also announced the related launch of a new design community called Tonic. Created in collaboration with Mahdavi (along with a cohort of designers that includes Kate Berry, Ken Fulk, Emily Henderson and Brigette Romanek), the organization will sell a curated selection of NFTs and provide resources for buyers to set up crypto wallets and obtain physical accompaniments of their NFT artworks. Both described the current NFT realm as male-dominated and usually relegated to a select group of highly tech-literate people. With Tonic, they hope to create a new kind of NFT gallery, created by and for design enthusiasts.
Best quote: "When new technology comes up, you're going to end up being part of it at some point. To be in a safe place to learn with a community of professionals from the industry—it's part of the journey to understanding how we, as designers, can come into this new place." —India Mahdavi

Key takeaway: The NFT market may seem shrouded in tech complexity, but platforms like the just-launched Tonic may provide designers with an easier introduction into the valuable blue chip market.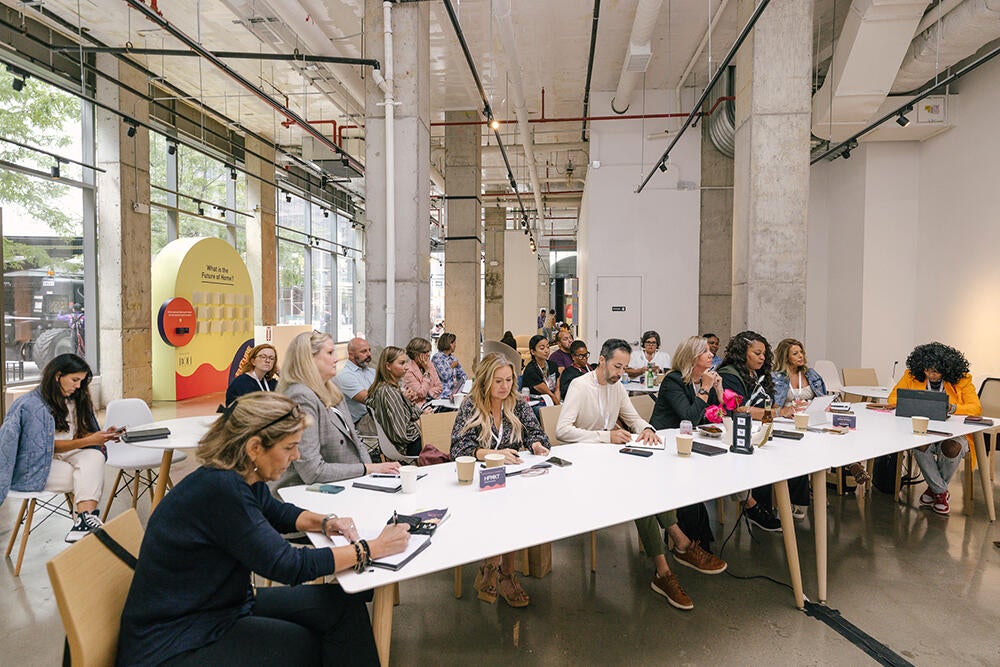 Kevin Lau for Business of Home
Workshops
After afternoon programming wound down, Future of Home attendees were invited to join one of four intimate workshops. Under the guidance of leading wellness, business and book publishing experts, participants had the chance to explore relevant topics in a casual yet highly constructive setting.
Hosted by Well-Designed, a wellness workshop offered attendees the opportunity to investigate common attitudes that shape the design community and apply their creativity to challenge these default behaviors. In two separate business workshops, industry business coaches Sean Low and Justine Clay helped designers assess how to charge and account for their billable time, and how to bring clarity and confidence to their firm's finances. Finally, literary agent Kim Perel demystified the process of pitching a design book and getting a contract.
ACTIVATION: ZZ DRIGGS—Fine Furniture for a Better World
"Our furniture should outlast us," said Whitney Frances Falk, founder of the New York–based Certified B Corp ZZ Driggs. At Tuesday's panel on Sustainable Supply Chains, she spoke compellingly about the need for the home goods industry to fully embrace the circular nature of well-made, durable pieces in lieu of the disposable ones piling up in landfills. And throughout the conference, she delivered the goods. From the chic lounge area inside the venue's 12th Avenue entry to the onstage seating itself, from the antique coffee tables in the green room to the artisanal Turkish rugs underfoot, Falk decorated the entire event space with distinctive collectibles from such notable talents as third-generation maker Michael Felix and newer independent labels like Labrica and Trnk, whose graphic beige-and-white Grace fabric upholstered the chairs. "These are all showstopper items with lifetime guarantees, for rent or for purchase," said Falk.
Despite the alarmist headlines concerning the climate crisis—and the all-too-real ways the home design industry contributes to it—Falk remains optimistic. "Good things are happening," she said, citing her own company's near-zero-waste approach to packaging as one example, and the move from oak and walnut to more readily replenishable bamboo furniture as another. "No one has all the answers, but as long as we remain curious, we can make a positive change." A first-time attendee at Future of Home, she added, "It's been so inspiring to see the intersection between tech and furniture at the conference."
Homepage photo: Dennis Scully at the Future of Home conference | Kevin Lau for Business of Home