That's a wrap on BOH's third annual Future of Home conference, where an all-star lineup of speakers gathered to discuss the future of media, real estate, collaborations and so much more. Here, we share takeaways from today's events. (Don't forget to check out our recap of Day 1!)
---
THE PIVOT TO HOME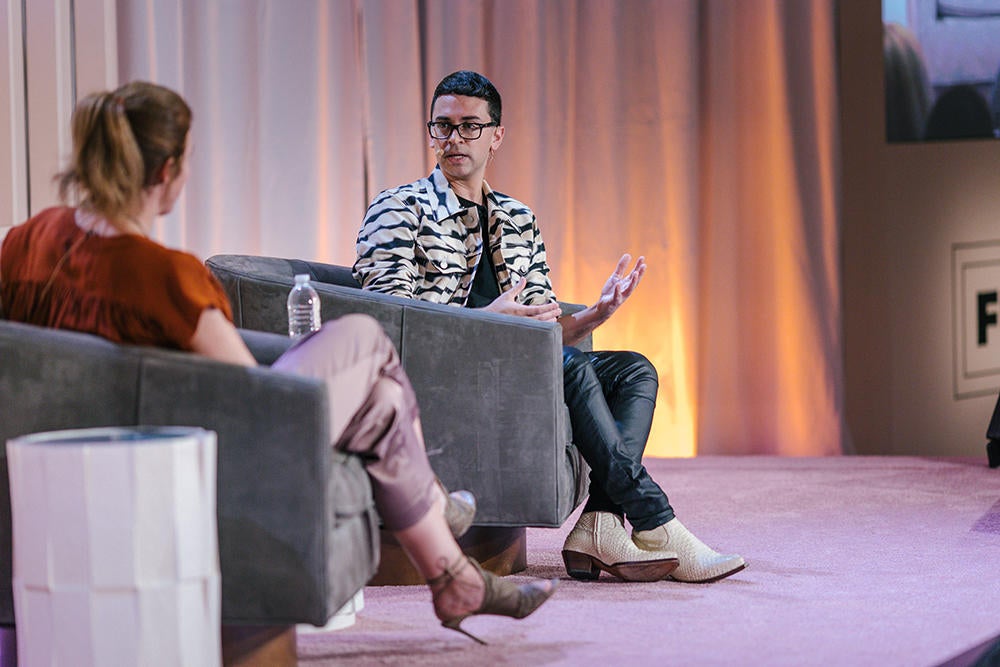 Fresh off a night at the Met Gala, fashion designer extraordinaire Christian Siriano sat down with BOH contributor Sophie Donelson to discuss his foray into interior design. The avant-garde designer—the first American to have three dresses on exhibit in the same year at The Costume Institute at the Metropolitan Museum of Art—grew up in Maryland with a mother who had an affinity for fabrics and textiles. "We would reupholster things all the time," he recalled. "I grew up loving all the different tones, shades and textures of fabrics."
In addition to working as an interior designer for a select group of clients, Siriano recently released a 14-piece furniture collection with 1stDibs. The fashionable assortment features boucle-clad stools, geometric settees, and black-and-white benches with glossy lacquered frames. "I approach interior design differently than garments," he said. "I can still take risks, but I think a lot more about longer-lasting styles."
Best quote: "I build silhouettes all day long for garments. I wanted to build them for home," Siriano said.
Key takeaway: A lifelong fan of textiles, A-list fashion designer Christian Siriano recently added interior and furniture design to his resume, and the transition is every bit as seamless and energetic as you'd expect. —Caroline Biggs
---
UNDERSTANDING DESIGN PERSONALITIES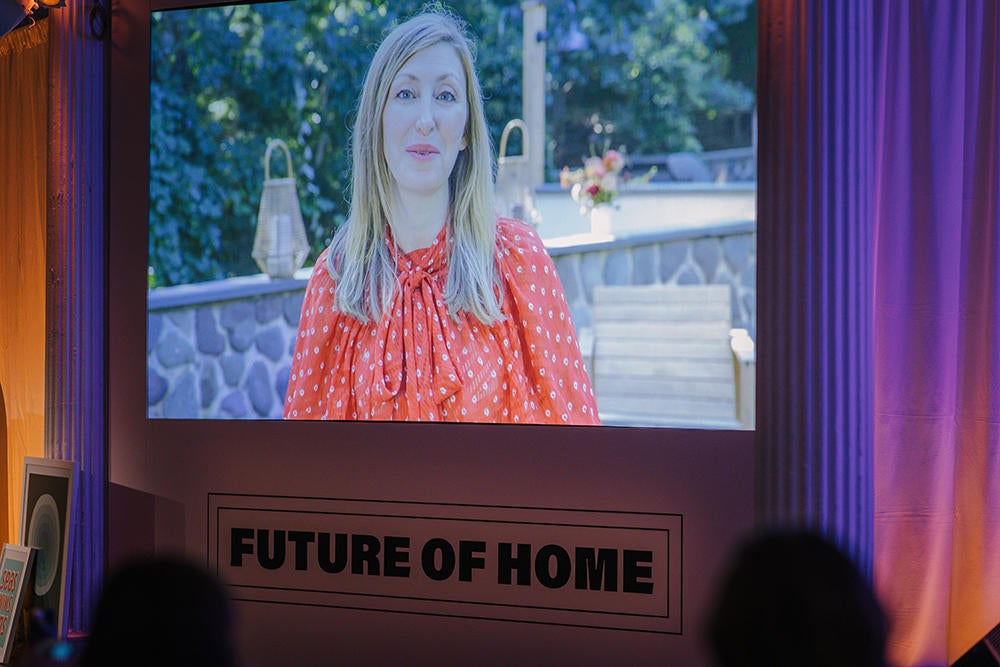 Design can impact well-being in a number of ways, such as affecting productivity in the workplace, improving classroom learning and shortening hospital stays. Ingrid Fetell Lee believes in leading the design process by first understanding how spaces make us feel. So she dug into the different approaches to design and came up with eight distinct personalities. In her video presentation, she described the different types, how they help determine what motivates homeowners to decorate—and how designers can use this knowledge to create meaningful spaces. The 10-question design-personality assessment she developed has already proven to be effective: Of the more than 10,000 who have taken the test, 90 percent have found it to be highly accurate and descriptive of how they approach their homes.
Key takeaway: Approaching the design process from a personality standpoint, rather than leading with a specific style in mind, can uncover a client's natural tendencies and lead to a space that feels as good as it looks. —Caroline Bourque
---
THE CURATED BATH — SPONSORED BY KOHLER, KALLISTA, ANN SACKS AND ROBERN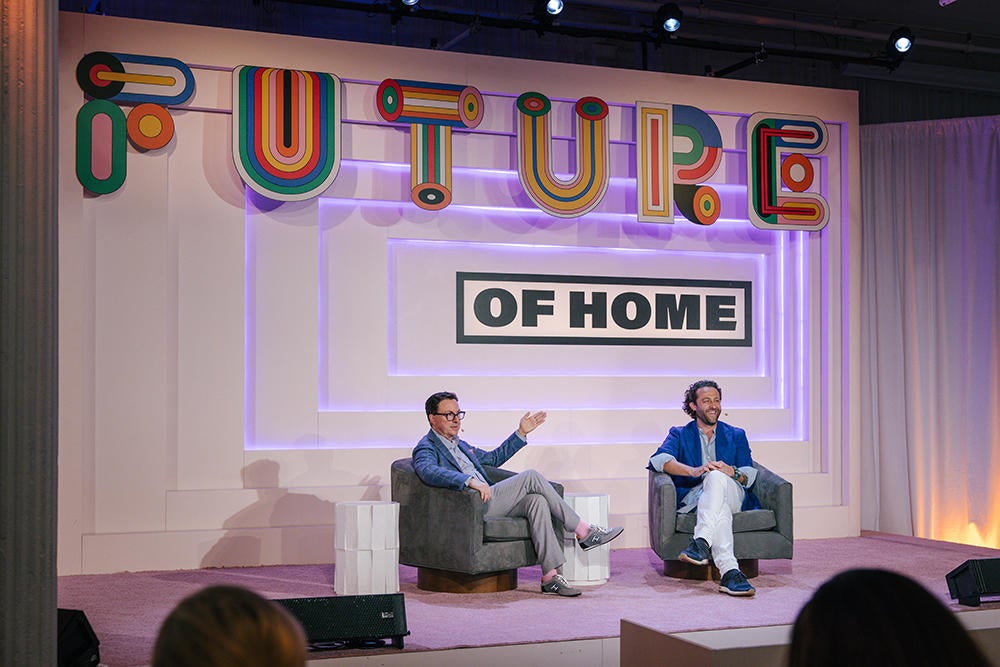 In his discussion with Dennis Scully, host of The Business of Home Podcast, Seth Stevens, chief designer of luxury space at Kohler Co., shared details about the soon-to be-launched Ann Sacks Curated Bath Collection, a collaboration among all four of the company's brands: Kallista, Ann Sacks, Robern and Kohler. The massive assortment of bath fixtures, tiles and decor pieces spans seven collections and includes sinks and faucets, showers and baths, mirrors, lighting, storage and more, in a range of aesthetic styles.
Key takeaway: Launching in late September, Kohler's huge collaboration with Ann Sacks, Kallista, and Robern is the largest of its kind (and is sure to have something for everyone). —Caroline Biggs
---
DESIGNING FOR THE NEXT GENERATION — SPONSORED BY CRATE & KIDS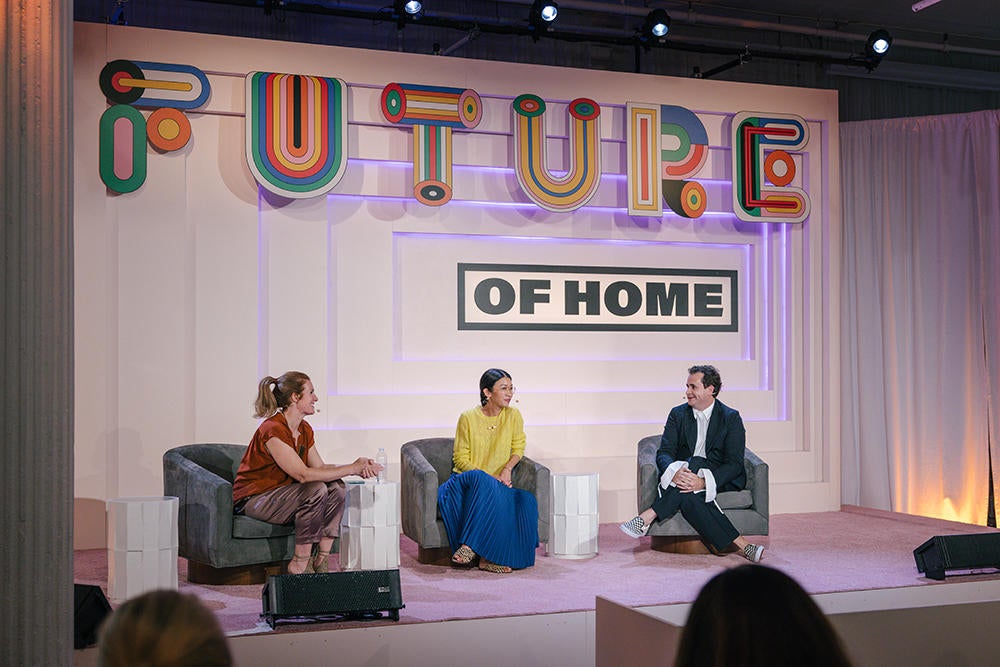 Sebastian Brauer, vice president of product design and development at Crate & Barrel, and surprise guest Kate Berry, chief creative officer of Domino, sat down with BOH contributor Sophie Donelson to discuss a new collaboration between the media brand and Crate & Kids. Brauer said that the entire line, which launches tomorrow, was designed virtually due to the pandemic, a first for the brand. Despite that challenge, the resulting collection is exuberant and fresh, featuring grown-up textiles like boucle and fun applications, including a corkboard and a miniature lounge chair with matching ottoman. It was important to Brauer and Berry that the pieces felt empowering for children and that kids could continue to discover design details long after the items were installed in their room.
Best quote: "While we were designing this line, the reality we were living in was constantly evolving," said Brauer. "In a world that's changing every day, relevance becomes its own task."
---
ACTIVATION: RUNWAY-READY AT HOME — PRESENTED BY UNIVERSAL FURNITURE AND CRYPTON
BOH editor in chief Kaitlin Petersen talked with Miranda Kerr about her latest line of home furnishings for Universal Furniture and fabric company Crypton. The collection, called Tranquility, features more than 40 fashion-forward furniture pieces inspired by the supermodel's famously chic style, including plush lounge chairs (available in over 400 types of upholstery), geometric side tables, and a clean-lined sofa called Serenity, which is clad in fuzzy white boucle performance fabric.
Key takeaway: Set to debut at High Point this fall, supermodel Miranda Kerr's latest home launch for Universal Furniture is every bit as fashionable as it is functional, marked with shapely silhouettes and sleek (but durable) textiles. —Caroline Biggs
---
DESIGNER CASE STUDY: ENHANCING YOUR ROI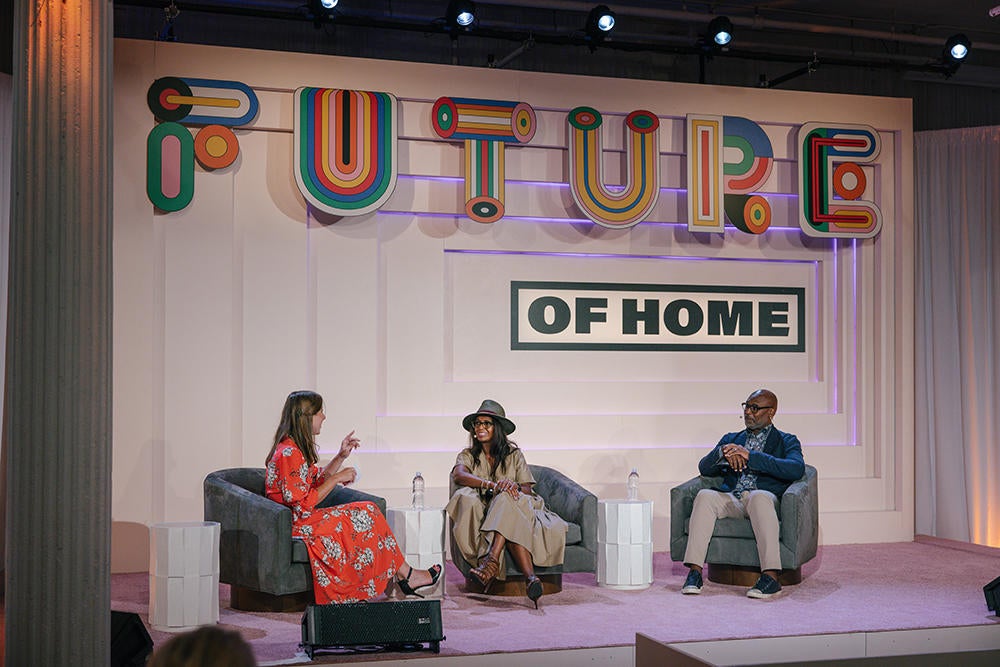 Last year, New York designer Everick Brown was unable to complete projects due to the pandemic and felt like he was at a professional standstill. He decided to hire a business coach to get him out of his funk and help him gain a fresh perspective on his firm. What he found was that he had never thought of himself as a businessman or an entrepreneur, a blind spot that he soon discovered was holding him back. Once he shifted his view, the designer and his wife and business partner, Lisa Walker Brown, changed how they were marketing the firm, pivoting to focus on the return on investment that they provide clients. "I solve challenges for my clients," said Everick. "My website homepage should highlight that and break down what it is I offer people who work with me, instead of just being a place for my portfolio."
In addition to changing how they market the business, Everick and Lisa went through 20 years of client data to isolate demographics. They found a slew of similarities between the people they most commonly work with, from median age and income to an affinity for yoga and a tendency to own a Tesla. "When you're clear on your demographic, your marketing becomes very clear," Lisa said. "You can focus on going after people that are already typically your client."
Best quote: "I view style as a language, and I'm multilingual," said Everick. "I'm fluent in several different design styles, and not everybody is. There's a confidence in knowing that."
Key takeaway: Taking the time to home in on who your average client is can be time consuming, but ultimately beneficial, as it allows you to market your business more effectively. —Haley Chouinard
---
LOOKING BACK TO MOVE FORWARD — SPONSORED BY CB2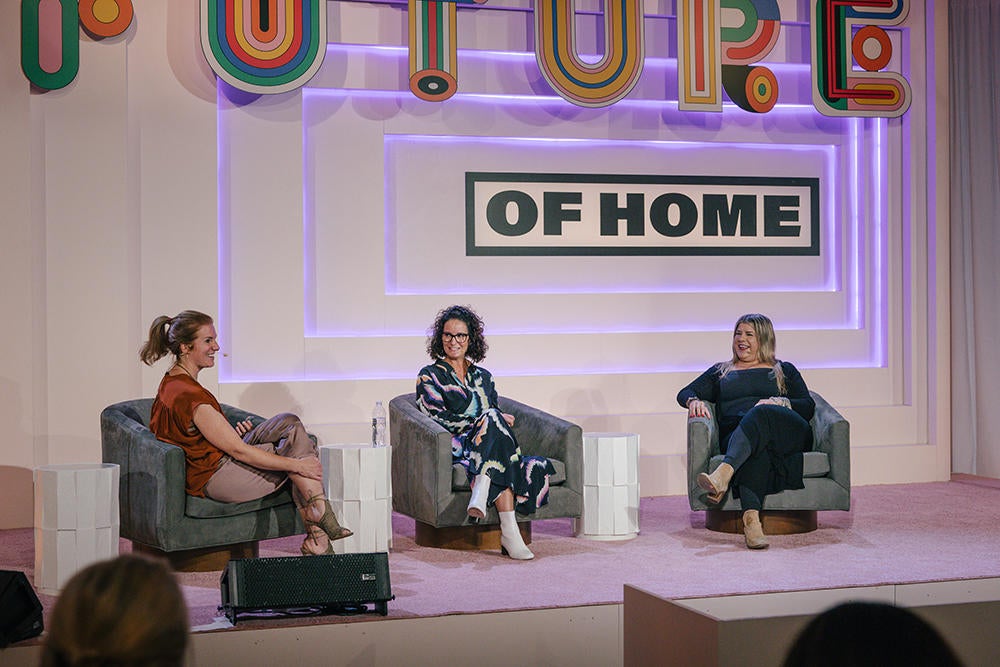 BOH contributor Sophie Donelson sat down with Samie Barr, senior vice president of marketing at CB2, and Andrea Ehrman, the brand's divisional merchandise manager, to discuss what's next for the company. As CB2 continues to evolve from millennial-minded home decor to sophisticated, high-end furniture—its latest collection, for instance, features a $4,000 marble table—the company is focusing on sumptuous materials, clean silhouettes, and big-name collaborations (including its popular line with the estate of designer Paul McCobb) to plant its sleek midcentury-style furnishings firmly in the future.
Key takeaway: CB2 is stepping out of the shadow of Crate & Barrel and into its own, thanks to its growing collaboration with late midcentury designer Paul McCobb and luxe fall launches filled with rich materials and simple but elevated shapes. —Caroline Biggs
---
DISCOVERING A NEW KIND OF SOCIAL AUDIENCE — SPONSORED BY PINTEREST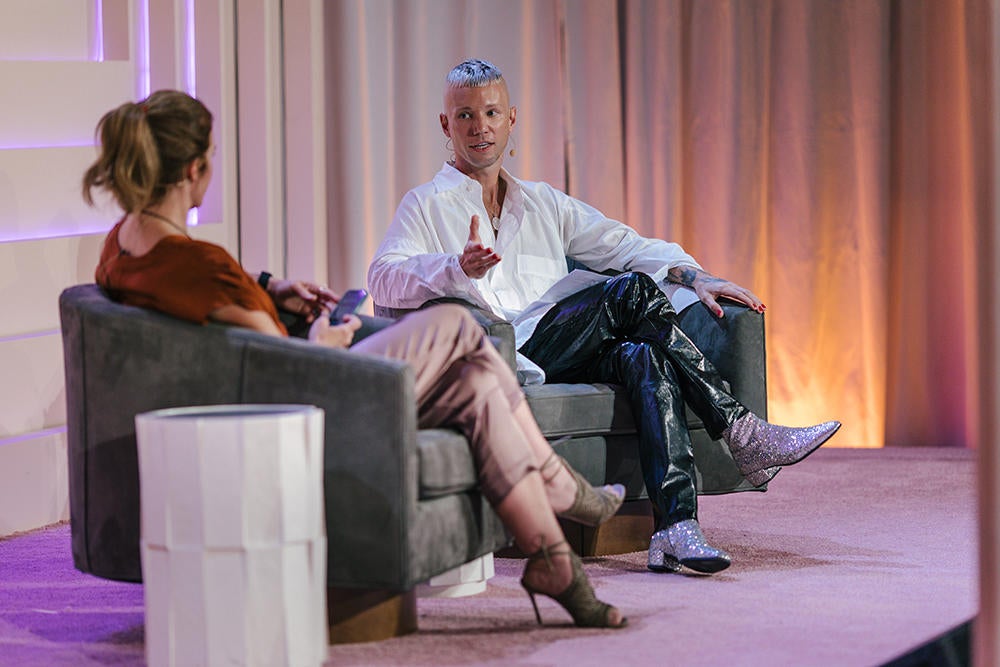 In a conversation with BOH contributor Sophie Donelson, Jeremy Jankowski, Pinterest's creator management lead for home and design, discussed exciting changes to the app. Pinterest is now prioritizing original content through its introduction of Idea Pins, allowing creators to make a series of up to 20 slides that can feature everything from voice-overs to product tagging with affiliate links. Jankowski said that designer Kelly Wearstler has reported seeing millions of views on her Idea Pins, even though her follower count is in the hundreds of thousands. Because of how they are shared, these pins can have a much higher reach, so designers who have had only moderate success on other platforms are seeing exponential growth on Pinterest.
Key takeaway: Pinterest is empowering creators to share their craft in new ways and reach more followers than ever before.
---
DESIGNERS WILL BUILD THE METAVERSE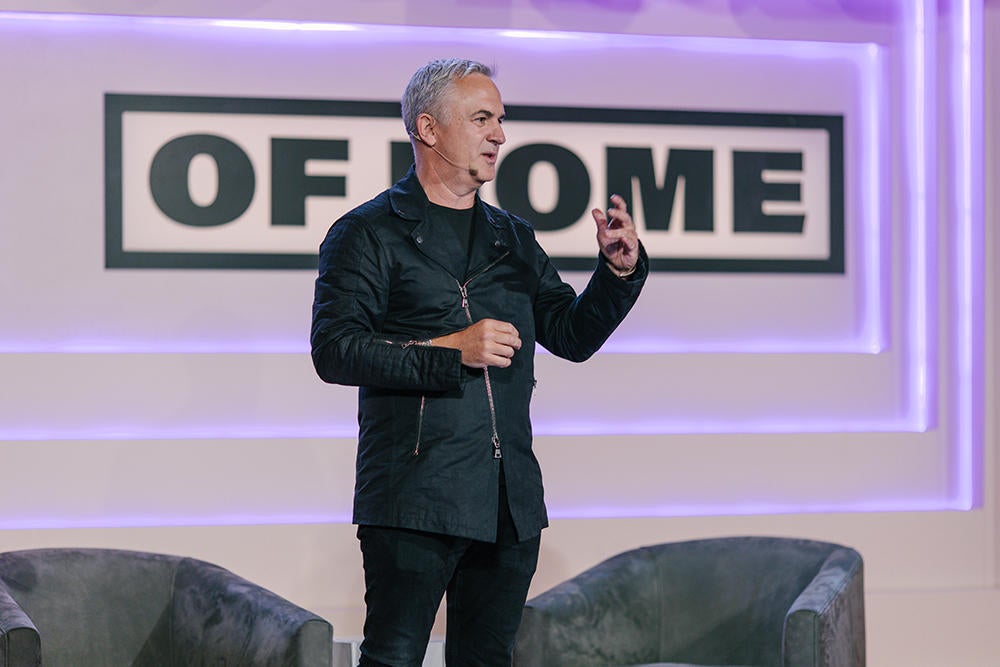 Also tackling the topic of the metaverse, Michael Beneville made a careful distinction at the top of his keynote: He described himself not as a technologist but as a creative. His eponymous design studio has tackled such projects as the award-winning New York City headquarters of iHeartMedia, the completely re-imagined entrance to the Empire State Building Observatory, and the Warner Music Group offices in Los Angeles. During the pandemic, his team took their expertise into the virtual realm, beginning with a digital re-creation of Beneville Studios' Manhattan headquarters, complete with avatars who could meet and interact in the virtual space.
The experience inspired Beneville to take on additional virtual design projects, including an online rendition of the Cannes Lions festival, featuring digital presentations and meeting spaces. Since then, his studio has devoted more of its efforts to these types of projects, and he encourages other designers to adapt their digital skills to meet new opportunities in a world with an increasing amount of virtual spaces.
Best quote: "I suggest that most of the people in this room are really well suited to be part of this conversation," Beneville said. "And it's not a scary thing once you dive into it, if you understand that you've already been using these tools to build real-world things and that this is just the digital equivalent."
Key takeaway: In the years to come, virtual spaces will become more of a necessity than a novelty, and designers who are willing to adapt their skills accordingly can get in on the ground floor in creating a new (virtual) world. —Caroline Bourque
---
the future of VIRTUAL WORLDS AND NFT'S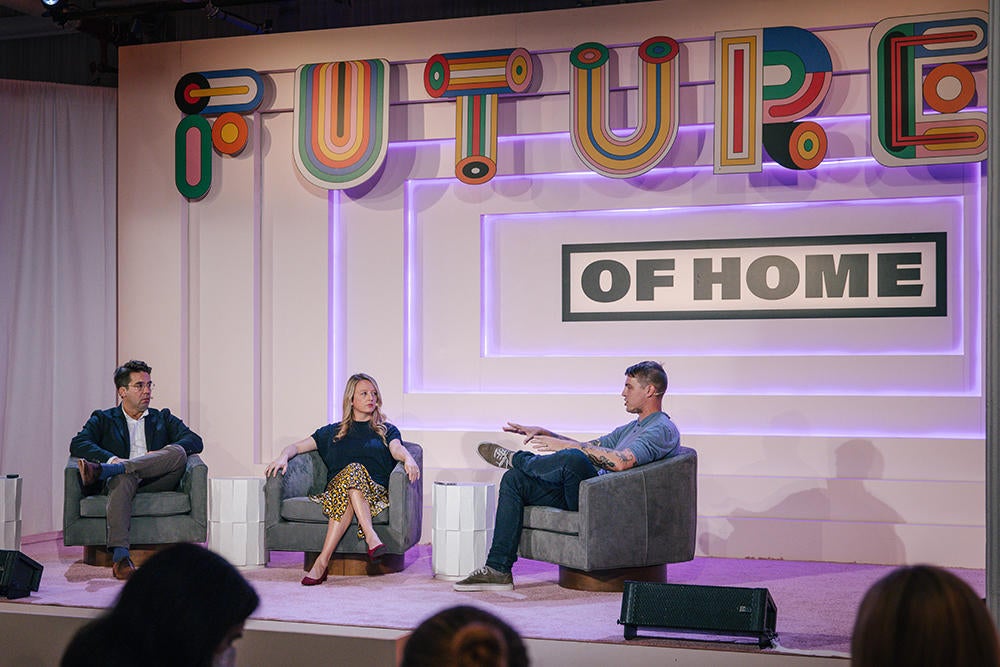 For an introduction to the world of blockchain, NFT's and the metaverse at large, BOH's Fred Nicolaus engaged in discussion with Janine Yorio, head of Republic Realm, an investment fund for virtual real estate, and Noah Davis, a postwar and contemporary art specialist at Christie's and head of sales for the department's online-only First Open auctions. The conversation began with a rundown of the topics at hand, and Yorio provided a streamlined explanation for blockchain (a spreadsheet in a cloud, where everyone can make changes, but only if everyone agrees to those changes) and this helpful analogy: "The metaverse is to social media what Zoom is to YouTube—YouTube is video, but Zoom is synchronous," she said. "In the metaverse, we could sit at a table and have a conversation and know that each other are there."
Yorio believes in the commercial viability of the metaverse—her company is buying up virtual real estate on the metaverse known as Ethereum, which they intend to monetize as an influx of new users drive up the value of profitable activities, such as virtual advertising space, virtual stores selling digital products, and online games and casinos.
In the art world, Davis sees similar potential unfolding—he was behind the groundbreaking $69 million sale of the artist Beeple's digital collage NFT (nonfungible token—a virtual asset that exists on a blockchain, so you can track who owned it and where it's moved around). He explained that while NFT's are sometimes criticized for their crude appearance, creators are still developing their artistic capabilities in the digital realm and are already pushing the boundaries of the new form—a work of furniture that was recently designed for the metaverse included a set of files to 3D-print a physical version of the piece.
Best quote: "I think we're still in the AOL era of metaverse development," Yorio said. "But the metaverse is already here. Anybody who has children knows that the way [they] interact with the internet is very different from the way we do—in the way that I would never turn to the Yellow Pages to find information about a vendor."
Key takeaway: NFT's have already made major waves in the art world, and have introduced a new way for creative and intellectual property to retain value and integrity. Meanwhile, the related rise of the metaverse has also created major buzz, but it's far from a flash in the pan—if the gaming platforms of the youngest (and most digitally native) generation are any indication, it's the new frontier for socialization and commercial development. —Caroline Bourque
---
ACTIVATION: THE DESIGN WORLD'S DESTINATION — PRESENTED BY HIGH POINT MARKET AUTHORITY
High Point Market Authority created a large-scale installation for Future of Home attendees to explore all that the North Carolina city has to offer—without leaving New York's Metropolitan Pavilion. "A lot of New York–based designers don't appreciate the scope and depth of High Point Market, which takes up 13 blocks of the city," said Tom Conley, the president and CEO of HPMA. To help the designers navigate the world's largest furniture show, Conley and his team created a map, complete with QR codes, that breaks up the city of High Point into seven neighborhoods. Once a code is scanned, designers can see which vendors and showrooms are in each area and are able to easily register for Fall Market.
---
THE ROLE OF DECOR AND PROTOCOL IN DIPLOMACY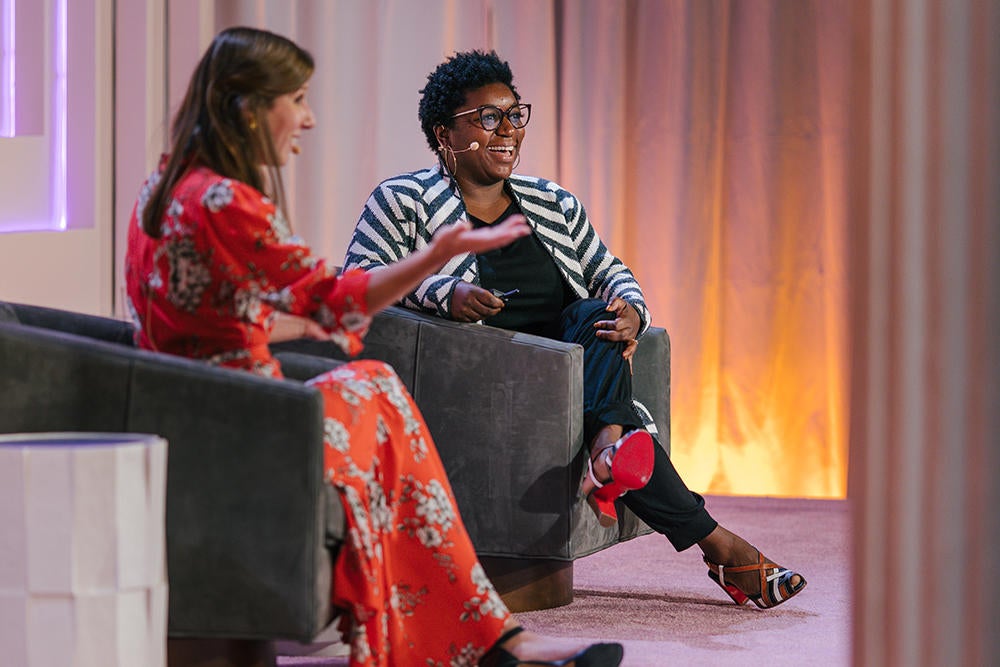 Former White House social secretary Deesha Dyer joined BOH's Kaitlin Petersen to discuss the importance of design decisions during her time in the Obama administration. In that role, Dyer was responsible for every detail of the events, whether it was a Girl Scout campout on the lawn or a state dinner with global leaders. Moved by Barack Obama's journey to the Oval Office, she applied to the White House as an intern at the age of 31. Though she didn't have any political experience, she wrote a passionate essay about hip-hop and its effect on urban education, which ultimately landed her the position. From there, she quickly worked her way up to social secretary.
When planning state dinners and welcoming foreign dignitaries, Dyer said it was crucial to learn what decor details would be considered impolite. The color yellow, for example, can be offensive in certain cultures. Similarly, square tables in some countries are used for business, while a round table suggests a friendlier setting. "Ultimately, we were setting the stage for important conversations to take place," she said. "I would never have wanted a lack of preparedness on my part to result in a mistake that overshadowed the purpose of the event." She also made a commitment to stay true to herself and find ways to incorporate Black culture wherever she could, like bringing in a Black Catholic gospel choir to perform during a visit by Pope Francis.
Best quote: On the essay that landed her the White House internship, Dyer said: "I stuck to what I knew instead of pretending to be someone else."
Key takeaway: Dyer affirmed the impactful role that design and decor can play in even the most somber occasions. —Haley Chouinard
---
MODERNIZING AN ICONIC BRAND — SPONSORED BY MITCHELL GOLD + BOB WILLIAMS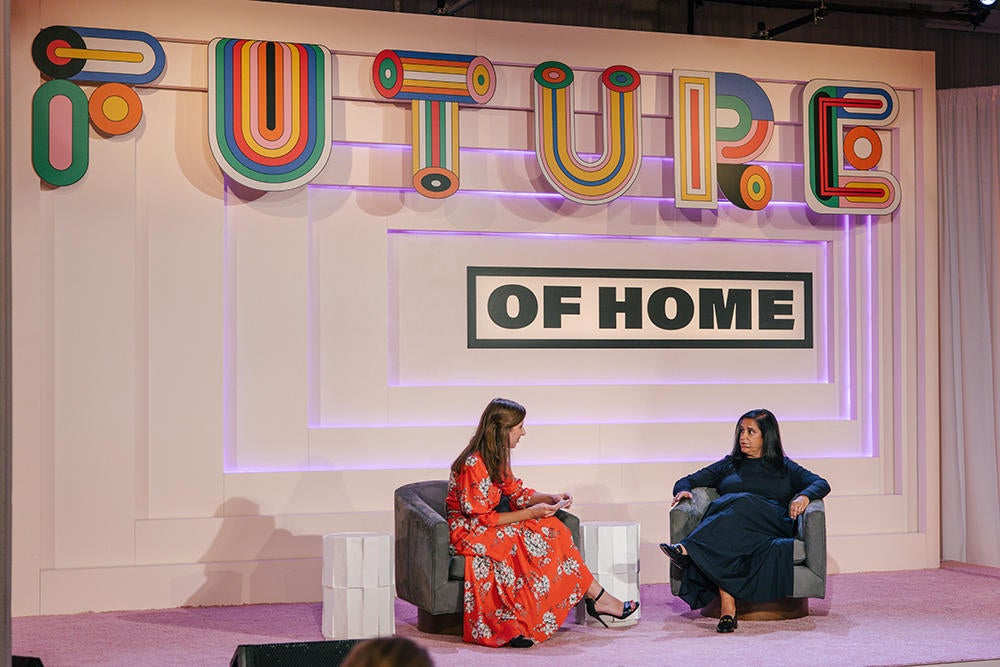 BOH editor in chief Kaitlin Petersen welcomed Allison O'Connor of Mitchell Gold + Bob Williams to the stage to chat about her experience as the brand's first female CEO. In the two short years since O'Connor joined the team, she has already helped launch a pair of notable collaborations, including a textile collection with Kravet and a furniture line with designer Brigette Romanek, and has brought sustainability to the forefront of the company's initiatives. "We're committed to creating healthy homes," she said.
Key takeaway: Mitchell Gold + Bob Williams's first female (and first non-founder) CEO is focused on sustainability, collaborations, and the comfort of her employees, suppliers and products. —Caroline Biggs
---
THE FUTURE OF GOOD BUSINESS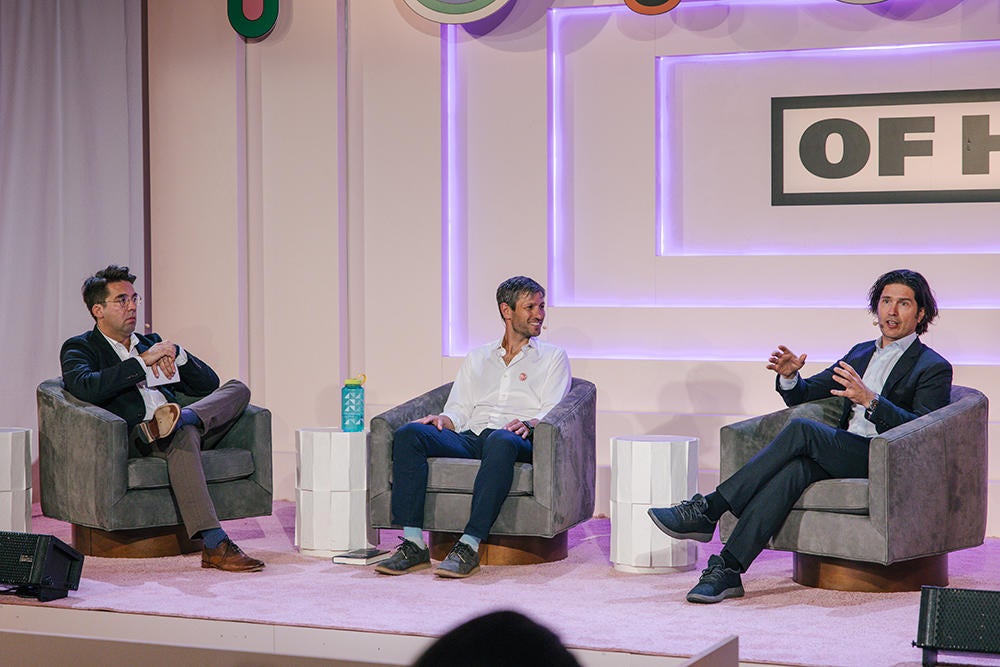 BOH's Fred Nicolaus sat down with Fireclay Tile CEO Eric Edelson and Christopher Marquis, author of Better Business: How the B Corp Movement Is Remaking Capitalism, for a fascinating conversation about B Corporations. In the pursuit of balancing profit and purpose, these businesses must pass rigorous assessments based on standards of verified social and environmental performance, public transparency and legal accountability. "Only about 4,000 companies are B Corp-certified," Marquis said. "Whether you get certified or not, the process helps companies identify how they can be better."
Edelson, who successfully completed B Corp certification for Fireclay Tile, shared that it took four years to get through the assessment. "The process is like an inspired tax audit—there are 400 questions, ranging from corporate governance to benefits for employees to community giveback programs and volunteering," he said. "Even if you never become a B Corp, it will give you all sorts of ideas about how you can improve your business."
Best quote: "Consumers want to buy from brands with a purpose and mission, and employees want to work for them," said Edelson.
Key takeaway: No matter how daunting the B Corp certification process may seem, it can help identify the strengths and weaknesses of your business, and ultimately, you'll have a more environmentally and socially sound brand. —Caroline Biggs
---
THE FUTURE OF SHARED SPACE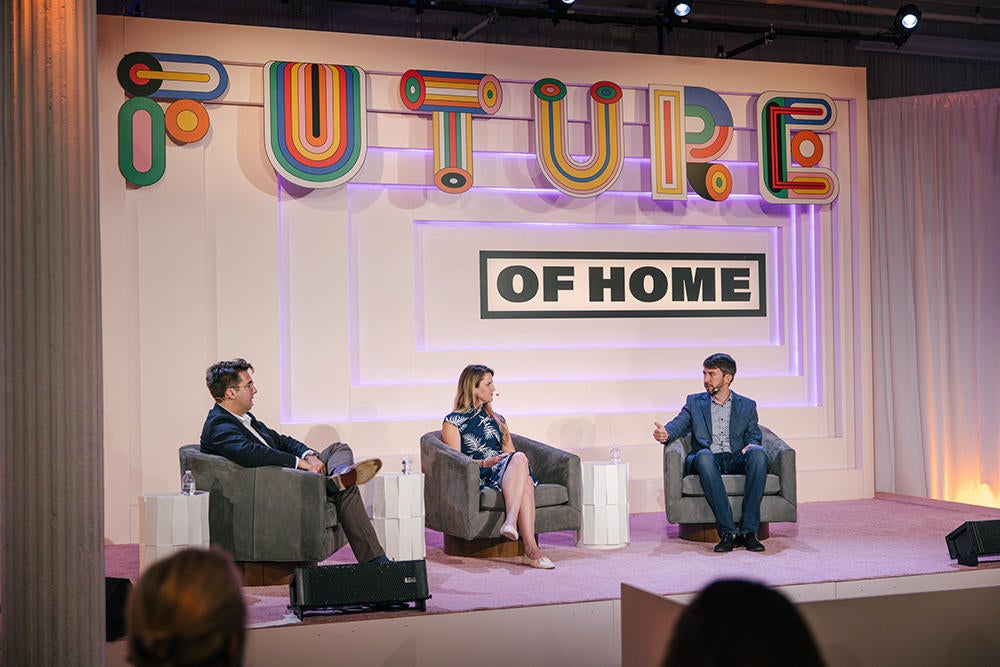 Brad Hargreaves, founder and CEO of the co-living company Common, and Ebbie Wisecarver, vice president and global head of design at WeWork, joined BOH executive editor Fred Nicolaus for a discussion about shared space in the wake of COVID-19. Wisecarver said that the initial thinking at the onset of the pandemic, that co-working and co-living spaces would never recover, was unrealistic: "The idea that people weren't ever going to go back to working in an office setting—that was just too extreme." Instead, she said that companies are looking for something different now, focusing on giving workers the flexibility to work where they'd like, whether that's at home, in a local WeWork space or at a company's headquarters—or a combination. "We have to give spaces more functionality so that there is a reason and advantage to asking people to come in," she explained. Some of those new accommodations include more options for privacy (something of a backlash to the open floor plans and glass-walled conference rooms that were so popular before COVID), and amenities like child care, free food delivery and on-site laundry pickup.
Hargreaves said that his business has seen nothing but continued success over the past 18 months—he even pointed out that May 2020 was the company's biggest month for signing tenants. He added that the affordability of a co-living dwelling (which Common aims to make 30 percent cheaper than a typical studio apartment in the same neighborhood) is the company's chief priority and what attracts residents to the model, especially in a turbulent economy. Looking to the future, he said that Common is looking to integrate co-living and traditional units in a single location, giving residents who have outgrown the co-living model an opportunity to remain in the same building. The company is also experimenting with co-living aimed at young families, offering on-site, shared child care.
Best quote: "Affordability will always be the best amenity," said Hargreaves.
Key takeaway: While the pandemic may have altered many things, it hasn't slowed the growth or appeal of flexible, budget-conscious, shared spaces. —Haley Chouinard
---
BUILDING MOMENTUM FOR A RAPIDLY EVOLVING FUTURE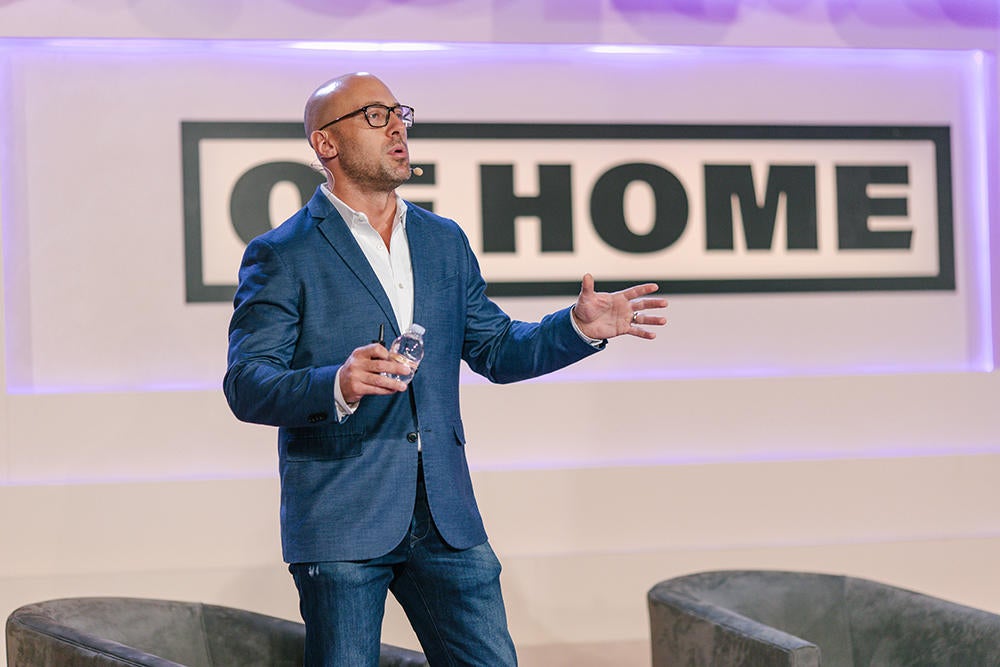 As a leader at The Future Hunters, one of the world's top futurist consulting firms, it's well within Jared Weiner's domain to spot emerging trends in the global marketplace and predict their implications in the years to come. This morning, he took the stage to provide "a speed round into the future," offering some new terms to explain our changing relationship to time and innovation while laying out a vision of how these concepts apply to the home world. Templosion was a key term in the presentation, describing the idea that huge things are happening more quickly than ever before—Weiner used the example of large, industry-leading companies that become obsolete overnight while tiny startups shoot up to billion-dollar valuations in the same period of time.
He also introduced the concept of the "COVID-19 accelerator in overdrive," explaining that pre-pandemic trends toward increased remote work, home schooling and investment in the home have been pushed forward due to the conditions of the past year and a half. The phenomenon coincides with his prediction for a "Roaring '20s redux" in which the population will indulge in consumption, travel and leisure as the economy experiences a post-pandemic rebound effect aided by government stimulus programs. Above all, he said that design will become an increasingly high-valued marketplace differentiator, underpinning both luxury and everyday consumer experiences.
Best quote: "Every industry should dare to dream," Weiner said. "We need to constantly re-imagine the future of what we do to stay inspired."
Key takeaway: In the technological age, innovation comes at us faster than ever. Time is on the side of those who embrace emerging technologies early on and adapt their processes accordingly. —Caroline Bourque
Homepage photo: Sophie Donelson and Christian Siriano | Photo by Kevin Lau