That's a wrap on the first day of the fourth annual Future of Home conference. Below, you can catch up on all the expert talks and industry case studies featuring luminaries from the home world and beyond. Join us tomorrow for Day 2!
---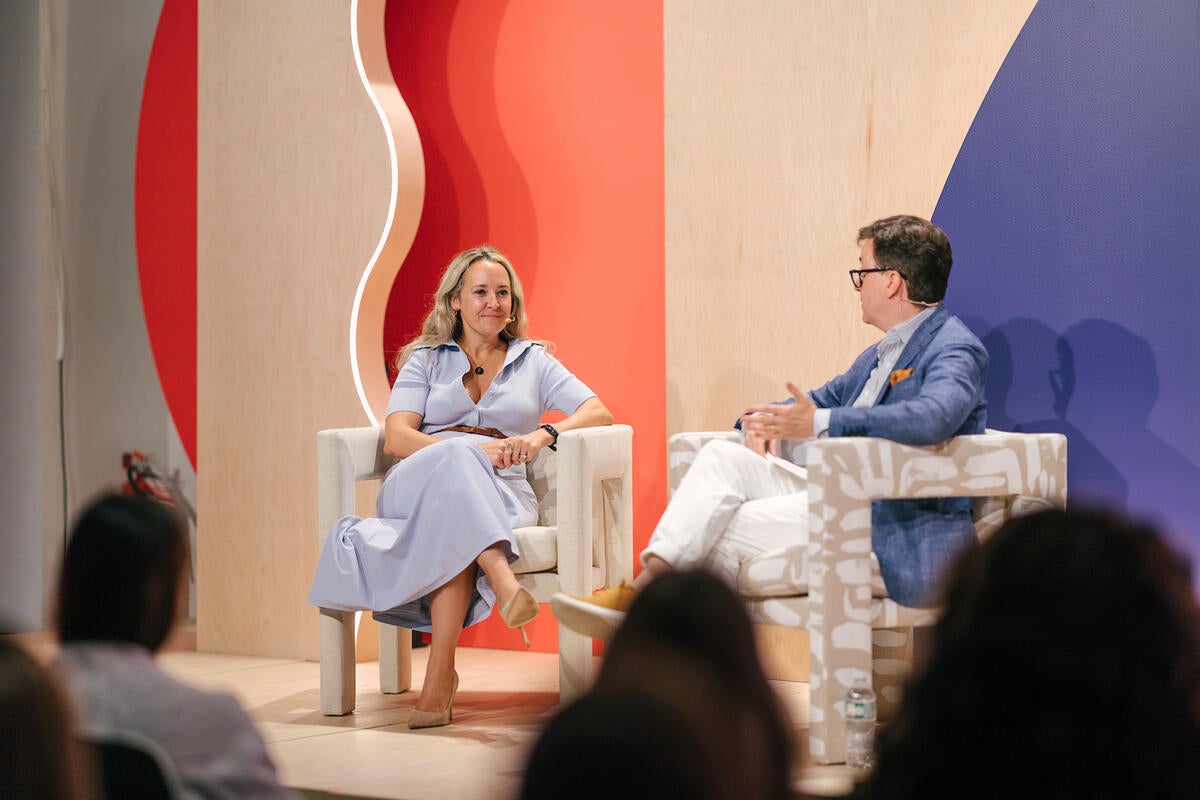 Kevin Lau for Business of Home
Entrepreneurial Mindset
For a discussion on how entrepreneurs should be thinking about the future of their businesses, host Dennis Scully sat down with "startup whisperer" Alexa von Tobel. Von Tobel, a co-founder and managing partner at venture capital firm Inspired Capital, spoke about why she dropped out of Harvard Business School in order to found her own company during the last recession and how a bad economy provides excellent cover for entrepreneurs to make tough decisions. "A bad economy is a gift," said von Tobel. "You can change your strategy without guilt. You can say, 'We're not going to work with that vendor anymore, or we have to change our pricing.' Never misuse an opportunity."
Von Tobel also spoke about the value of hiring an executive coach, an experience she called life-changing. "It made me a better leader, but also a better wife and mother," she said. She pointed out the value in hearing what you're bad at, as it's the only way to grow and learn how to change. Her executive coach also imparted the role of self-care in becoming a more effective leader. "You're not going to be the best executive on three days in a row of four hours of sleep, or when you haven't exercised in a week, or haven't seen your friends in 20 days."
Best quote: "Come in every day and give 110 percent, but don't be afraid to leave early."—Alexa von Tobel
Key takeaway: With the lines between personal life and business becoming blurrier over the past two years, von Tobel reminded leaders to leave room for employees to be human. "The veneer of business and a separation between your work and personal life—that's dissolved and it's not coming back."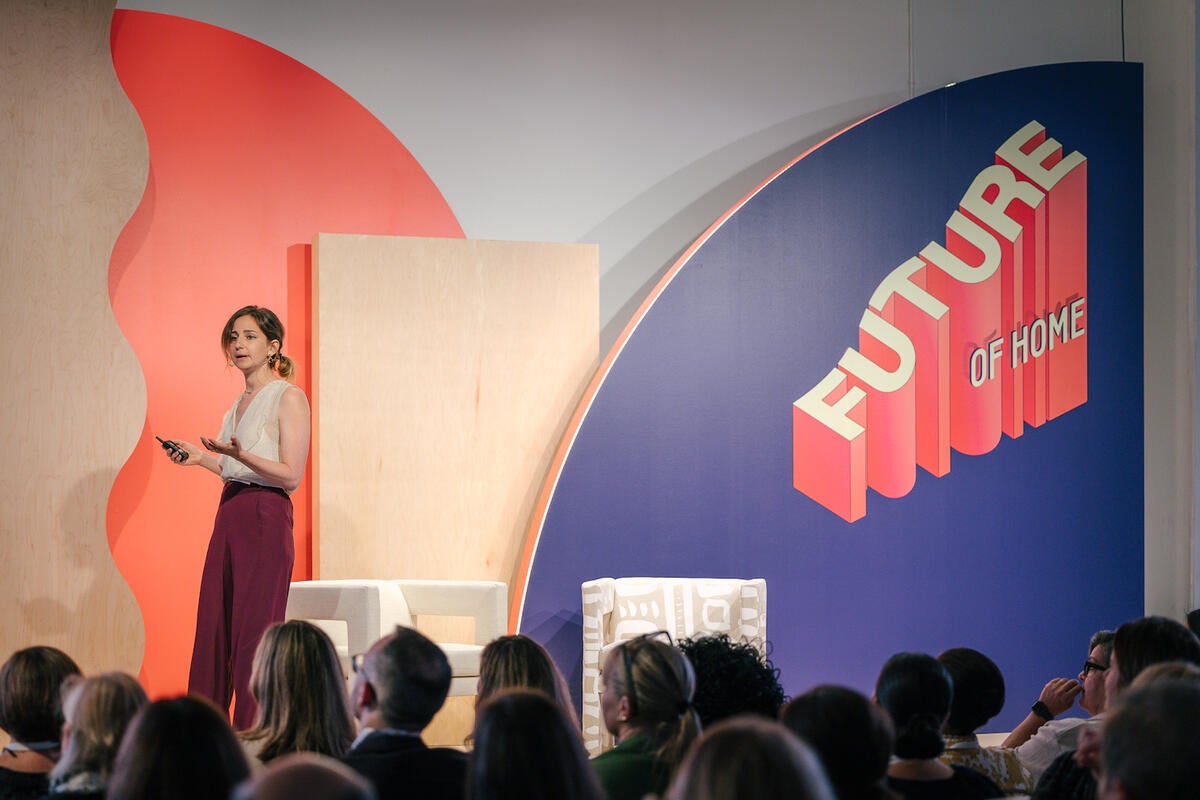 Kevin Lau for Business of Home
Emotional Fitness in Leadership
In this interactive talk, psychologist Dr. Emily Anhalt, co-founder and chief clinical officer of the digital-therapist-led emotional fitness gym Coa, took the stage to discuss the importance of emotional fitness. Anhalt compared emotional fitness—the ongoing, proactive practice of improving your mental health—to physical fitness. "If you talk to someone who is physically fit, they'll tell you that just because you're not ill does not mean that you're fit," said Anhalt. "The same is true with emotional fitness. Just because we're not struggling with daily panic attacks does not mean we're as emotionally healthy as we can and should be."
After explaining the seven traits of emotional fitness—self-awareness, empathy, mindfulness, curiosity, playfulness, resilience and communication—Anhalt invited the audience to participate in partner activities to engage these skills. In the 25-second eye gaze, people practiced learning to sit with discomfort and become more mindful of their surroundings. Anhalt also provided tangible ways for workplace leaders to build a culture of wellness, including designing your own emotional fitness route, creating an emotional fitness survey, sharing a piece of positive feedback, and even creating a few "remojis" (a way to communicate complex emotions quickly through emojis).
Best quote: "Resilience is the capacity to bounce forward from setbacks and failures. I say forward instead of back, because we don't ever get back to the person we were before we go through a hard thing, and that shouldn't be our goal. Our goal should be to use what we've gone through to learn and to grow."—Dr. Emily Anhalt
Key takeaway: Maintaining and building emotional fitness happens over time, not overnight—and it's a long-term investment well worth the effort.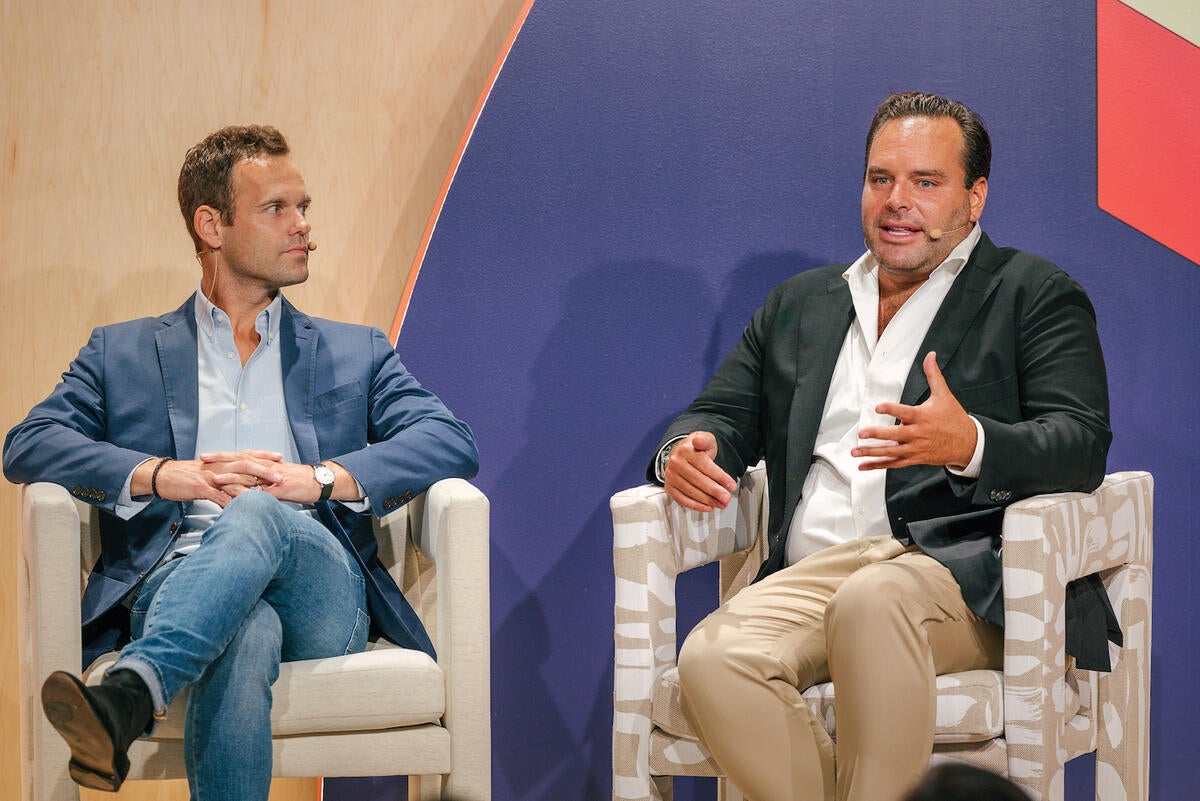 Kevin Lau for Business of Home
Working in the New World
Career experts and partners Billy Clark, founder of Billy Clark Creative Management, and Clayton Apgar, a partner at BCCM, joined host Dennis Scully to talk about the future of work in the wake of post-pandemic phenomena like "The Great Resignation." Drawing from their recent ventures—including their new book, The Little Book to Land Your Dream Job, and new podcast, The Hire Life—the pair explained best strategies for finding (and keeping) quality design hires. According to Apgar, a confluence of factors has created the current pressure-cooker hiring environment for the design industry: While the pandemic pushed many design professionals to choose freelance work with noteworthy clients over the 9 to 5 grind, employers from tech and hospitality companies have also set their sights on snapping up designers like never before (and with attractive compensation packages to boot). As a result, the talent pool shrunk fairly quickly over the past two years.
However, there's hope on the horizon: Design firm leaders who prioritize company culture can get a leg up on the competition. Beyond the projects that may entice new hires, employers should extol the virtues of their company's narrative, mission and structure. As Clark noted, the first six months of starting a business are a make-or-break experience, with some designers who took the leap into entrepreneurship realizing they prefer being part of an established business. In the next several years, he says, it's possible some of those professionals will reenter the hiring pool, providing a respite for employers seeking quality candidates.
Best quote: "We work in recruiting but we look at our work as casting, and we're seeing these days that the casting is a two-way street. Candidates are looking to cast themselves in a studio as if it was a movie: Do they have a part to play? What is that part? What's the backstory? They're looking to really resonate with the story."—Clayton Apgar
Key takeaway: With the tightness of the current talent pool, design leaders should be prepared to sell their company's mission and culture—and expect prospective employees to interview employers right back.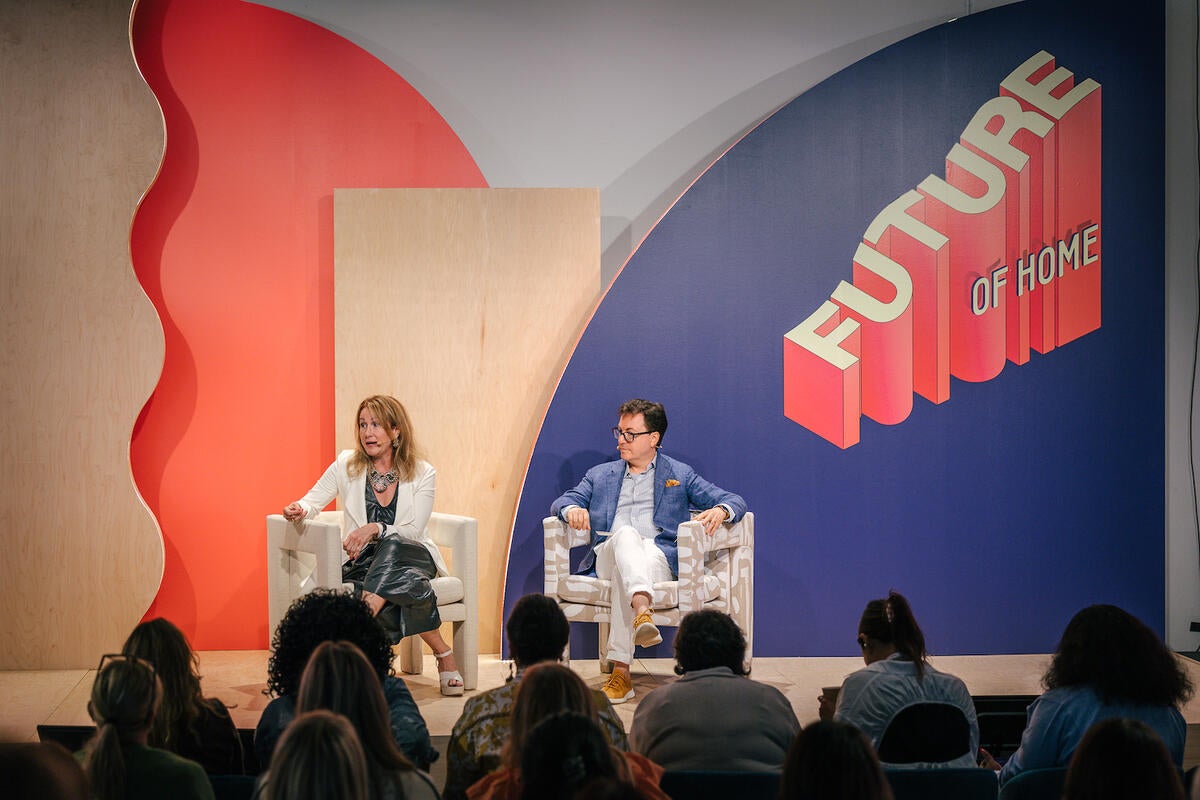 Kevin Lau for Business of Home
The Aesthetic Advantage
BOH's Dennis Scully joined author and former chairperson of North America at LVMH Moët Hennessy–Louis Vuitton Pauline Brown to outline the fundamental steps for translating good taste into commercial success. Brown spoke about how designers can equate their skill set with financial value, define aesthetics more broadly and double down on "invisible design," which invokes all five senses. Scully explained how designers are helping clients feel more alive through design and asked Brown why designers shouldn't be worried about being replaced by artificial intelligence. Despite our constantly changing world, Brown emphasized, people still love to be surrounded by beauty.
Brown also unpacked the mythology behind successful brands and the "halo effect," citing perfume company Jo Malone's effective strategy. "For great businesses and great brands, about 50 percent of their perceived value has nothing to do with when you're actually using that product," said Brown. "It's about the memory and the anticipation. It's what happens outside of the actual engagement." By being more attuned to a client's aesthetic preferences, sensory experiences and design aspirations, designers can cultivate their aesthetic intelligence and use "aesthetic empathy" to articulate their value while being disciplined in the creative process.
Best quote: "The worst thing you can do as a designer is take the best work from three to four designers you admire and try to replicate it. The best thing you can do is step outside of your realm and look for inspiration in very different fields."—Pauline Brown
Key takeaway: Brown encouraged designers to frame their aesthetic proposition more broadly than just in terms of physical spaces. "Think about your whole approach in terms of how you engage with clients, what you ask them, the process that you've developed. That is also part of your brand equity," said Brown.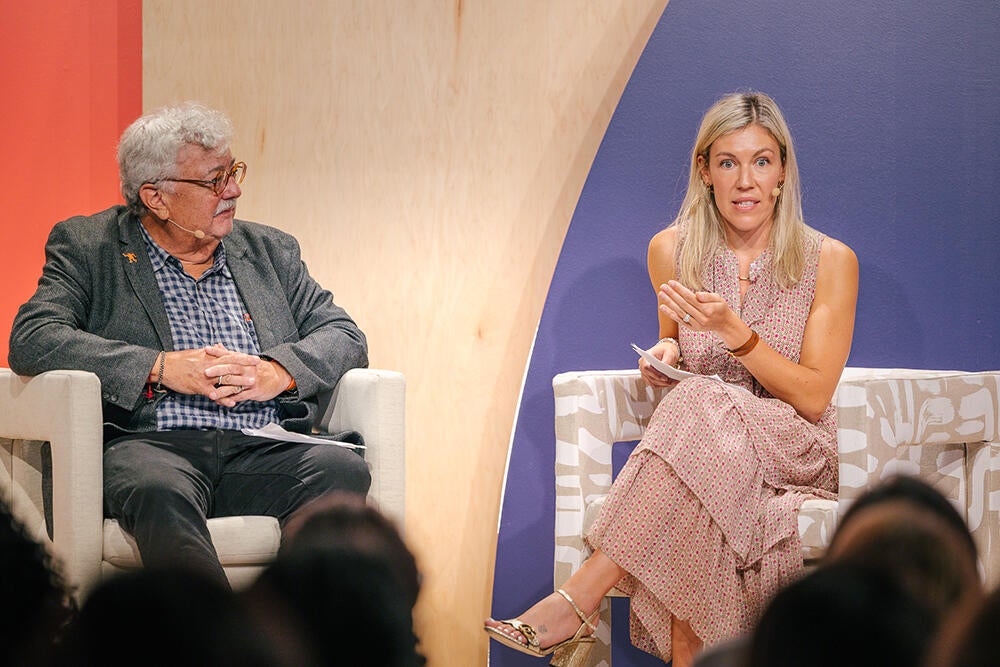 Kevin Lau for Business of Home
The Future of Homeware Trends—SPONSORED BY AFTERPAY
BOH columnist Warren Shoulberg sat down with Niki Cordell of Afterpay to get the scoop on the payment solution platform that's changing the retail game. Cordell explained that today's spending trends suggest that consumers are relying less and less on credit cards for purchases, and more on debit cards, to bypass high interest rates and pesky fees.
Afterpay, which allows users to purchase items instantly and pay in four interest-free installments, is showing major growth in the home category, particularly among younger shoppers. "After [we initially] partnered with merchants in fashion and beauty, consumers made it clear they wanted the same payment option for home brands," says Cordell.
Best quote: "Afterpay is becoming the preferred payment method of Gen Z and millennial shoppers across all categories, including fashion, beauty and home."—Nikki Cordell

Key takeaway: Both brands and buyers can benefit from buy now, pay later options like Afterpay, which helps consumers avoid interest fees, ultimately increasing the total amount they spend on purchases.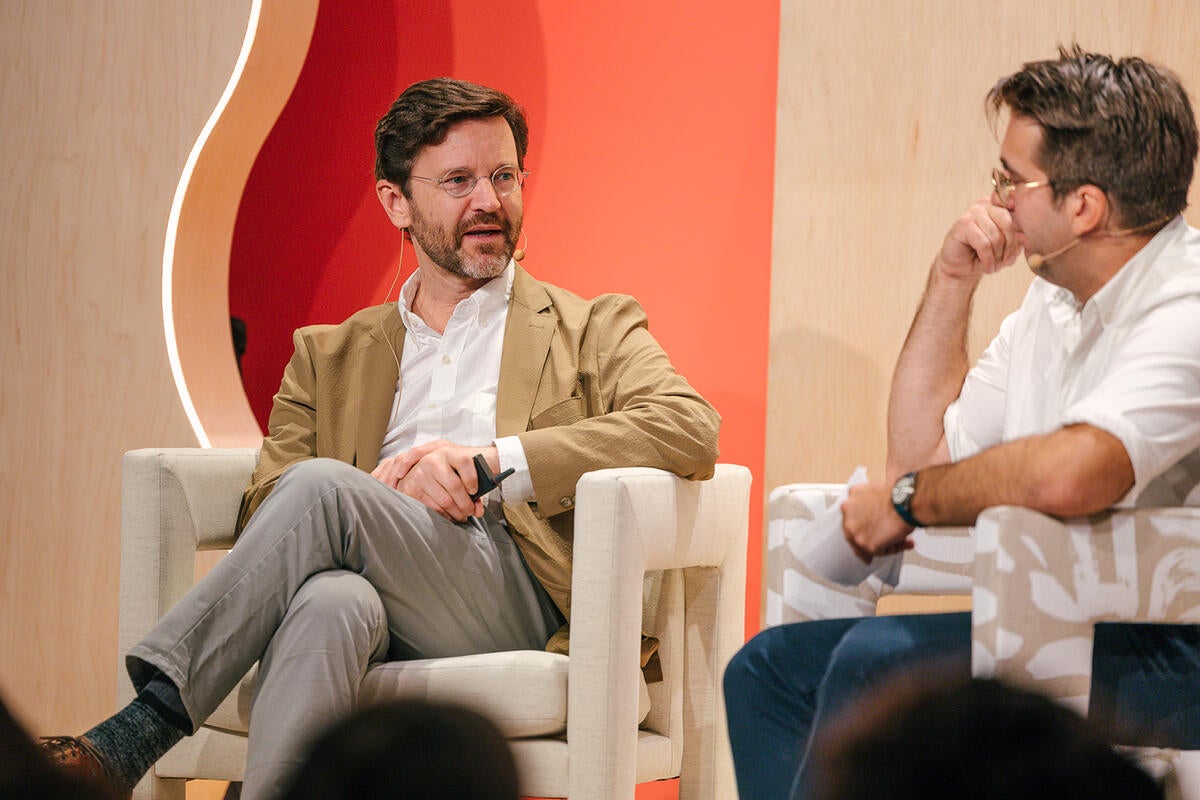 Kevin Lau for Business of Home
Reframing the Metaverse
To discuss digital extensions of the physical world, BOH executive editor Fred Nicolaus was joined onstage by journalist and researcher David Truog, who also serves as vice president and principal analyst at Forrester Research. To kick things off, Truog began by defining the metaverse as the 3D layer of the internet. While the first dimension of the internet comprises data files and text-based communication like email, and the second dimension encompasses social posts, multimedia, websites and links, the impending third dimension—aka the metaverse—will allow for the creation of spaces and objects experienced through multisensory aspects (in short, you'll be able to see, feel and even smell via online experiences).
Instead of a figment of the far-off future, Truog explained that the metaverse already exists in its earliest forms. Today's virtual 3D spaces consist mainly of proprietary, siloed worlds—examples include online games like Roblox, where users can meet in digital realms and interact through avatars. Later stages of development for the metaverse, meanwhile, will unfold over the next decade as these online worlds connect and cross-pollinate through links, and will eventually involve world-specific governance, values and other social structures. For e-commerce and the design industry, 3D product visualization could help online shoppers get more comfortable buying big-ticket purchases on the web. In a broader sense, the development of the metaverse will require designers to imagine a digital world worth spending time (and money) in.
Best quote: "The metaverse is something we have the option to make human-centric. You, as designers, have a role to play in that—not just a role and opportunity, but a responsibility. Do you really want to trust a bunch of engineers to design the future of the interiors of the metaverse?"—David Truog
Key takeaway: The notion of the metaverse often elicits a strong emotional response, begging the question: Is it utopian or dystopian? According to Truog, that's (at least partly) up to creatives like designers. Much like the beauty and function of the built environment depends on the architects and designers who imagined it, the future of the metaverse lies in the hands of designers.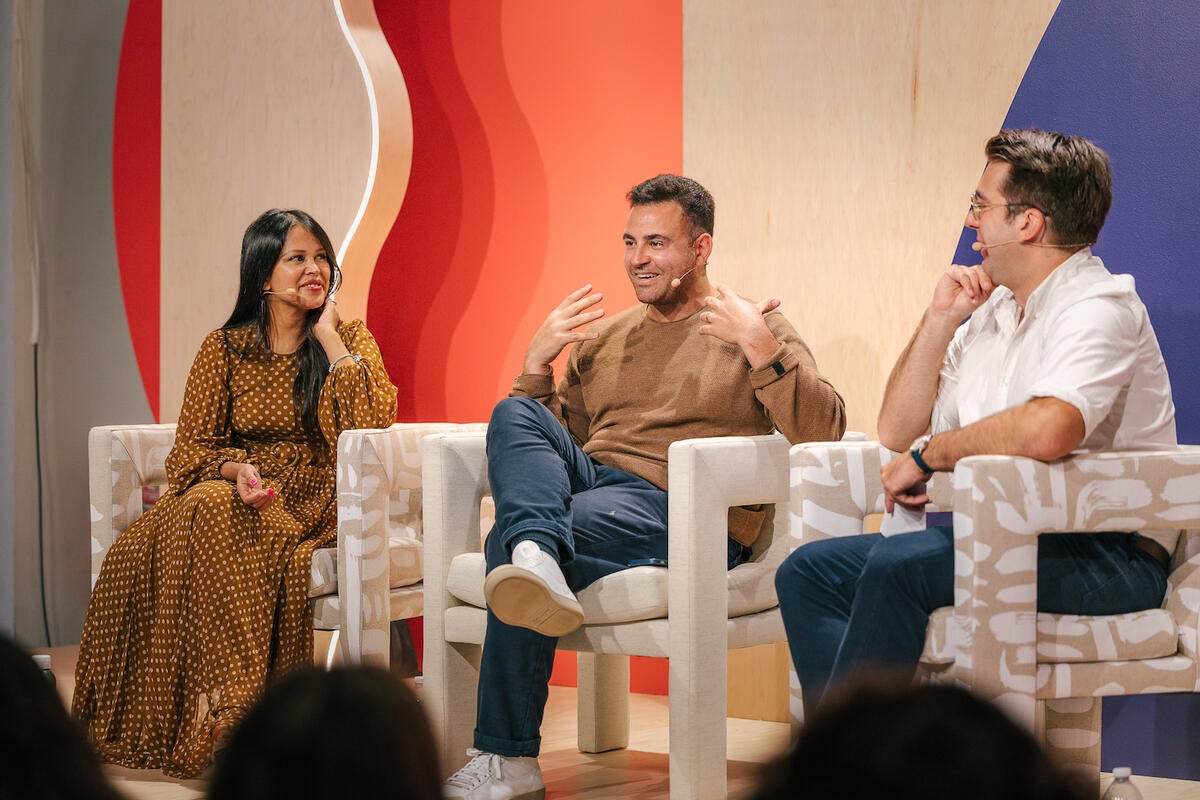 Kevin Lau for Business of Home
Design Services at Scale
Lee Mayer, co-founder of e-design platform Havenly, and Raad Mobrem, co-founder and CEO of expert consultation platform Intro, sat down with BOH's Fred Nicolaus to discuss how to digitally communicate—and sell—the value of design. According to Mayer, the home zeitgeist has changed in recent years, largely due to the much-discussed HGTV influence. "People like Chip and Joanna Gaines brought home design out of the rarified air that it once existed in," Mayer said. Mobrem agreed, adding that while most people don't have a subscription to Architectural Digest, everyone has Instagram. "You're tapping into an interest that's inherently there," he said.
Both digital founders projected that designers and clients will increasingly flock to online resources. Mobrem also made the bold prediction that designers will eventually make more money online than from in-person clients, comparing the hypothetical shift to the rise of e-commerce in the retail sector.
Best quote: "People live online now, and we need to be able to offer that scale of online services across industries." —Raad Mobrem

Key takeaway: While some online design platforms weren't able to make it long-term, Mayer and Mobrem are confident that consumers will increasingly turn to digital means to design homes and believe businesses like theirs will help meet that demand.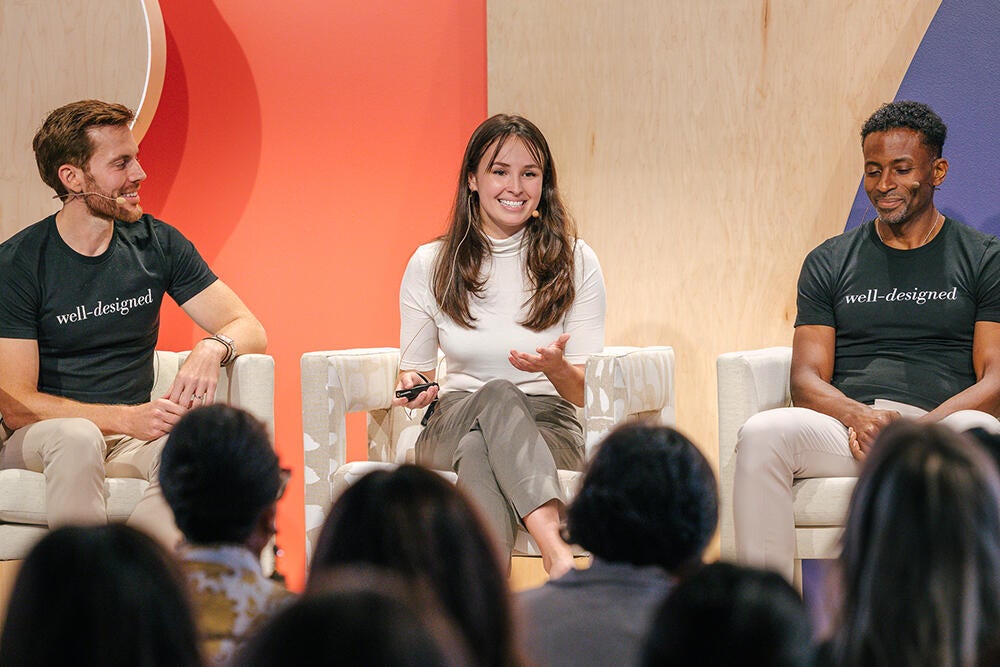 Kevin Lau for Business of Home
WELLNESS IN DESIGN
Well-Designed co-founders Caleb Anderson and DeAndre DeVane joined wellness educator Amanda Hilton of The Simply Well for a deep dive into the importance of implementing a healthier, holistic framework for the design community. "Based on our research, designers rank highest in workplace cynicism and second only to nurses in exhaustion," said Hilton.
Anderson and DeVane—who met at a yoga retreat in Costa Rica in 2018—launched Well-Designed last week to educate the design industry about how to incorporate wellness practices into their everyday lives. "We're offering tools and resources that are specifically tailored to the architecture and design community," said Anderson. "When we prioritize our mental health, it creates a domino effect that elevates the industry as a whole."
Best quote: "When you practice de-stressing regularly, you retrain your brain to come back down to equilibrium whenever you're under stress." —Amanda Hilton
Key takeaway: Integrating mindful habits into your daily routine won't just improve your quality of life; it can also prompt a ripple effect that uplifts the entire design community.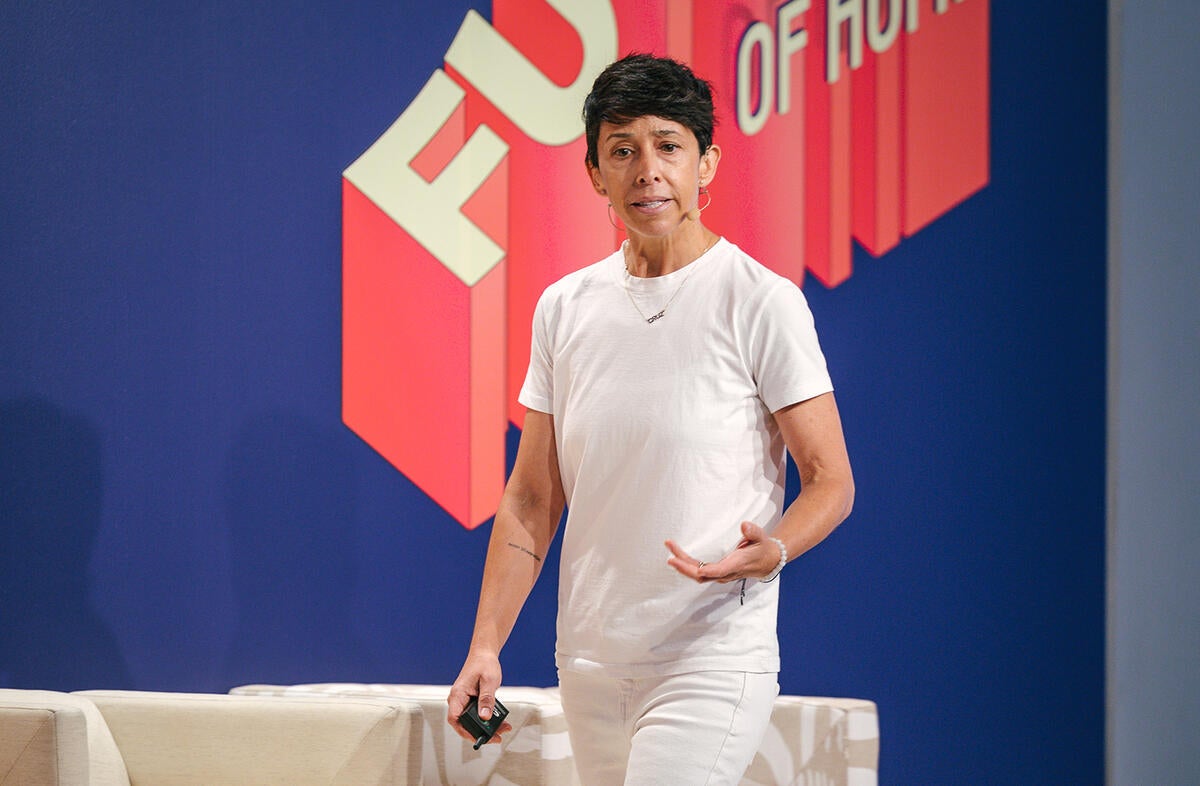 Kevin Lau for Business of Home
Intro to Holistic Design
Next up, Gala Magriñá, principal of Gala Magriñá Design, took the stage for a presentation on holistic design. If traditional interior design is about beauty and function, she explained, then holistic design goes a step further by catering to health and well-being. The segment opened with a powerful statistic: Our homes, communities and surrounding environment directly affect our daily motivations, behaviors and lifestyle—factors that determine 80 to 90 percent of our health outcomes, according to The Global Wellness Institute.
Magriñá guided the audience through the holistic design strategies she uses, including incorporating biophilic elements—which can be as simple as introducing plants (proven to boost mood and fight stress), displaying nature-centric art, installing water features, and incorporating organic forms and raw materials. Plus, she explained how factors like color, light and the orientation of furniture and objects in a room can affect the well-being of inhabitants.
Best quote: "Our client's homes and offices are a reflection of who they are as individuals. By understanding the connection between inner and outer worlds, we can gain insight into some of the issues they might be having and ways that we can improve their environment."—Gala Magriñá
Key takeaway: Interior design may be a primarily aesthetic practice on its surface, but its impact goes much deeper. By understanding how design choices influence health and well-being, designers can better harness the emotional and spiritual potential of design.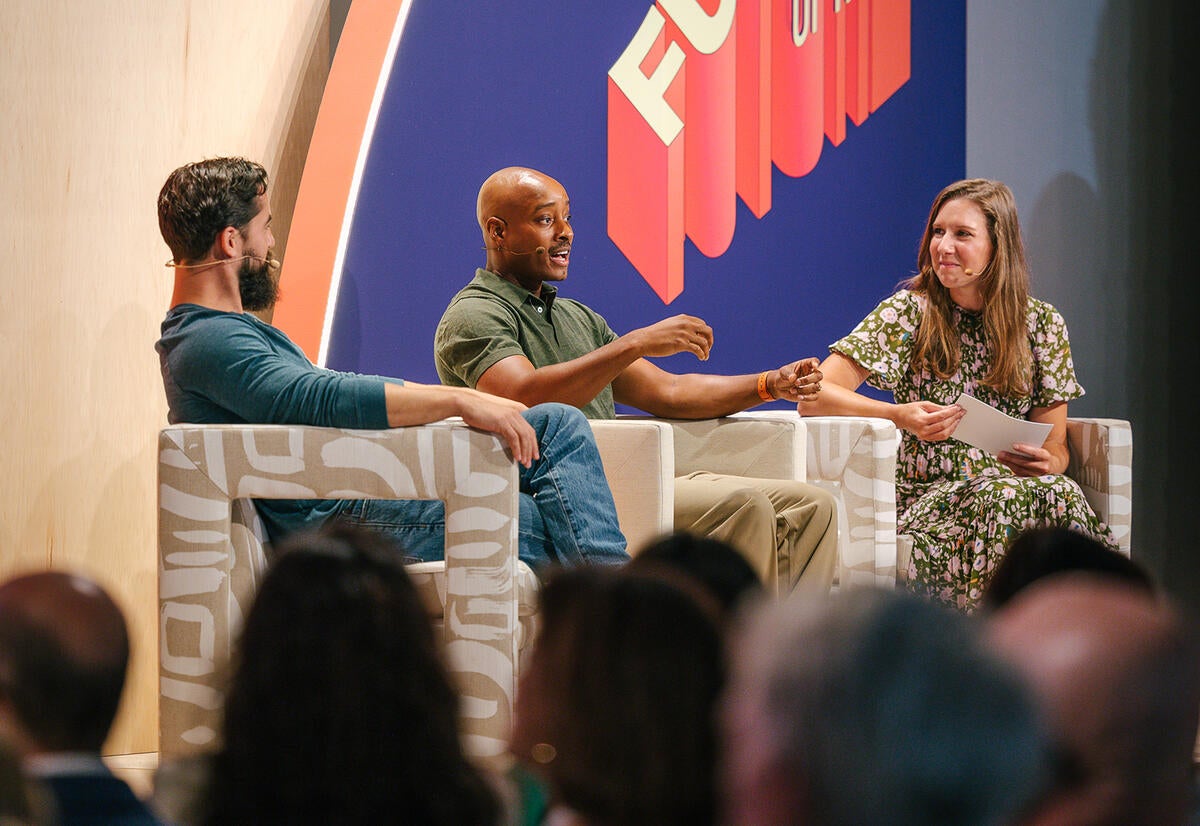 Kevin Lau for Business of Home
Designing for TV
Twelve hours—that's the amount of time Netflix gave interior designer Adair Curtis and carpenter Erik Curtis to complete a surprise full-home renovation for deserving families. The pair (who are not related) sat down with BOH editor in chief Kaitlin Petersen to discuss how they handled the hypertight timeline. "Figuring out how [our team] can develop a singular cohesive vision is step one," said Erik. "I love that ideation process. I love that creative process. And then the second half of that is how do we actually get it done—and that's the part that stretches you as a maker. That's why working with people who have an incredibly disparate skill set is an advantage."
A time crunch means planning is key to success. Three months before the installation, the designers and carpenters prefabricate anything they can to save time. "For both of us, we just need to do a lot of research and testing," said Adair. "The day of the installation, things are not going to go smoothly. Nothing goes as planned, but we have a plan B, plan C, plan D." To get the project done, the team grows to 250 people during installation. For Erik, figuring out the strengths of each individual and navigating that balance is crucial for efficiency. Although most designers are not operating this way, it's always true that a well-timed and planned install day always pays dividends.
Best quote: "You all know how much space matters, how much things matter and how much objects matter—and how that can influence your sense of self and belonging in the world. These are folks who deserve to have a space where they feel welcome and at home at the end of the day." —Erik Curtis
Key takeaway: Completing projects in a 12-hour window requires months of planning, research and backup plans in case things don't go as planned on install day.
When working with a large team of up to 250 people, it's important to recognize people's individual strengths to make the process run smoothly. Finding that balance between meeting a deadline but also assigning people to tasks that fit their skillset best will lead to success—especially in a time crunch.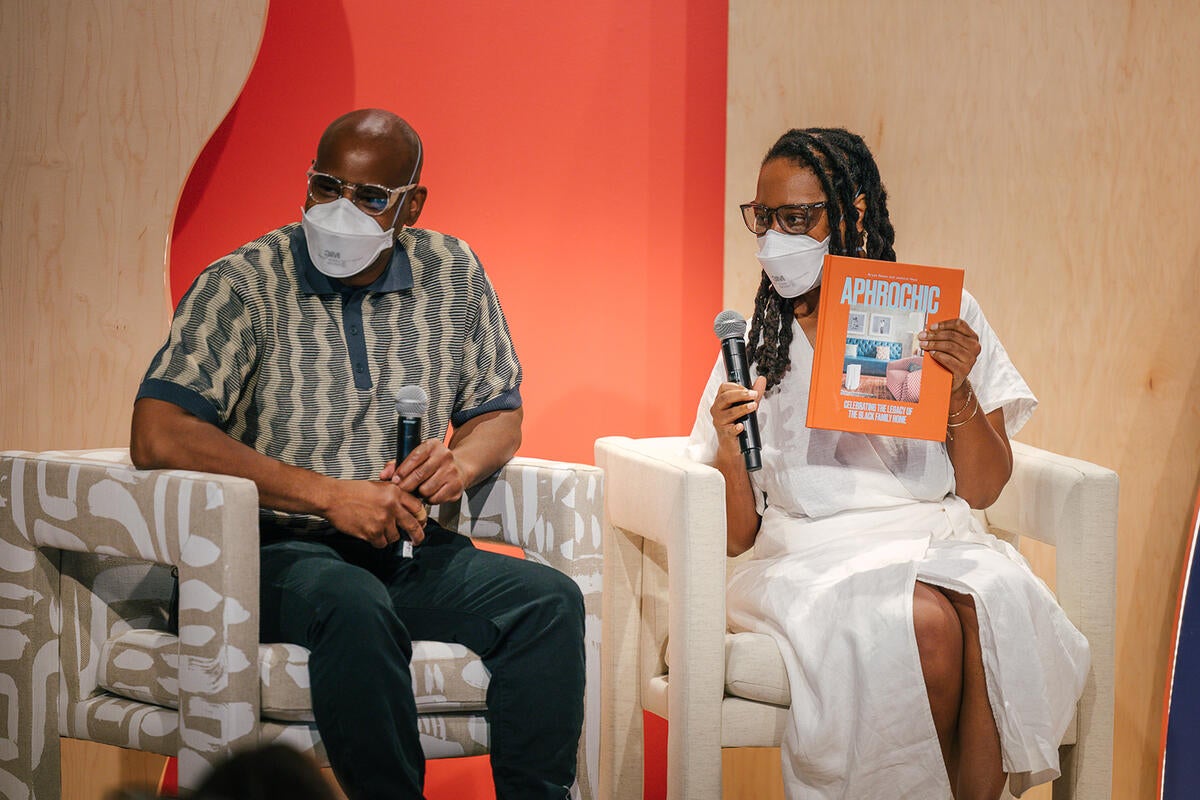 Kevin Lau for Business of Home
Redefining Design
The founders of AphroChic magazine, husband-and-wife team Bryan Mason and Jeanine Hays, sat down with BOH's Kaitlin Petersen to chat about their second book, AphroChic: Celebrating the Legacy of the Black Family Home. In a wide-ranging discussion, the pair explained why they wanted their new tome to go beyond a showcase of beautiful homes and explore the journey of the Black family in America. To that end, images are interspersed with thoughtful essays on meaningful issues including the Emancipation Proclamation, gentrification, the Great Migration and redlining. "We didn't want this to be something that people could point to and say, 'Racism is over,'" said Mason. "We didn't want to contribute to the problem. So we tied it to a larger story, an American story about the Black family home, which is something that is hard fought for and hard won."
Hays hopes the book is viewed as a celebration of the Black identity and how every home speaks to the individuals who live there. She compared the uniqueness of Black design to that of Black music or food. "All this is really about these individual families and their story, and how they interpreted their history within their space," said Hays.
Best quote: "We refer to this book as celebrating the legacy of the Black home—because it should be a celebration. It's really a struggle in this country to attain homeownership, and it should be a mirror of the joy and the sorrow that we've been through."—Bryan Mason

Key takeaway: AphroChic's new book goes deeper than another gorgeous coffee table book, weaving the narrative of Black America into the story of contemporary design.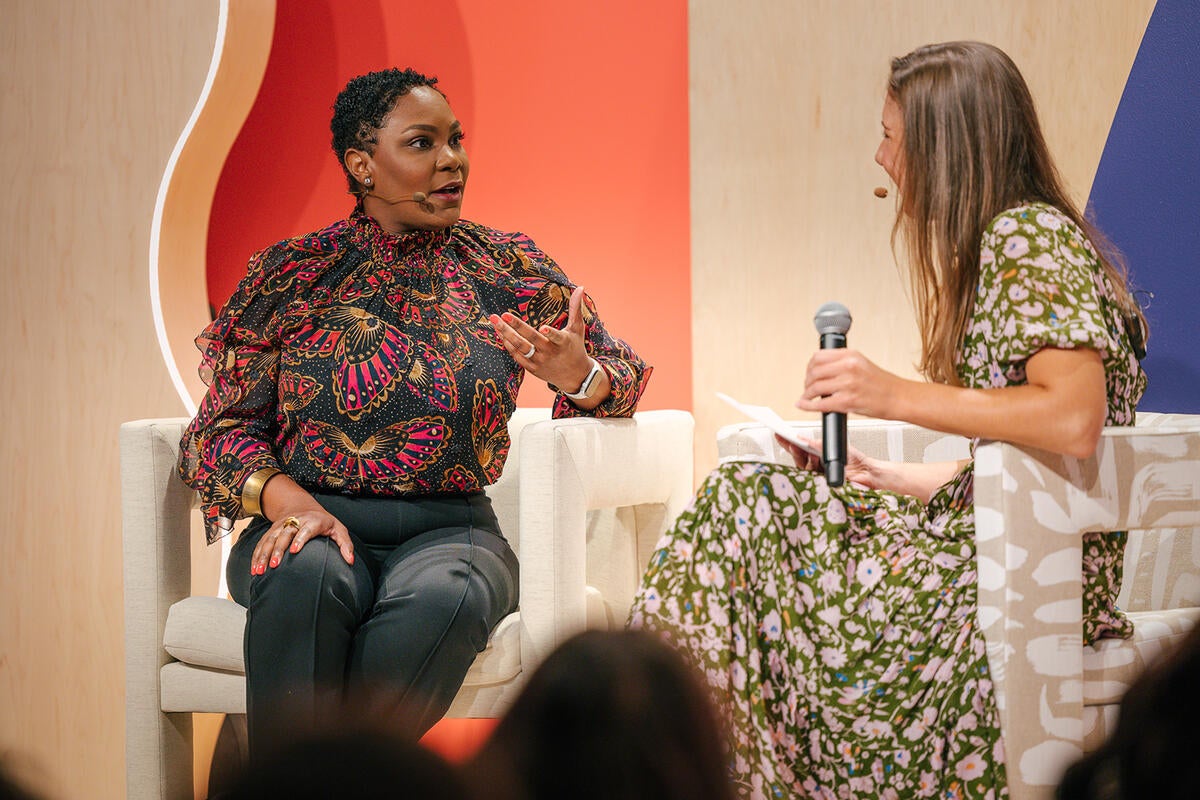 Kevin Lau for Business of Home
Cultivating a Growth Mindset
Designer Arianne Bellizaire, founder of the eponymous design firm Arianne Bellizaire Interiors, joined BOH editor in chief Kaitlin Petersen onstage to share how she retooled her firm's structure to grow sustainably and get closer to the parts of the design process that brought her the most joy. One of the hardest parts of that process, she said, was shifting away from what Bellizaire described as a "me-centered" business—in other words, a practice in which she was tethered to every role and operation in the firm.
After a business book prompted Bellizaire to think about her business as a franchise, she realized it was time to set up her firm so that it could deliver on its brand promise even when she wasn't around. The rehaul included a three-pronged approach: first, uniting the team under the same business core values; then, creating an operations manual so that the business could flow easily even in her absence; and finally, delegating outward marketing duties like social media to employees so the onus wasn't on Bellizaire alone. By the end of the transformation, she was able to fully hand off "technician" roles (like bookkeeping and invoicing) and position herself as creative director of her firm.
Best quote: "My hope is to instill in [employees] that same spirit of excellence and the same desire to be of value in every team they're working on. If they've done a good job, they've left a really great footprint for the next person to go off of—and they may be able to help modify or expand or refine that operations manual. For me, it's about the legacy."—Arianne Bellizaire
Key takeaway: It may seem counterintuitive, but for a business leader, taking yourself out of the equation when it comes to day-to-day tasks can sometimes pave the way for growth—and return you to the role of creative visionary.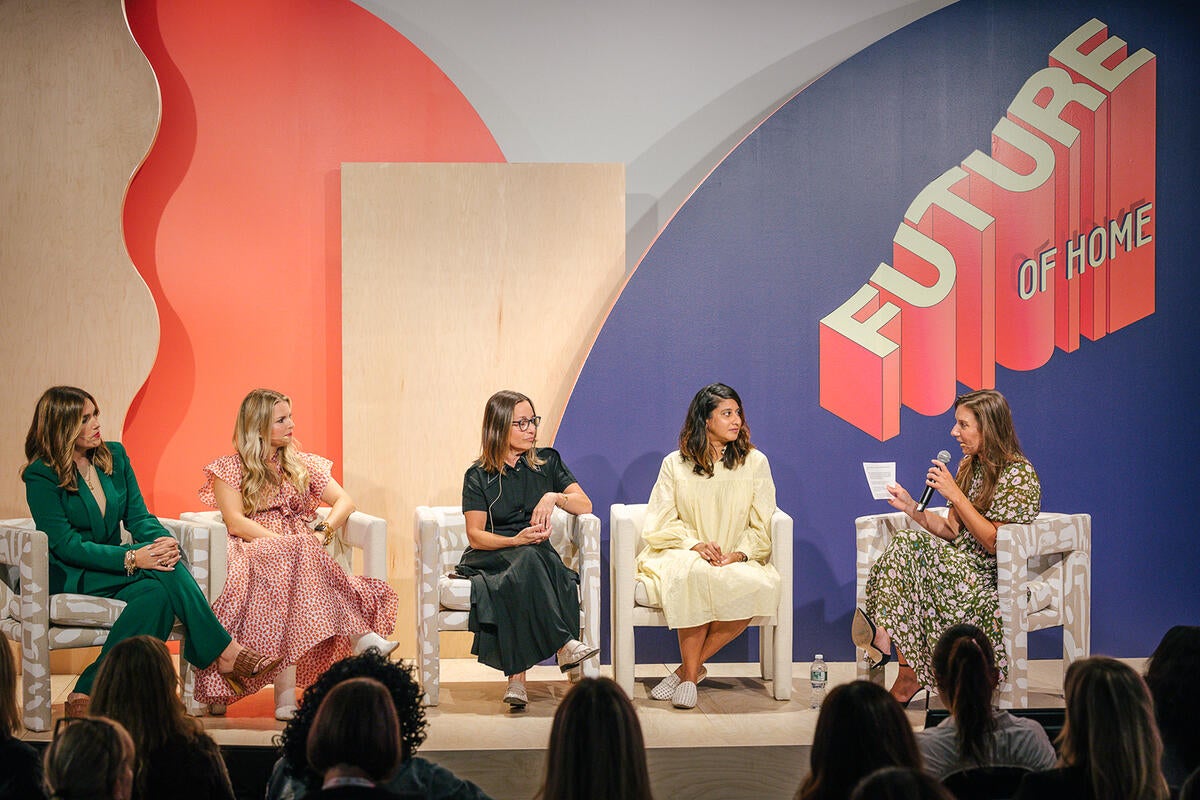 Kevin Lau for Business of Home
Making Online Design Work For You
Four designers with a variety of backgrounds and business models checked in with BOH editor in chief Kaitlin Petersen to share how they are making online design work for their firms. For Tina Ramchandani, who joined the online expert advice platform Intro a few months ago, offering her services online was a way to give back to people after noticing an influx of young designers asking where she got certain pieces in her Instagram DMs. Unlike Ramchandani, who doesn't do any homework before the call and has little to no follow-up after the meeting, Katie Rosenfeld gets information about clients in advance and sends an extensive recap document after the call ends.
Mallory Robins and Elizabeth Bennett, who started their own e-design service Shoppable Design, compared their online platform to fast fashion. "Full-service design is like the couture and custom-fit side of fashion," said Robins. "But online services are like fast fashion because you get to try something bold and new—like a checkerboard rug." Bennett explained that they also provide online clients with a floor plan, mood board and shopping list so they're as well-equipped as possible to execute the project on their own. A common thread among the four designers was their appreciation of having the chance to work with a diverse range of clients and practice a wide range of design skills that keep them sharp.
Best quote: "E-design really is democratizing design. For me, it's a great reminder that what we do day to day with full-time clients is la-la land. Design is not just for the wealthy. It's for everybody, and it's great for me to have to be in the real world." —Katie Rosenfeld
Key takeaway: Although e-design consultations can be a profitable side hustle, many designers prefer to have that complement their in-person business rather than replace it. Why? They don't get the same satisfaction from seeing end results for their designs over the screen.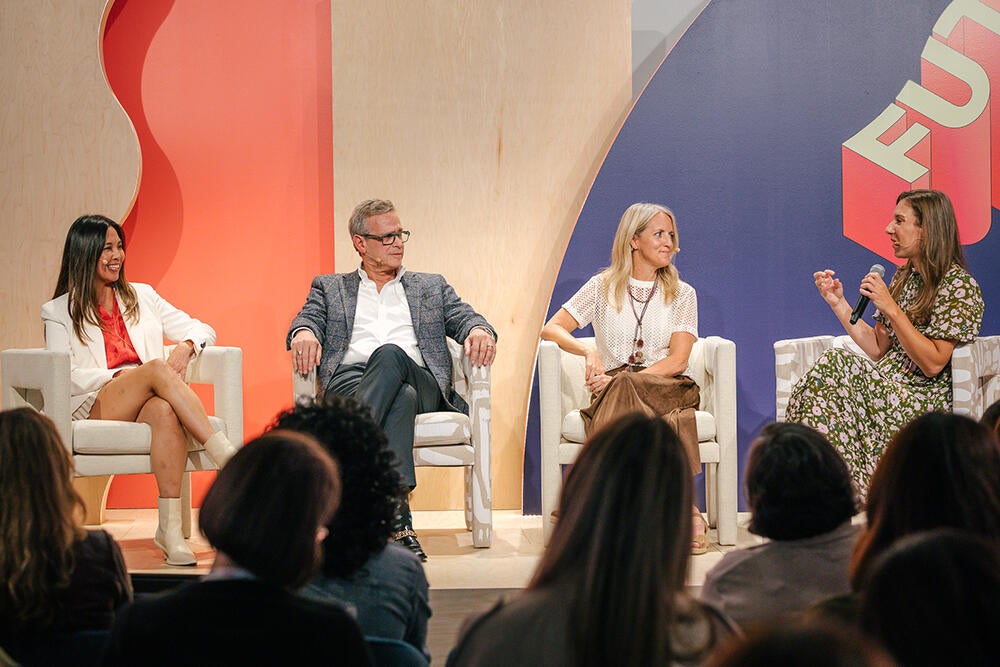 Kevin Lau for Business of Home
LEVELING UP—SPONSORED BY HIGH POINT MARKET
BOH editor in chief Kaitlin Petersen joined designers Christi Barbour, Barry Goralnick and Christina Kim to get the scoop on forming meaningful relationships with vendors, particularly at High Point Market. "Slowing down and actually spending time at showrooms helps build deeper connections and better relationships with vendors," said Barbour, who serves as vice chair of High Point Market Authority. "This can lead to everything from discounts to being in the loop with upcoming releases."
Instead of dashing through the market with hopes of covering as much ground as possible, Kim recommends streamlining your showroom stops and having a list of products you need—and questions to ask about them—handy. "When you can approach vendors with an idea of what you need and what you need to know, it improves communication and results in stronger relationships," said Kim.
Best quote: "High Point is the most effective thing we can do for our business. Networking is essential, and good connections with vendors can result in access to products before everyone else." —Barry Goralnick
Key takeaway: Slow down and get to know your vendors next time you're at High Point—it will pay off in the long run.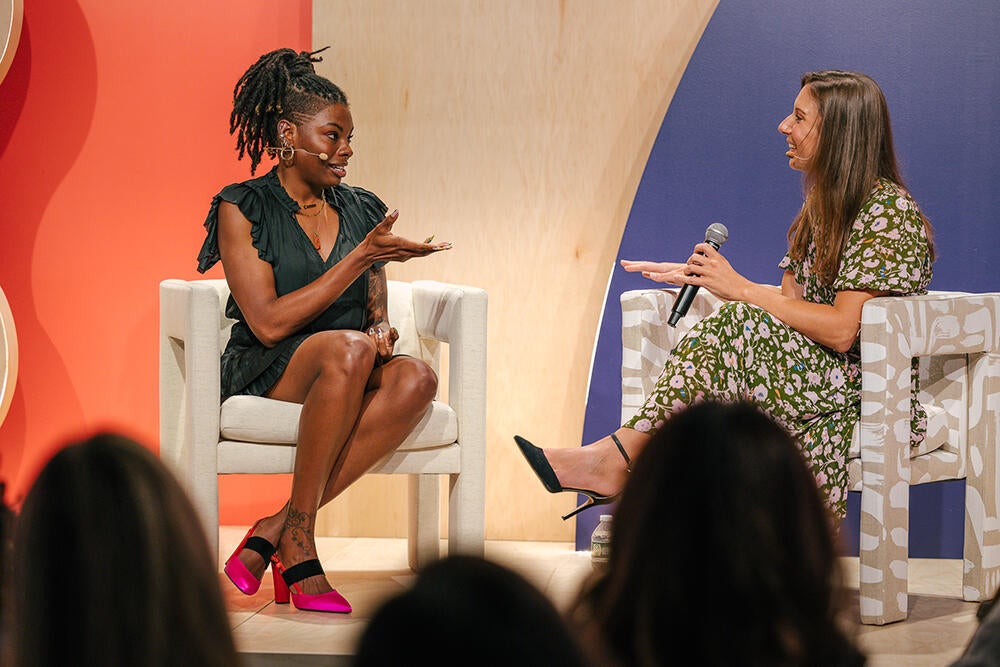 Kevin Lau for Business of Home
Building Authentic Connections
BOH editor in chief Kaitlin Petersen sat down with interior designer Carmeon Hamilton to chat about her secret to success on social media: being authentically herself. Hamilton was an early adopter of Instagram and brought a candid style to her posting that she'd developed while blogging. She gained a loyal following on the platform, and she's nurtured her community, as she refers to her followers, over the past 12 years. "I treat my followers like people in my house," said Hamilton. "If there's one person in my house or 14, it doesn't change the way I behave."
Hamilton said that being authentic to her values and making sure that someone who knows her personally would think she was being real is an important part of her strategy. While some people might worry about alienating brand partners, Hamilton argued that her approach attracts partners that she truly wants to work with and who have turned out to be repeat collaborators.
Best quote: "Don't worry about giving away secrets. We live in the world of Pinterest. Your stuff is going to be copied anyways. But if you show up as a professional, as the expert, people will still want to give you money. Give it all away, and you'll get it all back."—Carmeon Hamilton
Key takeaway: Hamilton advocated for being as true to your real life personality as possible in order to develop a loyal following that goes beyond fans of pretty pictures and results in a community experience.
After-party sponsored by EQ3
After the day's talks concluded, Canadian furniture brand EQ3 welcomed Future of Home attendees to its expansive Manhattan showroom to enjoy wine, appetizers, illustrations by local artist Deanna First and upbeat jazz by local saxophonist Noel Haye. Guests mingled in the airy three-story space outfitted with EQ3's contemporary, versatile products, and chief design officer Enri Tielmann announced the launch of EQ3's new trade line, speaking to the crowd of industry insiders about how the brand's elevated yet accessible pieces allow EQ3 to transcend boundaries.
Check back tomorrow for coverage of Day 2 of Future of Home.

Homepage image: Dennis Scully at the Future of Home conference | Kevin Lau