Product Preview is a weekly series spotlighting the latest and greatest debuts in the marketplace. Check back every Friday for what's new and notable.
It's been a wild and rewarding week for design lovers. We're fresh off the heels of Spring Market, and the launches were every bit as exhilarating as the mood in North Carolina. From curvy lilac-upholstered sectional sofas to New York skyline-inspired crystal chandeliers, here are some of our favorite introductions from High Point.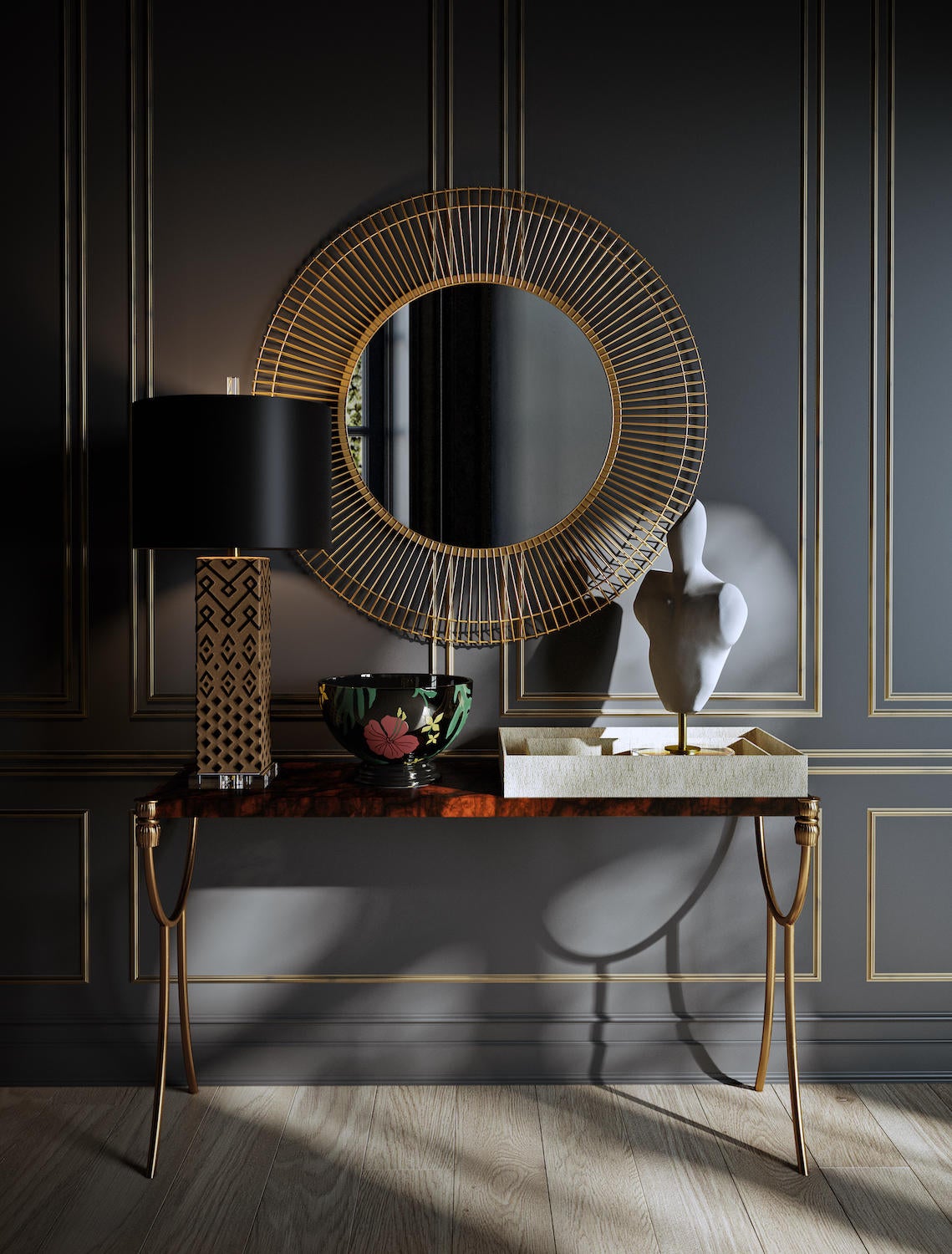 At 200 N. Hamilton, Wildwood unveiled its collaboration with Cheryl Luckett. Drawing from Southern traditions and the Charlotte, North Carolina–based designer's African-American roots, the heirloom-worthy collection offers an array of modern furnishings clad in old-school antique motifs, including a Kuba cloth–inspired table lamp and a console table with a dainty gold-finished frame and pen shell top.
Universal Furniture premiered its highly anticipated collaboration with Los Angeles designer Erinn Valencich. The sumptuous assortment spans 45 case good and upholstery options marked by touchable textures, sculptural silhouettes and striking finishes, such as a bulb-shaped dining table in a two-tone finish and a minimalist chaise lounge covered in ivory-colored faux fur.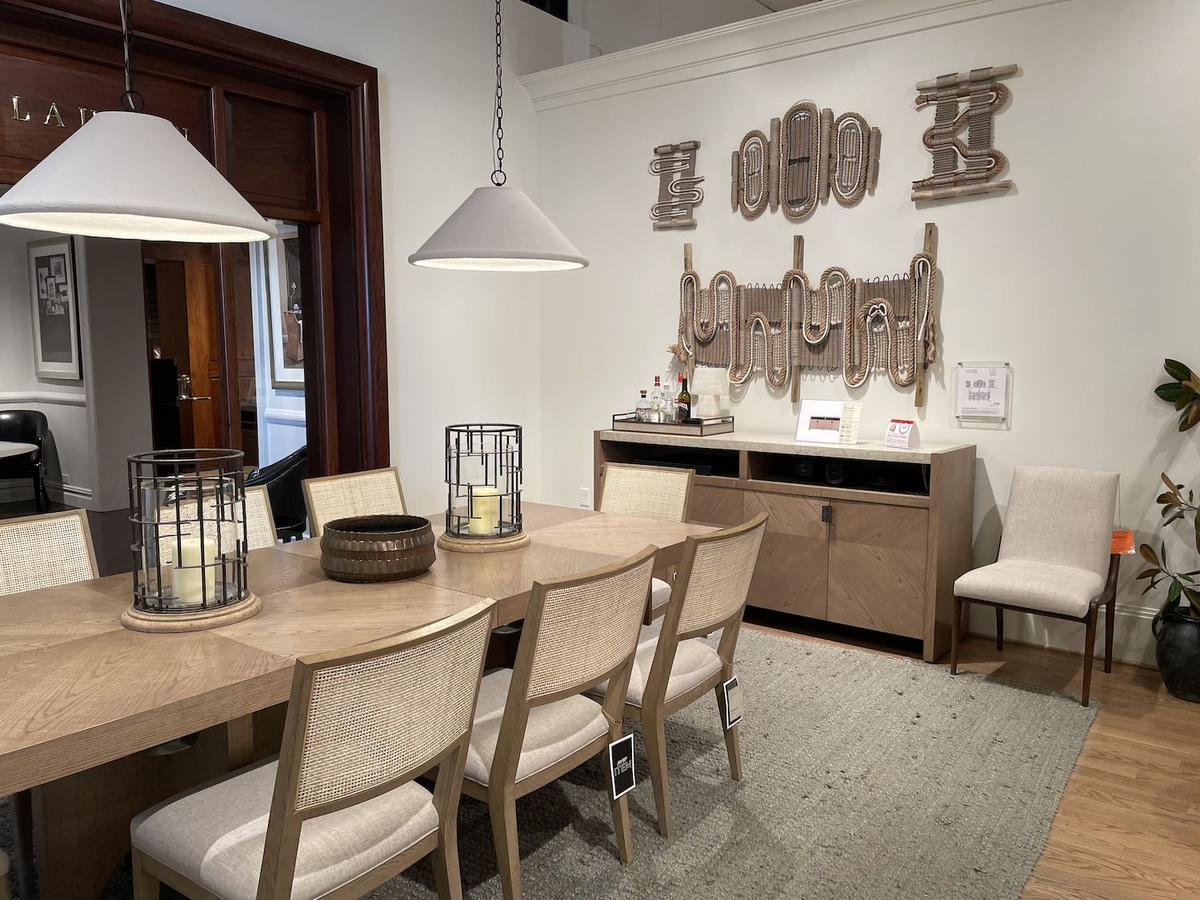 Courtesy of Theodore Alexander
Theodore Alexander debuted its Catalina collection alongside four new works by passementerie artist William Storms. The series supplies more than 50 furniture and decor accessories inspired by organic motifs, such as a sideboard punctuated by a kaleidoscopic grain pattern and dining chairs with radio-woven caned backs.
Courtesy of Alfonso Marina
The latest introductions on display at Alfonso Marina took our breath away. After swooning over the iron-inlaid Deauville armoire and the wavy-lined Montagne cocktail table, we nearly fainted at the sight of the Antibes, a seductive chaise lounge with a primavera wood base that—gasp!—doubles as a side table.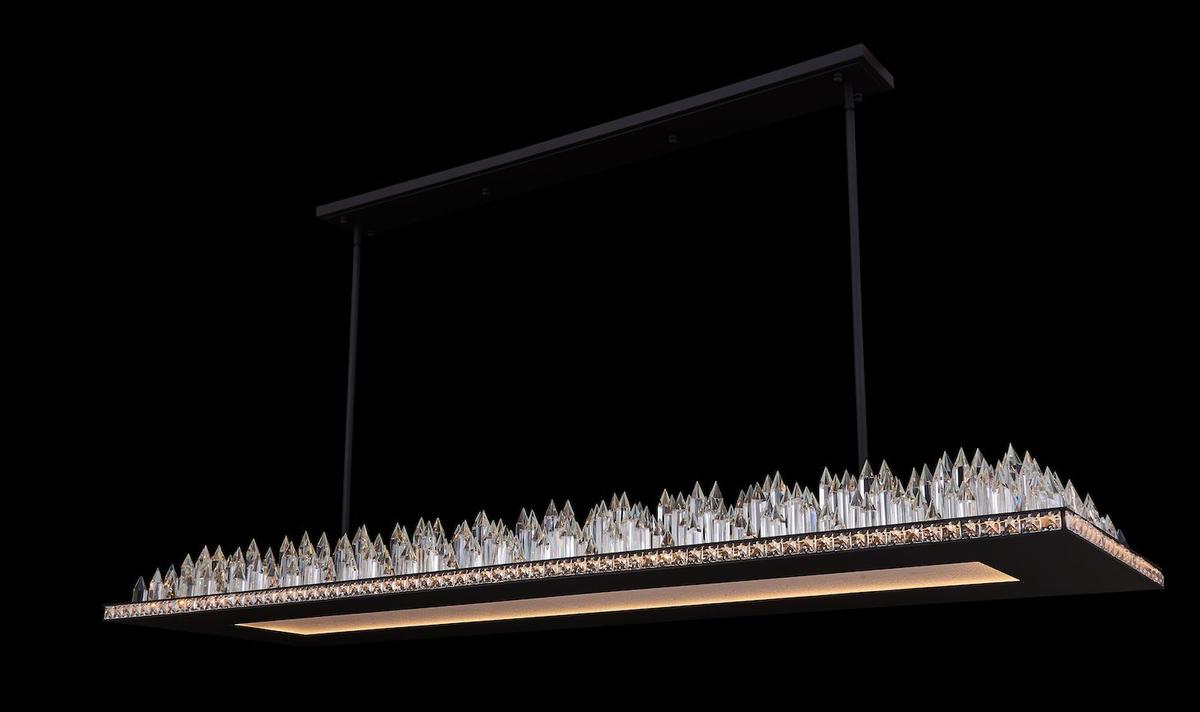 Courtesy of Kalco Lighting
Kalco Lighting unveiled Ilumine, a collaborative collection by Vanessa DeLeon. The surrealist assortment features three crystal-embellished designs that moonlight as functional works of art, including the Salvador Dalí–inspired Venere sconce and a chandelier called Orrizonte that mimics the New York skyline.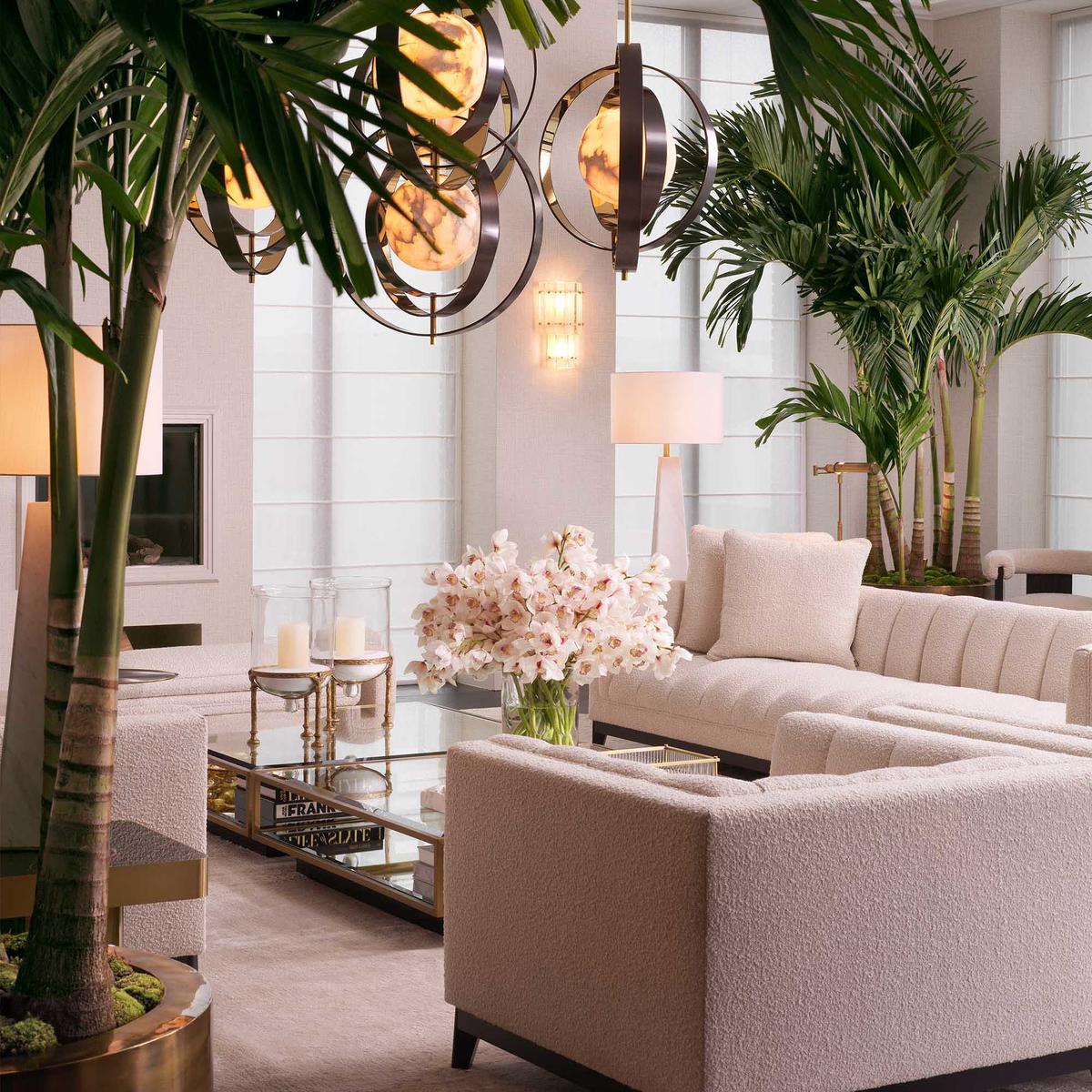 Eichholtz's manse-like showroom was the talk of the town—as were all of the glamorous treasures inside it. The European trade brand's latest collection boasts more than 200 designs with statement-making silhouettes and sumptuous details, including the boucle channel-tufted Ditmar sofa and Hildebrandt, an art deco palm-leaf chandelier draped in cascading rows of crystals.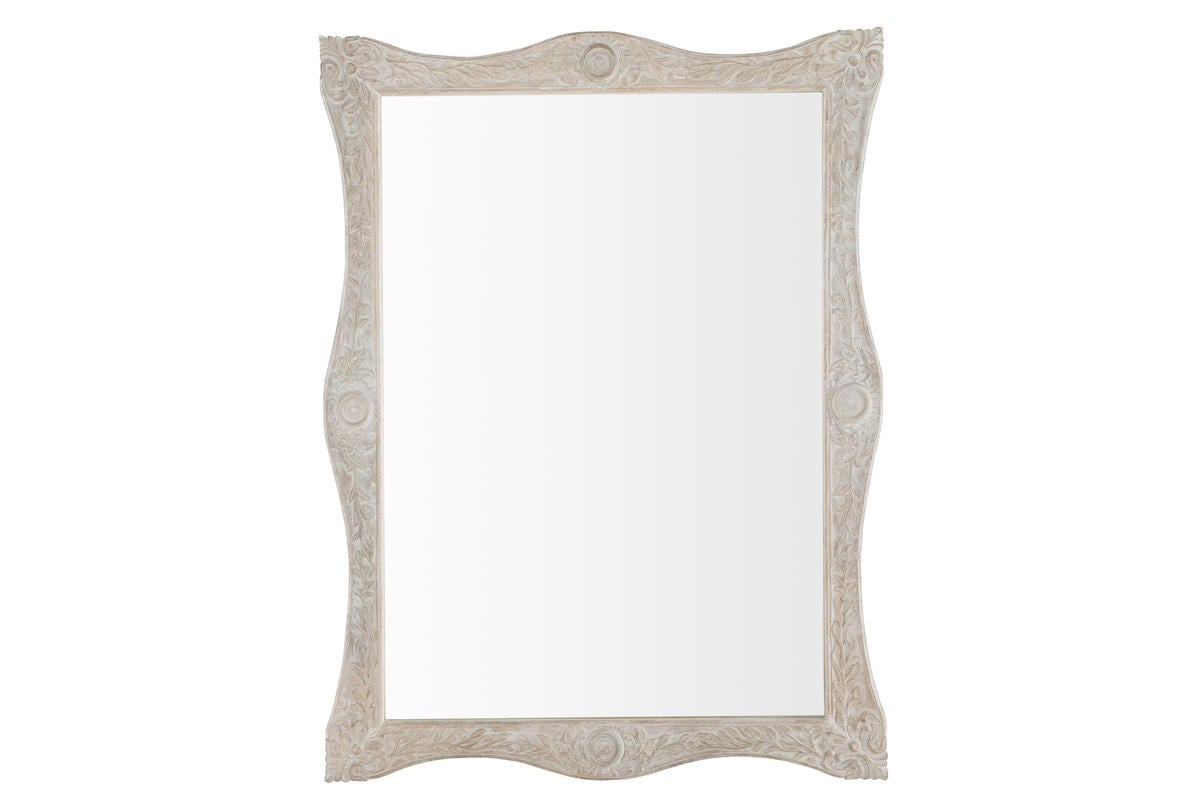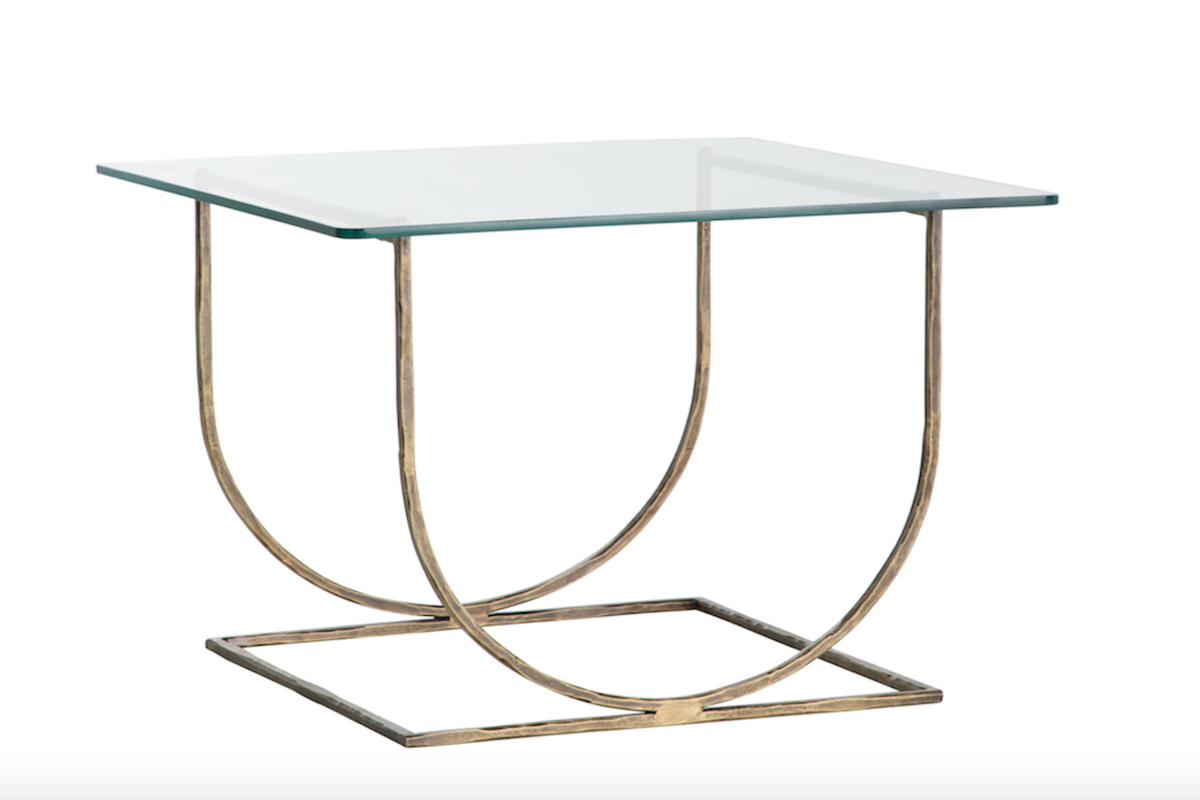 In Hamilton Wrenn North, Gabby rolled out a sleek selection of functional furniture and decor accents. Take, for example, the six-foot-tall Lowndes mirror, which boasts a carved wooden frame that can be hung vertically or horizontally, or the shape-shifting Concord side table that can be flipped upside down to create an entirely new look on the fly.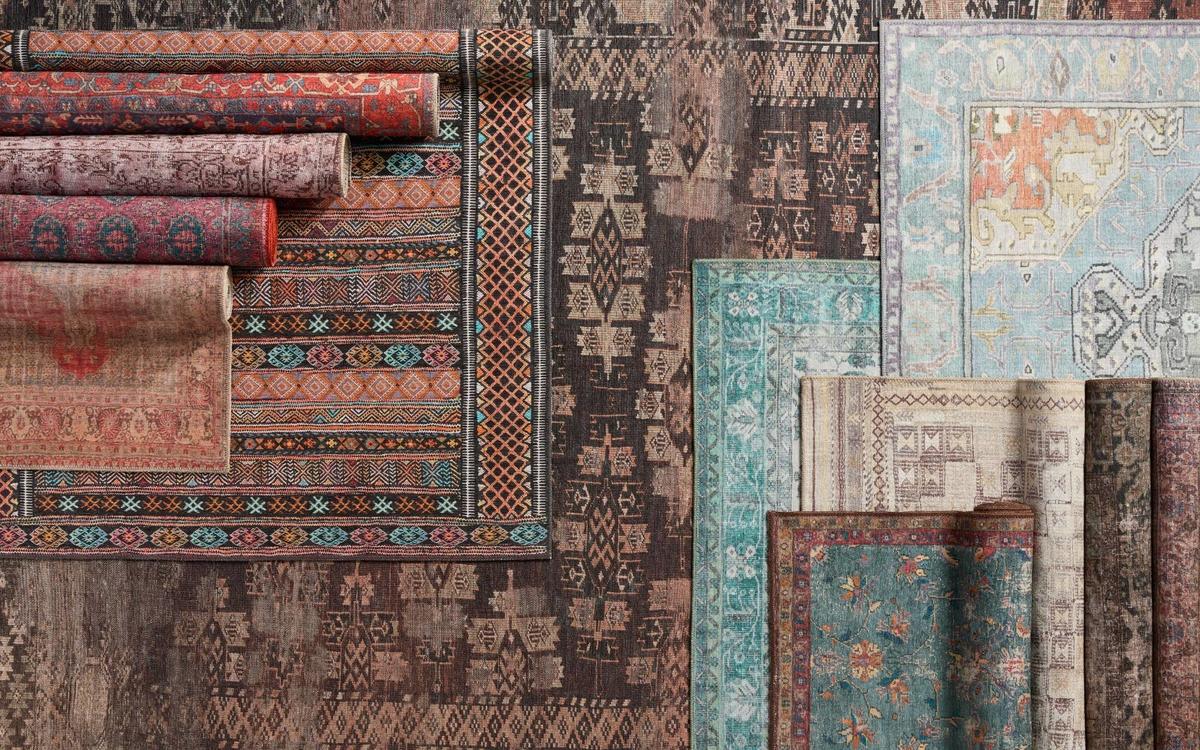 Courtesy of Jaipur Living
At Showplace, Jaipur Living dropped two collections by Kate Lester: Harman and Harman Natural. The SoCal designer pulled from her own archive of vintage textiles to create the series, which includes everything from a turquoise medallion-patterned rug named Tamara to a handcrafted wool-and-jute woven stunner dubbed Esdras.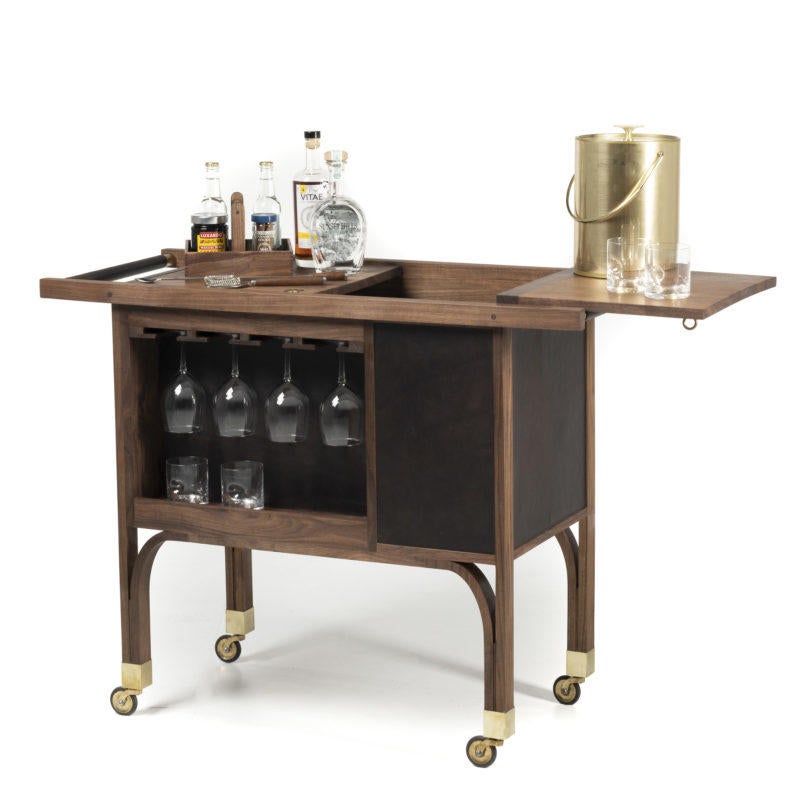 Moore & Giles showcased a delectable line of leather-upholstered furnishings that we'll be dreaming about for weeks. The Isabella counter stool, for instance, boasts a bowed back and comes in your choice of 25 colorways, while the brass-accented Rivermont bar cart offers a removable drink caddy and a walnut cutting board that can also be used as a serving tray.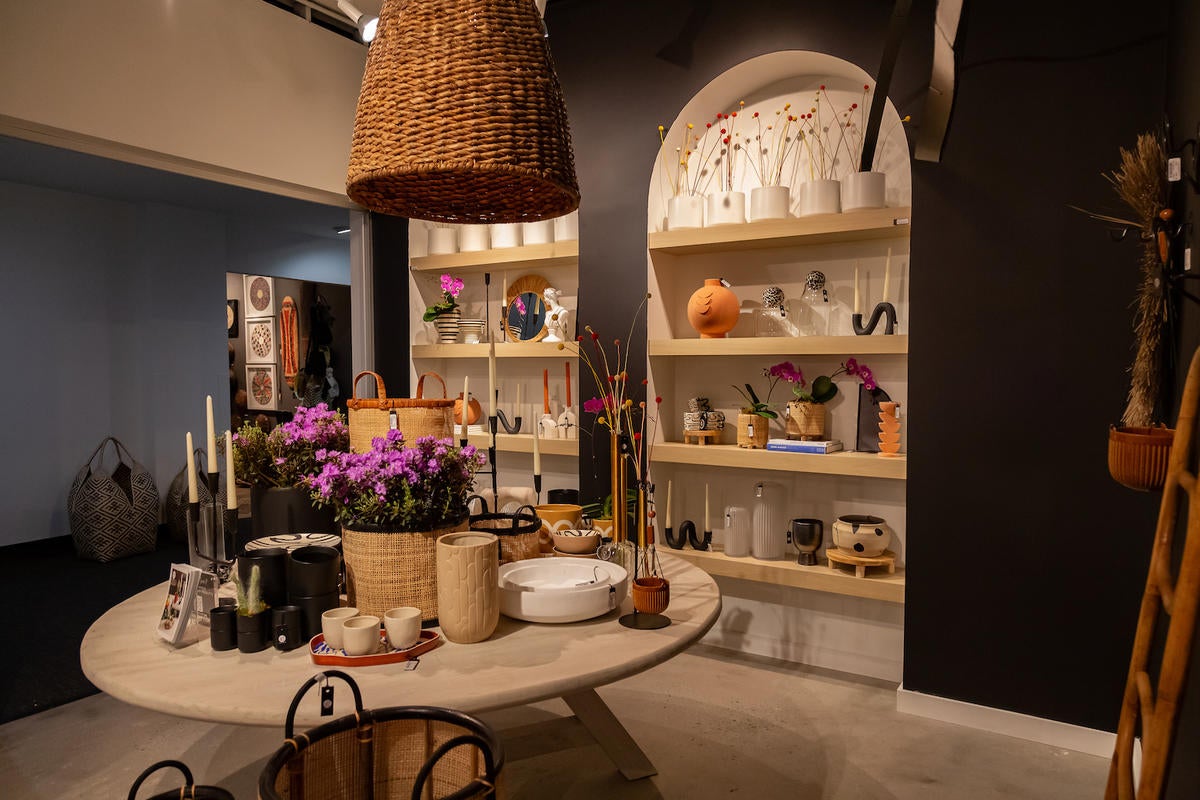 Bright hues and unruly lines abounded in Accent Decor's new showroom on the third floor of the International Home Furnishings Center (IHFC). In addition to an endless array of squiggly candleholders, confetti-colored planters and cheeky wall hangings—bronze bunny head mounts, anyone?—the space was filled with an ethereal assortment of breezy woven pendant lights that are perfectly on trend for summer.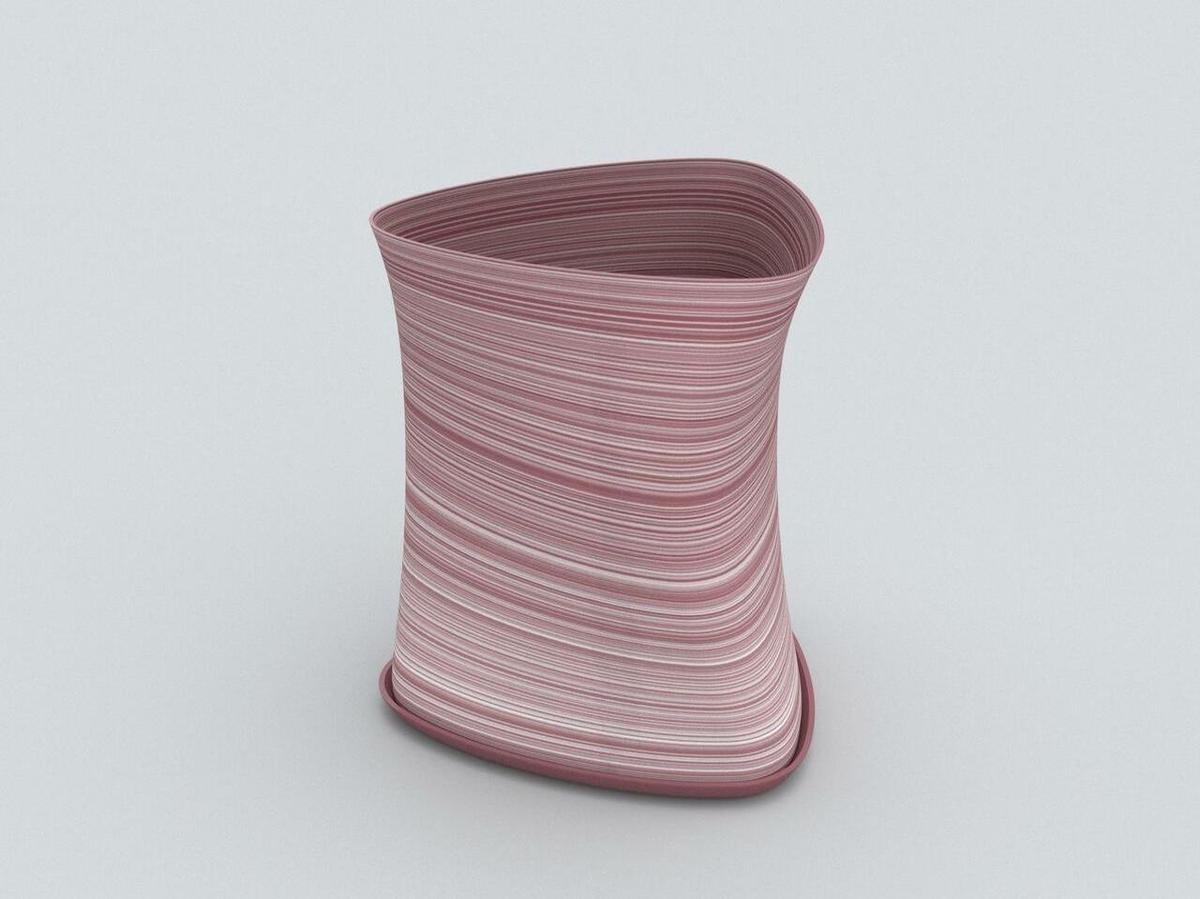 Model No. showed off an impressive selection of sustainable designs inside the Plaza Suites. Along with a variety of 3D-printed side tables, stools and planters made from biodegradable plant-based resin, the Oakland, California–based brand offers a slew of minimalist sofas, sectionals and armchairs outfitted with Forest Stewardship Council–certified hardwood frames and organic latex foam cushions.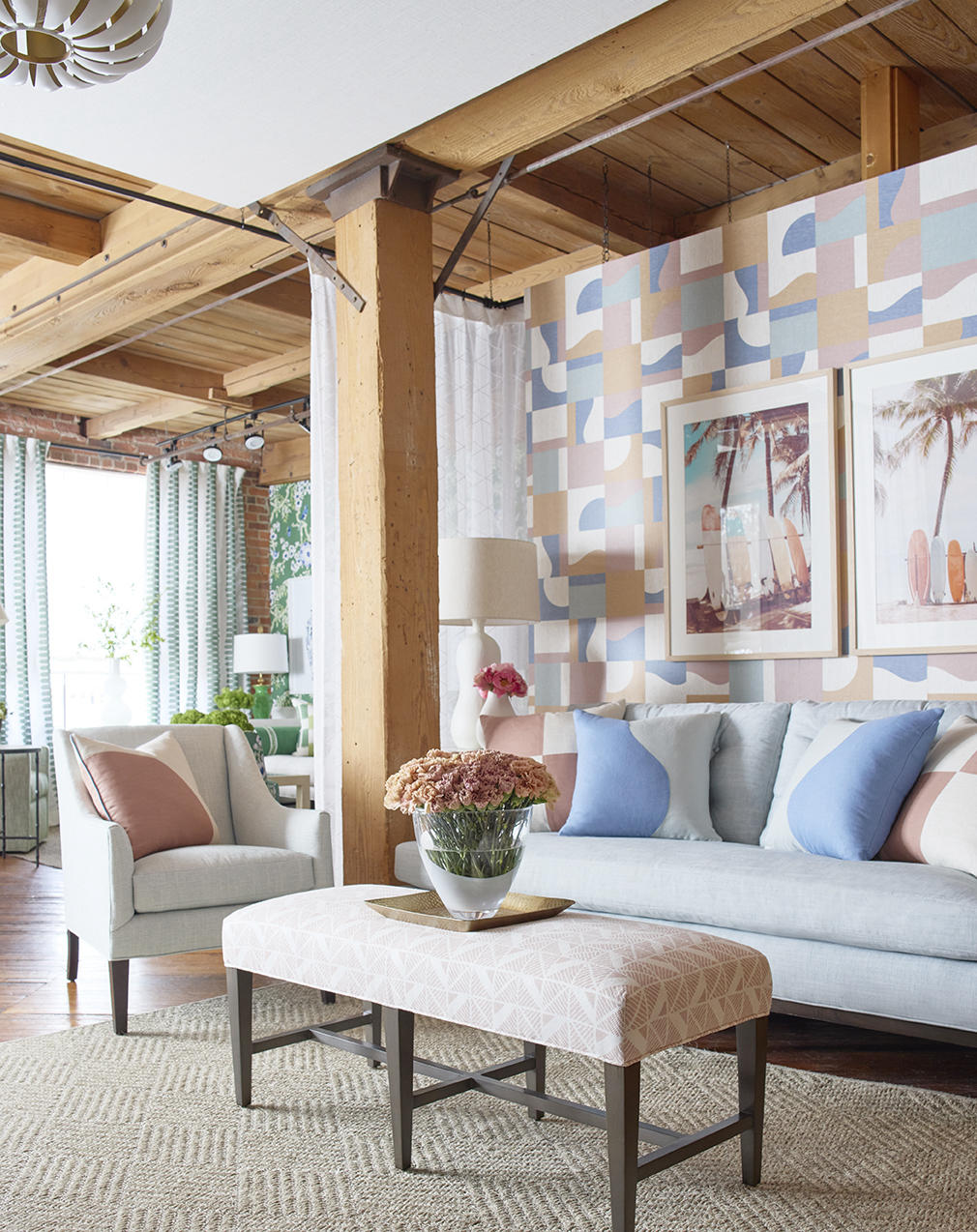 At Market Square, Thibaut presented its spirited Modern Resource 3 collection. The series includes 10 textured wallcovering designs with sunbaked tones and midcentury modern patterns, such as the geometrical Colored Blocks and the zigzagging Elevation.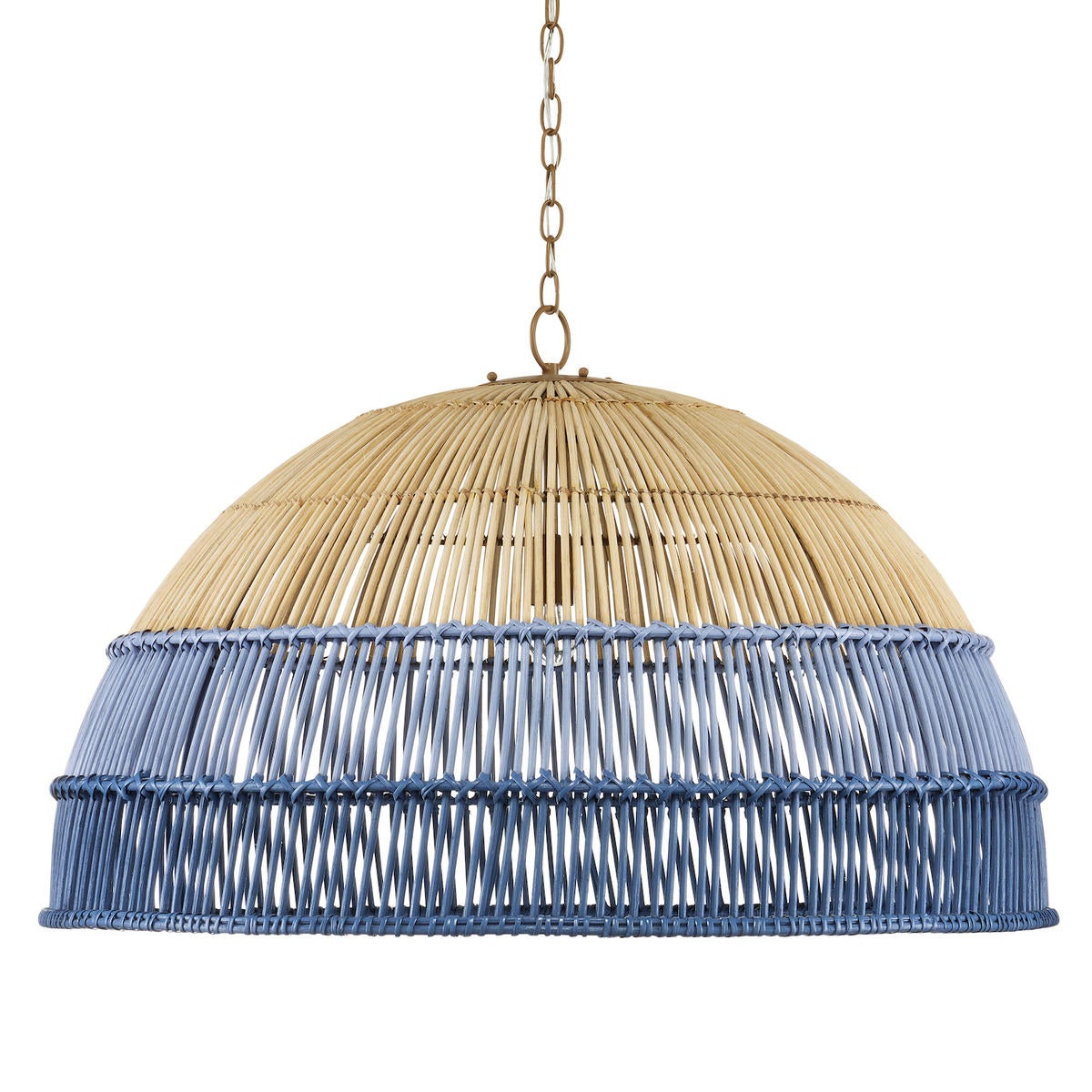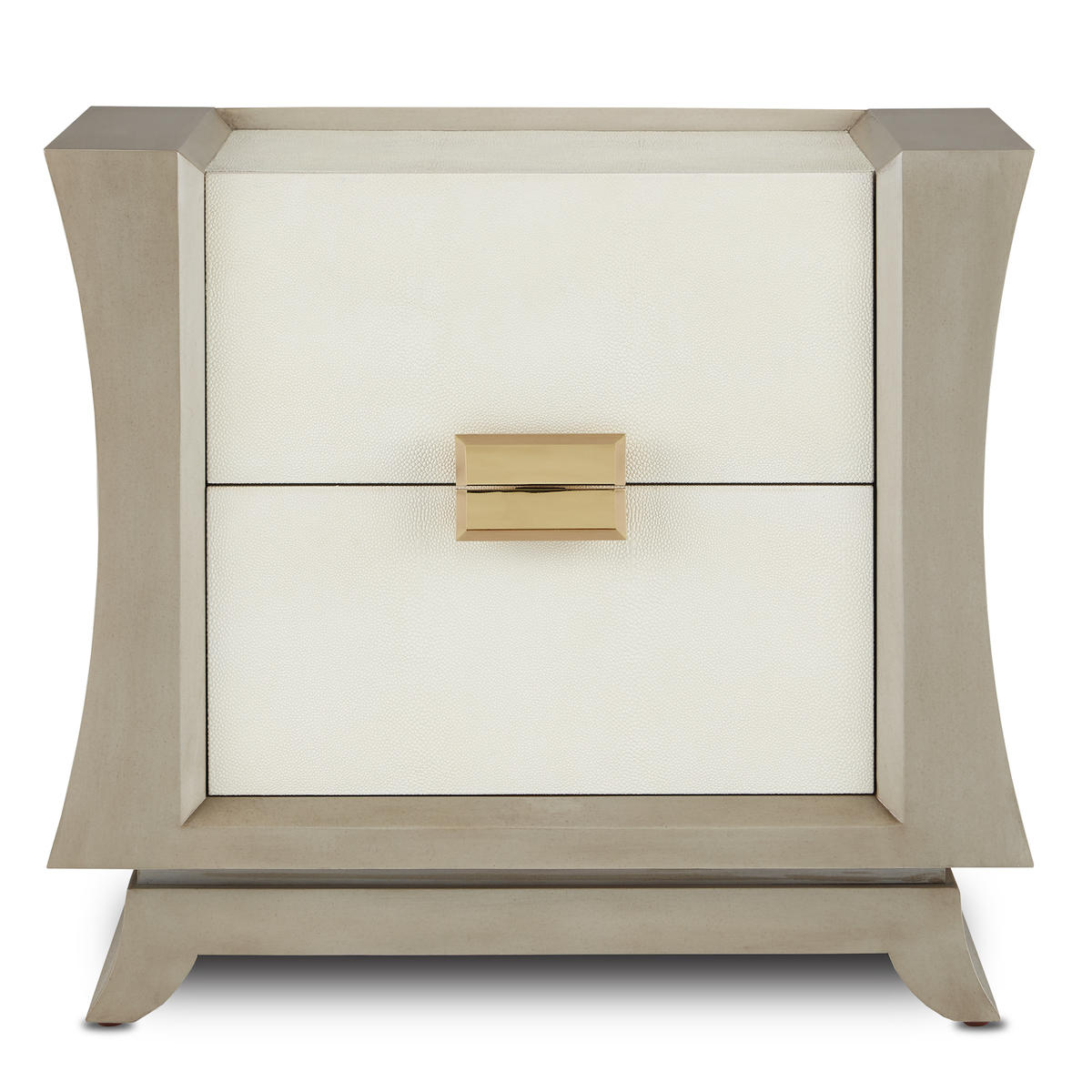 At Currey & Company, Hiroshi Koshitaka's stunning Senjyo pendant and Barry Goralnick's curvy Koji nightstand took pride of place. The former is a dome-shaped rattan light fixture in gradated shades of blue and khaki while the latter offers a two-tone bed stand covered in faux shagreen with square-edged brass pulls.
Brown Jordan introduced three new eye-catching colorways into its Walter Lamb collection. The outdoor-friendly assortment features midcentury-style chairs, chaise lounges and ottomans with free-flowing frames and woven rope seats, now available in pistachio (green), peacock (blue) and spice (orange).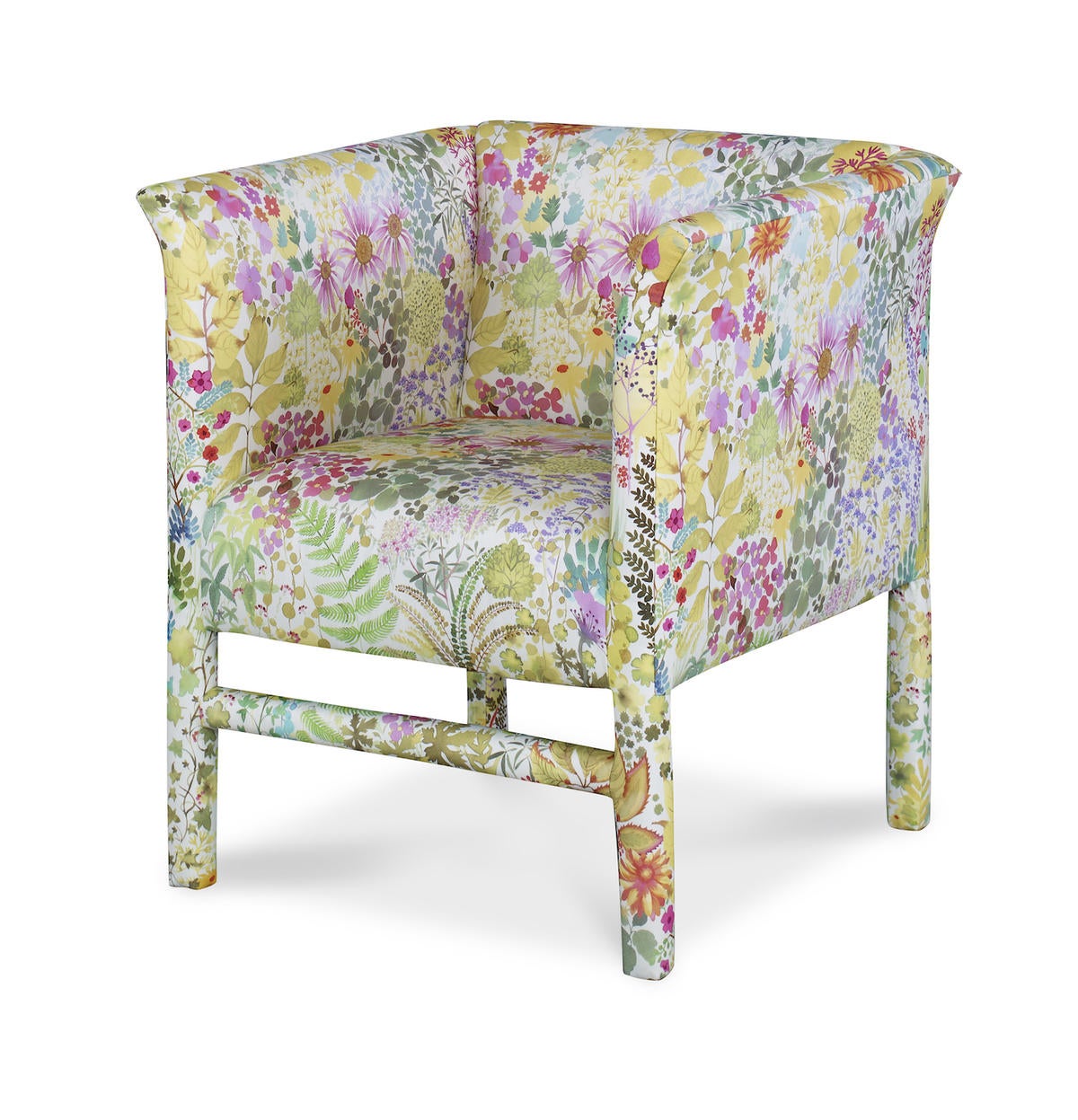 Courtesy of Highland House
Highland House blessed visitors with an exuberant assortment of spring-ready designs. While the deep cobalt blue side tables and yellow flower-shaped ottomans certainly made our hearts skip a beat, the Catbird chair—dressed in a vibrant floral Liberty London print—left us feeling equally energized and inspired.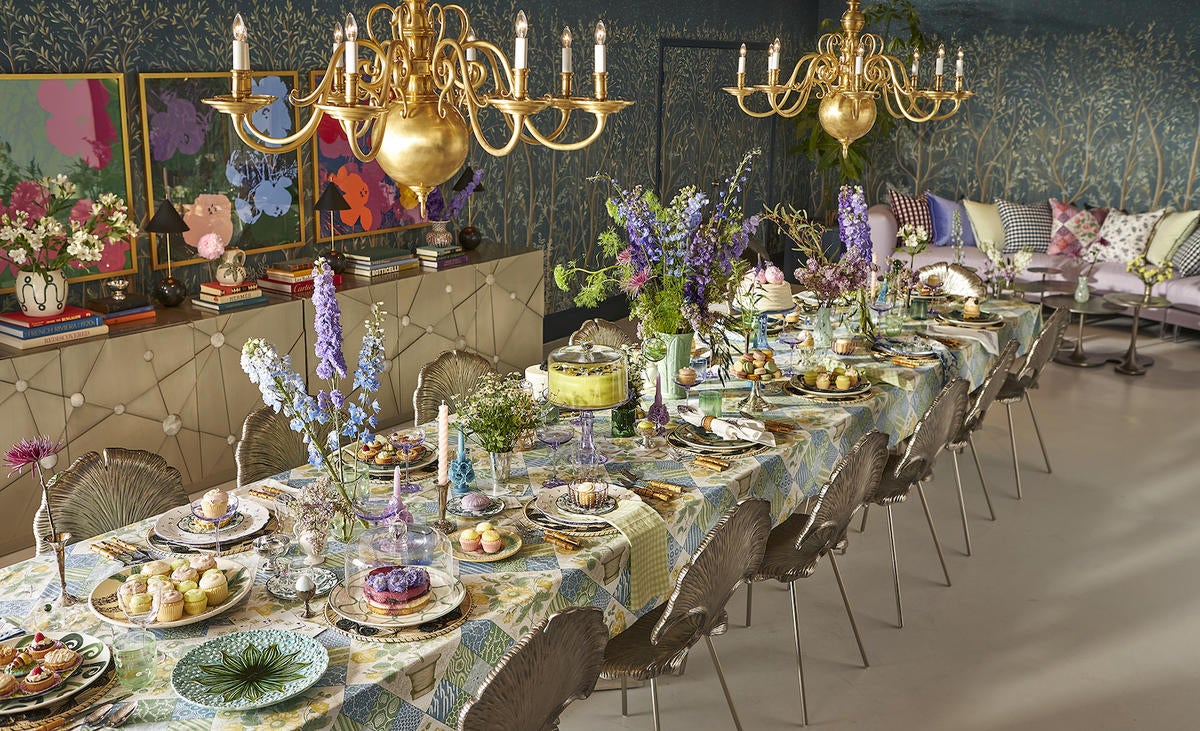 After a long day of walking, Summer Thornton's Designer in Residence space at Bernhardt perked us right back up. Inspired by the Mad Hatter's tea party in Alice's Adventures in Wonderland, the whimsical showcase focused around a fanciful table spread accompanied by the brand's shell-backed Felicity chairs, crystal-inlaid Stellar credenza and Harper sectional upholstered in Schumacher's dreamy lilac-hued Cecil cotton chintz.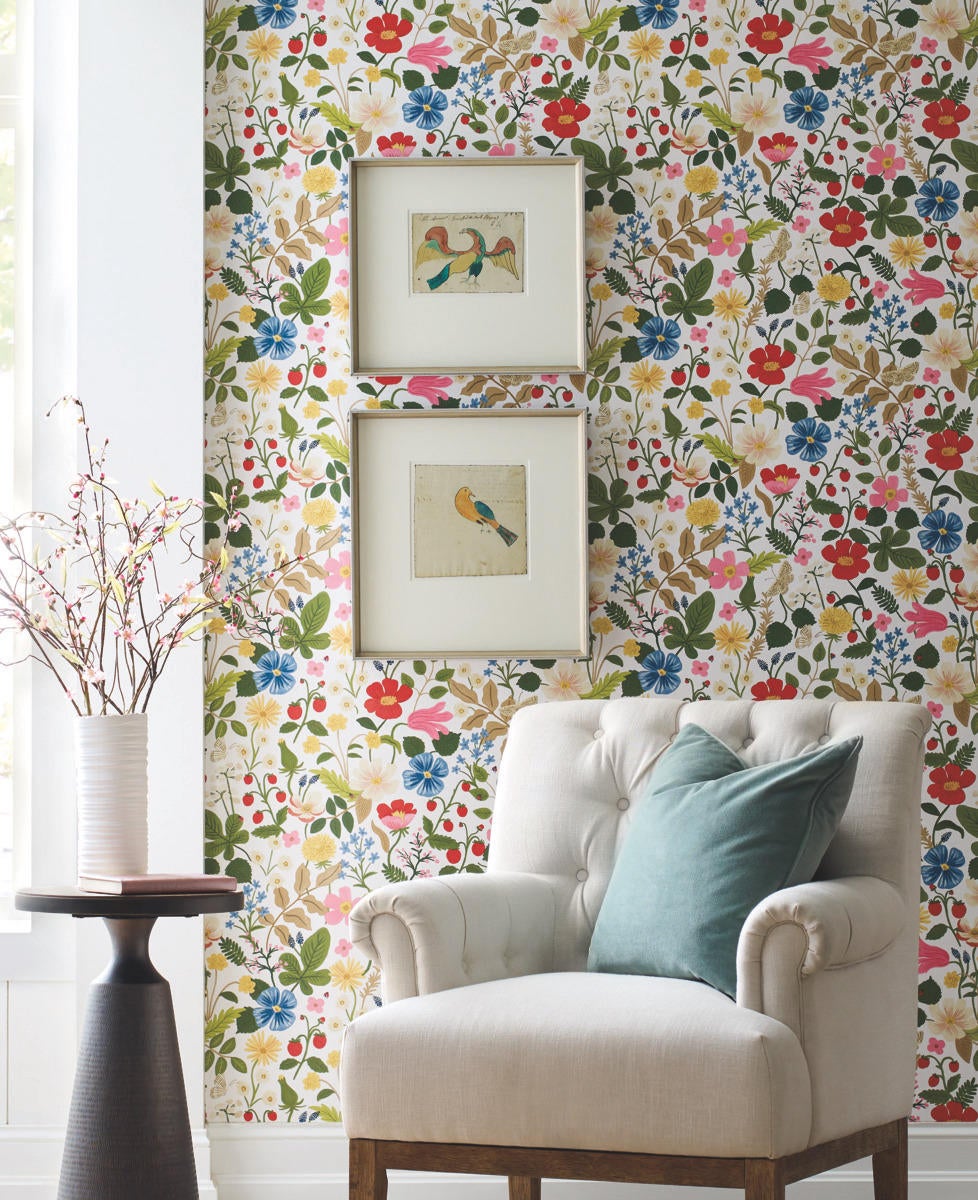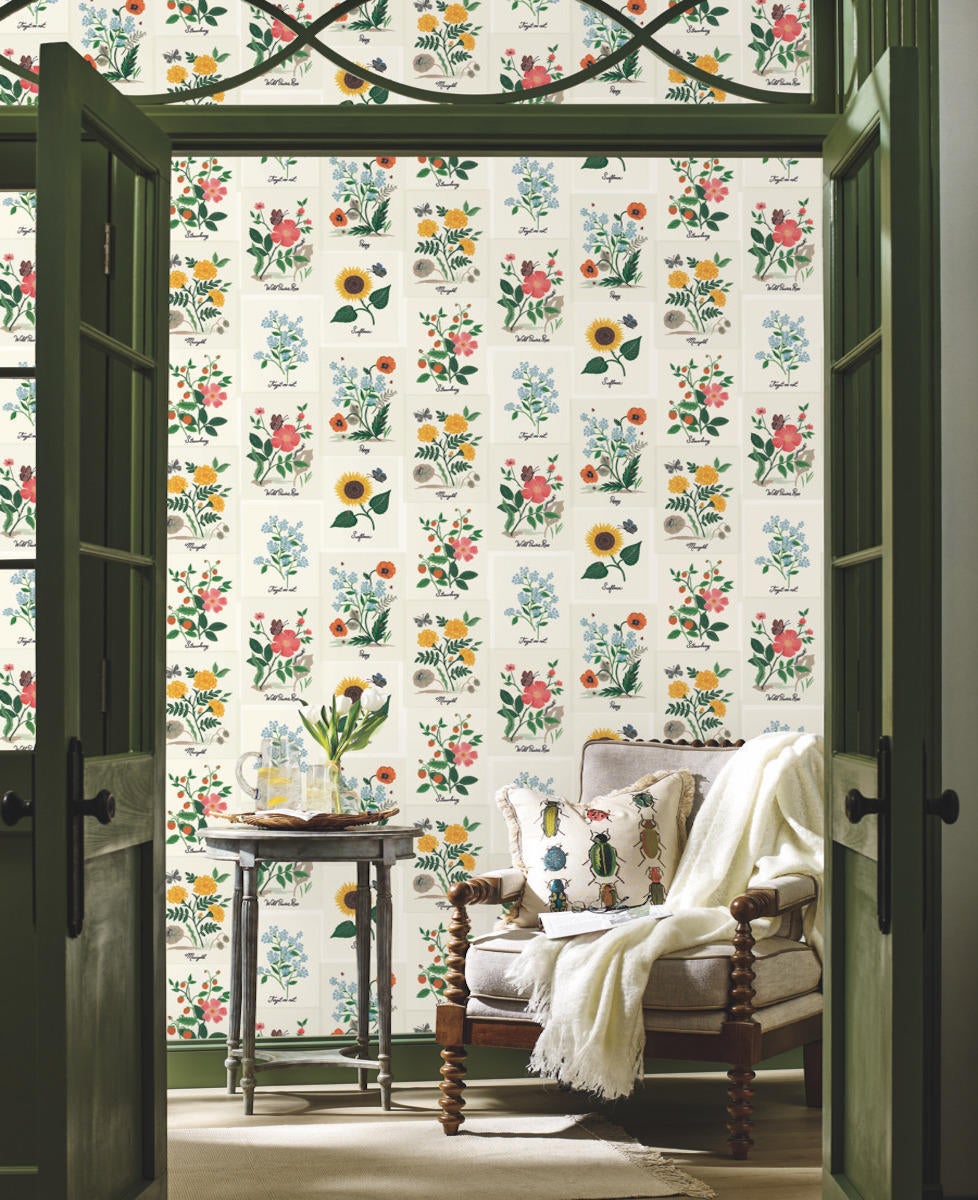 Inside York Wallcoverings's new showroom at the IHFC building, we fell head over heels for the second edition of the brand's collaboration with Rifle Paper Co. Brimming with bold hues and sprightly patterns, the series boasts 14 delightful designs based on original gouache paintings, including the vintage lithograph–inspired Botanical Print and the floral-filled Strawberry Fields.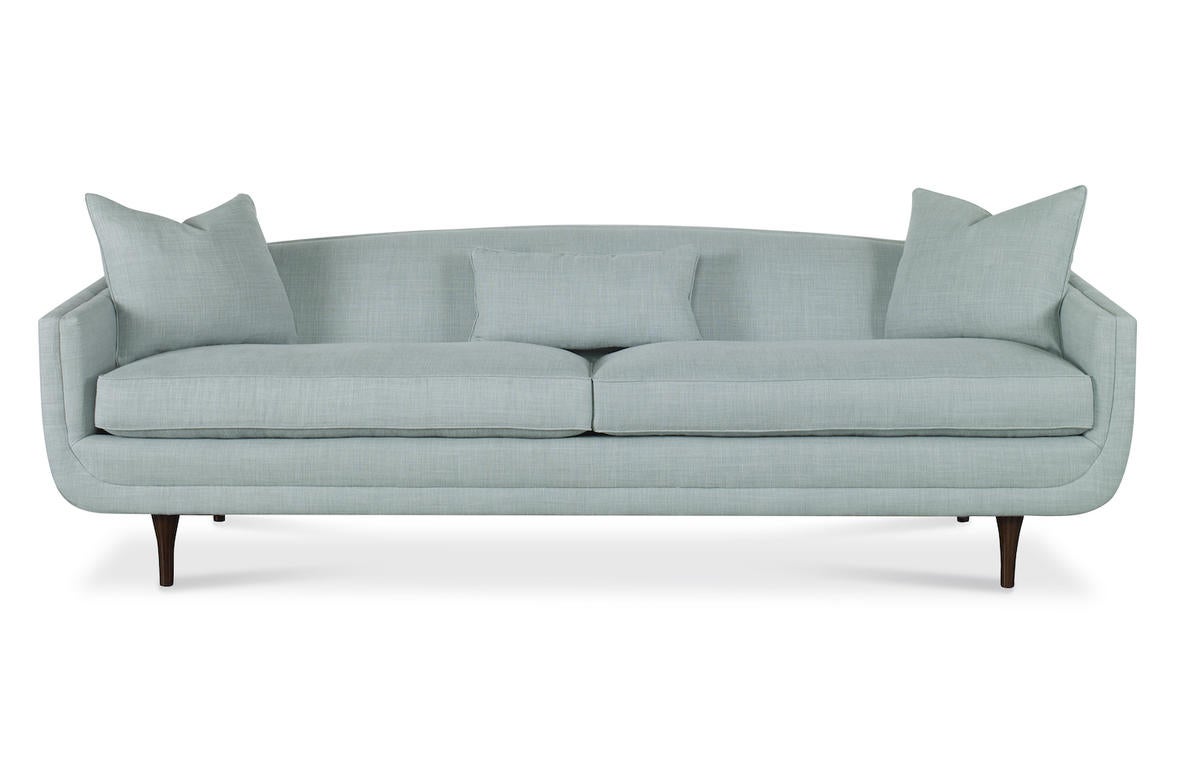 Courtesy of Century Furniture
At 200 Steele, Thomas O'Brien walked us through his latest collection for Century Furniture. The series, called Great South Bay, pays tribute to relaxed coastal living and is teeming with simple yet refined silhouettes and vintage details. Though the tall wingback Toby chair initially stopped us in our tracks, it was ultimately the Martineau, a low-slung, rounded sofa modeled after a 1960s design, that stole the show.
Courtesy of Soicher Marin
Soicher Marin presented Open Studio, its collaboration with New York–based designers Jesse Carrier and Mara Miller. The series spans over 150 images across five collections of artwork curated by the husband-and-wife duo behind Carrier and Company, including a line of gestural botanical prints and a series of abstract color-block paintings that are sure to drum up some graphic drama in a refined room.