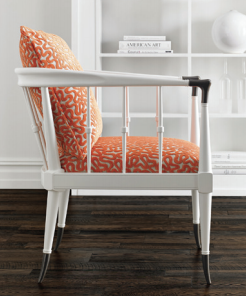 Caracole Champagne Brunch 8 a.m. – 10 a.m. | 122-C N. Hamilton St. Elle Decor hosts a trade-only Champagne brunch to celebrate the launch of the new Caracole showroom and collection. RSVP here.
Courtesy of Mitchell Gold + Bob Williams
BOH in Conversation With Mitchell Gold and Bob Williams 8:30 a.m. – 10 a.m. | Mitchell Gold + Bob Williams, 319 E. Grimes Ave. Join Business of Home's Kaitlin Petersen as she sits down with Mitchell Gold and Bob Williams. In a rare joint panel appearance together, the duo will talk about how they grew their furniture business from a private label manufacturing operation into a global network of 30 retail stores, why creating a meaningful community and an ethical workplace is just as important to them as building a brand, and the inspiration behind their newest collection debuting at High Point Market. Plus, don't miss the limited opportunity to preview the Mitchell Gold + Bob Williams fall 2019 collection at its "closed to the public" showroom. RSVP strictly enforced.
Systemizing Your Business for Sanity and Scale 9 a.m. – 11 a.m. | Universal Furniture, 101 S. Hamilton St. Join Gail Doby and Kathleen DiPaolo to find out how to make your interior design business more efficient, so you are working less and making more money. Learn how to easily train your employees to deliver outstanding service and how to delegate effectively so you are out of the weeds. RSVP here.
How to Network Like a Rockstar  10 a.m. | Zuo, IHFC, G582 Do networking events and conferences make you nervous? Parties full of strangers scare you? If walking into a room full of new people makes you a bundle of nerves, this talk provides 10 tools for navigating networking.
Impactful Presentations That Get Your Clients to Say Yes Every Time 10 a.m. – 11 a.m. | Alden Parkes Seminar Room, 200 N. Hamilton St., Suite 110 First impressions count. Learn how to create a dramatic presentation that will win over your clients with designer Elle Cole, who will share her tips for presenting that will have your clients lining up to sign on the dotted line. (0.1 CEU)
Brunch Debut of the Mally Skok x Dowel Collection 10 a.m. – 12 p.m. | IHFC, IH502 Join Dowel Furniture co-founders Joanne Lee and Ray Hallare as they debut their new licensed furniture collection, The Well-Traveled Home, with South African–born interior and textile designer Mally Skok. This new collection features nine designs, inspired by a lifetime of family travels and Skok's constant search to uncover vintage treasures and designs. Co-hosted with Chairish, featuring its Print Shop collection.
Courtesy of New Growth Designs
Curating Trend-Proof Interiors Using Timeless Design Elements 11 a.m. – 12 p.m. | New Growth Designs, 422 N. Hamilton St. A discussions of designers' best uses of florals in interior design, with panelists David Ecton and Lance Jackson of Parker Kennedy as well as Denise McGaha, Shayla Copas and Steve McKenzie. Co-hosted by New Growth and Mottahedeh.
The Evolution of Luxury 11 a.m. – 12 p.m. | Made Goods, The Bank on Wrenn, 203 N. Wrenn St. Nick May from The Chaise Lounge hosts a panel with designers Michael Mitchell, Tyler Hill, Joni Vanderslice, Susan Jamieson and Made Goods' Oscar Yague as they define "luxury" and its future.

Courtesy of Currey & Company
The Art of Collecting 11 a.m. – 12 p.m. | Currey & Company, IHFC, M110 Moderated by designer Gary Inman, The Art of Collecting is the final panel in a series focused on art, travel, culture and design. Collecting is one of the most universal and profound human pursuits. It is a form of self-expression and legacy-making that often begins in childhood and can lead to a lifetime of joy. A collection can be as simple as stamps or baseball cards, or as rare and priceless as museum-quality antiquities. Regardless of value, nothing quite rivals the thrill of the chase! This panel with Michelle Workman, Stacey Tiveron, Barry Dixon and Larry Laslo explores the personal passion for collecting, how designers build collections for their clients, and where they shop.
Leather 101 With Moore & Giles 11:30 a.m. – 12:30 p.m. | Universal Furniture, 101 S. Hamilton St. Come hear from one of America's oldest leather companies as it talks about what's new in the world of leather for interior design. (0.1 CEU) RSVP here.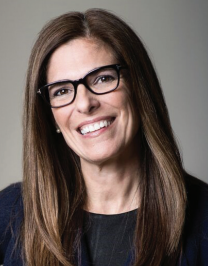 KEYNOTE: Lessons From A Well-Designed Business 12 p.m. – 1 p.m. | High Point Theatre, Transportation Terminal As host of the podcast A Well Designed Business, LuAnn Nigara helps interior design professionals operate a profitable and productive business by providing useful and understandable insights through conversations with industry leaders. Join her as she shares lessons learned from her show, including critical topics for running an interior design business plus straight talk and actionable lessons to take back to your practice. Immediately after the session, Nigara will be available to sign copies of her newly released book, The Things I Learned From a Well-Designed Business. Boxed lunch provided. (0.1 CEU)
Art & Design Redefined: Where High Meets Low and In Between 1 p.m. | Soicher Marin Gallery, 326 N. Hamilton St. Anna Wintour's first Vogue cover sprung the high-low movement by juxtaposing a Christian Lacroix jacket with a faded pair of Levi's jeans. Join journalist Saxon Henry and designers Mitchell Hill and Warehouse 1924 as they talk about creating livable spaces while staying within budget. Bloody Marys and brunch to follow in celebration of the opening of Soicher Marin x Getty Images collab Slim Aarons Timeless Images, a collection of photographs from the Slim Aarons archives. RSVP here.
TrendWatch: Spring 2019 1:30 p.m. – 2:30 p.m. | Suites at Market Square Seminar Room (SAMS T1014) IMC's popular TrendWatch program returns to High Point Market this spring with an inside look at leading trends shaping the home furnishings industry from trend forecaster, editor and curator Julie Smith Vincenti of Nine Muses Media. (0.1 CEU)
Courtesy of Universal Furniture
Modern European Style in the American Home 2 p.m. – 3 p.m. | Universal Furniture, 101 S. Hamilton St. Sleek yet simple, glamorous but still practical—modern European design has found favor in residences and businesses stateside. Join Houston-based interior designer Nina Magon and editor in chief of Luxe Interiors + Design Pamela Jaccarino as they talk about how to bring continental design to the American home. RSVP here.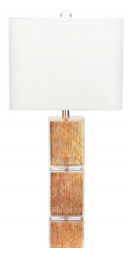 Courtesy of Couture Lamps
Booth Warming at Couture Lamps 2 p.m. – 4 p.m. | Suites at Market Square, G7059 Join Couture Lamps, Mitchell Black and Taylor Burke Home for a "Booth Warming" soiree. See new product from each brand in the renovated space. Cocktails and appetizers included.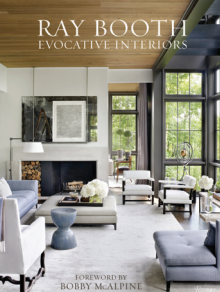 Courtesy of Hickory Chair
Hickory Chair Book Signing and Launch Party 2 p.m. – 6 p.m. | Market Square, 314 Join Hickory Chair for a very special two-hour book signing event featuring Ray Booth, author of Evocative Interiors; Susan Hable, author of Shapes Today; and Suzanne Kasler, author of Sophisticated Simplicity. Then at 4 p.m., Veranda editor in chief Steele Marcoux joins to celebrate the launch of the Ray Booth Collection with cocktails and hors d'oeuvres.
KEYNOTE: Tales, Trivia and Trends with Thom, Carson and Michel 2:30 p.m. – 3:30 p.m. | High Point Theatre, Transportation Terminal Combine bigger-than-life personalities, three unique paths to design stardom and a mash-up of trend-tracking trivia and you have a keynote session like none other. Join journalist and tastemaker Clinton Smith as he zeroes in on the design prowess of Thom Filicia, Carson Kressley, and Michel Smith Boyd, channeling their industry expertise and putting their trend forecasting abilities to the ultimate test. Come prepared to play: Part presentation, part game show, this interactive experience encourages audience participation for a chance to win big!
Managing Your Clients and Your Ego 3 p.m. – 4 p.m. | Alden Parkes Seminar Room, 200 N. Hamilton St., Suite 110 When providing luxury design services for your clients, how do you balance their needs and yours? Join the "Showhouse in a Showroom" designers Rajni Alex, Jeremy Bauer, Jason Clifton, Shayla Copas, Lisa Kahn, Kerrie Kelly and Keia McSwain to discuss communication strategies for winning outcomes that get the portfolio piece you need while giving the client everything they want. Moderated by Jane Dagmi, editor in chief of Designers Today. (0.1 CEU)
Mixing Decades and Decor 3 p.m. – 4 p.m. | Panel: Noir, CFC Building, 114 Elm St. 4:30 p.m – 6 p.m. | Cocktails: Noir, IHFC, IH002 Noir co-founders Georg Baehler and Stephanie Lu invite you to their expanded CFC showroom for a discussion about mixing and matching decor styles. Noir's Greg Baugh and designers Kelli Ellis, Christopher Kennedy, Corey Damen Jenkins and Anne Sage share the latest trends in design and how to blend contrasting styles. Cocktail reception to follow.
Designer Mixer + Fun & Games 3 p.m. – 5 p.m. | Markor Art Center (MAC) Building, 122A N. Hamilton St., Floor 4 Join interior designer Bobby Berk and Rue editor in chief Kelli Lamb for cocktails, light bites, and fun and games. Featured guests include Brady Tolbert, Nina Magon, Lori Paranjape and Kathy Kuo.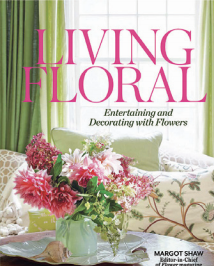 Courtesy of Currey & Company
Living Floral: Entertaining and Decorating With Flowers 3 p.m. – 5 p.m. | Currey & Company, IHFC, M110 Meet Flower magazine founder Margot Shaw and purchase a signed copy of her new book, Living Floral (Rizzoli). Shaw presents portraits of tastemakers who share their joy of flowers at home. This inspirational and instructive book includes Charlotte Moss, Bunny Williams, P. Allen Smith and many more who show how to incorporate flowers in everyday home decor and present numerous ways to entertain with flair.
Moss Studio 30th-Anniversary Cocktail Party 3 p.m. – 5 p.m. | Codarus, IHFC, H220 The family-owned company, which recently launched its first textiles collection and started a quick-ship program for the brand's most popular pieces, toasts three decades in business.
Morris & Co Panel: 150 Years of Iconic British Design 3:30 p.m. – 4:30 p.m. | Suites at Market Square Seminar Room (SAMS T1014) Join Morris & Co. for a discussion on the legacy of William Morris, the 19th-century British designer regarded as one of the most influential figures of the Arts and Crafts movement. Hosted by Michael Parry from Style Library, a panel of designers will share how Morris & Co has kept the brand's heritage and legacy alive through the continuous reinvention of pattern and application. Reception to follow. (0.1 CEU)
English Garden Arrangements for Table and Home 4 p.m. – 5 p.m. | New Growth Designs, 422 N. Hamilton St. Join Mottahedeh and New Growth Designs as Steve McKenzie demonstrates how to arrange English-style florals in non-traditional vessels.
Mill Collective Talks: Collaborative Community Design 4 p.m. – 5 p.m. | Mill Collective, Plant Seven, 410 W English Rd., Floor 1 Demand for social destinations is on the rise, creating new interior design challenges. Join Everick Brown, Abacus Architects and Matt Booty of Enkle Designs, as they recap the makings of NŌ Studios, Milwaukee's modern-day BeauxArts clubhouse founded by Oscar-winner John Ridley of 12 Years a Slave and American Crime.
Designer Celebration 4 p.m. – 6 p.m. | Alden Parkes, 200 N. Hamilton St., Suite 110 The designers behind the Alden Parkes "Showhouse in a Showroom" and "Dining by Design'" activations discuss the design concepts behind each of their spaces. Enjoy live music and hors d'oeuvres.
When Europe Meets Modern 4 p.m. – 6 p.m. | Burton James, 310 N. Hamilton St., Hamilton Court, S101 Burton James welcomes Jeanne Chung, trim expert Jana Platina Phipps, designer Lisa Mende and textile designer Todd Bowles for a forward-looking conversation about what's new and next in European luxury.
Black Interior Designers Network Mixer 5 p.m. – 7 p.m. | The Point, Commerce Ave., between S. Main St. and Wrenn St. Join members of the BIDN as they mix and mingle. Enjoy complimentary drinks and hors d'oeuvres while developing and deepening vital business connections. Stark Studio Rugs
Spring Soiree 5 p.m. – 7 p.m. | Market Square Tower, 240 Stark Studio Rugs hosts a soiree to celebrate new products.
Ro Sham Beaux Grand Opening 5 p.m. – 8 p.m. | 122 N. Main St. Toast the debut of Ro Sham Beaux's new showroom in High Point! The grand-opening party will feature live music, cocktails and heavy hors d'oeuvres.
Abbyson Grand Opening Cocktail Party 5 p.m. – 10 p.m. | 300 E. Green Dr. Join Abbyson for the grand opening of its new 50,000-squarefoot building, which features the brand's debut collections, and sip on a glass or two at a cocktail reception in the Abby Wine lounge. RSVP here.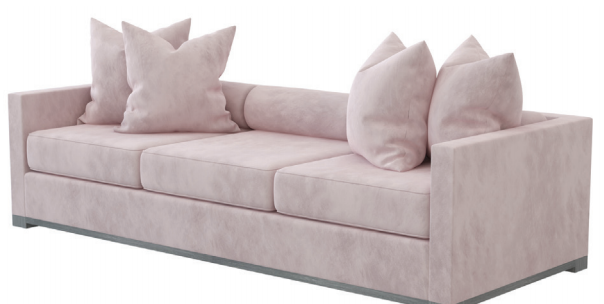 The World of Korban 5:30 p.m. – 7:30 p.m. | EJ Victor, 116 South Lindsay St. Explore Ryan Korban's first furniture collection for EJ Victor over cocktails, hors d'oeuvres and authentic Appalachian music by The Harris Brothers & Edward Phifer. RSVP here.