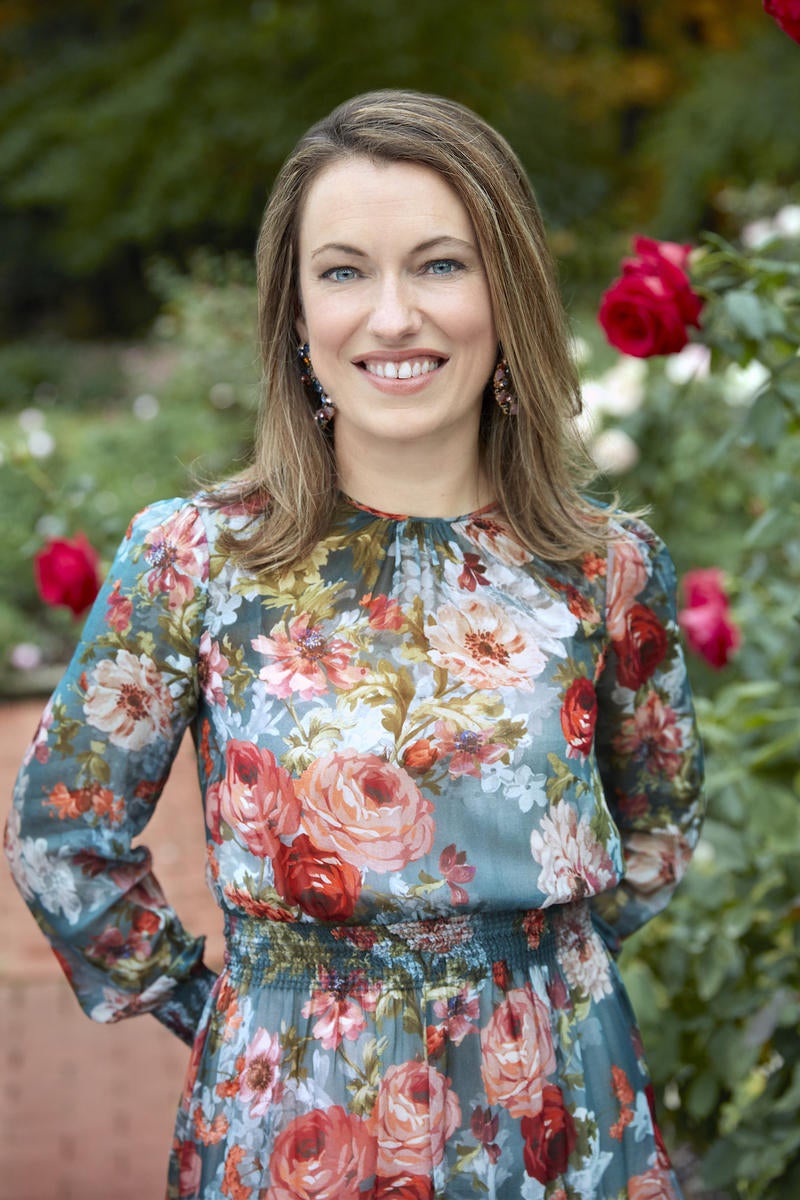 In October, Hearst Magazines named Steele Marcoux the new editor in chief of Veranda following the departure of Clinton Smith the previous month. The news had to compete with the simultaneous dismantling of the Hearst Design Group's editorial team, sweeping layoffs and Veranda's own relocation from Hearst Tower in New York to the company's Birmingham offices. But if anyone could take on the challenge of directing the Southern legacy magazine's next chapter, Marcoux—with a 12-plus-year career of editorial roles at Southern Living, Cottage Living, Coastal Living and Country Living—seems equipped to do so successfully.

In her inaugural editor's letter, Marcoux extols the advantages of Veranda's new home base, fewer than 150 miles from the brand's birthplace (and her own hometown), Atlanta: "Our return to the South does not signal a narrowing in scope—we will continue to seek out and share the world's most stylish homes, gardens, shops, products, and people," she wrote. "But it does represent a return to our roots, to celebrating how the very best design connects us more deeply to our memories and our surroundings, and to having a damn good time along the way."
On the eve of the debut of Veranda's March/April issue (which hits newsstands February 26), Business of Home checks in with Marcoux about her new team, adding architectural rigor to the magazine's pages, and why storytelling is so important in the luxury space.
How did you first get into the design industry?
My mom is an artist, her mom was an artist, and her brother was an architect, so I come from a family that values art and architecture—it drove our travels and leisure time as a family. When I went to college, my parents said, "You can study whatever you want, but our one requirement is that you have to take Art History 101."
Two weeks into art history class, I called my mom and was like, "I'm going to major in this." We looked at pretty stuff all day, and then we got to talk about it and write about it—I loved it. At the time, I thought I'd go to architecture school [after], so I took a lot of architectural drawing classes, but I wasn't ready for grad school right out of college. I'd gone to a really small school, and I wanted to move to a big city, so I took a job that I could get right away—as a reporter in Washington, D.C., where I covered the health care industry for three or four years. It was a vast departure from art and architecture, but it allowed me to get a taste for the world of journalism, and I found that [it was a good fit]. I ended up moving to Alabama when my husband was going to law school here, and got an internship with Southern Living some 13 years ago, which led me from one magazine job to the next.
What is it about the category that you were most passionate about?
Honestly, I think it's the notion of home. What that means to a shelter magazine consumer really resonated with me. It's a little fluffy to say, but designing a home is really kind of like pursuing a dream—the vision that you have for your family and your life. I also think I still come back to truly great architecture. I mean, I love interior design, and decorating gets me excited, but a truly great home begins with fantastic and well-designed architecture. One of my architecture professors once said that an architecture writer is a somewhat frustrated architect. Like, "I'm not an architect, but at least this way, I can look at it all day, think about it all day, and interview architects all day." I'm sort of armchair-quarterbacking my way through the architecture world.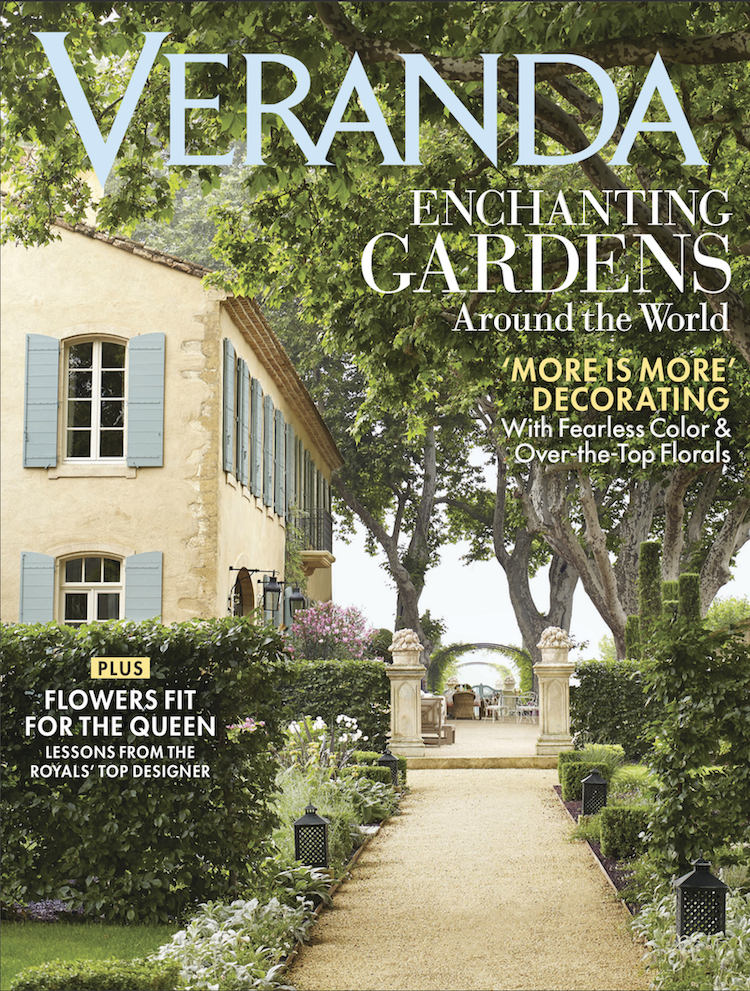 What does the move to Birmingham mean for the brand, and for future issues of the magazine?
I think it gives us even more opportunity to be distinct from any other shelter brand. Hearst has such authority in this space, and as much as we love to share resources and bounce ideas off of one another, I think it's also really important to have our own identity. We're leaning into our brand—asking ourselves what it means to be Veranda, and to create content for Veranda readers.
The other great opportunity that comes from being in Birmingham—or really just outside of New York—is that it gives us a chance to connect more deeply with our readership. Atlanta, Los Angeles, Dallas and Washington, D.C., are four major markets for us, and being here, we're living a more similar lifestyle to folks who live in those markets. If you think about how people live in those four cities, they live a life that's indoors and outdoors, which is one thing that makes Veranda really different from the other design magazines, and we're able to live that lifestyle here in Birmingham as well. We love to spend time at one another's homes. We take a lot of pride in our homes. I can't say that my house is Veranda-worthy, but we're certainly aspiring to that lifestyle.
I'm also hearing from many of our advertising partners that they want to reach folks outside of New York and Los Angeles, too, and we have the real opportunity to engage with our consumer—and match up our consumer with our advertising partners, as well—just by virtue of being out of New York.
What are some of the biggest surprises about the Veranda reader? Who is she—or he?
Our reader is defined by her exceptional and unique taste. Her home is her personal style, an extension of her identity. I think it's essential for her that she create a beautiful, erudite, refined, layered home that's also gracious and characterized by a certain sense of ease.
I like to think about her in terms of what she needs, and how we can deliver on those needs. To me, she needs to have an exceptionally stylish and sophisticated home. She needs to dazzle her friends when she entertains. She needs to be well-informed about design; she is already in vogue, but we need to help her stay that way. I believe that she really values this industry and wants to support it. This is sort of an old-fashioned notion, but it's almost like she wants to be a patron of the design industry. I think she views herself that way, and we can help be a bridge for her to the design industry.
A secondary surprise, by the way, is how many male readers we have. We are close to 60 percent female, 40 percent male, which is the highest in our category. And even there, I think it goes back to hearing people say, "This is our favorite. This is the most beautiful. This is the one that I keep on my shelf for years and years and years."
Did that 40 percent male readership change your thinking about the magazine's content?
I would say, objectively, we feel like there is a return to "pretty" in general. Things come and go, but it seems like there's more of an embrace of pattern and color, layers and upholstered lampshades, trim on every piece of drapery—things like that. I see that among male readers as well. But we're not going to go all flowers. Our March/April issue was quite floral, but our May/June is going be a lot bolder and less what you might think of as traditionally feminine.
For us, architecture and a connection to the outdoors are so important. Decorating styles wax and wane, classical architecture and beautiful proportions do not. Fabulously designed gardens do not. That's the grounding, unifying notion for us among our male and female readership.
What are some of the quintessential qualities and characteristics of a Veranda home?
I like to say that Veranda homes are kind of like the intersection of high quality and high livability. They are warm, welcoming and gracious; Veranda is never cold or austere. So again, you'll see luxurious design, but these are livable homes.
What makes a Veranda home different is its strong sense of place. By that, I specifically mean a connection to the outdoors—be it a terrace or a small courtyard garden or even floor-to-ceiling window—and some sort of architectural context. So let's say we feature a New York brownstone. We'll probably show the front exterior so that you're able to orient yourself visually. In that sense, we will not eschew cities altogether, but you'll see us focus on those elements regardless of whether we're talking about an estate in France or an apartment in New York. And although we're constantly seeking out the latest and greatest, we're never going to chase a fleeting trend. Even the homes we feature that are filled with new products, the design has some sort of historical reference.
What goes into adding that kind of architectural rigor to the pages?
I think it's two things. One is networking with architects. I don't know that we need to source as many projects from architects as we do designers, but we need to be talking to them just as frequently. And two, we have to bone up in the historical context of what we're looking at today.
There's a fabulous project coming up in our May/June issue by husband-and-wife duo Peter Pennoyer and Katie Ridder. They often work independently of one another, and we interviewed them independently. When I was talking to Katie about the house, she kept going back to the architecture, and it was so interesting to hear her explain how the architecture, Peter's classical design, allows her to go quite a bit bolder, in this case, with her use of color. She was working in a space that had moldings and casements that served as a frame for this wild, riotous color. The more impactful visual in this project is certainly the taxi cab yellow paint color that Katie chose for the dining room, but it's our job to point out that it's successful because of the architectural design.
When readers get the March/April issue, what will they see—what is your fingerprint on the issue, and what should we look forward to?
You'll see even more in the May/June issue, where we will be debuting our new front-of-book sections, but we were able to bring a few new elements into the March/April issue, including some new columns. The big idea was to add more context to the pretty—and what I mean by that is, I think Veranda has always been beautiful, and people have always come to us for inspiring and really beautiful images, but now were taking a minute to explain why the objects that we're showing matter, how they're made, and to showcase the personality of the makers.
One great example of this in the March/April issue is a new column that we're launching, called Style Revival, where we'll be exploring a decorating trend that we're seeing popping up everywhere. In this issue, it happens to be treillage used inside, applied to walls. We interviewed a true expert on this from France. Then we pulled in a visual timeline of the evolution of this design idea. Lastly, we supplied beautiful market work—new product designed in this spirit. That's a great example of how we can take something beautiful and really bring more entry points to the page and engage with our reader on a variety of different levels.
We're also trying to work with more personality—and here I mean not celebrity, per se, but just bringing in more designers. The design community is our core constituency, but we only have the opportunity to showcase three to five designer projects an issue. I wanted to engage with them more, so we are launching a new column called Design Legend, where we start with one great room from a legendary designer—hopefully rooms that not everyone has seen before. We really celebrate that legendary designer, but then we work with a contemporary designer to annotate the room's design ideas that are still inspiring today. So in the case of March/April, we found a Mario Buatta room that felt like a discovery, then worked with Ashley Whittaker to break it down for the various design and decorating ideas that she still finds relevant.
What is the 360-degree vision for the brand? What's the next step for Veranda?
Veranda readers spend upwards of an hour with the print magazine, and we know that they're hungry for more from us, so we're excited to dig in and find ways to deliver more.
Veranda is poised for success in today's changing media landscape in large part because our print product only comes out six times a year. Our deputy editor was at the Southern C conference last week, and she met with so many readers who said, "I have every issue of Veranda from the past 10 years on my bookshelf." They can do that because they only get six a year! And I think getting it every eight or nine weeks makes it even more valuable—it's something that they can actually look forward to and hang on to.
That said, they want and expect engagement with us in the interim in this day and age. Instagram is huge for us. We have almost 900,000 followers, and we want to make our Instagram content even more engaging and something that readers can come back to time and again, maybe even multiple times throughout the day. We are also looking at producing a lot more original content on our website, and we're looking into newsletters. We're looking into potential consumer-facing events—and we're able to do that because we have this rich print product that comes out six times a year, and so that gives all of us the bandwidth to be able to pursue these other opportunities without devaluing our print product.
You mentioned your deputy editor, and I know you have a new design director who's spearheading the magazine's style update. Tell me a little bit about your new team.
I feel good about the fact that we were able to complete this transition in a compressed time frame. We wanted this move to Birmingham to be an evolution, not a hard lights-off in one place, lights-on in another. We've kept Dayle Wood as our style and market editor in New York, which is really important. She will represent us in New York so that we can still have a foothold in that very important market for us. We also are working with a couple of contributors in New York, including Carolyn Englefield, who is a longtime contributor to the brand. We're also collaborating with Lucy Bamman, who was part of the Hearst Design Group, to cover the luxury and jewelry categories.
That said, we are now fully staffed-up in Birmingham as well, with deputy editor Ellen McGauley, who has been working in the shelter space for two decades; Rachael Burrow as our senior style editor, who previously covered the design, beauty and fashion markets for Coastal Living and Southern Living here in Birmingham; a great design director in Victor Maze, who moved here from Florida; and a new editorial assistant, Sarah DeMarco, who just completed her graduate degree at Syracuse and then was able to move down here to start with us in the beginning of February.
We also have some staffers we will share with the Country Living team, including stylists, the photo department, and a managing editor, assistant managing editor and copy editor. I feel really good about the functionalities that we're sharing with another brand and then those that we have all to ourselves.
Tell me about being in the luxury space. How are you approaching that aspect of Veranda's market coverage?
In the luxury space, more than any other, storytelling is so important. These are consumers who are not necessarily price-conscious, so an object's story is what drives their decision-making: "What is the craftsmanship behind this beautiful product?" Or, when looking at a timepiece, "What are the innovations at play here?" On our end, we need to work a little harder not just to showcase six pretty timepieces, but to delve into the specifics. In some ways, it's getting a little—I hesitate to say it—nerdy.
And celebrating craftsmanship and originality of work. I think that's the ultimate luxury: being able to have a home that looks nothing like anybody else's, or wearing one-of-a-kind pieces. It's our job to be the arbiter and the discoverer of those pieces, those artisans and those styles.
What are you most excited about in this next chapter of Veranda?
I'm really excited about making decorating more fun again. I want to be serious about the work, but I also think this is fun for people—they're obsessed, they love it, so really leaning into that is important. Celebrating craftsmanship is also really important to me, and I know it's important to our partners and our audience as well. In this day and age, everybody wants to know the story behind what they buy, the historical roots and what inspired the artisan who made it.