It was the 1980s, and Moore & Giles was in trouble. The company had started in the 1930s as a purveyor of manufacturing materials, especially leather. It chugged along for five decades until, piece by piece, the industries it served began to disappear overseas. The company started looking to see who else it could sell leather to and landed on furniture makers. At first, it didn't work. Then, the brand made a breakthrough.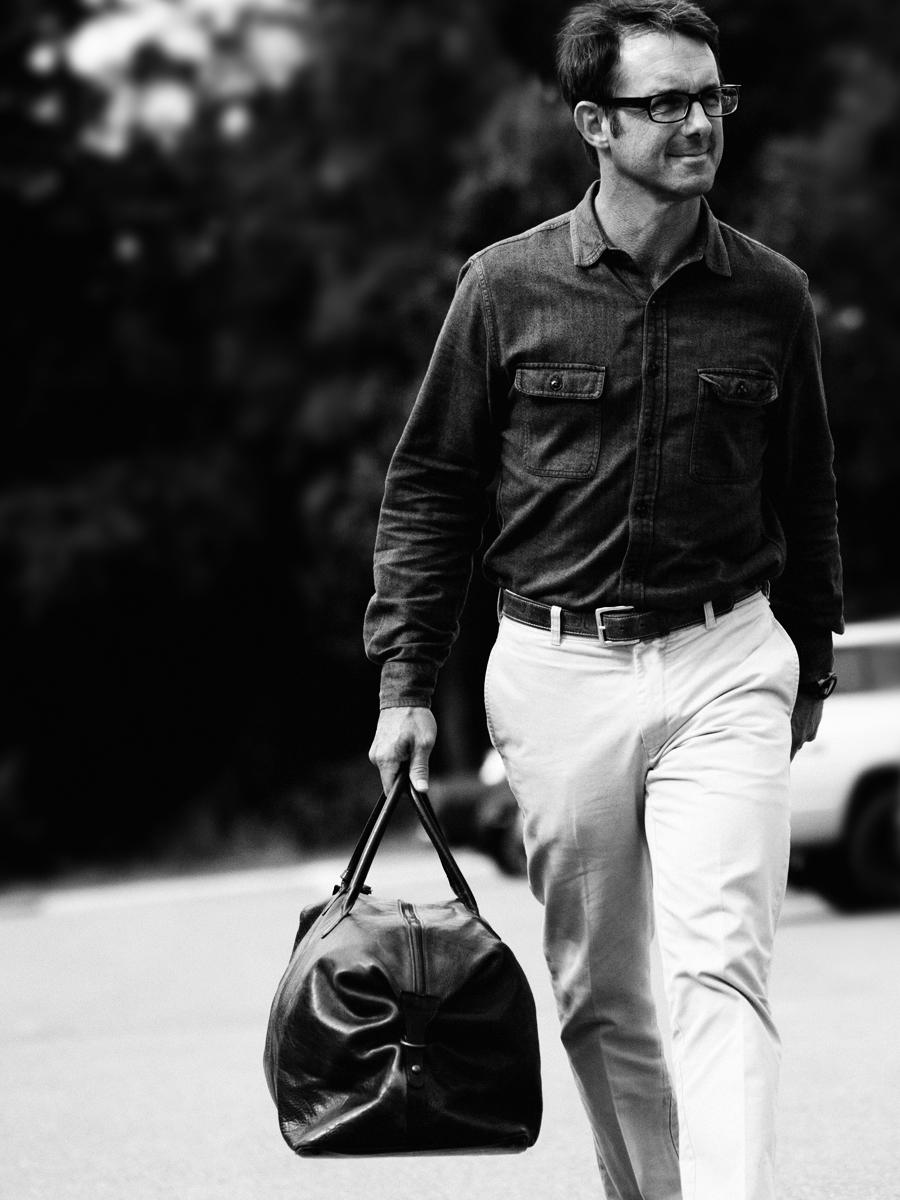 Courtesy of Moore & Giles
"We took an old handbag and sent it to [a tannery] in Spain and said, 'We want an upholstery leather that looks like this,'" Moore & Giles president Sackett Wood tells host Dennis Scully on the latest episode of the Business of Home podcast. "He made 10 hides and said, 'What are you gonna do with this? And we said, 'We're gonna sell it to furniture manufacturers.' He says, 'I don't think that's a good idea.'"
He was wrong. Wood brought the hides to erstwhile fine-furniture maker Henredon, which at the time was making furniture for Ralph Lauren, and the company placed a staggering order. "If we had sold 5,000 feet of it, that would have been successful, and we sold an exponential amount more than that," says Wood. "We'd only made 10 hides—we needed to make thousands."
Many thousands of hides later, Moore & Giles is a major player in the design industry, supplying leather to everyone from RH, Universal and Steelcase to individual designers. (Notably, brands often go out of their way to highlight Moore & Giles as their leather supplier.) In this episode of our show, Wood details the company's success, outlines the challenges ahead, and explains why he's focusing on retelling the story of leather as a sustainable performance material.
Listen to the episode and check out some takeaways below. If you like what you hear, subscribe to the podcast (free of charge!) here. This episode was sponsored by The Shade Store and Universal Furniture.
VIRTUAL IS HERE TO STAY
Last year, Moore & Giles appeared at 15 trade shows. This year, it has appeared at zero since March. After the pandemic has passed, Wood says he'll be back at trade shows, but fewer—the company's virtual presentations have proven surprisingly effective. "On these virtual presentations, sometimes I'd have 10 to 15 designers on the call, and that never happens at a trade show. And when it does happen, it's very disjointed, and it's not very productive, to be honest," says Wood. "This is a level of engagement that's a little more intimate."
LEATHER AS A SUSTAINABLE RESOURCE
One of Wood's biggest challenges, he says, is education. These days, he's extremely focused on highlighting the sustainable aspect of leather (hides are produced as a byproduct of slaughtering cows for beef). "If no one ever knew about leather, [it] would have to be invented today to figure out what to do with hides that were being landfilled," he says. "[There are] 285 million hides produced on an annual basis—to do nothing with them would be an epic blunder."
BRANDING MATTERS, EVEN FOR LEATHER
Leather isn't generally known for brand recognition, but Moore & Giles has been successful in making a name for itself. It goes back to the Las Vegas Hospitality Design Expo in 2005: "A lady came up and said, 'You have an amazing assortment of material in leathers and colors, but your branding is terrible,'" Wood recalls with a laugh. He hired her to help remake the company's image, and seven months later, Moore & Giles in its modern incarnation was born—but the process wasn't over.
"Once you [create a brand], you need to invest in it. We opened up our bag and accessory division and did an [outside photo shoot], and the pictures came back and we didn't like any of them. We got a big fat bill for all of it, and we had to do it again," says Wood. So he hired an in-house marketing team, including two photographers, a graphic designer and two web designers—a team that continues to grow. "It's really paid off, especially now [in the time of COVID]," says Wood. "You have to invest in it if it's going to be anything meaningful."
Homepage photo: Moore & Giles collaboration with designer Bill Amberg | Courtesy of Moore & Giles