In the era of social distance, the concept of collaboration takes on new meaning. As we reimagined our guide to High Point Market this spring, BOH checked in with designers and brands to learn the stories behind some of the season's high-powered partnerships.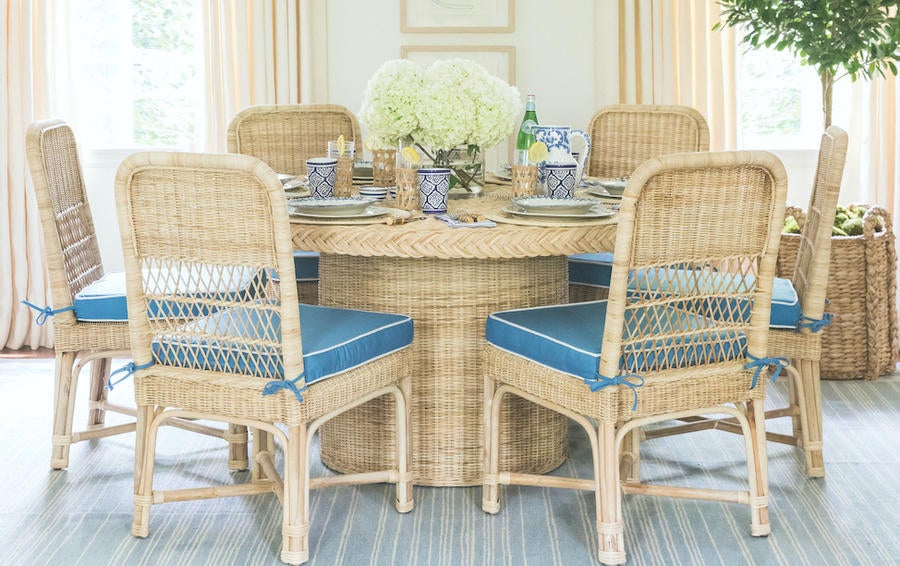 Courtesy of Mainly Baskets Home
Mainly Baskets Home x Sarah Bartholomew
Rattan home decor brand Mainly Baskets Home has long been a go-to for Nashville
designer Sarah Bartholomew, so the 20-piece Cape collection, her first collaboration with the company, was a natural fit. The line of furniture and accessories features braided motifs inspired by classic vintage wicker pieces like those used by design icons Hubert de Givenchy and Marella Agnelli.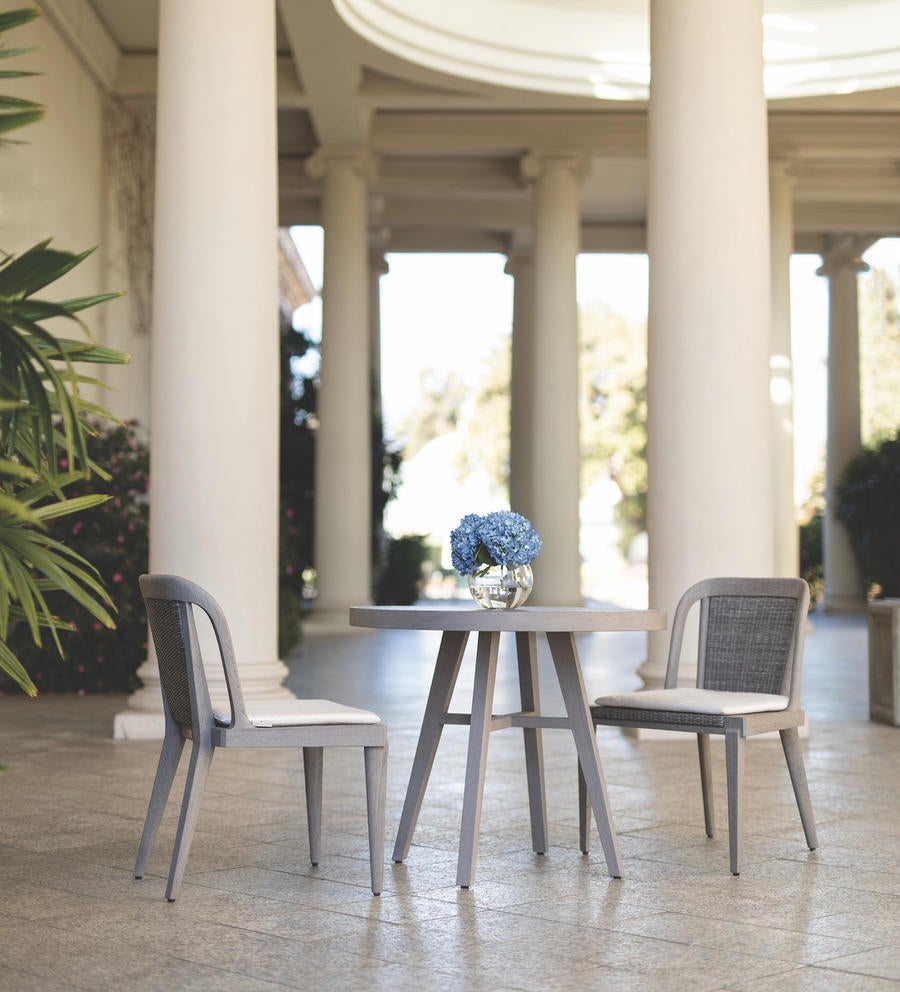 Janus et Cie x André Fu
For his first collaboration with outdoor furniture brand Janus et Cie, Hong
Kong–based architect and designer André Fu gives us his interpretation of Japanese gardens. Exploring the visual tension between stones and sand, the pieces of the aptly titled Rock Garden collection balance angular lines with soft curves. Fu's sculptural modular and lounge pieces pair durable teak frames with woven elements stippled with light and dark gray hues.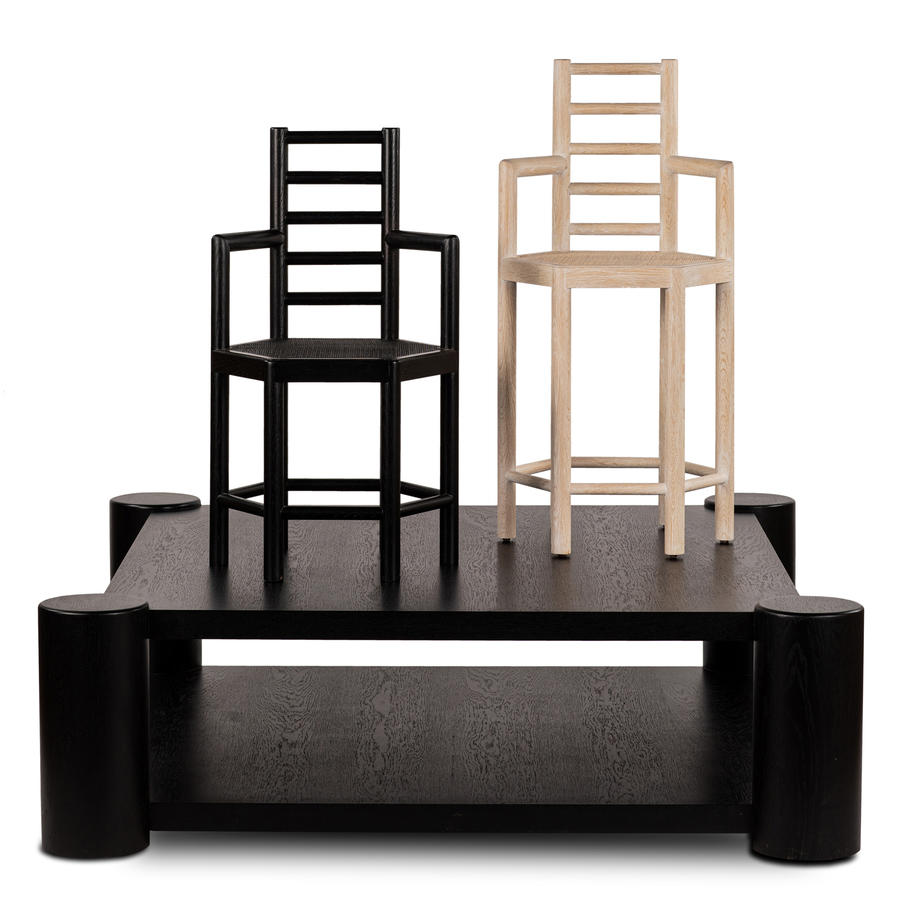 Courtesy of Dowel Furniture
Dowel Furniture x Josh Greene
For years, New York designer Josh Greene has kept a running tally of furniture that he struggles to find—pieces like oversized coffee tables, nightstands narrow enough to squeeze into tight city bedrooms, and pedestals, which he often has to have custom-made. So when he partnered with Dowel Furniture for his debut collection, Greene had his checklist ready to go. The resulting assortment, made entirely of German-sourced oak, features six sculptural pedestals among the nearly two dozen pieces, in addition to coffee tables that span 60 inches and dainty side tables that could fit in even the tiniest city studio.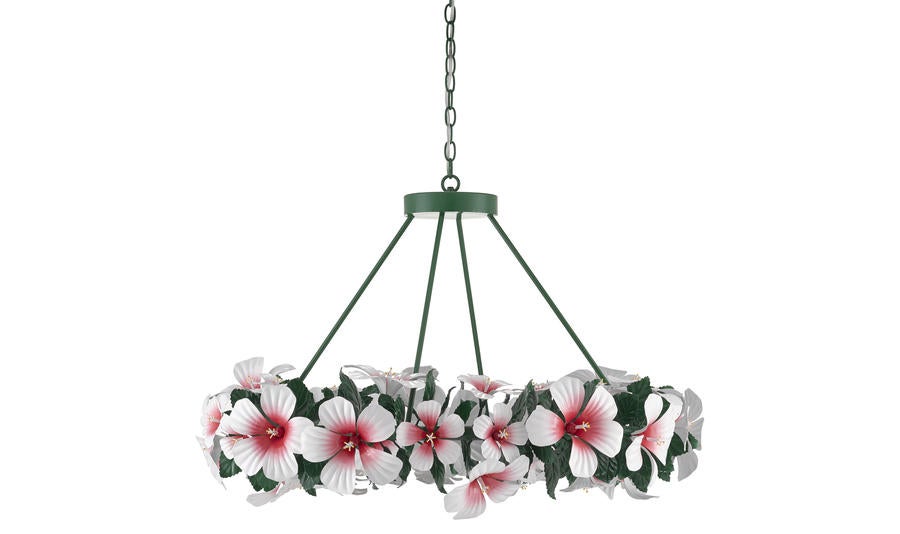 Courtesy of Currey & Company
Currey & Company x Sasha Bikoff
Known for her fearless use of color and bold sensibility, New York designer Sasha Bikoff debuts her inaugural collection with Currey & Company: a Miami Beach–inspired line of lighting and accent furniture. Tapping into the pastel colors and art deco shapes the island city is famous for, several pieces recall the iconic Fontainebleau resort's arches and "cheese hole" cutouts. Bikoff also incorporated her favorite flower, the hibiscus, which pops up in wrought iron sconces, chandeliers and pendants.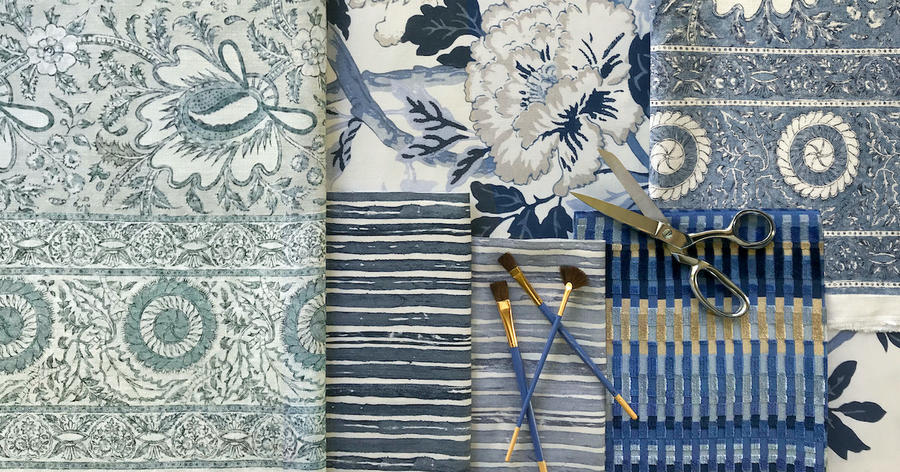 Lee Jofa x Carrier and Company
Carrier and Company co-principals and spouses Jesse Carrier and Mara Miller mixed serene country landscapes with refined motifs and colors for their debut fabric and wallpaper patterns for textile brand Lee Jofa. The resulting collection of 36 textiles and 11 wallcoverings, a medley of soft florals and saturated graphic prints, is a body of work that effortlessly complements the duo's sophisticated, timeless aesthetic.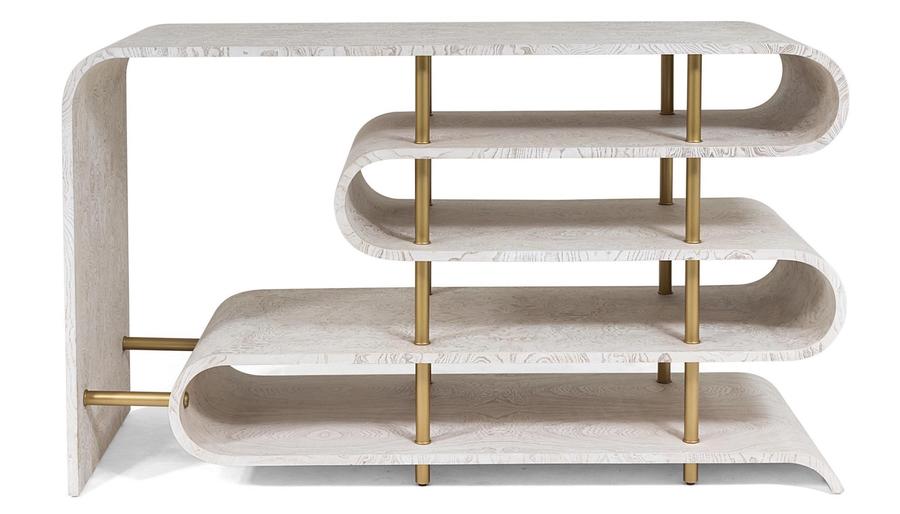 Global Views x Ashley Childers
In her new collection for wholesale home brand Global Views, Little Rock, Arkansas–based designer Ashley Childers plays with the unexpected across furniture, lighting and decorative accessories. Small brass spheres adorn the base of a white burl-wood pedestal table, bronze vases are modeled after inkblots, and faceted crystal shapes are covered in gold leaf and linked to form a chandelier, or more accurately, a hanging abstract sculpture. Childers drew inspiration from quartz crystals, which can be found embellishing mirrors and encasing LED lights in dangling pendants. There's a glitz throughout the line that captures the designer's belief that home is a place to celebrate.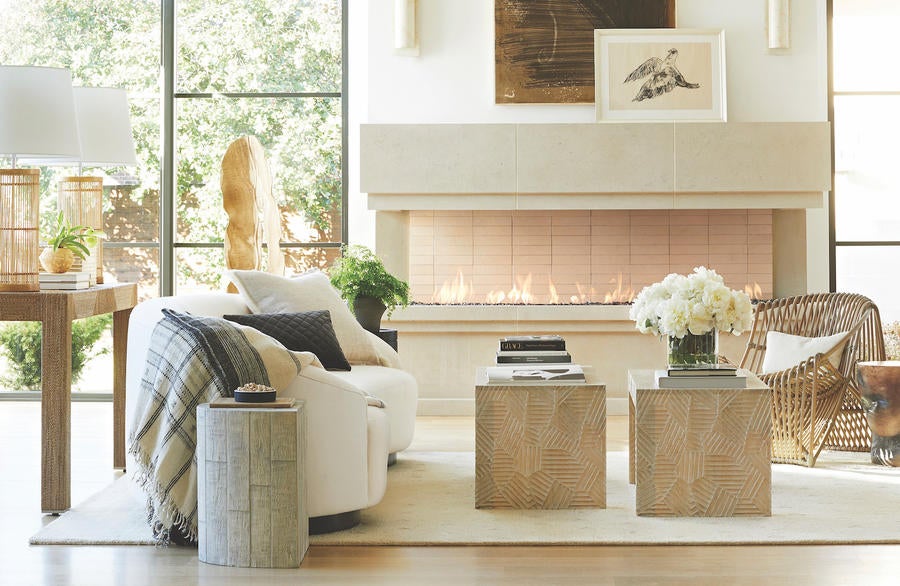 Arteriors x Beth Webb
For her debut collection with Arteriors, Atlanta-based designer Beth Webb looked far and wide for inspiration, infusing favorite forms and materials from her travels to Japan and Ethiopia with elements from her own property in South Carolina's low country. A sensory-driven approach was important to Webb, who in her practice deploys an array of textures to create layered spaces. Here, she achieves a similar effect by incorporating rattan, carved wood and matte ceramics throughout the line of lighting, seating, occasional tables and accessories. The mix of materials gives the collection versatility, resulting in pieces equally suited for a beachside villa or sleek city dwelling.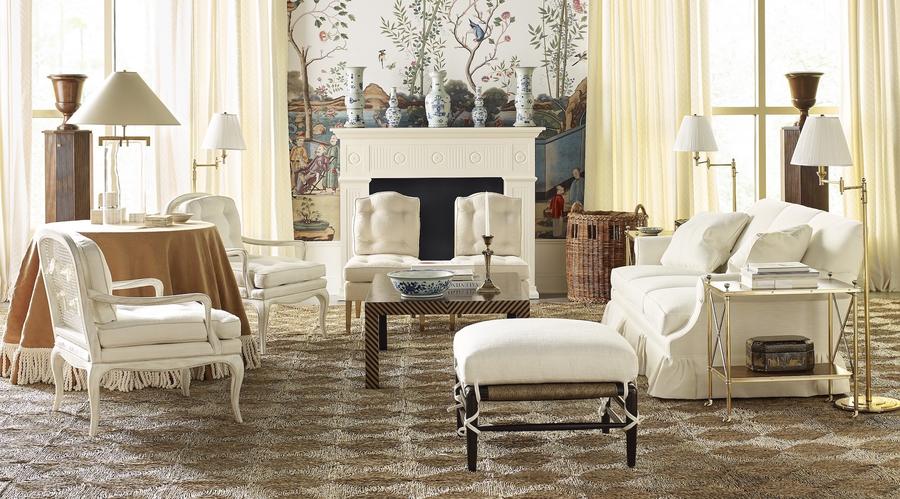 Chaddock x Mark D. Sikes
Los Angeles designer Mark D. Sikes's penchant for traditional beauty and elegant shapes is evident across his new furniture collection for Chaddock, which ranges from tufted settees to gilded consoles. Customization is a key element of the line, and of Chaddock's overarching philosophy. Many of the pieces can be ordered in 12 paint options from Farrow & Ball, while the upholstered furniture can be adorned with details like pleated skirts or bullion trim. The mix of finishes, including fine wood, rush, cane and brass, creates a curated look that is characteristic of the designer's own interiors.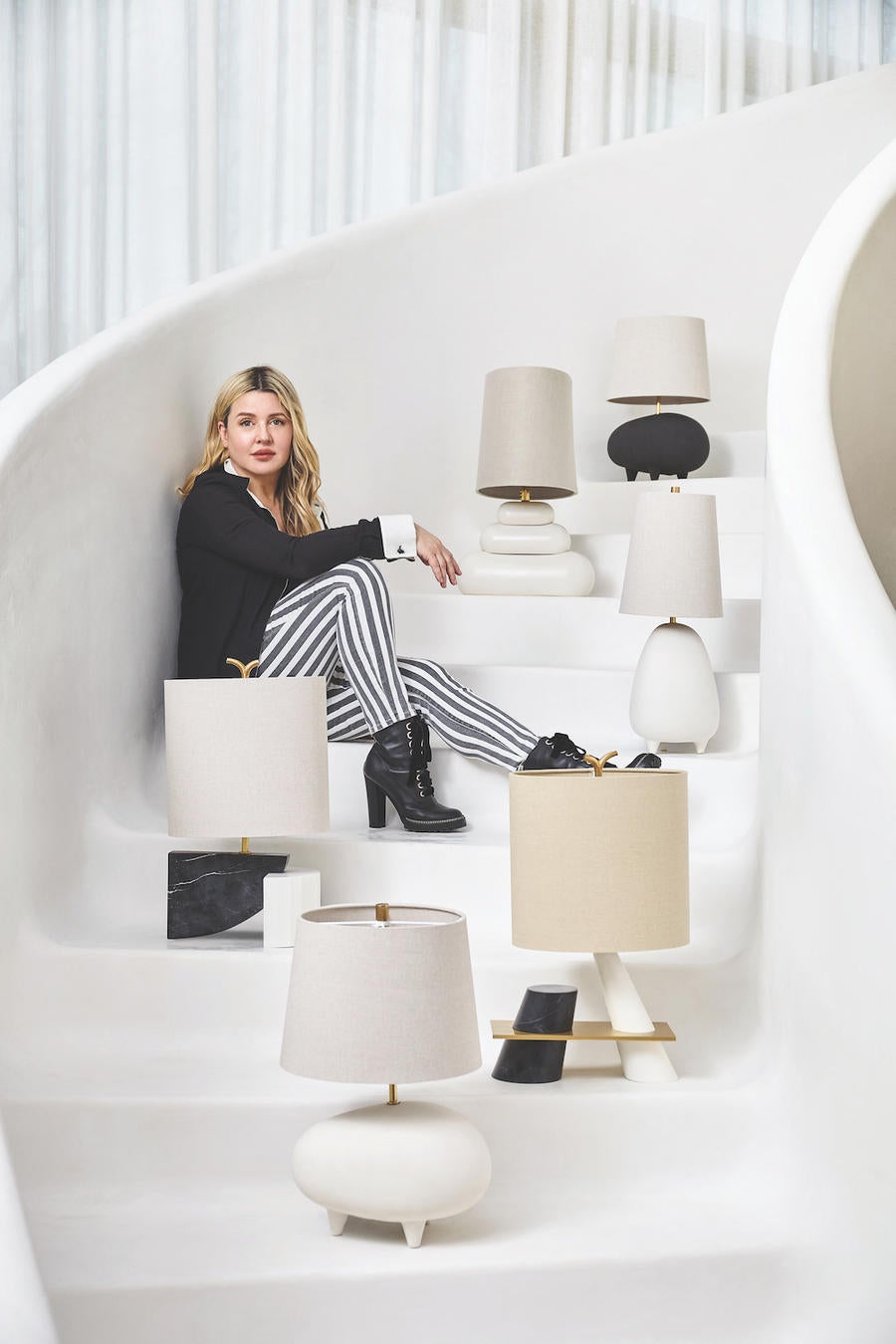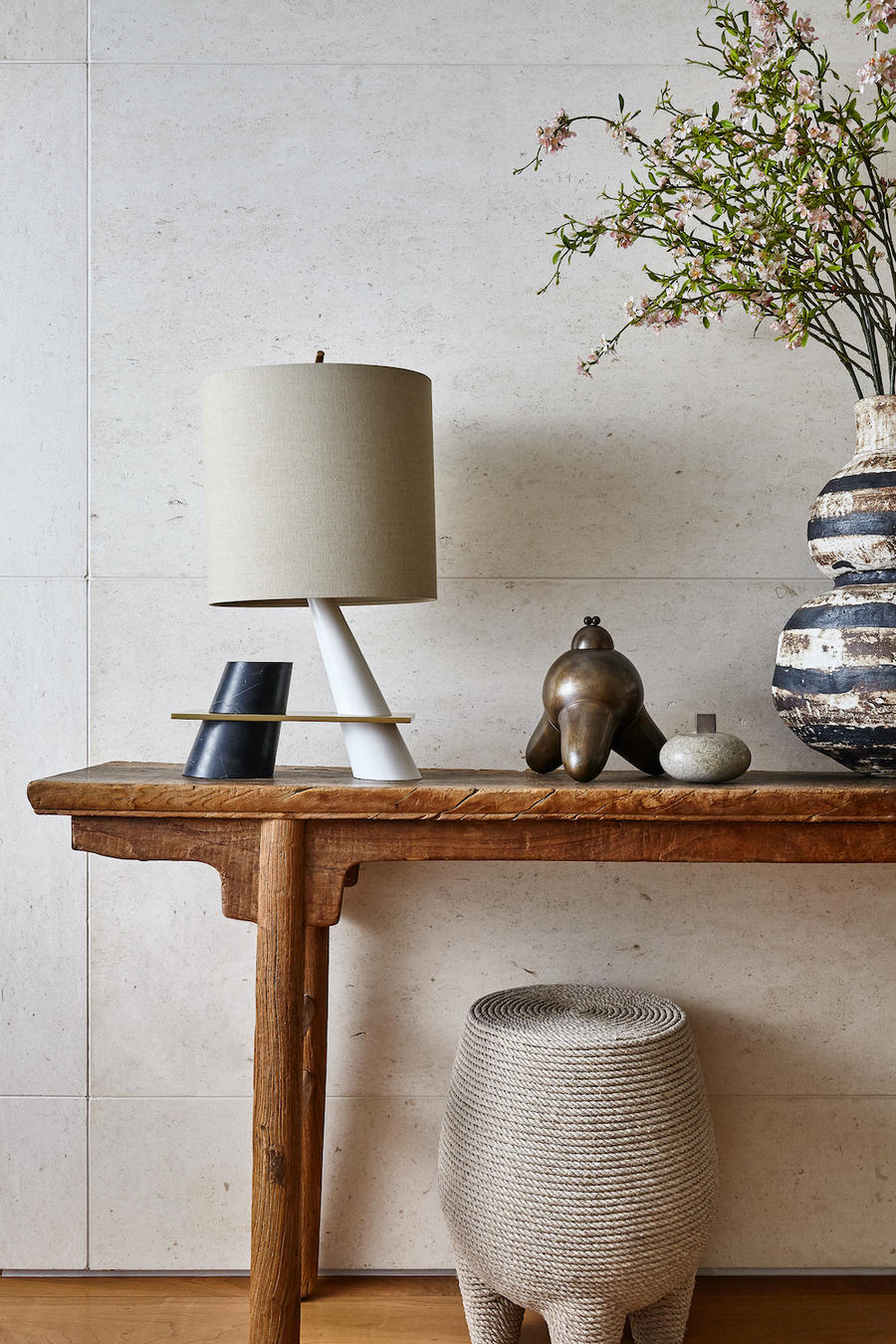 Hudson Valley Lighting x Kelly Behun
New York–based designer Kelly Behun is known for creating interiors with an artistic, curatorial feel, so it is no surprise that her first collection for Hudson Valley Lighting would fit right in at a Chelsea art gallery. The playful, sculptural pieces are informed by Behun's love of ceramics, and in black and white with pops of brass, they explore the contrast of light and dark.
Power Couples
These brands leaned into each other's strengths—proof that two really is better than one.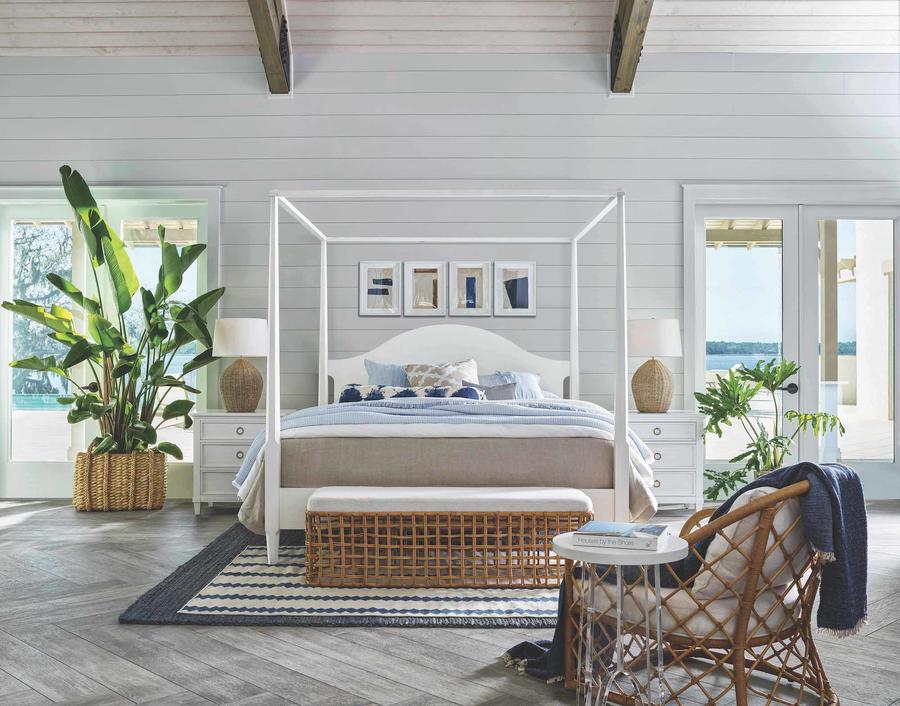 Universal Furniture x Coastal Living
Getaway, the second collection from Universal Furniture and Coastal Living magazine, sprang from the idea that coastal style isn't based on proximity to water, but is more a state of mind. Drawing on that, the 50 pieces in the collection make good use of whitewashed finishes, seaside hues, and woven materials like rattan. Upholstered products are offered in performance fabrics, making them friendly to those in pursuit of an indoor/outdoor lifestyle. Whether used in a landlocked locale or steps from the ocean, the collection evokes the breezy feeling of an off-duty escape.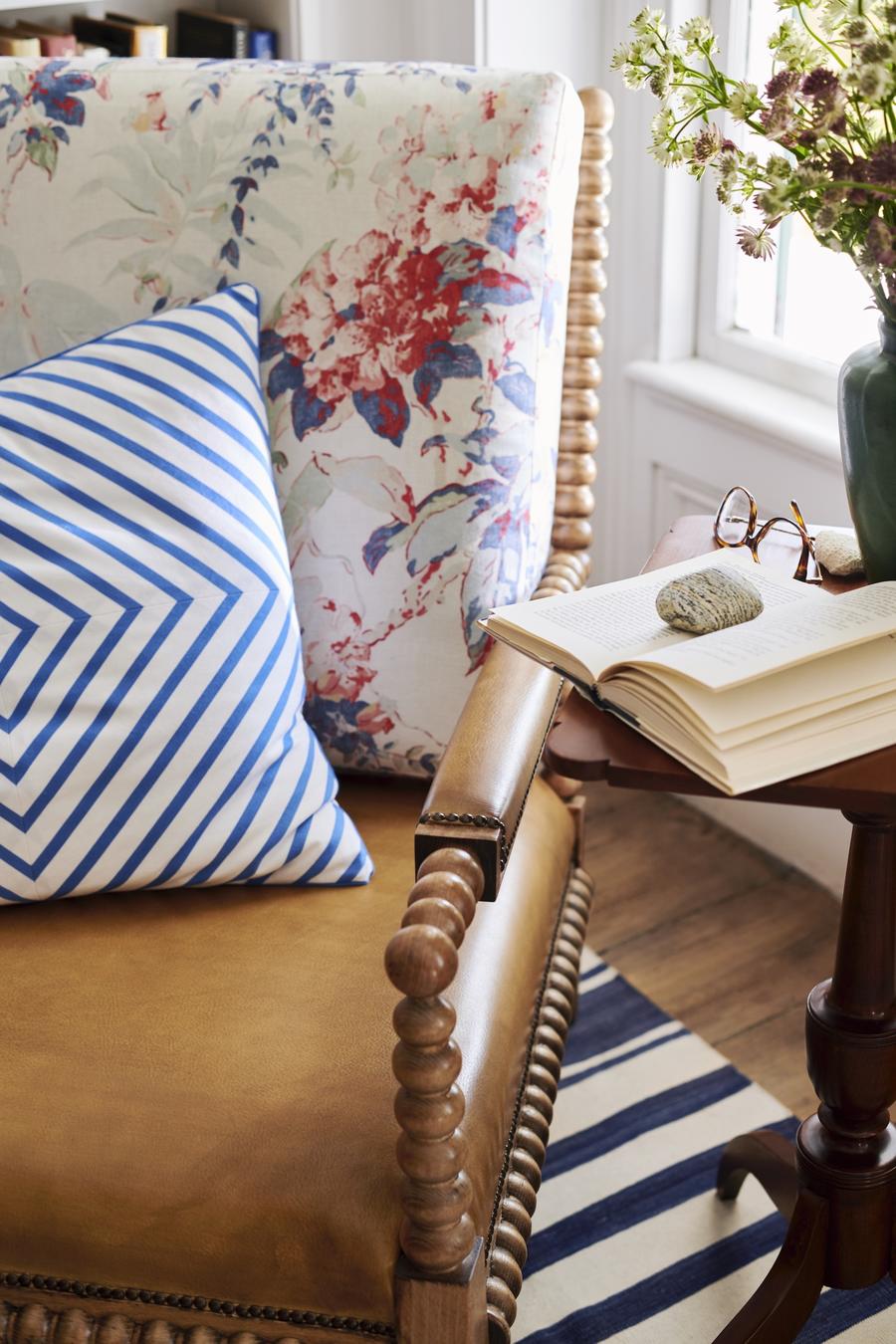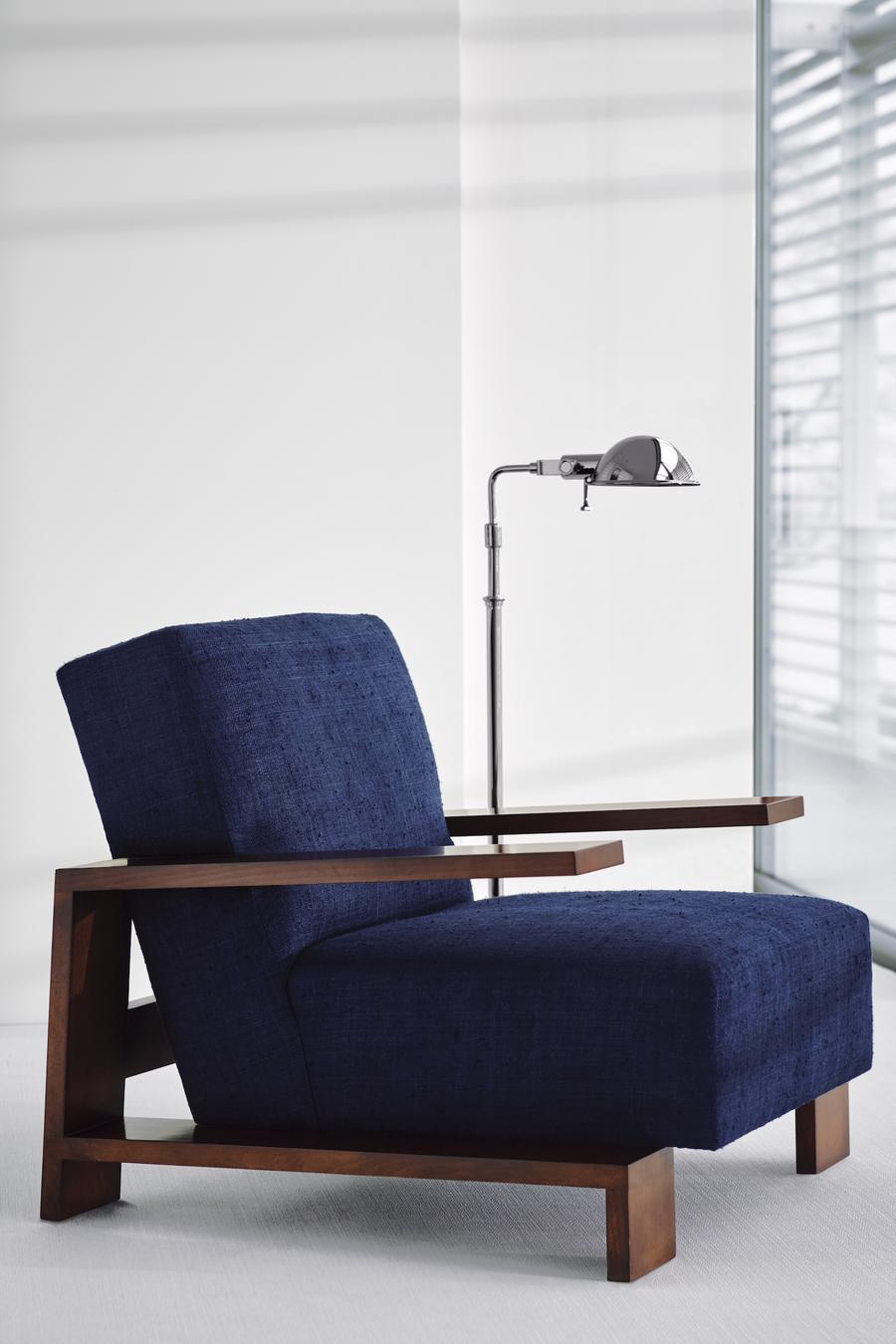 Theodore Alexander x Ralph Lauren Home
Theodore Alexander recently became the manufacturer of the complete Ralph Lauren Home portfolio, including more than 160 case goods and 200 upholstery pieces. Kicking off the partnership, the pair has launched two collections: Modern Penthouse, featuring sleek silhouettes in black lacquer, acrylic, channeled leather, high-gloss rosewood and polished stainless steel; and Modern Equestrian, a blend of blond mahogany, brass accents and saddle leather detailing that evokes heritage horse farms. The yin-and-yang lines mirror two of Ralph Lauren's iconic styles, Old Hollywood glamour and the English-inspired elegance of a country estate.