The coronavirus pandemic shut down trade showrooms across the country for months on end, putting a pause on in-person sales. As brands slowly reopen for business, have businesses that once swore by showroom sales changed their tune?
In recent years, the showroom model has come under fire from trade brands and designers alike. Companies say design center traffic is declining as operating costs increase; designers often find they can supplement fewer trips to showrooms with digital tools. Still, few have been willing to stake their success on exiting from a tried-and-true industry formula. But in many ways, COVID-19 provided a trial run: two to three months of shuttered showrooms.
Like many industries that traditionally believed having employees in the office was key to success, trade brands have discovered their ability to work effectively following showroom shutdowns. "Remote work is a model we haven't tested in the 72 years since Kneedler Fauchère first opened our doors, and frankly, it's a model I never believed 
would work," says Gina DeWitt, president of Kneedler Fauchère showrooms. But like legions of employees across the country, DeWitt's teams in Los Angeles, San Francisco and Denver adapted quickly, as did the multiline showroom's suppliers and designer clients. Against all odds, business kept moving forward.
There was a widespread sense of shock and relief as trade businesses successfully pivoted from meetings to videoconferences. "We have built our business in the past five years around our showrooms, operating around the principle that meeting in person was critical, as textiles and rugs are hard to determine through digital assets," says Catherine Connolly, the CEO of Merida. "I have been surprised by the nimbleness of the designers as they have shifted their businesses. It seems to be going well—and, in some ways, better." Now, many industry leaders have begun to reassess the value of their real estate holdings across the country. In a post-COVID era, do showrooms still matter? The answer may surprise you.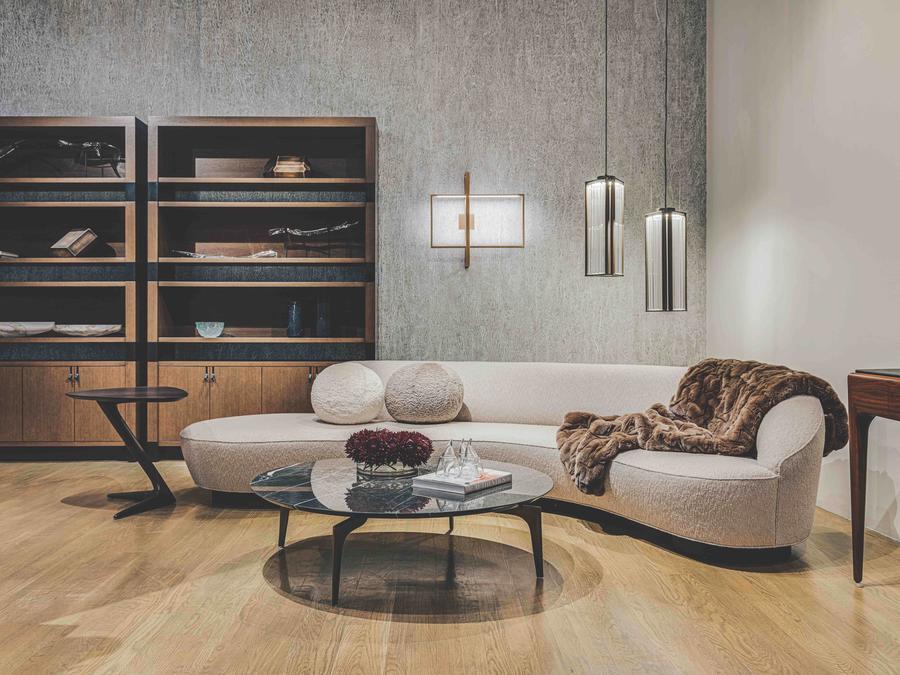 Forced to Modernize
It turns out that a lot of face-to-face work was easily replaced by FaceTime calls and Zoom conferences—tools most brands plan to keep using even in the absence of shelter-in-place orders. "It wasn't a huge stretch for most clients to do business using digital tools and phone calls," says Mike Gracie, president of fourth-generation wallcoverings company Gracie Studio. "We have replaced showroom visits with screen-share meetings to review products and custom options, but so much of it has been business as usual."
The brands that experienced the smoothest transition to remote operations had already built out their e-commerce capabilities or social media following before the shutdown. Traffic and registrations surged on Atlanta-based design firm Jerry Pair's website, which provides trade access to more than 50,000 products. "Our website is a very cost-effective and efficient tool that designers are now discovering," says company president Dan Cahoon. He also encouraged all of his outside sales representatives to start their own Instagram accounts. "Each person promotes business digitally in their territory, in addition to the traditional methods of contacting designers by phone or appointment," he explains. "We are also utilizing supplier-provided lookbooks, videos and webinars in our daily outreach, which I believe will become part of our normal sales effort."
Instagram became a lifeline for other brands, as well. "It's amazing how many product inquiries we get through DM," says Michael Habachy, owner and principal of Habachy Designs + Atelier, who has turbocharged the production of his Atlanta showroom's e-commerce site. "People are shopping from home now more than ever, so having a strong online presence is critical," he says. Screen time has been a boon for brands that were ready with digital assets to post. "We received a massive bump in followers—clearly people were staring at their phones more than ever," says Christopher Peacock, founder of his eponymous New York–based cabinetry brand. "It became a new way to inspire [designers] to engage in conversation with us about their projects. In many cases, it prompted clients to reach out for quotes and virtual tours of our showrooms through FaceTime and Zoom sessions."
Irreplaceable Spaces
Digital may have taken on a more important role, but the heavy reliance on virtual showroom tours illustrates the continued importance of those physical spaces. "Our showroom is a living portfolio and a reflection of our brand," says Habachy. Rather than focus efforts on stand-alone digital offerings, his team is leaning into the value of the showroom as a sales tool, developing a 360-degree virtual tour of their space for the brand's website.
While Zoom may have earned a permanent spot in the sales rep toolbox, it's an imperfect stand-in for physical visits. "Like many, I think virtual meetings are beginning to show their limitations," says Gracie. "It's a gift that we have the technology to meet remotely during this lockdown, but there's no replacement for live, in-person discussions about our beautiful, textured projects. It has made it seem feasible to do business digitally and remotely long-term, and has accelerated advances in those areas for us, but so much value is created in our industry when showrooms, designers and homeowners collaborate in person."
Arteriors, with showrooms in Dallas, Los Angeles and New York, also encountered the limitations of doing business from afar. "Not having access to our showrooms during COVID-19 reinforced the foundational support they provide to our brand identity," says Barbara Fuller, the company's vice president of marketing. "Not having the ability to interact with clients felt like a tremendous loss, and while we felt fortunate to be strong on the digital front, we viewed it as a bridge—a necessary lifeline to get us through the pandemic. As much as anyone likes a good photograph or Zoom call, you simply cannot replace the value of seeing the dimension, the scale and the feel of our product line in person."
Showrooms have also been missed as a source of creative stimulation. "The showroom is our biggest selling asset," says Ryan Hughes, who founded the Atlanta multiline R Hughes in 2010. "I was surprised by how many [designers] depend on our physical location as a space to draw inspiration from." His business partner, Steven Leonard, agrees. "Not having access to the showroom was not only debilitating financially, but crushing artistically. It is an incubator for our creativity: The majority of our online marketing starts in the showroom, and we invest heavily in showroom resets and photography each year to create our own brand identity and break through all the noise online."
"The intrinsic brand and marketing value of a physical showroom must come into play when measuring success, not just the square-foot productivity."
Barbara Fuller
As showrooms begin to reopen, brands are seeing the results of the pent-up demand for in-person shopping. When Kneedler Fauchère opened in San Francisco on June 15, its appointment schedule was already booked solid through the end of the month; in Los Angeles, the company saw a similar rush. "Without question, this time away has brought to light how valuable our showrooms are to our business," says DeWitt. "We will continue to develop our digital presence and online access, but our showrooms have proven to be more integral to our model than ever before."
Perennials and Sutherland chairman David Sutherland, too, has seen shoppers at his showrooms in territories that are opening up—and they are intent on placing orders. "While traffic isn't that great, everyone coming in is there to do business," he says of recently reopened showrooms in Texas and Florida. "We have less 'tire kickers,' and our quote-to-order ratio is approaching 80 percent. The buyers currently buying are serious."
Rethinking the Value of the Showroom
Showrooms may not be going anywhere anytime soon, but the way brands think about them has certainly shifted. In companies weighing investments in real estate versus staff, the coronavirus crisis made one thing abundantly clear: Design is a relationships business. "Moving our operations to a remote model illustrated to everyone—our sales team, our clients and our brands—that the true value we provide is our people, not our physical locations," says Lauren Hudson, president of the Wells Abbott multiline showrooms in Dallas and Houston. "Our physical locations are wonderful spaces, but they are not the backbone. The relationships and the knowledge base that our people bring to the table is what is most important."
Spaces that were once measured based on foot traffic or analyzed on a sales-to-square-footage basis are now being appreciated for their more qualitative attributes—the kind of data that defies spreadsheets. "While our standard metrics will not change moving forward, our mindset certainly has changed: Percentages and numbers rolling into a graph on a page cannot be the only factor in measuring success," says Fuller. "The intrinsic brand and marketing value of a physical showroom must come into play when measuring success, not just the square-foot productivity." Inspiration, in other words, is finally getting its due—and it's rooted in the showroom. "Our showrooms are storybooks about products that are possible," says Sutherland. "They show the customer the products' quality and design, that everything is customizable. My showrooms, I believe, are still invaluable to our designers and architects."
For some, foot traffic has never been the metric of success. "If we just sat and waited for people to walk into our showrooms, we would be in big trouble," says Hudson. "I still want our showrooms to be beautiful and inspiring places, but mainly I want a really strong team of salespeople who know our clients well and enjoy working together to create beautiful spaces." The showroom can also represent peace of mind for clients. "I always struggle with the fact that we have a large staff, the overhead that having a large staff entails, and such a large amount of showroom square footage," says Dennis Hunt, owner of the Atlanta multiline Ainsworth-Noah. "But in the end, this is a service business. People like to interact with actual people, not voicemails, automated attendants, a one-sided email or point-and-click shopping. This is a luxury business; we sell very expensive product and need to service our designers and their clients with that caliber of service."
The Future Is Familiar
For anyone expecting a sea change in the way showrooms work, think again. The pandemic may have pushed brands to invest in digital capabilities to augment their brick-and-mortar offerings, but the showroom is by no means on its way to obsolescence. "I think a natural assumption is this time away will result in more activity occurring digitally while physical showrooms occupy a smaller footprint, [but] this is not our plan, nor what clients are telling us they need," says DeWitt. "Clients need access to information 24/7, which can only be accomplished with a robust digital presence, but that will never override the need to touch a fabric, sit in a chair, see multiple layers of a complex finish, understand scale, experience the curve of a sofa, or discover new sources."
If anything, Connolly says that the increased focus on digital has reminded her of the importance of creating an unforgettable showroom experience. "This experience has made me rethink the value of the showroom experience," she says. "We need to raise the bar and think of ways to make an in-person meeting something that really creates an unforgettable experience for the designer and for their clients."
In the end, perhaps the showroom will be the epicenter of a branded experience, if not always the nexus of order-writing. "Showrooms need to be compelling for reasons beyond simply showing product and writing transactions," says David Calligeros, owner of Brooklyn, New York–based Remains Lighting. "All our core clients who know our brand values are happy to talk on the phone or via video. Post-coronavirus, showrooms will be locations for exhibits, events, social gathering—information and experiences that are more salient in real life."