Even before the pandemic, showroom owners across the country were fretting over increasing rents and declining foot traffic. With the onset of the coronavirus, the near-total collapse of in-person shopping brought the challenges into sharp relief. Brands with a heavy showroom footprint took a look at the fine print on their leases, and those without brick-and-mortar breathed a sigh of relief. But what about those somewhere in the middle? Business of Home spoke to five brands that were planning to open new showrooms before COVID changed everything.
Whatever phase of reopening or closing California is in, come September 1, Italian multifunctional-furniture brand Resource Furniture will open the doors to its San Francisco trade community in a new space at Showplace East in the Northern California Design District. The move and opening were about a year in the making—and when the pandemic stuck, there was no turning back. "To be honest, the existing showroom is being demolished," says Challie Stillman, Resource Furniture's vice president of sales and design. "We knew we were going to have to move out this summer, and we'd had our eye on Showplace East. When COVID hit, we didn't know what would happen, but started looking toward the future and long term."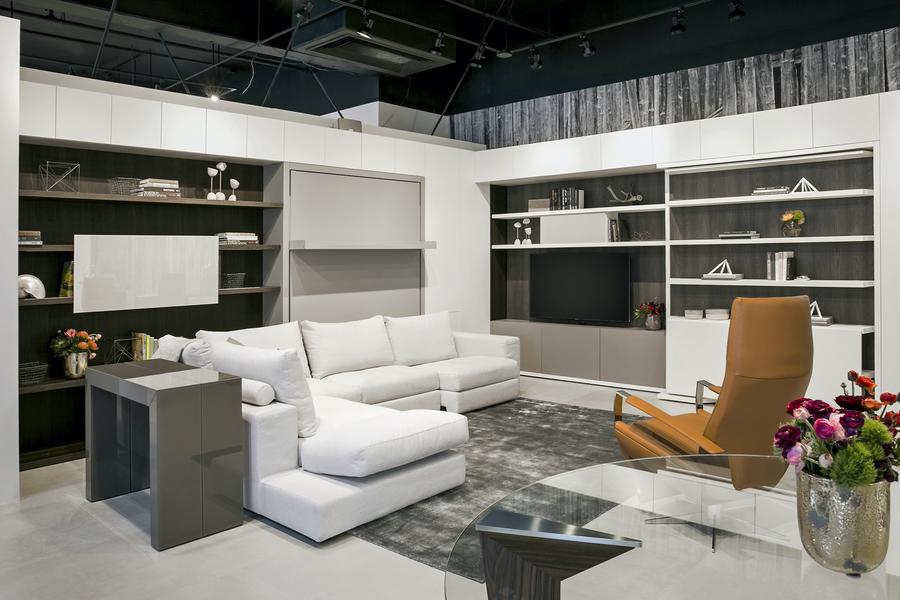 Courtesy of Resource Furniture
Resource Furniture's product relies on its showrooms—selling big-ticket transforming furniture, historically, has rested on the ability to show the engineering at work. For instance, its LGM wall bed (the brand's best-selling item since COVID set in) is a desk/wall-shelf configuration that folds up and revolves, revealing a queen-size mattress with pullout nightstands on the other side of the wall. From a functional standpoint, these pieces are fairly simple to use, but the mechanisms at work are complex; for the company, physical showrooms are essential to teach clients how these systems work, from the sequence of twists and turns to the touch and feel of having the pieces properly locked in place.
While brass finishes and faucet fixtures don't require the same educational element as a desk turned bed, selecting products in person is still a critical part of what designers do. Come September, kitchen and bath brand Waterworks will unveil a major expansion to its New York flagship showroom, heralding a 12,500-square-foot future that features an additional level with workspaces for designers and their clients. Despite a major investment in the showroom model, the company recognized that its physical footprint was only part of the equation, and began bolstering its digital offerings as well. When the shutdown hit, CEO Peter Sallick says that above all, he felt not anxiety but anticipation, buoyed by the strength of the company's existing business model.
"The showrooms are, and always will be, an important element in how we serve our customers," he told BOH. "However, a mobile workforce and a best-in-class website are critical to provide the experience our customers demand. Thankfully, we had been building those and were ready when this moment arrived."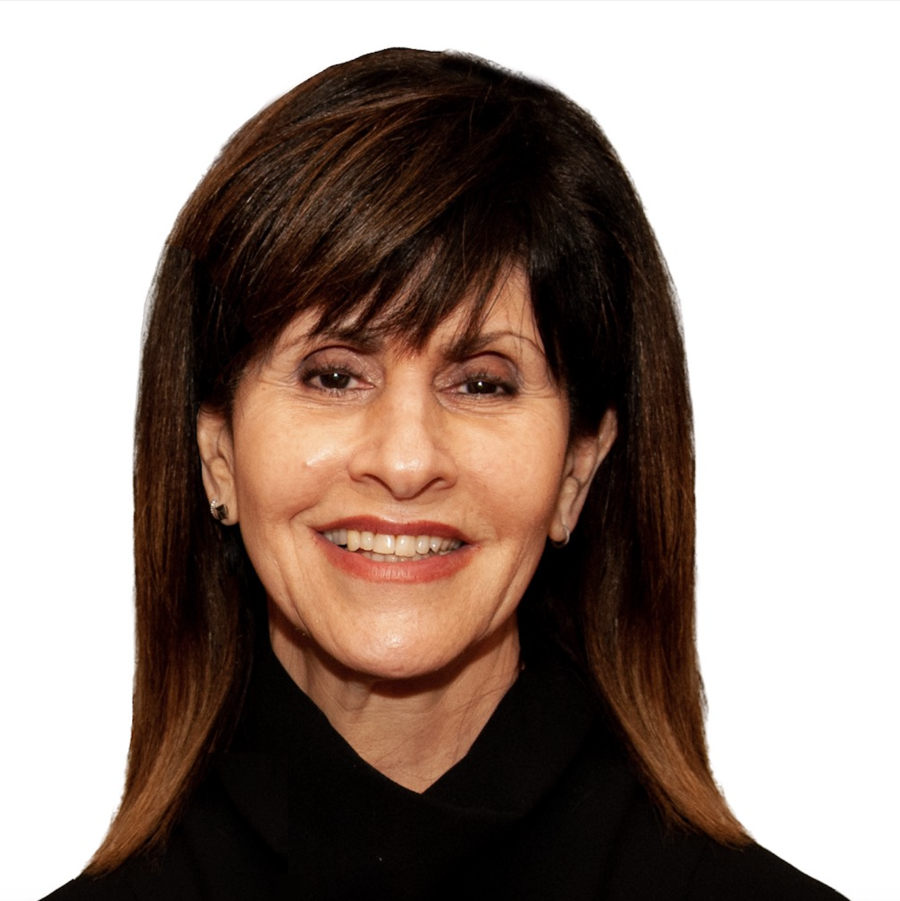 Courtesy of John Rosselli & Associates
It goes without saying that showrooms are especially important when it comes to textiles. At the start of this year, John Rosselli & Associates made the decision to expand its showrooms in Florida, New York, and Washington, D.C., as part of a natural next step in the company's growth strategy. "We see the showroom as an extension to a designer's business, and the in-person interactions are invaluable," says Shelley Selip, manager of the company's New York showroom. "There is simply no replacement for walking into a showroom, seeing, touching, discussing ideas, and being inspired by vignettes."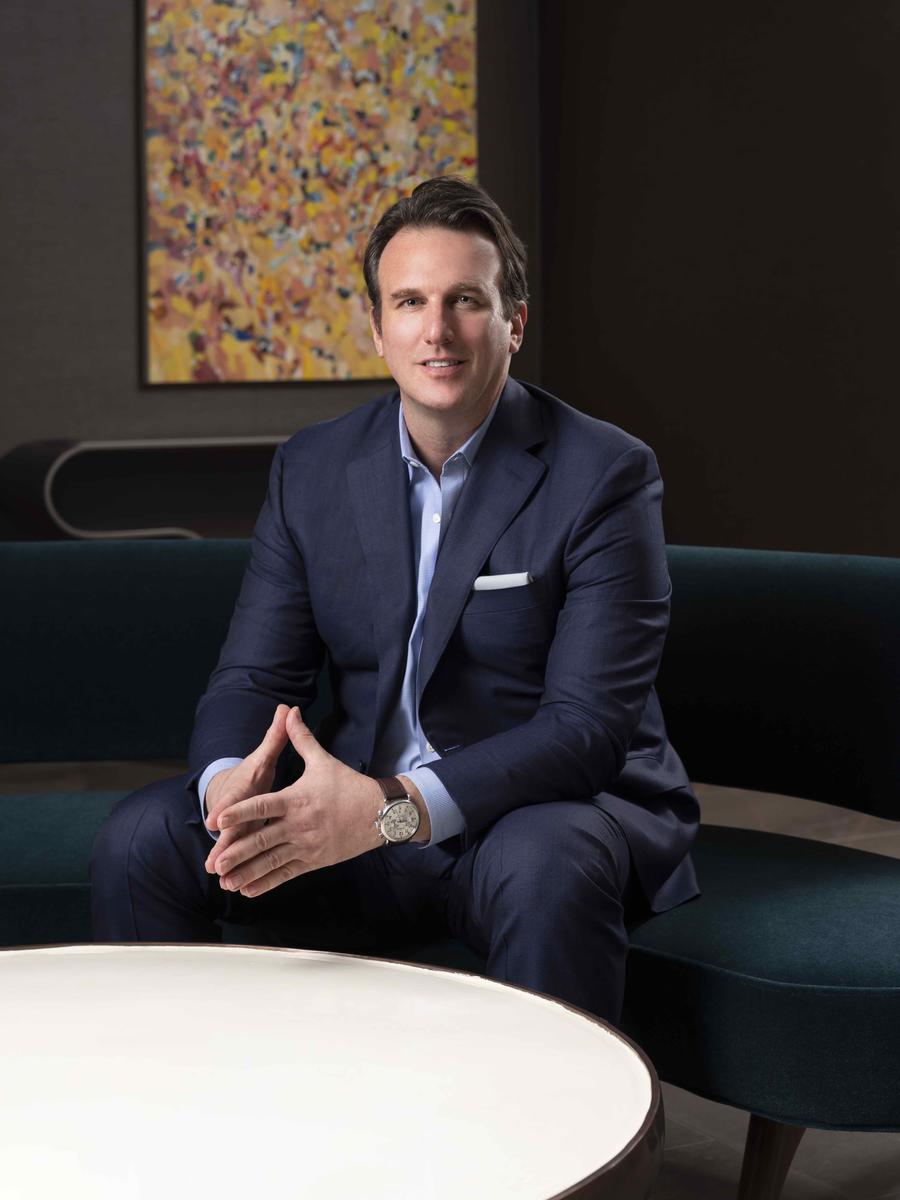 Granted, for many of these brands, their plans to invest in renovations and showroom relocations were locked in long before the coronavirus struck. At Holly Hunt, however, a new West Coast flagship in Los Angeles is coming in 2021—a decision that likely could have been reversed, but wasn't. "The showroom model is, and always will be, part and parcel to what we do. It's part of our ethos: We think about creating an experience, and how we can best inspire and support designers," Holly Hunt president Marc Szafran told BOH. With its new Boston showroom now open, the brand will move forward using brick-and-mortar spaces augmented by digital offerings.
Nobody then, is questioning if showrooms are necessary. The challenges lie in how to make them work with the new normal. For Analisse Taft-Gersten of ALT for Living, the biggest challenge moving forward will be to find a way that both staff and clients can feel confident using the showroom again. Facing similar circumstances, Stillman says Resource Furniture has, like many, adopted a by-appointment model to pace foot traffic to the showroom. (It's a need borne out of a surprising demand: At their New York location, more clients are coming in than they did prepandemic.) For John Rosselli & Associates, the way that the company measures its success in showrooms will shift slightly: "We reset our business and sales goals, knowing that the industry is changing," says Selip. "More than ever, we see the importance of online interactions, including social media."
Resilience through the pandemic's unpredictable surges will be paramount, and despite shifting in-person shopping expectations and the burgeoning power of virtual offerings, showrooms will live on. As Taft-Gersten says, "This is all about community and supporting each other, and that is what brick-and-mortar does."
Homepage image: The ALT LA showroom in Los Angeles | Courtesy of ALT for Living