Ten years ago, Universal Furniture's main customers were regional mom-and-pop furniture stores and chains like Havertys or Raymour & Flanigan. "It was anyone with a credit line and a heartbeat, basically—and we were getting our butt kicked by competitors," says Jeff Scheffer, the company's president. Scheffer joined the brand in 2009 and quickly saw an urgent need to change course.
Today, the company is thriving, partnering with the likes of Coastal Living, Australian supermodel and skin care entrepreneur Miranda Kerr, and Houston interior designer Nina Magon. Two simple choices set Universal on a new path over the last decade: First, scaling up the look and feel of the brand's product assortment; second, focusing on burnishing its reputation among interior designers.
Neither initiative happened overnight. Scheffer's plans for the brand's transformation have unfolded slowly—starting with cycling the existing product assortment out of production as new pieces were introduced. "You can't just discontinue everything and introduce an entirely new catalog—it doesn't work that way," he says. "It probably took the better part of five years to get the line resembling something close to the way we wanted it."
As it released new products, the company's behind-the-scenes business model had changed as well. The once case-goods-heavy brand expanded its range of offerings, and Scheffer found that a slight increase in production costs for a piece could make a monumental difference in the style and quality of the finished product—all without raising the listed price.
"We're talking about three to five more dollars into a chair, and you can get one heck of a better look, whether that's the silhouette itself or something like the finish on the wood," says Scheffer. As a result of that shift, the Universal brand now hits something of a sweet spot for a certain type of designer—someone looking for style, personality and quality, but for whom a client's budget is often a consideration looming over design decisions. This isn't a play for the designer with the "money is no object" client (which would make the brand inaccessible to the average consumer). Instead, the shift helped the company stay at the upper echelon of what appealed to its core retail audience while also beginning to make inroads with the trade. By taking a small hit on margin, Universal was able to go after an entirely new customer.
Investing in a new High Point showroom in a prime location on Hamilton Street was the next step in courting the trade. Before, the brand had occupied an off-the-beaten-path location on Interstate 85—enough of a drive that new customers weren't likely to discover the showroom by chance. In relocating, they opted to build a 113,000-square-foot space with a clear view of IHFC and within walking distance of all of Market's main attractions.
"Through the process of moving into that building, not only were designers impressed [by the space], they were telling us, 'Wow, I didn't know who you were, and there's a lot more here than what I thought,'" says Universal's marketing director, Neil MacKenzie. Over the years, the brand has continued to add amenities to the showroom that are activated during Market—a cafe offering catered breakfasts and lunches, a designer's lounge for hair and beauty touch-ups, and a learning center scheduled with all-day programming. "We want to create an experience that we're proud of, and we want to inspire those that come through the door," says MacKenzie.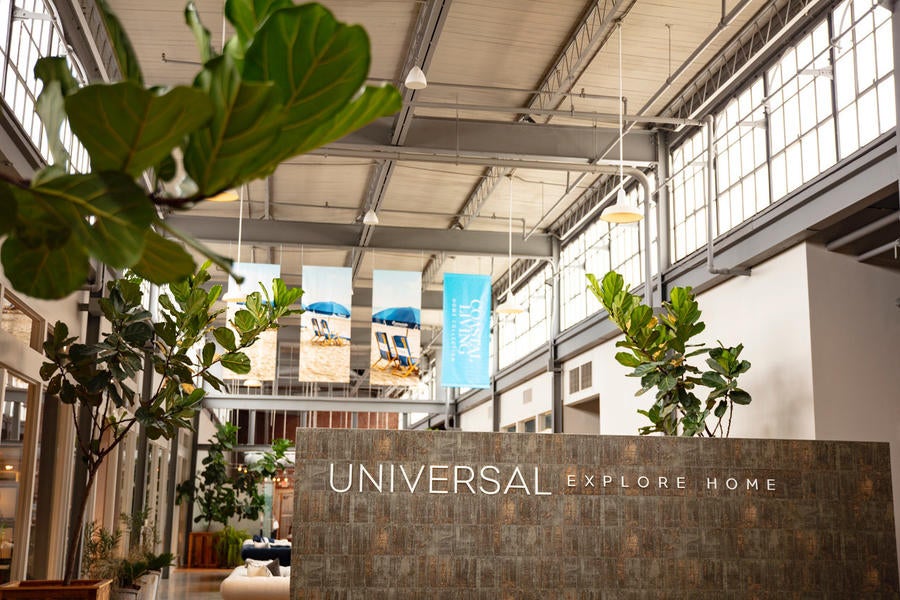 Perhaps the last step in slow-but-steady transition into what Scheffer calls the "upper middle" price point in the trade was opening a factory in North Carolina, which the brand acquired from Southern Furniture last October. Whereas Universal's upholstered pieces—a collection of frames that launched three years ago and quickly became the fastest-growing segment of the company's business—had previously been made outside of Shanghai and were often available only in a handful of standard textiles, the company could now offer special-order upholstery. These pieces suddenly became more customizable, and therefore more compelling, to the company's designer audience.
Universal's partnerships have also been a way of expanding both its reach and appeal to designers, including its newest. Through the collaboration with Coastal Living, the brand will enter a new category at High Point Market this fall: outdoor. It's an especially good time to be getting into the category, with the lifestyle shifts wrought by COVID-19 sending outdoor furniture sales skyrocketing industry-wide. For Universal, the expansion also fills the last remaining gap in the brand's assortment.
"We've made the transition into being a whole-home resource," says MacKenzie of the collection, the brand's third in partnership with Coastal Living, which features a new textured woven textile for covered outdoor spaces as well as all-weather wicker and weathered teak. "Looking at our product assortment, outdoor will complete the circle for us," says Scheffer.
With the pandemic as a motivator, Universal has begun prioritizing digital means of reaching clients. When High Point Market was canceled this spring, the company created its own virtual version, and MacKenzie says that the brand is taking steps to upgrade its website to make it simpler for designers to buy directly online. "We're trying to make sure, really through each thing we may do: Is it easy for everybody to get what they need?" says MacKenzie. "We want to meet the expectations that we've set in terms of the shopping experience, whether that's in person or virtually, and the quality of the product. That's the expectation—to make the customer happy."
Ten years ago, that customer was an average retail shopper. Increasingly, it's an interior designer.