For Neal Kring, the operations manager at Jonesboro, Arkansas–based lighting company Couture Lamps, it started with a phone call from a sales rep a few weeks ago. "He said some retailer had asked if we were participating," says Kring. In what, exactly, he didn't know. Until that moment, he had had no idea that an unofficial three-day edition of High Point Market was unfolding starting June 16.
A typical High Point Market features more than 70,000 attendees, who visit the event's 2,000-plus exhibitors. So when Spring Market was postponed and then canceled this year, tens of thousands of buyers and sellers were left scrambling to find new ways to conduct business.
Now, a small but growing group of showrooms are hosting a mini market of their own, opening their doors this week by appointment only to retailers and designers alike. That this small-scale market feels more like an open secret than an organized event is a byproduct of just that: It has no organizer.
"It seems really underground," says Kring of the pop-up event. But after learning a little more, he decided to make the drive to North Carolina and put the finishing touches on the company's showroom. "We've had a permanent showroom in High Point for 20 years, so adaptability is easy," he continues. "We've got a few appointments set up every day, and will have all the PPE in place and sanitize everything. I don't think we'll get a mad dash, so we're not expecting sales reps to actually come in, but we encouraged them to reach out to their people who may be coming [to town]."
The idea for a by-appointment-only shadow market was first raised at the High Point Market Authority's executive committee meeting in April, when members decided to cancel the already-postponed Spring Market. At the time, government regulations banned gathering in groups of 10 or more and expressly prohibited large events. But when restrictions eased somewhat, a committee member posited, it seemed reasonable that individual showrooms could open safely in a limited capacity. And maybe, for convenience's sake, the showrooms could all do it on the same day? The event some are calling "Secret High Point" was born.
A funny quirk of this low-key mini-market: It's not officially sanctioned by the High Point Market Authority, nor IMC, though the latter is hosting a list of participating showrooms. There will be no operational support—which means no registration, shuttles, information booths, or any of the other underpinnings of an official Market.
But once the seeds were planted, word of the event spread quickly—if also somewhat quietly. At first, many showrooms found out like Kring: from customers who wanted to know if they'd be open.
The allure of a pop-up market only underscores the importance of in-person interactions in the home furnishings industry. At press time, 149 showrooms were signed up to participate; with no registration figures available, the number of attendees will be nearly impossible to assess.
At Vanguard Furniture, company president Andy Bray says he, too, found out about the event via word of mouth. "Hearing that there's a groundswell for a pop-up in High Point two weeks from now obviously gave us a considerable amount of pause," he says. Appointments notwithstanding, Bray says that bringing new pieces into the showroom has been a value-add for the marketing and merchandising teams, who have driven up from the company's headquarters in nearby Hickory, North Carolina. "Even if it's just a handful of appointments, our team is here and gets to see the product under the shiny bright lights of the showroom," he says. "To see the work in process come alive and relate to other products, that's very valuable for us."
It's a move he's not sure the company would have made mere months ago. "Had this been a pre-COVID event, I think we would've struggled culturally with making the change," he says. "Our lives now have been upended in every way, and we're so used to working on the fly that our team said, 'Let's do it.'"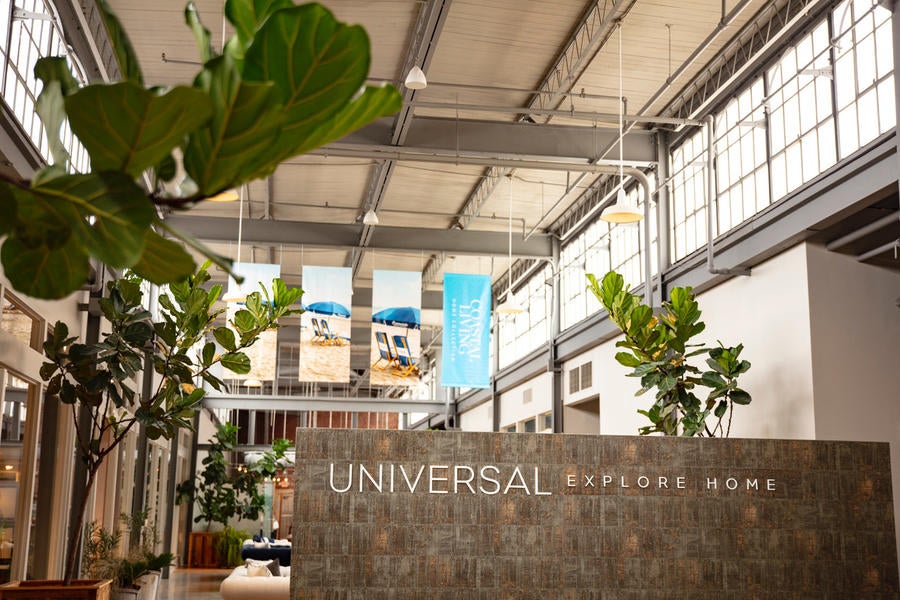 Courtesy of Universal Furniture
This isn't the first event that's sprung up to fill the void caused by High Point's cancelation. In May, IMC hosted its three-week-long virtual Market experience, High Point at Home—a mix of webinars and interactive product catalogs that attracted more than 13,000 visitors online. But the reopening of IMC's properties—Atlanta last week, Las Vegas and the 17 buildings in High Point today—set the stage for an in-person experience for vendors and buyers willing to venture into town.
Like many High Point–based showrooms, Universal Furniture is open by appointment year-round, which makes participating in this three-day pop-up a no-brainer. "We sent communications out to our customer base letting them know that we're open year-round for appointments, including these dates, and that others will be as well," says Neil MacKenzie, the company's director of marketing. "But this is definitely not an organized event, and if you don't have an appointment you can't come in."
MacKenzie says that nearly 70 customers had booked appointments over the course of the three days—though with no benchmark to measure against, he joked that it was hard to tell if that was good or bad. The company is following recommendations from the Centers for Disease Control and Prevention: Visitors and Universal employees must all wear masks, temperatures will be taken at the door, and elevator rides are limited to two people. In addition, in all of its buildings, IMC has put into effect its "Together Safely" protocol, outlining best practices for showroom safety.
So far, most attendees Universal will see are coming from less than a three-hour drive away—especially the designers who have signed up, mainly on the last day. However a few retailers with appointments are flying in from California, the Northeast and Florida.
As for what showrooms are putting out on the floor—it depends. At Couture Lamps, Kring is using this time to merchandise the pieces that will have an official debut in October. But for Universal, what's on display is what visitors would have seen in April had the Market not been canceled—an in-person viewing of collections that the furniture company debuted to an audience of nearly 3,000 buyers through its own Virtual Market in April.
"Everything we did during Virtual Market, this is an opportunity to see all of our new special-order frames and fabric swatches in person," says MacKenzie. For him, taking appointments this week will allow some retailers to sit on, feel and finalize their orders: a nice touch point to have, but perhaps not an essential one. For brands that didn't have a robust online experience in lieu of Spring Market, the three-day event may hold more importance: a onetime chance to make up for lost business.
At Vanguard, Bray saw this week's appointments as a prime opportunity for customer feedback. "We went for it not because we were prepared with a full-on Market presentation, but because we had prepared our showroom for Pre-Market before the world shut down, so we had some of our showroom ready." Since then, the company has manufactured samples that would have debuted in April, as well as pieces for Fall Market. "We have a lot of samples ready, and a lot of concepts that are almost fully developed," he says. "What a great opportunity for us to show them what we have and have a dialogue. It's still four months before October, which is plenty of time to react to their feedback. At Pre-Market, you don't always have a chance for a do-over, but this gives us a chance to really refine the October assortment based on the feedback of our customers."
Kring, too, is happy to see what transpires this week, but is not banking on an influx of new orders. "That sense of, 'We need to book production' but enough people said no to ordering sight unseen—that's not us," he says. "But if people are in town, any chance of them saying, 'What else is open?' and stumbling across us is an exciting idea."
He is also hopeful that this pop-up will be a small-scale test run for Fall Market in October. "It will be interesting to get the lay of the land and see how comfortable they are with PPE and masks. It's a good exercise—and if the people that do go come back and say they felt secure, hopefully that will instill some faith in future Markets."
Homepage photo: A vignette in the Couture Lamps showroom in High Point | Courtesy of Couture Lamps