Stay in the know with BOH's weekly news digest, including business headlines, launches and events, recommended reading and more.
BUSINESS NEWS
On Monday, the National Bureau of Economic Research officially declared that the U.S. entered a recession in February, marking the end of a 128-month expansion, writes The Wall Street Journal. While the bureau typically waits until a recession is well underway to make the declaration, the severity of the pandemic-induced downturn warranted a break from past instances, even if the coming weeks prove it to be a brief contraction.
Wayfair's stock continues to climb, according to Barron's. "Wayfair stock has rallied 40 percent since the first-quarter report, 108 percent for the year to date, and an astonishing 700 percent since bottoming at $23.52 on March 19," writes Eric J. Savitz. On June 2, the company's trading high sat just below its all-time high—and with strong sales persisting through May, analysts suggest there may be more gains to come.
In a June 3 letter to employees, SoftBank COO Marcelo Claure announced that the company would create a $100 million opportunity growth fund that "will only invest in companies led by founders and entrepreneurs of color." Axios reports that the fund is among the first to pledge significant capital to counter systemic racism in the U.S. Other financial institutions have made similar announcements: Bank of America announced a four-year, $1 billion commitment to support communities of color that have suffered from the impact of COVID-19, and Goldman Sachs created a $10 million fund for racial equity and economic injustice.
International Market Centers has announced that it will reopen its campuses following a new "Together Safely" protocol. The initiative, designed by health and elected officials and an epidemiologist, calls for a team of IMC staff and state-vetted health agents to oversee a new series of operational protocols for staff, customers and third-party vendors. While AmericasMart reopened on June 8, IMC's ADAC, High Point and Las Vegas campuses are scheduled to reopen on June 15.
On Monday, the Interior Arts Building in New York announced it will officially reopen this week after being shut down since March. All showrooms will be operating in accordance with the state's Phase 1 guidelines.
As a part of its bankruptcy proceedings, online art auction company Paddle8 is selling its auction platform, client list, trademarks and social media account in an attempt to raise the "tens of thousands" of dollars it owes to collectors (including Jay-Z's Shawn Carter Foundation and Justin and Hailey Bieber). All together, the company's intellectual property amounts to 31 domain names, 19 trademarks, three apps, newsletter subscribers and data, social media accounts with over 150,000 followers combined, and more.
As the pandemic evolves, there's more data to synthesize. A recent survey from Gensler offers insight for the future of the workplace: Notable findings indicate that, while it's tempting to have leisure wear as a perennial uniform, only about 12 percent of workers want to work from home full-time, and that Gen Z and millennial populations report lower levels of productivity and higher levels of stress. The results of a large-scale analysis from real estate firm Cushman & Wakefield indicate that productivity can come from anywhere, and more employees want the option to have at least partial work-from-home capabilities.
Jen Gotch, founder of home decor and lifestyle brand Ban.do, has taken a leave of absence following accusations of racism, with one employee adding that she cultivated an "overall toxic culture" at the company, reports Today. "It won't happen overnight but I'm committed to educating myself on how to make meaningful change and contribute to solving the problem rather than being a part of the problem," Gotch said.
Launches, Collaborations and partnerships
The Richmond, Virginia–based trade-only outdoor furniture company McKinnon and Harris has announced that it will debut a limited selection of ready-to-ship pieces through a storefront on 1stdibs starting June 12. This marks the first time in the brand's history that buyers will be able to purchase a McKinnon and Harris piece without its standard 16- to 20-week lead time.
On Monday, the Black Interior Designers Network launched a fundraising campaign to raise awareness about how the design industry can better support black designers. The initiative launched in two parts: The first was "The Designer Ally's 'How To,'" a graphic from the BIDN that lists actionable steps for the interior design community. The second is a call for designers to donate to the organization to support its efforts.
On June 10, a new fundraising campaign called MilanoAiuta will launch, with the mission of supporting coronavirus relief efforts in Milan through the proceeds of over 100 donated works from more than 70 designers and artisans sold through new e-commerce platform Delisart.
CALENDAR UPDATES
On June 4, Condé Nast announced that, after consideration for the health of its exhibitors, attendees and staff, the 2020 AD Design Show is canceled. The show was supposed to take place in New York this fall.
The Lake Forest Showhouse & Gardens in Illinois announced that it would be open daily from July 13 to August 9. In accordance with the state's safety guidelines, ticket sales will be restricted and divided between morning and afternoon sessions. For more info, click here.
SHOWROOM REPRESENTATION
San Francisco showroom De Sousa Hughes will now represent Charles, the Paris design firm that specializes in luxury lighting design.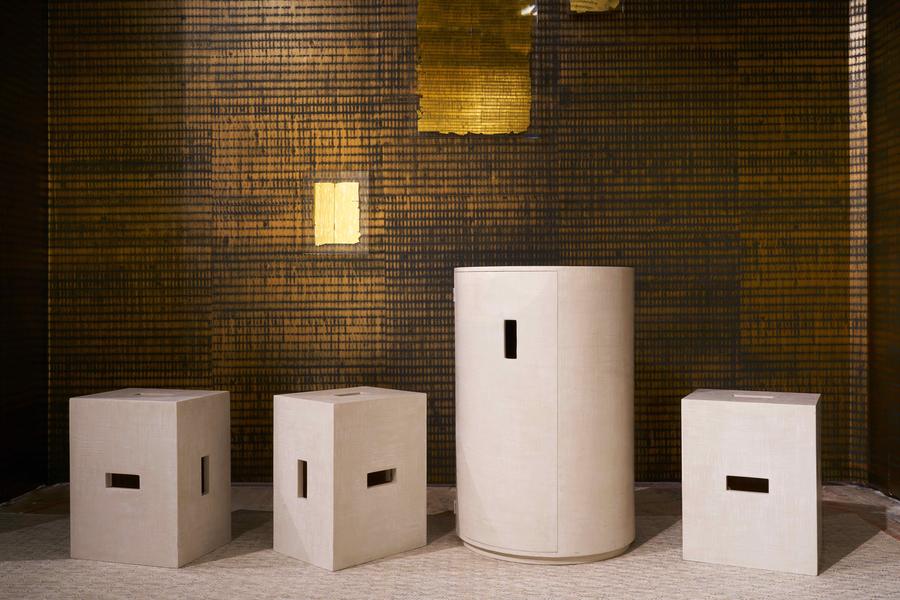 French design house Élitis has announced that it will exclusively represent Callidus Guild in the New York tri-state area. The studio's hand-painted wallcoverings, as well as its plaster-based wallpaper and surface designs, will be available through Elitis's showroom at the D&D Building in New York.
RECOMMENDED READING/WATCHING
The Cut sat down with Malene Barnett, founder of the Black Artists + Designers Guild, to learn about the BADGUILD Concept House, a four-bedroom home that imagines a new future for black families. "We want to get rid of the word showhouse because a showhouse is a fantasy; it's not reality," Barnett told Wendy Goodman. "We want to create something that taps into the black family narrative—and to create an actual space, post COVID, as well." Since its founding in November 2018, BADG has led a powerful charge for racial equality in the design industry through its community of black creatives, Harper's Bazaar reports.
On June 6, designers and bloggers Shavonda Gardner and Carmeon Hamilton sat down for an intimate conversation about the attention now being directed at black influencers and content creators online. Throughout this raw and honest conversation, the two designers share their own experiences in the industry, discuss being tokenized as designers of color, and talk about why a sudden influx of Instagram followers brings mixed feelings.
The Financial Times has released a six-part series titled The Future of Design, examining how shopping habits have changed, how the design industry has embraced virtual events—and how the pandemic will shape the design landscape into the 2020s. Among the forecasts in FT's crystal ball are new sustainable materials and a resilient Milan.
CUE THE APPLAUSE
The Window Covering Manufacturers Association announced the winners of its 29th annual WCMA Product Awards, honoring the best of the window covering industry across 10 categories for 2019. Product of the Year was awarded to Day & Night SmartFit by Norman Window Fashions, which also won Best New Technical Innovation. The winners and all submissions will be featured on the association's website through the end of this year.
Homepage image: Vases by Paola Paronetto for the MilanoAiuta fundraiser | Courtesy of MilanoAiuta