With Earth Day upon us, the words of landscape photographer Ansel Adams may be a comforting reminder as these strange weeks stretch on: "I believe the world is incomprehensibly beautiful—an endless prospect of magic and wonder." Here's to the day that we can go out and see it again.
Despite it all, the industry pushes forward. Read on for headlines, launches and events, recommended reading and more.
BUSINESS NEWS
Last week, Neiman Marcus Group Inc. missed a payment of $5.7 million to bondholders. This week, the luxury retailer has begun preparations to file for bankruptcy protection as soon as April 22, with plans to restructure its debt so that its 43 stores could possibly reopen after the pandemic. With the company's approximately $4.7 billion in debt, its lenders are considering several options, including selling the business outright or closing some of the its department stores to continue operating in a slimmed-down form, reports The Wall Street Journal. One potential buyer is Hudson's Bay Company, parent of Saks Fifth Avenue, which could make an offer for the troubled retailer after Neiman tips into bankruptcy.
JCPenney missed its own debt payment of $12 million to bondholders last Wednesday, reports the Financial Times. The Plano, Texas–based company, which has a 30-day grace period before defaulting, said it will "evaluate certain strategic alternatives, none of which have been implemented at this time." The news comes during a monthslong decline for large U.S. retailers; Macy's, too, has faced serious financial turmoil, and recently fell from the S&P 500, with share prices down 75 percent year-over-year. The outlook for the department store is bleak: "The genre is toast, and looking at the other side of this, there are very few who are likely to survive," Mark A. Cohen, the director of retail studies at Columbia University's Business School, told The New York Times.
The October launch of Chip and Joanna Gaines's upcoming Magnolia Network, is being pushed back due to COVID-19-related production delays. With virtually no television being filmed at present, and a very short runway before the fall, Magnolia's official debut will come at a yet-to-be-determined date, according to The Hollywood Reporter.
In the fashion industry, The Wall Street Journal predicts the coming of "a second Black Friday" as clothing retailers are forced to reckon with spring inventory and seasonal turnover. Some companies are responding to meager sales by packing away goods with the intent of selling them next year, a process known as hoteling. But the move risks apparel stock becoming out-of-date and storage can be costly. Business of Fashion takes a look at how one Danish brand is tackling the issue of excess inventory through proposed solutions, including "archive sales," a new discount website and upcycling initiatives.
Consumer purchases may be down because of the pandemic, but investors are betting that there will still be hearty demand for luxury goods—used ones. The European resale platform Vestiaire Collective has just raised $63 million from new investors Korelya Capital, Vaultier7 and Cuir Invest—the money will support the company as it breaks into Japanese and Korean markets, while also doubling down on U.S. expansion and social commerce efforts, reports Business of Fashion.
CALENDAR UPDATES
The LA Design Festival has been postponed from its original June date to September 2020. While new dates and programming have yet to be announced, the festival will boost its digital programming beginning in May. "While the global pandemic will undoubtedly change the form of future mass gatherings, COVID-19 cannot and will not stop creative culture," said festival co-founder Haily Zaki in a statement.
LAUNCHES, COLLABORATIONS, PARTNERSHIPS
Home and lifestyle giant Martha Stewart has come together with furniture e-commerce company Wayfair to launch a new lifestyle line. The collection will include pieces for the bathroom, bedroom, living areas and even for pets, all categorized by the aesthetic of her four homes.
In a webinar timed to celebrate Earth Day, the Sustainable Furnishings Council announced the launch of its "Just One" a campaign to spotlight the efforts of home furnishings industry leaders to reduce energy consumption, better manage their supply chains and work towards global wellbeing.
The U.K.-based wallcoverings and textile company Graham & Brown has launched a new smartphone app called Graham & Brown Decorating. The app facilitates at-home decorating by using a camera to scan a space and then allowing users to toggle between on-screen wallpaper and paint color options. A neat capability: The measurements taken by the app auto-generate the exact quantity of wallpaper rolls or paint cans needed for a project, which, naturally, can be ordered from the app.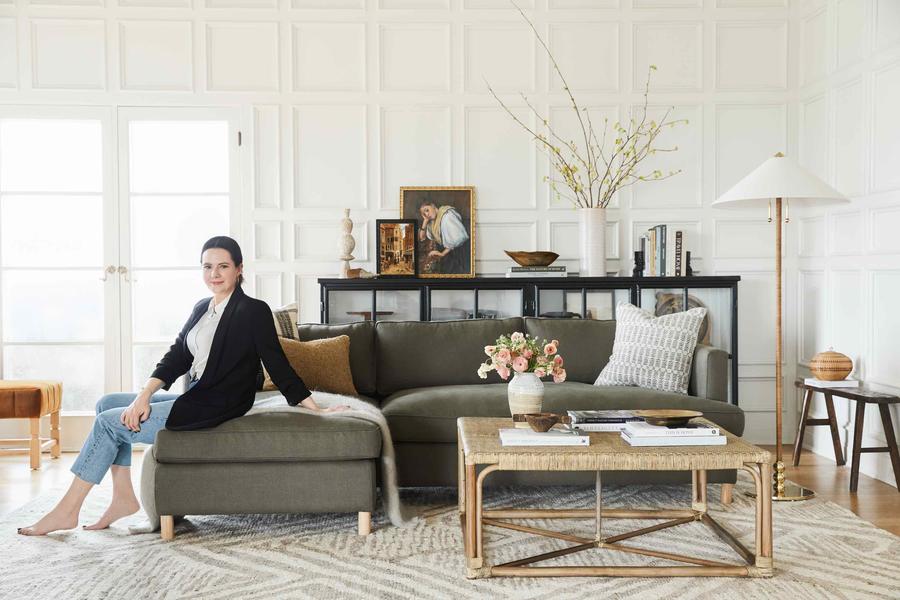 Courtesy of Ginny Macdonald
Interior designer Ginny Macdonald announces her debut furniture collection with fellow Los Angeles–based home decor company Lulu and Georgia. Inspired by her California lifestyle and English heritage, Macdonald has designed 13 handmade upholstered pieces. "I wanted the collection to feel like something you'd see in a drawing room or library of a Victorian house in London," she said in a release. "I also wanted to fuse that with the California style, which is fresh and earthy."
The Colmar, Pennsylvania–based textiles brand Stout is launching a new collection in collaboration with U.K. lifestyle brand Cath Kidston. Fresh floral patterns dominate the collection, with a charming print illustrated with rows upon rows of the Queen's Guard.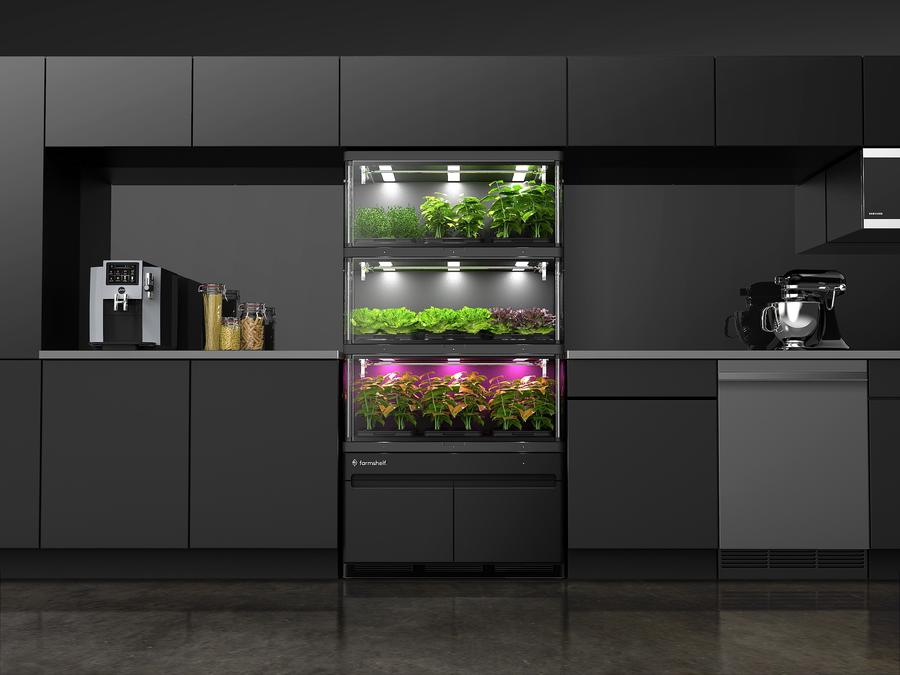 Brooklyn, New York–based company Farmshelf, which started by making indoor farms for restaurants to grow their own produce, has launched a version of its smart indoor farm for the home. The company's innovative hydroponic-growing technology has been used by restaurant chefs since 2018—now, after months of R&D, Farmshelf is bringing the technology to homeowners, so that they may grow leafy greens and herbs year-round.
RECOMMENDED READING
Furniture Today editor Clint Engel interviewed six leaders of the furniture industry to gauge their predictions for retail's recovery in the coming months. Their responses run the gamut from explanations of what companies are currently doing to mitigate losses, to potential solutions that could help fortify furniture manufacturing for the "new normal" that's yet to come.
In the home tech space, direct-to-consumer brands often come with a buzzy reputation and promises of the cutting-edge. But the amount of time that consumers are currently spending on the internet isn't matching up with the number of purchases they're making—begging the question, Will young home tech startups survive? "The answer is complicated," is Fast Company's reply. "Brands that have cash on hand, continue to innovate, and stay relevant to customers are more likely to make it to the other side. But if the financial turmoil drags on, even those with strong fundamentals may not last."
"Our cities have always been shaped by disease," begins Oliver Wainwright in an article for The Guardian that explores how public spaces could respond to the new social conditions brought about by the coronavirus. Paved sidewalks originally came about as a sanitation measure; perhaps our new-age version will be innovations like smartphone-summoned elevators or "contactless pathways" in work environments.
CUE THE APPLAUSE
In its sixth edition, the Coverings Rock Star Award recognizes 14 emerging leaders in the tile and stone industry—this year, the program honored designer Brennan Broome of EoA Group in Miami, distributor Kristin Schloemer of Calia Stone in Chicago, and fabricator Michaela Steinbach of Mario & Son in Liberty Lake, Washington, to name a few.
Coverings, which has replaced its annual spring event with a digital showcase (Coverings Connected, April 20 to 23), also announced the winners for the 2020 Coverings Installation & Design Awards. Across 18 categories, projects have been honored for outstanding use of tile and stone in both residential and commercial design.
CALL FOR ENTRIES
Kitchen brands Sub-Zero, Wolf and Cove have announced their 2019–2020 Kitchen Design Contest, a biennial event that recognizes professionals for innovation and excellence in kitchen design. In this edition of the contest, the organizers have introduced two new categories: Emerging Professional and Best Use Outside the Kitchen. Entries will be accepted until January 31, 2021—for more information, click here.
Athome magazine announces its 2020 A-List Awards for Connecticut's Fairfield County region. Project submissions across interior design, architecture and landscape design will be accepted until May 19. For more information, click here.
Homepage image: Pieces from Martha Stewart's collection with Wayfair | Courtesy of Wayfair