Last month, Stout announced that it had acquired the 125-year-old local textiles brand Bassett McNab. As it turns out, the two Philadelphia companies have a history together—a deep one.
"Our two families have ties dating back over a hundred years, even before the establishment of Stout in 1927," says Kate Greenawalt, vice president of sales at Stout, who with her brother John Greenawalt is the fifth generation of family leadership at the company. "That history certainly played a part in why we were interested in this acquisition."
Bassett McNab was founded in Philadelphia in 1894, and has long been known as a purveyor of classic toiles de Jouy, large-scale chinoiseries and grandiose floral prints. The Greenawalt siblings' great-grandfather was a partner at Bassett from 1910 to 1928, when he left to start Stout Brothers with his brother. "Both companies were always based out of Philadelphia—the mecca for manufacturing textiles of that day—and family-owned," says John, the company's vice president of operations. "Now, it's come full circle 100 years later."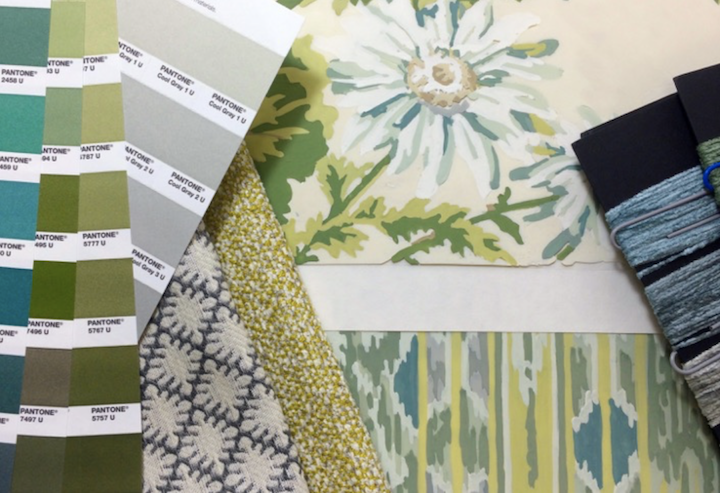 The acquisition means business as usual for Bassett McNab textiles for now, but the Greenawalts have big plans for the line's future. While they plan to continue to stock existing colorways, the duo brought in textile artist Anne Hahn-Waddell—formerly the design projects director at Lee Jofa and creative director at Bailey & Griffin—to reimagine some of the brand's most iconic patterns in a more modern palette. (The existing colorways haven't been updated since Mario Buatta's heyday.)
BOH caught up with John and Kate Greenawalt and Hahn-Waddell to find out how the acquisition came about and what they're planning for the brand's first debut in the spring.
Can you give me a sense of what the acquisition process looks like? How did the opportunity present itself?
John Greenawalt: We actually looked at this opportunity about 15 years ago and it didn't work out at the time. It came back across our desk late last year; we took a good hard look at it and realized that there's still a lot of value in these classic designs that Bassett had. We showed interest, got in there to take a look, made an offer, they accepted and it transitioned very quickly after that.
What made the timing right this time around versus 15 years ago?
Kate Greenawalt: We had launched the Marcus William line about six years ago and have seen great success with it. It showed us that the high-end market is still very viable—and is always looking for something new. We thought that this was a good time to add to our package with something a little more in the classic look.
You said you saw value in the classic designs. What is it about them that still resonates?
John: Good design never dies out. The colors may come in and out of fashion, but we knew that these patterns had longevity. If we could get the right person on board with us, we felt we could take them to the next level and get them back where they belong—in the hands of the designers. That's where we started our hunt to find someone to help us with this project, and that's when we found Anne.
Anne Hahn-Waddell: Chanel will never go out of style—not as long as the brand's creative directors speak to what is modern and where our modern society is. That's how I view these designs: They're well laid out, the way the colors are placed. An interior designer will tell you, 'The bones of the room are there, it just needs to be pulled together.' It's the same with these designs: The bones are there, they just need to be addressed to the current market.
What does it take to bring those designs into the 21st century?
Anne: Color is everything. Prints are really about texture, pattern, color, scale and balance. The scale is there—the designs are absolutely gorgeous—so it's just a matter of the amount of color, and [finding] the [right] colors that seem to speak to the larger-than-life style.
What colors were in these patterns that were not salable today, and what did you pivot toward?
Anne: The last time these patterns got a dusting off was in the early to mid 1980s—think of Mario Buatta, in an intense palette of reds, greens and blues. Now, people want colors that feel comfortable, that make you go ahhh when walking through your home. I think the best word for colors for today's market is "comfortable."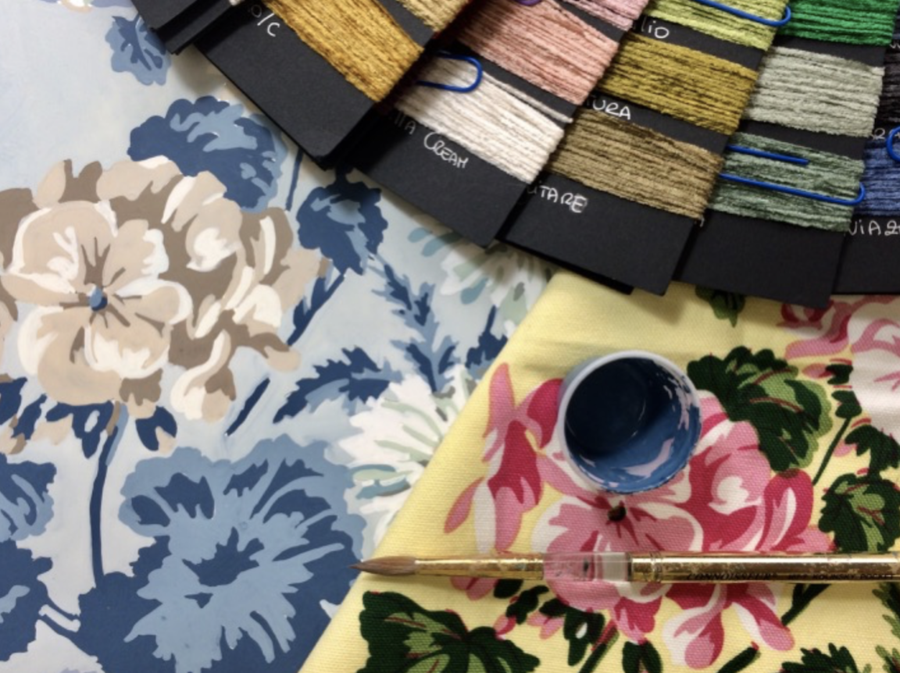 Do those old colorways still exist?
Kate: We'll continue to support the line as it is, we're just looking to put a new face to it. There are still some fabulous colorways that will be available forever. I think some we will weed out, and we'll keep the ones that are classic.
How much was there when you acquired the company? And how much of that will you move forward with?
Kate: A lot and a lot.
John: They have a lot of product, both prints and wovens, and there's certainly some designs that will not work in today's market that we'll need to weed out. We will keep the strong patterns, we will keep some of the colorways as is, and we will continue to produce new colorways of those existing patterns. We'll also incorporate new textures and wovens, really developing new collections, with some these classic, iconic designs as a starting point.
What is the personality of this brand moving forward? What will the hallmarks of Bassett McNab be through your creative lens?
Anne: Classic American design. One of the things that I took a look at was the work of designers like Dorothy Draper, Billy Baldwin, Sister Parish and Albert Hadley—all of those wonderful designers who took a European style and made it distinctively American. That is where I would love to take this brand.
How will distribution work?
Kate: It will still be to the trade—a showroom and road line through our sales force. We have no future ideas of going direct-to-consumer or anything like that. For the time being, at least through 2020, there will be no real business changes in terms of how Bassett operated with their sales force and their showroom. It's almost a separate distribution channel for us.
John: But putting Bassett in Stout's showrooms quadrupled the exposure for the line. It's going from 10 showrooms to 40; we're giving it a much bigger audience.
There's already a huge built-in audience we would imagine. What's next? And how do you introduce something like this to your existing Stout clients?
John: We know that these patterns are going to be reintroduced to half of the design community, but they're going to be brand-new to the other half. It's not uncommon for a younger generation of designer to say, "Bassett who?" That's an opportunity for us to really present to them what the brand is all about, and to show them that there are these iconic, classic designs out there that they can incorporate into their projects. It will also be so great to reintroduce them to designers who have used them in the past. We have designers calling now that have heard about the acquisition, and they're so excited to see the line again and to see what we come up with for our new collection moving forward.
When does this new refresh start to roll out in showrooms?
Anne: We're hoping for an early spring release. It usually takes at least six months, maybe a little more, to get everything coordinated, and to get all of the wonderful hand-printers, hand-screeners and weavers on board to put together a collection. If we can do it in six to nine months, we will open Champagne bottles. What's important to me is that there's this commitment from John and Kate to doing it the right way—and to pushing the envelope a little bit.
John: For Kate and I as well, it's really seeing the excitement from the designers that excites us. Every time you walk into a design studio, it's "What's new, what's new?" We have the opportunity to show them something new. Even though these are timeless designs that have been around for decades, it can be something new when they take another look at it. I think that's really the most exciting part about this whole thing.