It's Tuesday, the best day of the week—at least, for the BOH news desk. In our weekly digest, find a roundup of need-to-know (and nice-to-know) news.
BUSINESS NEWS
There has been a significant management change at Bed Bath & Beyond, reported HFN. President and chief operating officer Eugene Castagna left the company; his position was eliminated following a review of the corporate office cost structure that ultimately ended with a reduction of 7 percent of the corporate staff. Castagna was named president last year. (In other company news, BOH columnist Warren Shoulberg sat in on Bed Bath & Beyond's annual shareholder meeting last Thursday, where new leadership was surprisingly candid about the challenges ahead.)
Sherwin-Williams's second-quarter sales are up by 2.2 percent, reported Furniture Today. The total net sales were $4.88 billion. The company said the uptick was because of more sales in paint in the U.S. and Canada, as well as the success of increased prices and a new customer program that launched last year.
In response to a reported shortage of skilled labor, Benjamin Moore has given $100,000 in grant money to the Painting Contractor Workforce Development Initiative and TEACH Construction to develop a painting contractor workforce development initiative that welcomes both beginners and those in the trade.
Walmart is piloting a driverless delivery program, reported Total Retail. Working with autonomous car company Gatik, Walmart will deliver orders between two stores on a two-mile route in Bentonville, Arkansas—the first and most obvious place to test such a program after the state made it legal for cars to drive themselves in March. Walmart's vehicles will be staffed during test runs.
LAUNCHES, COLLABORATIONS AND PARTNERSHIPS
Designers Caroline Rafferty and Julie Cummings have launched the website for their Palm Beach, Florida, shop, The Grand Tour. It has more than 500 vintage and contemporary products available for sale, including works from designers Sergio Bustamante and Gio Ponti and ceramicist DeMuro Das. The website has a trade program that comes with member discounts.
Just in case it slipped your mind, don't forget to tune in to the grand premiere of Flip It Like Disick on August 4 at 9 p.m. Designer Willa Ford teams up with Scott Disick of Keeping Up With the Kardashians fame to make over homes and help out pals like French Montana and Steve Aoki.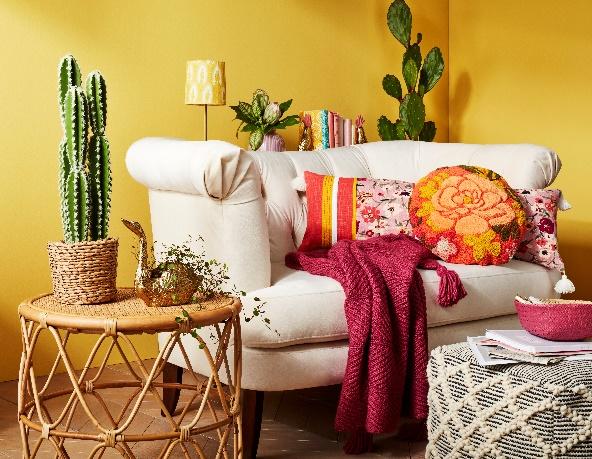 Designer (and TargetStyle expert) Emily Henderson has picked her latest favorite designs for Target's new Opalhouse collection, including its floral appliqué throw pillow, brass peacock lamp, seagrass pom-pom basket, comforter, stoneware vase, candle holder, framed canvas and faux greenery. Among the outdoor barbecues and lazy days that you've (hopefully) been able to enjoy recently, they may be just the right fit. "Art is an important part of decorating any home—and it doesn't always have to be expensive," Henderson said in a statement. "You can find a ton of unique artwork at Target at an affordable price that speaks to your personality."
U.K.-based wallpaper manufacturer and designer Graham & Brown is debuting its full paint collection in the U.S. this September. Nearly 400 hues, as well as a new 2019 paint card made up of 90 curated colors, will become available domestically via the brand's website and app.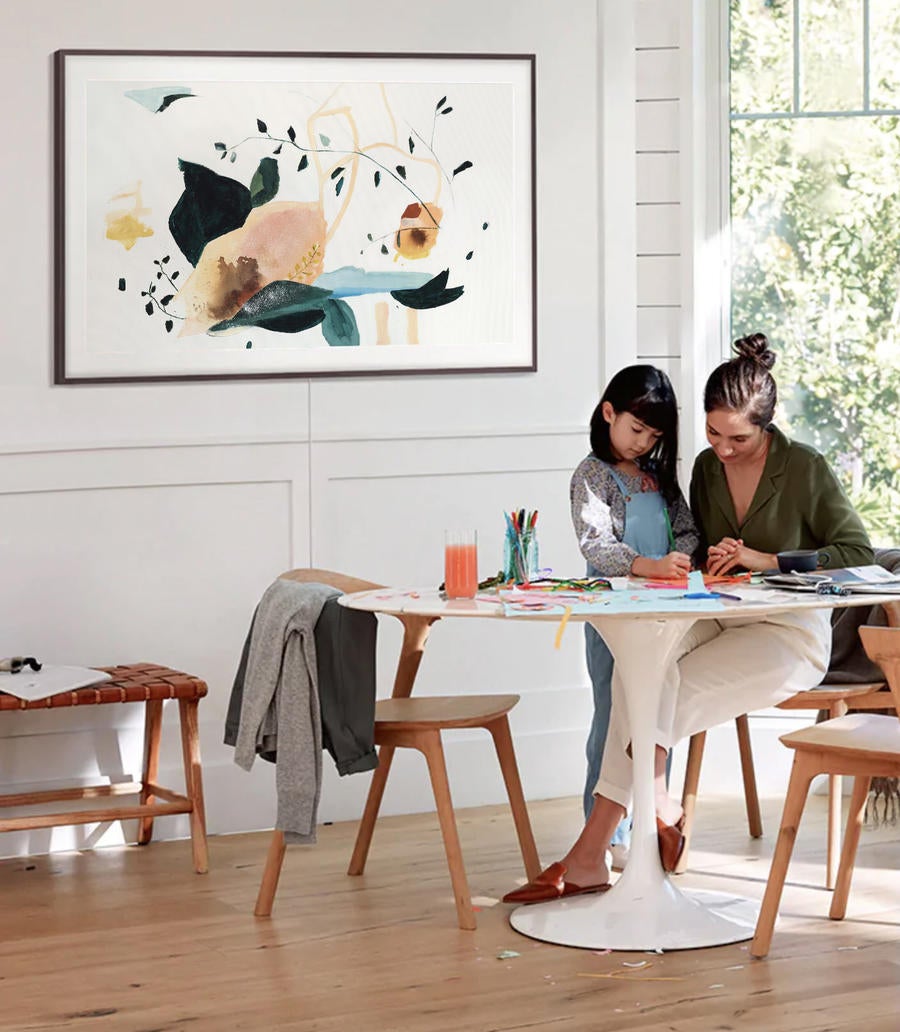 Minted has debuted licensed collections with Samsung and Method. Samsung's 2019 Frame TV has digital fine art from Minted's assortment that go on display when the device is turned off, while the Method x Minted collaboration, available at Target, includes cleaning products with Minted designs on the labels and corresponding fragrances.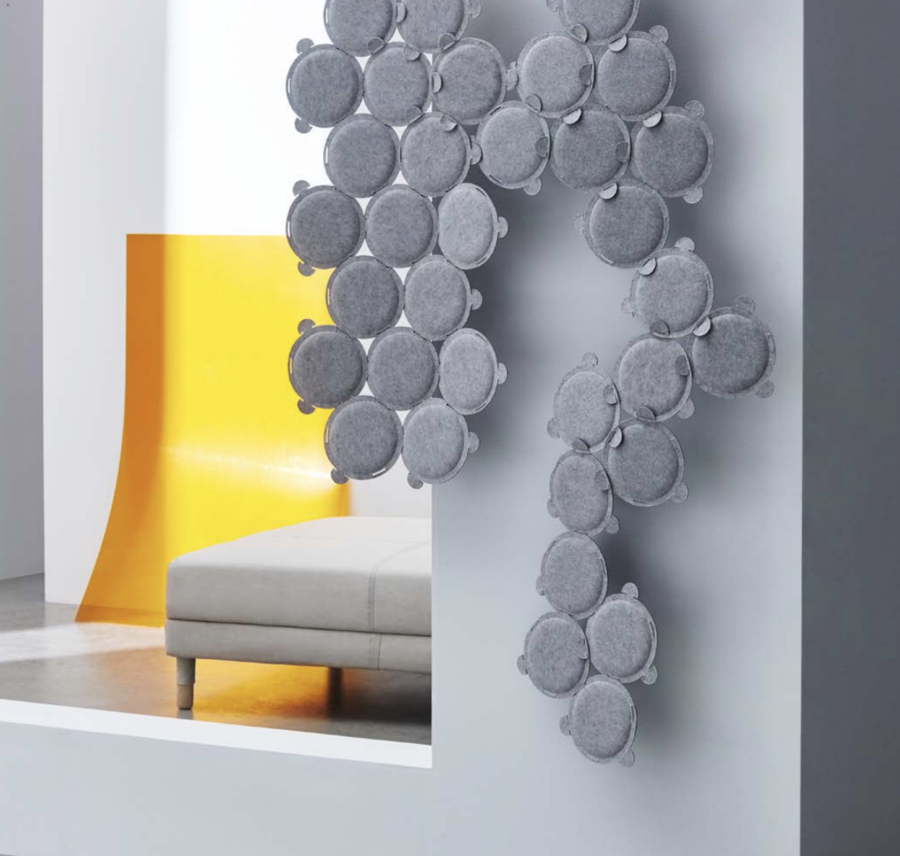 Yesterday, IKEA released its 2020 catalog, featuring six different homes styled based on data gathered from the company's annual "Life at Home" report. This year's catalog theme is a good night's sleep, and features the Symfonisk collection of smart speakers (priced at $99 and $179), a collab between IKEA and Sonos that will hit stores in the U.S. next month. And in other IKEA sound news, the brand will take its first stab at a noise pollution solution in 2020 with Oddlaug, a collection of sound-absorbing panels.
Mat Sanders and Brandon Quattrone of Consort Home have a new licensing partnership with Wendover Art Group. It's a 200-piece assortment, a mix of vintage, European-inspired art with California-style pieces, some of which are hand-painted. "With our design clients, we've found that people are willing to take risks," Quattrone said in a statement. "They are just waiting for permission." The collection is available online now, following a debut at Las Vegas Market over the weekend.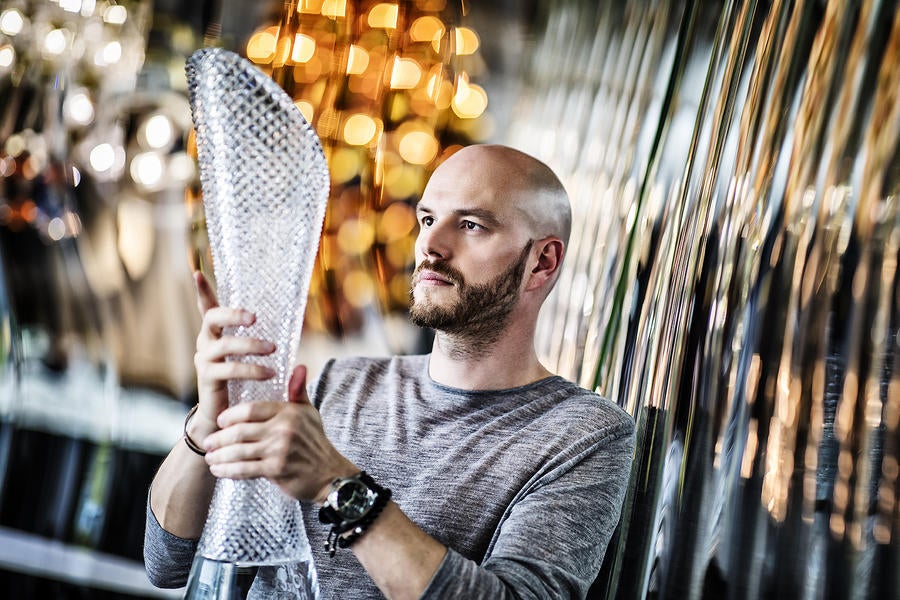 Czech glassmaking company Lasvit worked with Czech automotive manufacturer Skoda Auto, a partner of Tour de France, to design the trophy given to the winners of this year's race.
Kravet has debuted new augmented reality technology for its customers. The AR service is available on all Kravet Edge furniture, allowing clients to click to "view in my room" and place the object via any device with a camera that can access the company's website. Soon, AR will be available on all of Kravet's furniture frames.
OPENINGS, AUCTIONS AND EVENTS
Save the date for the fourth-annual Salone del Mobile.Milano Shanghai, scheduled for November 20 through 22, with 125 exhibitors set to participate.
In celebration of the street's new landmark status, the New York chapter of the American Institute of Architects is hosting monthly architectural guided tours on Madison Avenue beginning August 1. Tickets are $20 and tours run until November 2.
RECOMMENDED READING
Another doozy of a headline from Total Retail: "D-to-C Success: Forget your product and focus on operations." Over half of brands around the world are aiming to launch direct-to-consumer platforms, marking a big change in how products are sold and perhaps disrupting established industries. "But perhaps the single most important reason behind the growing popularity of the [direct-to-consumer] approach is the direct response to recent shifts in consumer online buying behavior, which indicate that shoppers, as much as 81 percent of them, want to buy products from brands directly," reported Derek O'Carroll.
"Has erotica photographer Robert Mapplethorpe's moment passed?" postured The New York Times. While his photos are still considered sexually explicit, they were once shocking, but no longer. Before (and shortly after) the artist died of AIDS at age 42, Mapplethorpe cemented his place in political history with a Congressional uproar over one of his exhibitions and a criminal obscenity case in Cincinnati. "But how do his photographs stand up?" asked Arthur Lubow. "What made the sex photographs novel and controversial was their glimpse of uncharted and arcane S&M practices. With few exceptions, they read today like lifeless advertisements." The new exhibition, "Implicit Tensions: Mapplethorpe Now," is on view at the Solomon R. Guggenheim Museum in New York through January 5, and features the work of six LGBTQ artists who were influenced by Mapplethorpe but take a more modern, relevant and socially aware approach.
CUE THE APPLAUSE
The American Society of Interior Designers named recipients of its 2019 Ones to Watch program, which recognizes young design leaders. Among the 20 winners were Susanne Angarano of Ashley McGraw Architects, Riz Walker, Georges Fares, Megan Dobstaff of Gensler, and Arjav Shah of Perkins + Will. Eight of the winners were selected to participate in a leadership development program.