Graduation season is upon us, which means that soon, many budding interior designers will join the industry. Students graduate with a deep understanding of design solutions and technology, but the reality is that they may not have ever stepped foot in a design center. As trade brands look for ways to foster relationships with new customers, investing in emerging talents before they enter the field and teaching them the ins and outs of trade-only shopping is one surefire way to cement an early bond and become the go-to resource for the designers of tomorrow.
Beth Greene had a vision when she helped start Kravet's Design Grad Program, spearheading the marketing side of what would become one of the New York–based company's most important initiatives. The program was born out of Ellen Kravet's passion for education; the executive vice president of marketing and strategic branding explained to Business of Home how that move has benefited everyone who ever got involved along the way.
The program began six years ago, with the goal of partnering with design schools that Kravet wanted to engage with in order to help design students transition into working in the industry. "We're committed to helping support the future careers of future interior designers," Greene says. "[Supporting] students and the future of our industry is something Kravet is very dedicated to. That is the reason why we will constantly finesse this program."
From a marketing perspective, the clear benefit to Kravet establishing relationships with interior designers early in their career is to develop brand loyalty. But there's no easy way to measure that success—students who create accounts may not end up in interior design at all, and there's no guarantee they'll use Kravet post-grad (though at least one student BOH spoke with insists she will, given that she's used it for nearly every project for the past two years). "It's difficult to get a good pulse," says Greene. "But we started small, and now everyone [in the office] has jumped on board." Despite the lack of any formal measurement on the benefits the investments returns to Kravet, the relationships that the company has built with students and faculty are priceless.
Eventually, Greene hopes the program will expand to offer mentorships. "We'd love for Kravet to have a stronger presence in the curriculum of residential interior design."
The New York School of Interior Design was the first institution Kravet approached as an experiment. Now, the company works with 93 schools, including community colleges, across North America, with over 1,000 student accounts in its trade program. "Every school with design students is eligible," says Greene. "It doesn't matter what level they're at." The Kravet Design Grad team has built relationships with deans, department heads, professors and students at each school. On a monthly basis, Kravet receives a report of how much activity the students had with the brand, as well as who's graduating. Those who do graduate answer questionnaires on where they're going and what kind of jobs they get.
The program includes invitations to exclusive events, field trips, guest speakers, networking and, most importantly, the ability for students to create a designer account while in school that automatically transfers to a professional account upon graduation. "We compare it to a checking account at a bank—you have one in high school, you have one in college, and then that automatically transfers into a big-person account," explains Greene.
Greene says the beacon of the program is the Design of Distinction award that Kravet sponsors and co-hosts with schools. It has created opportunities for students to hone their skills and make formal presentations, although sometimes there are no winners—everyone's work is exceptional, so they all get participation certificates. Ultimately, whether there are winners or not depends on the classroom and the needs of the professor. "A professor will send me their top 10 designs and we'll look at them," says Greene. "We often have to write back and say we can't choose a winner. They're all so good."
Ultimately, the true prize is the relationship a student can build with real industry contacts. When curriculums focus on commercial and hospitality design, the few who desire luxury residential careers need to think outside the box when it comes to networking and learning. That's where Kravet comes in.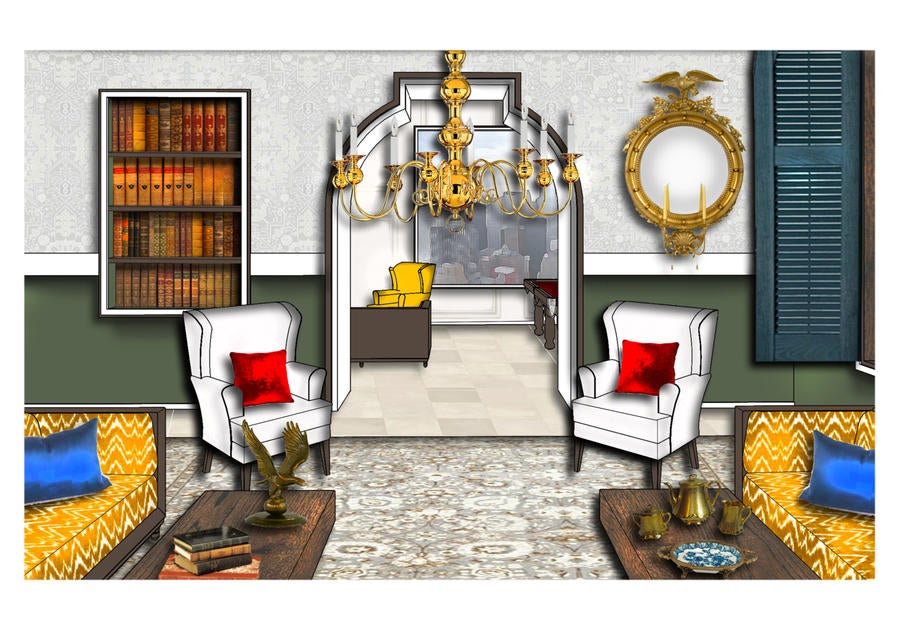 Courtesy of Francesca Cauce
Former Florida State University student and Kravet Design Grad program alum Francesca Cauce has the company in her blood: Both her parents work for the company in Miami, so when she was an interior design student at FSU, her father helped start the very first Design of Distinction. Her own entry from 2015, which she describes as federalist contemporary (not her style—students picked aesthetics out of a hat), helped solidify that residential interior design was what she wanted to do. She went on to get a master's degree in decorative art history at Sotheby's in London. For nearly two years, she's worked as a junior designer at Thom Filicia in New York. "I know Kravet's lines very, very well because I've grown up around it," Cauce tells BOH. "But there were 40 students in my class, and Kravet was the only brand that let us use samples."
Learning how to note product numbers, order samples and work in showrooms were skills Cauce and other students didn't—and typically can't—learn in a classroom. Her curriculum, as many traditional ones do, focused more on Herman Miller–esque, commercial-based workplace design. She became an expert in AutoCAD and Revit in class, and learned how design centers work through Kravet. "They were more about teaching students the process," she says. "The side of the industry schools don't focus on."
At the Savannah College of Art and Design, in a studio class for juniors, Kravet had the students design a three-bedroom house with CAD drawings and floor plans using the brand's furniture and textiles. "Part of the program we're creating wants to teach these students how to present their work so that when they present in front of clients or in job interviews, they know how," says Greene.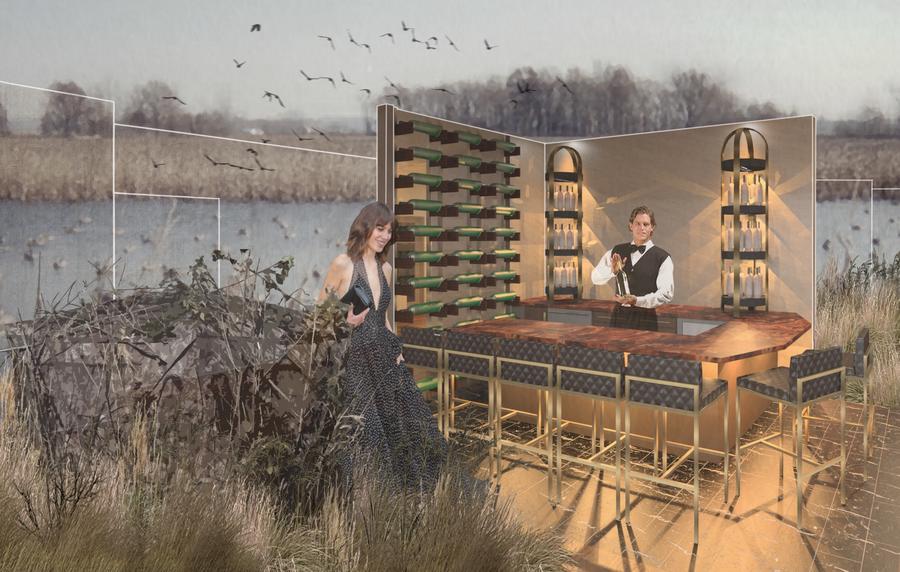 Courtesy of Margaret Daniel
Margaret Daniel, a teacher's assistant in the studio, will graduate from SCAD at the end of the month. She began working with Kravet when she entered its SCAD Design of Distinction contest in November 2017, her junior year. Her Savannah-inspired textile design was a finalist. It was when she volunteered at the black-tie gala for Southern Style Now, an annual showhouse in Savannah, that she met Greene, special projects manager Karen Lerman, and principal Scott Kravet. From that meeting, they invited her to New York to see their showroom, tour their archives on Long Island and meet with other designers in the city. Scott Kravet reviewed her portfolio himself.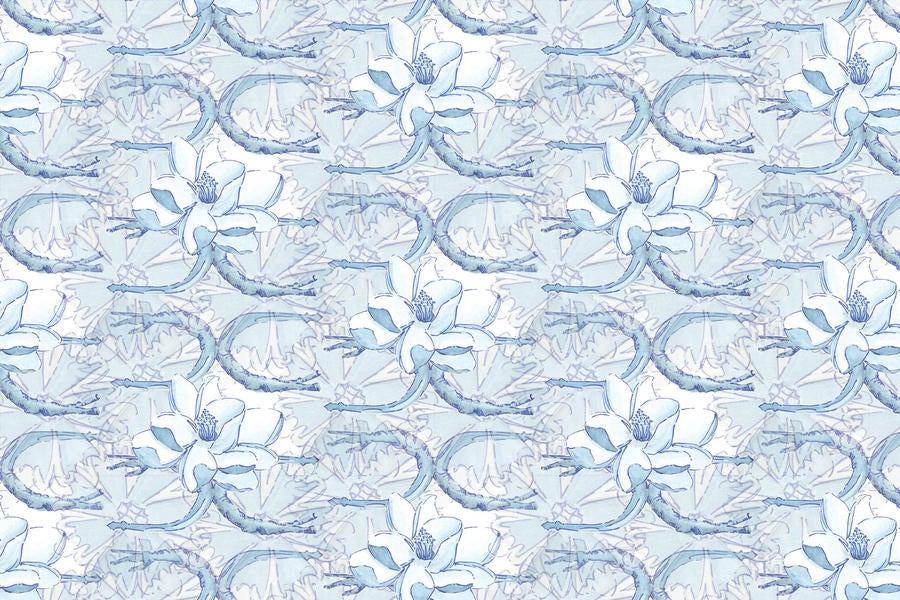 Courtesy of Margaret Daniel
Daniel has wanted to work in luxury residential design since she was in sixth grade (the first design book that she bought was Jonathan Adler on Happy Chic Colors, which came out in 2010). Inspired by Carleton Varney and Miles Redd, she hopes to one day design her own homeware and textiles in addition to running a full-service firm. "Our education at SCAD is phenomenal and I would not go anywhere else," says Daniel. "Our curriculum has been geared more toward commercial design, so this project with Kravet is a big deal."
Though Daniel has had a few job offers, she's spending the next six months traveling through Europe to meet with designers and visit historic manor homes and gardens ("I'm 80 years old internally, so this is very exciting for me," she says.) One pit stop? The GP & J Baker archives in Poole, England.