In early November, design lovers flocked the Charleston for the third-annual Southern Style Now festival—true to its name, a celebration of all things Southern style and design. (The event's first two iterations took place in New Orleans and Savannah.) What is happening in Southern style today? Part-time Charlestonian Cator Sparks was in town to take in the lectures, panels, keynotes and more, and the editor and writer shares his takeaways with Business of Home.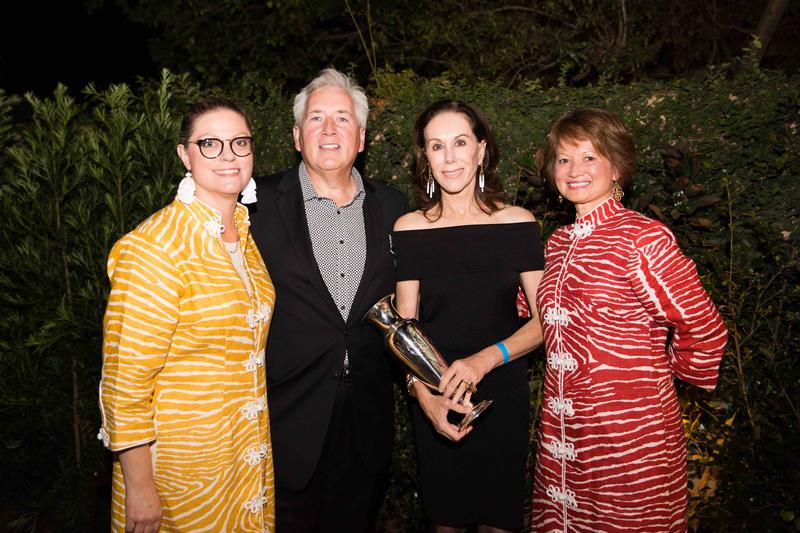 On glamour: "Glamour has a mystery and nothing is mysterious anymore thanks to social media," said Wendy Goodman, design editor at New York magazine, in a keynote with interior designer Hutton Wilkinson, moderated by Flower magazine editor in chief Margot Shaw. "The idea of glamour and luxury is having something made just for you," put in Wilkinson. "And you don't have to be a millionaire to have a dress made or pillows made at your local alterations shop."
On the ups and downs of social media: Interior designers Angie Hranowsky (based in Charleston) and Charlotte Lucas (based in Charlotte) gave social media a thumbs-up in a panel on design in the digital age. "It has brought us clients from all around the country," they both said. The down side, said Hranowsky, is the constant requests for resources: "When someone messages on Instagram about a ceiling color from a house I did five years ago, I just tell them it was custom," she admitted, which got a laugh. The two also touched on new ways to shop, including the plethora of lower-end resources online—which neither saw as negatively impacting their businesses. "It's great for people who can't spend a load of money on their home and I am glad people have those options," said Hranowsky. "[I don't] worry about my clients skimping on cheaper options—they know what they want and respect the quality of pieces we find for them," said Lucas.
On high style: Miles Redd walked the audience through his rise to fame with slides of his inspiration, including the works of photographers Richard Avedon, Cecil Beaton and Irving Penn. He also showed photos of his first apartment in New York, inspired by Billy Baldwin's work for Cole Porter ("I like to borrow from the best and apply it where I can"), and an 18th-century painting he bought when he first moved to the city. The piece magically made the rest of his apartment look much grander, he recalled—and still has a place of pride in his current townhouse.
On trends: A panel of designers and editors talked trends and traditions. A few fads they're ready to pass on? Millennial pink and barn doors in interior spaces earned top billing. But some styles endure—like a good slipper chair. "Billy Baldwin used them and so should you," quipped British type designer Matthew Carter. Later, Charleston-based interior designer Olivia T.M. Brock admitted to getting caught up in the wave of unlacquered brass hardware, and New York–based designer Ashley Whittaker discussed what she calls "sacred cow furniture"—the pieces you will never part with. She encouraged the crowd to incorporate trends around these cherished items to create balance, rather than going all-in on of-the-moment styles.
On Southern charm: There was a packed house for businesswoman and designer Carolyne Roehm and Southern Charm star Patricia Altschul's keynote discussion. While too many people asked Altschul about the next season of the reality show, the crowd got some good design stories out of both women. When asked about mentors, Roehm spoke of Oscar de la Renta and Bill Blass (both of whom she discusses in her new book, Design & Style: A Constant Thread). Altschul regaled the audience with tales of Mario Buatta: "He invited me as his date to meet Charles and Camilla at Buckingham Palace and he brought his famous plastic cockroach, Harold," she recalls. "He placed Harold on an 18th-century commode and the Duke and Duchess found it hysterical." Another royals-related discovery: "Mario and Camilla knew each other well since she once worked at Colefax," said Altschul, before cocktails were served.
On the realities of renovation: Julia Reed was wonderfully deadpan as she held court Saturday morning in the Garden & Gun offices, where cocktails were flowing before 11 o'clock. Reed, a contributing editor at the magazine, led a panel that included architect James F. Carter and design duo Bill Brockschmidt and Courtney Coleman, to discuss the making of her own Mississippi folly. (Among Reed's many one-liners was her crack that she's really building a house for her dog, Henry, since her mother's cat always attacks him when they stay with her.) On a serious design note, Carter reminded the room that when focusing on Southern style, the goal is not to repeat the past, but to interpret it.
On making the world more beautiful: The festival culminated in the Traditional Home Showhouse Gala, which celebrated the work of 22 designers who spent months renovating the stunning 1840s Greek Revival home of local designers Michael Mitchell and Tyler Hill, on loan, as it were, for the duration of the showhouse. The highlight of the evening was when Roehm received the Gerrie Bremermann Lifetime Achievement Award for Southern Design. "We are all in this world to help people make a better and more beautiful life for themselves," she said in her acceptance speech. "That is something we can all celebrate."