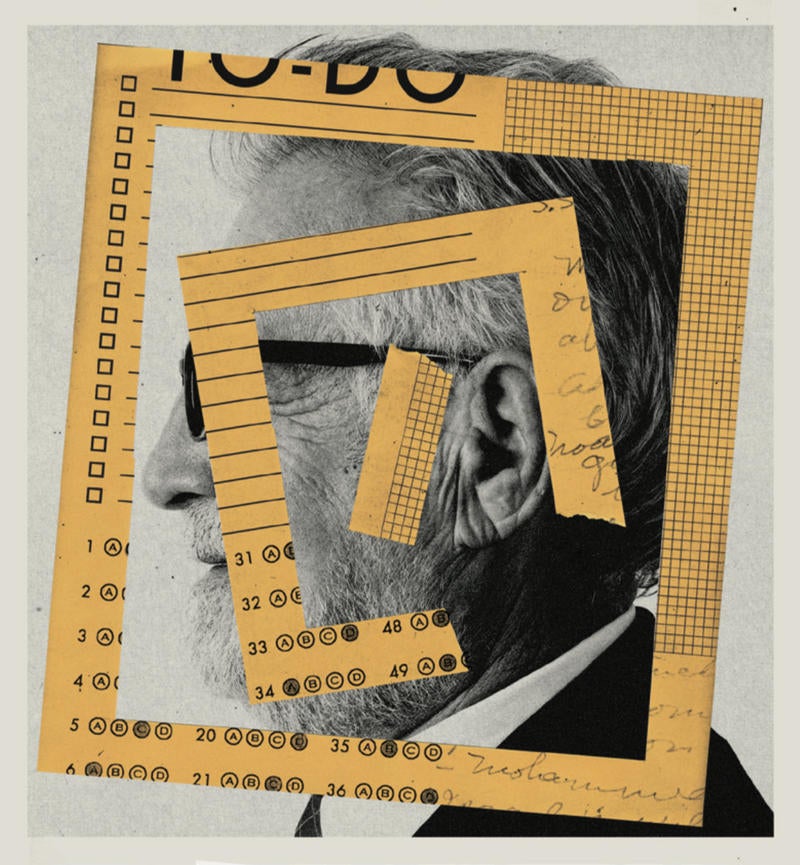 The design challenges of the 21st century manifest themselves starkly in the halls of design schools, where Generation Z is coming of age. In wide-ranging conversations with deans and department leaders of top institutions across the country, we sought insights on the salient issues of the day—from where technology fits into modern curriculums and how students are finding their place in the professional world to new ways of thinking about diversity in design education and why some programs are rethinking the role of critique.  
Let's start with today's design students. Who are they and what are their goals?
Ryan Hansen: The upcoming design student is collaborative and multifaceted. These are digital natives, so they thrive in a technology-oriented learning environment. They also highly value diversity and social purpose in all aspects of their lives. These students want to work in environments where they feel they are a valued part of something bigger, for firms that have clear values and strong direction. They gravitate toward employers that seek to engage them in a variety of roles within a firm; they want a range of experiences.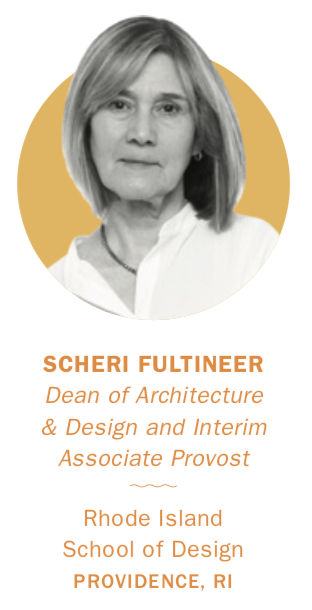 Scheri Fultineer: Increasingly, I see our undergraduate students coming in not really knowing exactly where they're headed—which is not that surprising because nationally, our primary and high school programs have decreased their art offerings. They arrive compelled to be artists and designers, but are less informed about what is out there because they've had less exposure.
Ellen Fisher: But at the same time, design students today are more aware of design as an element of everyday life, from fashion to makeup to video to set design. They see it on television and on Instagram. They come to study interiors knowing that this is what they want to do—design is not their second choice after fine art, it's their first choice.
Joel Towers: Their pathways and influences are much more varied too. They don't have brand loyalty, they jump around a lot, they're not as Eurocentric as previous generations, their attention is distracted through social media—and as a result of that, their eyes are open to all sorts of ideas and possibilities that prior generations never had access to simply because the information wasn't available.
This generation has a level of social awareness and feels a responsibility to act in ways that perhaps prior generations didn't—they're well aware of the fact that they are the last generation to be able to solve some of these complex problems around climate change, and the first generation to really be impacted by it. They look to people like me, in their mid-50s, and older, and say, "Boy, you've really screwed it up. You had all this time to do something, and what did you do? You accumulated wealth. You created more products." They don't want to do that. They want solutions, and they know that recycling isn't the [only] answer. There is a paradigm shift happening in terms of where they see value, how they collaborate across time, space and culture.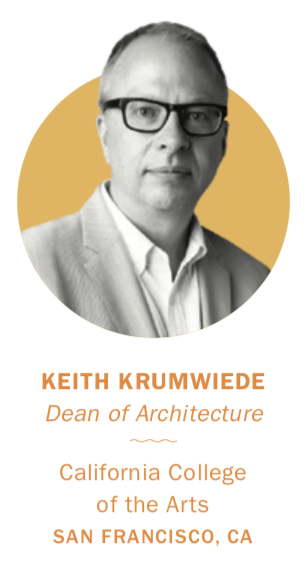 Keith Krumwiede: The big shift I see is that their focus is more about others and less about self. They understand that they have agency in changing the world through their work. They're less interested in purely theoretical exploration; they want to see the things they designed get made, and they want those things to have social consequences. They feel like they need to make their future because the generations ahead of them have not done a good job of staging it for them. It's not enough to make beautiful things anymore. While they are still interested in good design, they also want those things to make the world a better place.
Fultineer: Their future is also wide open: They might be an architect, or they might graduate and never practice in a normative way. We have landscape architects who decide to become community activists for more green space. Or they have a very mixed practice where they do a little bit of everything. Our iconic story is Airbnb, which was started by two of our students, one of whom was a furniture design major. Many of our programs still require a lot of disciplinary core courses, so students leave with a good education should they choose to pursue that discipline—but the rigors of preparing for that discipline prepare them to do many other things too.  
What's different about the professional landscape today versus, say, 10 or 15 years ago? And how do you tailor curriculums accordingly?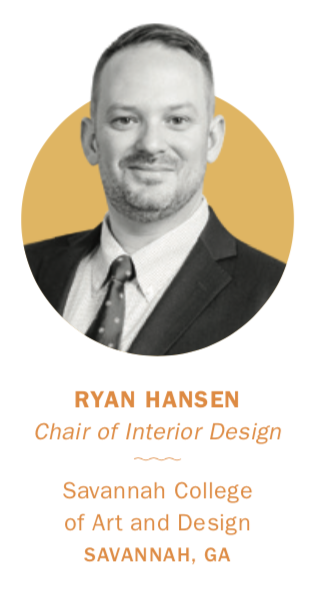 Hansen: Technology is being integrated into our curriculum in meaningful ways and we have put great emphasis on the professional and communication skills that directly correlate to current industry needs with all of our degree programs.
Lisa Waxman: Space planning continues to be important and evidence-based design has become much more of a focus. Universal design—by that I mean designing for people of all abilities—has been at the forefront for 20 years now, and we continue to emphasize that. We're also looking at how important it is to collaborate, to be able to work with others. And related to that is a real focus on taking a multidisciplinary approach to teaching and learning. We're trying to reach out to involve students from other subject areas on campus—nursing students when we design a health care space, for example. They often have expertise that we don't, and we can learn from others in different fields.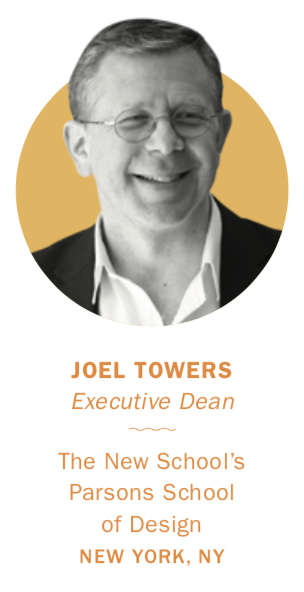 Towers: If you are trying to address the 21st-century challenges of organization, health, well-being, sustainability and technology, you can't teach design the way the Bauhaus taught design, because we no longer sit in little silos of material or discipline. Everything is crossing over. It's really home in whatever form, whether that's public housing or a single-family house for a wealthy client. There should be an approach to this work that is about the ecological [impacts], health, and the connected nature of living today. And it should be about well-being and a right to housing in its broadest sense.
Edward Mitchell: Architects used to stop at the outside of the building and the interior designer picked up on the inside. But anyone who works in a practice today knows that those old divisions don't exist the way they did 50 years ago, or even 10 years ago. You're bringing engineers, philosophers, architects, designers, and fabric people to the table at the same time to creatively come up with an agenda that meets the needs of clients or the public.
Krumwiede: In design studios, we recognize that we have to teach tools and methods, but we also challenge students to address how they utilize those tools and methods. So rather than handing students a problem and asking them how to solve it, which may be a more traditional pedagogy, we might say, "Here's a situation. Is there a problem?"
Sometimes asking them to identify how they might find a role for themselves as a critical and creative participant within a context or situation is just as valuable as teaching them to solve a problem. Earlier studios have more prescription, but even the way we teach history and theory touches on that notion. Rather than teaching a single historical line that feels almost inevitable, we'll say, "At this point in time, here were the choices that were available, these are the choices that were made, and these are the choices that were not made, which you may not be as familiar with." Every step of the way, we're showing them moments where human agency has made change.
Towers: Students will graduate into fields. So the interior designer, architect, interface designer, communication designer or industrial designer who comes out of our programs is going to end up working in a firm. To make our students employable in those spaces, we need to have a commitment to depth of disciplinary knowledge married with a breadth of cross-disciplinary experience, exposure, openness—what we sometimes call "transdisciplinary" study.
The Bauhaus curriculum was represented by a diagram in the shape of a circle, with architecture at its center. It was a closed, platonic form with an intentionality and directionality toward its center that accommodated no variation. And that made sense in a time when discipline, guild and craft were contained, and where the early stages of an industrializing society was looking for people who could essentially push that forward as a cog in the machine. You had your role to play. But that is not the world we live in today.
So for us, the real challenge is to answer the question, What does the diagram of a curriculum that educates a student in that postindustrial or newly industrialized world look like? Our answer is: It's a spectrum. It needs to have boundaries—there are edges. If you go too [wide], you're going to educate people who are not talented enough to work in their field because they've been too broadly educated; if you think too deep, they're never going to be able to look up and see that there's more out there.
Fultineer: What is so different about young designers today is that they're motivated by an idea of interdisciplinarity. I think at the heart of it, they have a broad interest in the world and are trying to understand how their work can address a lot of different issues. I'm the dean here of seven departments—apparel, graphic design, furniture design, industrial design, and then architecture, interior architecture and landscape architecture—and even though each of them operates with great disciplinary depth, there is a sense that what is most critical in the world today causes students to take on some really broad problems and issues that don't fall neatly within the realms of any one of these disciplines. I find it exciting, frankly, and it leads to incredible dialogue here. Students are very hungry to get additional skills across what have previously been boundaries between disciplines—and in doing that, they realize there's a whole other way of working.
Rather than going to overtly interdisciplinary degrees here, what we're finding in conversations with our students is that, for many of them, being interdisciplinary means having contact with students from different disciplines and being able to find working space to collaborate—places where they can interact that aren't exclusively in a program or course. About five years ago, we initiated the idea of a co-work lab, which is a shared shop. It was designed to be the place where you experimented across disciplinary boundaries—and it's also turned into a place where we've experimented with how to restructure a learning experience that takes place around shared equipment and knowledge about novel ideas that this equipment makes possible.
It's far more nuanced and sophisticated than that, but what has come out of that is an understanding that not all of this has to be programmed. We realized that offering an interdisciplinary program probably wouldn't be getting to the heart of what the students are really looking for. What's coming out of giving them opportunities where they're self- directed in crafting the exchange are generative, provocative things I don't think any of us could have imagined. In one of our nature labs, a landscape architecture student and an industrial design student have begun looking at ways to use algae to make a textile that is both water-resistant and completely biodegradable.
Mitchell: The best thinkers are always reinventing themselves, and our role is to encourage students to take up that challenge and not be afraid of it. Reacting to changes in the field is critical these days—I mean, the world changes under their feet every six seconds, and I think that can be disconcerting for them as well as exciting. You have to create a safe place for them to play and experiment, but you're still trying to expose them to the world.
How do you balance theory and creative exploration with real-world skills?
Mitchell: Students come to design school because something in the visual arts enticed them. So their first-year studio includes abstract compositional exercises—they learn how to work in the woodshop, see a film nearly every Friday with a lecture by one of the faculty, look at artwork, and do a dance performance at the end of the year out on the green here on campus. It's a full dive into what the visual arts are. We try to tap their innate curiosity and talent, but also steer them to new ways of looking at the world. That curriculum gradually builds toward professional criteria—how do you create a budget, how do you deliver a product, how do you market things? We don't want to lose that curiosity or inventive way of looking at things, but we also [need to teach students] to recognize limitations and opportunities in real projects.
Fultineer: Our program has a series of design studios, coupled with courses in structures, spatial perception, building technologies, representation technologies. The sequence of studios and courses takes on different topics that operate at progressively increasing levels of complexity and scale. In the course of a student's trajectory through the program, they will also be introduced to different types of applications, including residential, commercial and healthcare. There's a faith that students can tune themselves in their early years of their practice to more specific applications if they choose.
Waxman: Our first-year students focus on design fundamentals, and then in their second year are introduced to real studio work. That's when they start doing small projects to get used to scale and space—they begin with a tiny, single resident occupancy apartment, followed by a small museum dedicated to a religion other than their own, which includes a small worship space. In the spring, they take a furniture design class that allows them to use some of our digital fabrication equipment.
The next fall, they design a learning space project, followed by a fairly large residential project, which usually has a focus on aging in place. The following spring semester, they design a large workplace followed by a quick, fun retail project. In the fall of their senior year, they do a big health care project. That's followed by a small project focused on a special population, which is almost always social justice–related—a shelter for women escaping domestic violence, an immigration center for small children. Finally, in the spring of their senior year, we culminate the undergraduate program with a large hospitality project—it's a hotel, restaurant and bar, so they design the whole first two levels and then one of the suites. And all along the way, we're teaching history, theory, environment and behavior, sustainability, lighting, professional practices, construction systems and documents, and some 10 to 12 different design-related software programs.
Mitchell: Our interior students do a capstone project that takes a full year—a research project in which they take on a topic area with guidance from our faculty and outside critics. They write a fairly lengthy text, which is published in book form, and complete the project with working drawings, which they present at the end of the year. Since I got here two years ago, we've tried to target that toward a number of issues—last year, one group looked at affordable housing in Cincinnati, working with a public-private development firm to learn financing, and completing the construction documents and design for 160 houses. Another studio looked at the future of work; a third is working with the Cincinnati Zoo, looking at heavy timber construction as a research module.
Hansen: SCAD students are exposed to a variety of market sectors in our studio sequence. For their final two studios, also called capstone projects, students work with faculty and outside professionals to shape a project that reflects their individual career aspirations. It's often in the studio process where they find that something they had never considered, like health care, is a very exciting and rewarding market sector to be working in. You see the light bulb go off when they really get into a project—and then they go on to have wonderful careers in that sector.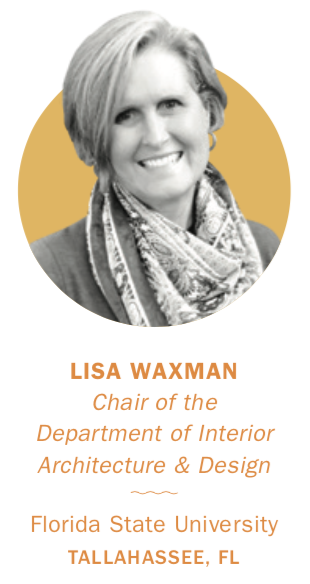 Waxman: When they come into our program, more than half of our students want to be residential designers. That's what they know, that's what they've seen on TV. Only 10 percent still want that by the time they leave. We have them for four years, and in that time, they get excited about the health care project they did, or they love the retail project that they worked on. We've also had a number of students, at least half a dozen in the last five years, who are now working specifically in lighting. They're working for firms that specialize in engineering and lighting, from lighting the outside of buildings, to two students now who are working down in Orlando doing really specialized lighting for Universal and Disney.
Fisher: Most of our students also have internships while earning their degrees. At the undergraduate level, we don't require internships, but our MFA students have two summers of experiential learning. These courses are groundbreaking because they really get a taste of project management in planning their project—setting learning goals, a schedule, budgeting, and then reflecting and assessing the outcome. You always hear people complain, "Oh, design is 10 percent creativity and 90 percent execution." To me, the whole thing is a creative act, but you have to train people for project management— which is, when you boil it down, planning. It's really thinking things through, managing the process, being prepared for problems and getting to the end on time—and on budget. The designers that fail in this world could be brilliantly creative, but they're often the ones who can't get the job done because of project management.
Mitchell: Cincinnati's architecture program will be celebrating its centennial in 2021, and our co-op program has existed almost since the program's inception—it's the first of its kind, and back then, it really set the school's curriculum apart from the Beaux-Arts and Bauhaus schools. Every third semester, students are in paid internships in offices so that they are constantly exposed to practice and coming back with that knowledge. They're going to be a little bit older by the time they graduate, and a little bit more mature than most students would be, as a consequence. Fundamentally, it makes them sought-after employees because they come out of college with a year and a half or two years of work in firms. It also allows them to look at small and large firms and practices that may specialize in certain areas so that they can start to craft their own education around their professional goals—all before they sign that first commitment to a real contract.
Where does teaching technology and software fit in?
Fultineer: It's integrated into the studio and other parts of the curriculum to help students understand that software is a tool, but also something much bigger. You can learn the tools pretty quickly, then go back to something that's much more theoretically driven to employ the tools.
Hansen: We teach technology in a way that is essentially transferable skills. If a student learns how to do building information modeling, they can operate on a variety of software platforms. We try to give them a range of technology exposure in all of our courses so that they can continue to learn and adapt with that framework of technological background.
Towers: Right, it's about the capacity to acquire new knowledge over time. How do you teach a group of people who are routinely described as "digitally native," whatever that means, to learn in a rapidly changing technological environment—and to be critical of what they're learning along the way? They can pick up a device and know how to use it in no time. They're fearless in that way, but are they critical? That's the challenge: the reflective practice of using technology. You teach them the software because they need to know it, but you also teach them that the software will change over time, and you try to help them figure out how they learned to use that software. That way, when the next piece of software comes out, they don't need you there teaching them. They're already inquisitive in doing that work.
So has software replaced traditional skills like hand-drawing?
Waxman: Not at all. We actually don't include any technology in the first year. It's gently incorporated into the second-year curriculum with a hybrid hand/digital graphics class, then ramps up in the third year. Along the way, we're trying to help them learn how to choose the right tool for the project type, or for the amount of time they have. For a quick little project, you don't need to do a full photorealistic rendering—just get the basic parameters, then finish it as a sketch, add some watercolor or marker, and call it a day. Often, we make them start with multiple iterations by hand because once a project gets onto the computer, it gets too precious. In the upper level studios, they do produce very sophisticated photorealistic renderings. We want them to have many methods of visual communication ready when they need them.
Fisher: Sometimes a wire frame with hand-drawing over it is the answer. People think in a different way when they're drawing by hand—they slow themselves down, they observe different things. You're going to teach thinking differently if your students only rely on computer skills to communicate ideas and demonstrate what they've learned. We teach hand-drawing as well as digital rendering in all of our programs, and after that we have a series of courses intended to blend the best of both so students have a toolbox of ways to express themselves. It's hard to make it work sometimes because people are inherently drawn to the technology. And hand-drawing takes so long. It's like the difference between a cell phone and a rotary phone. But sometimes you need to take it slower and more thoughtfully. Technology is a vehicle, it's the network we ride on, but not always the content. Ultimately, people don't enter design only to be working in CAD and Revit as ends themselves; they love seeing what design can do.
Fultineer: The speed at which technology evolves is a very hard thing to reckon with—and so is the expense of keeping up with it. We are intentionally embracing what I'm starting to call a multigenerational approach to technology, in that we don't have the beautiful, big hydraulic robotic arms. Our equipment is not really cutting-edge compared to what some other schools offer. But we have just as many students interested in letterpress as we do students who are exploring 3-D typography. We keep coming back to the fact that it's the dialogues between the different generations of technology and the understanding of how we got to where we are now that are actually a critical part of the learning environment.
Towers: And soon it will just be an immersive environment. Students won't need a laptop because it will all be augmented reality. We have a 16-camera motion-capture studio here doing that work, but we have a letterpress too—a technology from more than 500 years ago. I think that students need to be doing this work in a hybridized way. That's why our maker's center has 3-D printing right next to wood and metal shops and traditional knitting machines. There are times and places to use the different technologies, and the students need to learn that through experimentation.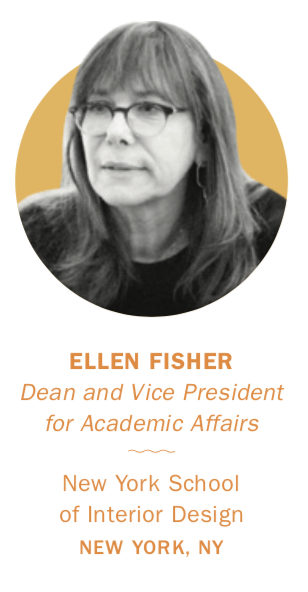 Fisher: What's really caught our attention is the concept of blended learning, that we need to use technology and the internet to come together in a digital space. That's not just taking an onsite course and moving it online; it's asking, "What can we do better for everybody with this technology?" We've incorporated a learning management system called Canvas in all our classes, onsite or online. A whole course is basically online using Canvas: People are talking to each other, they are reading all the material, and they're submitting their projects and getting feedback from the instructor and from each other. This is technology supporting collaboration and community. We can use it in such a way that when students get to the classroom, instead of listening to a lecture, the time could be better spent by actually or digitally going to the Met Museum. In advance of that, they can go to the course site and listen to the lecture. This is sometimes called the "flipped classroom." This approach allows us to maximize the time that's devoted to students and their engagement and participation in a class.
We also have a video lab and taping studio for creating online courses. When we started doing online courses, we wanted to translate the things that make New York School of Interior Design special—like small classes and an intimate relationship with the teacher; nothing anonymous, nothing disconnected—into the experience. To that end, we tape the lectures, the teachers use technology to communicate with the students. We have two people who are working with teachers all the time to enrich all of the taping with other connections, and to make sure that the online version of our courses reflect the most recent online teaching methods. Online learning is inherently different than on-site learning, so we're asking ourselves what we can do to make it just as good as being here in the room with the teacher. Right now, we offer our basic interior design certificate, which is a one-year program, and the associate's degree, which takes two years—they're both fully online and accredited by CIDA [Council for Interior Design Accreditation]. We're offering the contract studio, the very last class in the associate's program, for the first time this spring.
Why is CIDA accreditation so important?
Fisher: We view CIDA as quality assurance, and that's part of our value proposition to students. They have to know that what they're paying a lot of money for is going to be of high quality so they are well-prepared to be designers, and of course, can be employed afterwards. Accreditation is about saying, "An outside group has assessed this school and it has met a certain high standard. We know it's a sound program of study, so if you are taking out loans to attend this school, you will graduate prepared for practice and to earn a living." There are something like 130 standards and sub-standards built into what CIDA is looking for, and it's not arbitrary—they are created and continually refined to keep up with and reflect elements of practice.
Waxman: Society is also changing, and the profession continues to grow and become more complex. CIDA (previously FIDER) was established in 1970 and is the only accrediting body specifically for interior design in North America. The organization conducts a scan [of the industry] each year and holds an annual summit to stay on top of trends. Results are analyzed and changes are incorporated into the standards so that they are always evolving and relevant. I sit on the CIDA board of directors, and I see it as an essential benchmark for excellence—one we can build on to create our own uniqueness as we make changes to our own curriculum.
What is the role of research at your institution today—and of research-driven, evidence-based design? How do you balance those pursuits with the practical work of design?
Mitchell: There's certainly an increasing emphasis towards research. When my generation came out of school, design schools were just starting to borrow from the liberal arts academies and develop their own modes of critical inquiry. But the digital turn in the mid-'90s opened up a whole set of new technological possibilities in construction and representational issues that have informed the profession since then.
Hansen: Students are expected to become aware of the issues that they are designing for, and evidence-based design helps them make informed decisions about improving the health, safety and welfare of building occupants. It applies to virtually all market sector types. Whether it's health care or workplace design or designing for a smart home, students are exposed to evidence-based design at every level of the curriculum.
Waxman: It's clear how you use evidence-based design in projects like health care design. In other spaces, it's less obvious sometimes. As a research university, all of our decisions are grounded in what's best for the people who use the spaces. We ask, "What is it that research tells us about what people need in this space?" For some of our studio projects, the whole first half of the project is research. We observe, we interview, and we do behavioral mapping, which is watching how people use the space. Then we come up with suggestions on how a given space can be better designed, present those findings, and get feedback. Only then do we start designing.
A lot of firms now are looking for students who can do that research. Some of our graduate students are getting interesting hybrid positions as workplace strategists. They're definitely involved in design, but they're also gathering information and following behavioral trends. One former student is working in D.C. in hospitality. Her thesis was on hotel amenities, and she got the job based on her research. She's going to be doing both the research and the design; for her, it was the ideal position.
Fultineer: Art and design schools have been doing research all along. Right now, they are assessing how to articulate the multiple methods they use and how to find more robust ways of sharing the outcomes of the research. We have different methodologies than science-based research, but we share many things—so how do we develop a common language so that we can better communicate with one another? It's critical to our future designers to be able to do this. We're trying to teach core research skills as [things] that operate parallel to studios so that students understand how to infuse their work with established, recognizable research methods. And after that, how can we put their discoveries into formats so that knowledge can be shared?
Our students frequently don't articulate the how of what they do. They've internalized it and they do it, but they can't sit down across the table from a surgeon and say, "Here's my method." As a result, it looks like it's entirely intuitive and loses credibility. As art and design educators, we're constantly teaching and assessing method, but we've fallen down on the job of developing the language about it.
Towers: The great thing about introducing research into design is that it ends up sitting between traditional scientific research on one hand, and humanities and social science research on the other. The practical requires us to have a deep understanding of the more scientific engineering—the technological piece and actually making stuff. At the same time, the humanities side requires us to understand the implications of doing so as a culture, as a society, and as individuals.
The one thing I can tell students for sure is that as they advance in their careers, every piece of technology we have trained them on will be out of date in five years. So their capacity to acquire new knowledge over time is one of the most important things that they walk out the door with, because their careers require staying current. At the same time, we want them to understand the implications of all that change. If they're not able to think critically and ask questions as a designer—to, say, push back on the persistent product inclusion of flame retardants that are toxic and harmful—then they will be agents in inserting these kinds of dangerous products into people's lives. We really want to empower our designers to challenge assumptions, but to also be solution-oriented. I think a research culture is the only way you get at that. The last thing we want to do is stop people from doing anything at all because they become paralyzed by their knowledge.
Fisher: NYSID is a design school, not a research institution. Our design students conduct research through experiences in the field. The concept of experiential learning is big in higher education today, but it makes tremendous sense for interior designers, particularly through service learning projects. Service learning means their work makes life better for real people, not the fictional people in their school project. In the first year of our MFA program, we have two experiential learning courses where students have the option to participate in service learning projects.
In 2015 and 2016, our students collaborated with Town+Gown, a project through New York City's Department of Design and Construction that pairs colleges with city agencies that need research. They took on the 73rd Precinct in Brownsville, Brooklyn—the second- worst precinct in the city in terms of crime, and it looks like a fortress. William Bratton was the police chief, and he wanted to create a "people's precinct," or a precinct that was more like a community hub. He wanted to change that whole dynamic between the NYPD and the community. The first summer, our students redesigned the entry vestibule and point of welcome. The second summer, they did the officer facilities—a fitness room and a lounge, which looked more like common areas in a dorm, with donated furniture and old equipment. For that part of the project, they were thinking about increasing respect for the professionalism of the officers by providing a nice space for them.
The following year, we worked with the Queens Child Advocacy Center, which works with abused children, to create a trauma-informed reception area and facility. And last year, our students redesigned a battered women's shelter in north Manhattan. All these service projects required students to base their designs on research—vetted research— for these specific end-users. So, while NYSID is a design school, we are working more closely with research to inform design decisions, just as happens in practice today. Evidence-based design is the root of design education today—it is human-centered, but based on research and not just intuition. These projects have the potential to generate research findings on the effect of design on the people who use it. These projects also teach young designers professionalism, since community service is integral to professional ethics.
Krumwiede: In our housing-focused studios, instead of giving students an apartment building or a single-family house to design, the students focus on the people who will be served by that design. In some of the recent projects, students focused on housing specifically for gay seniors or a particular immigrant community, which meant going into those communities and understanding their unique needs and wants. Historically, design for generic humans is really just design for upper-middle-class Americans. It's important to get our students thinking about how different groups of people have different needs, and how they can conceptualize a design around a particular life.
Design education has been focused on the experiences of white, able-bodied, upper-middle-class Americans for a long time. How are you thinking about diversity today?
Fisher: Design as a field and design in general benefits from a diversity of viewpoints, cultures and people. There will always be challenges, but as design educators, we have to be committed to the goal that design and designed spaces would be better for everyone if the field is broader and deeper.
Hansen: Today's student wants to be in a diverse environment. There are over 100 countries represented in SCAD's student body and we offer opportunities for our students to study at any of our university's campuses in Savannah, Atlanta, Hong Kong, and Lacoste, France. These cultural differences in our student body bring a great deal of richness to the classroom. Students are so empowered when they go out into the industry having had interactions with people from so many different backgrounds. Honestly, it makes them better professionals.
Krumwiede: We have students from all over the world and from many different backgrounds—the majority are women, and just over 50 percent are international students, largely from Asia. But that doesn't mean diversity is something we don't have to worry about. We always have to remain focused on making sure we have a diverse array of voices and identities. Our location is probably beneficial, in that San Francisco is a desirable place to live and has a pretty diverse population; it's economic diversity that I think about more and more. We're a private school, so tuition is higher, but we have a real desire to create paths to a design education for people who may not see it as an option, whether it's through scholarships or arrangements with local community colleges so students can transfer in, and so that the work they do there is preparing them for the work they'll do once they get here. Nearly half of our students are the first in their family to go to college.
Design and architecture are historically fields that have been open primarily to people of greater means. There have long been expectations that young people would intern for free, or for very low wages, which obviously closes the door for people who can't afford to do that. But I think that's changing everywhere—this is no longer a field reserved for the privileged few. We have an internship requirement for our students, and part of the requirement is that those are paid internships. And for now, at least, there are more jobs than people to fill them.
Waxman: We have a program at Florida State for first-generation college students called CARE [Center for Academic Retention & Enhancement], which is about 95 percent African-American students. Students in the program come to school early—they actually start in the summer. They go to orientation and have special advisers available to help them succeed, especially in their first year. By reaching out to those students and advisers, we've been able to recruit several CARE students into our program, and we hope to continue that trend. We also have a scholarship for first-generation students.
Mitchell: We all have to do a better job. Here at Cincinnati, we work with the university's officer of diversity to be leaders, locally and regionally, in attracting more minority students. We also have to find a way to make education affordable for students, which is something a state college can do. We have more than 35 or 40 scholarships in the school of architecture and interior design alone that help support students in addition to university funding.
Before I joined the faculty at University of Cincinnati, I spent 19 years teaching some of the top students in the world at Yale; the school was ranked second while I was there. They can get a lot of talent in there, but I also recognized there were other students who probably couldn't afford to go to those schools, and that that was going to limit the scope of what people thought about, what they thought a client base might look like, what their career paths and aims were.
Fultineer: Last year, RISD rolled out the Social Equity and Inclusion Action Plan, which was part of the school's commitment to diversifying our faculty and doing everything it can to support a more inclusive student body. That means not only looking at diversity around cultural and racial/ethnic identities, but also being inclusive across economic boundaries. We feel like it's extraordinarily important right now, especially as wealth and inequality has grown, and as college has become so expensive. We have a vice president of social equity and inclusion now, who is working across the campus. And as deans, we're working very hard to embrace the full implications of what this means. One thing we're realizing is that it's a profound change to embrace these values—and doing so presents an extraordinary opportunity to reexamine some of the very old traditions of our professions that we think have run their course.
What elements of traditional design programs are you questioning or abandoning?
Fultineer: A big one is crit, or the culture of critique. Those of us who went through architecture programs understand that it is something that can be very harsh and very intimidating, especially if you don't come from a family or an earlier education that's prepared you for the type of pressure that's on you to present and to defend your work. And is it really necessary for an excellent education? We're realizing that we don't know it works, but nobody's ever stopped and said, "Why do we have to do it this way?"
As a faculty, we're also talking a lot about what constitutes excellence. For so long, we've encouraged certain working patterns in students—working all night, or working all the time. But does that yield excellence, or is excellence achievable by encouraging a more holistic approach to well-being in students? And whose excellence? For so many of us, northern and western European ideas of modernism cast such a long shadow. So what is a more inclusive aesthetic of excellence? I think we sense that what lies in these questions is a kind of rebirth of the vitality—and also the relevance—of design today.
And although I think it's a little early for us to draw conclusions, we are finding new ways for students to co-author courses or co-manage critiques. For example, our furniture design department's critiques are in the round and everybody is equally empowered to speak. There's a very intentional effort from the minute you enter that department to build a shared language around furniture, a shared understanding of the role of critique, and to empower students to enter into those discussions. We dove in headfirst and I'm not sure we've surfaced. We're certainly trying to learn how to swim. And we also don't really have an expectation that it's going to be fast. We're really in it, but we know we have a lot of work to do.
Looking closer at the role of critique—how can those interactions evolve, and what does that look like?
Waxman: We have a generation of students that had helicopter parents; now we have students raised by lawnmower parents who mowed every obstacle out of the way for their child. Most of our students were good high school students and have supportive families, so life has been pretty good to them most of the time. There are always exceptions, but most of them haven't experienced any major failures, and certainly haven't had a lot of criticism. A big part of our routine is this idea of students trying something, running it by us and receiving feedback, then going back and trying again. We've found that we have to teach them that hearing that their work isn't perfect is part of the process. We have to tell them to go ahead and take risks—that we'd rather they take a risk and not succeed than to not take that risk. We try to just keep reminding them that the critique process is in place because we care about them and want them to grow and succeed—it's not meant to rip them apart. We try right off the bat, especially in the early classes, to explain what the critique is going to be like, who's going to be there, what you might hear, how you can respond, so that when they hear us say, "This is good, but you need to work on this," it's about helping them get better. We try to stress the value of review and of risk-taking.
Fisher: Critique is a fact of life, and our students do get used to it. We try to lead with the positive and be honest. In studio, the teacher does presentation or lecture, then goes desk to desk to do individual critiques. The students present their ideas and talk about their challenges for 10 to 15 minutes. The teacher is there to address those challenges, show them alternatives and help them get unstuck—to advance the design.
Sometimes a student will have a meltdown: "That's just your opinion and I'm not going to do it." But most use the opportunity to reflect on what they're doing—after all, their goal is to do well. Sometimes it's upsetting, sure—sometimes you have to throw out everything you've done and start fresh. But who hasn't had that experience, in any profession?
Hansen: Critique can be formalized in a class setting with faculty, but we also regularly bring in external industry leaders from Fortune 500 companies, top design studios and non-profits to interact with our students and provide guidance. In addition to learning from the critique, students get the opportunity to network.
Fisher: Part of design education is often in-class pinups, with students presenting their work to the whole class. I think design schools could do a better job of training students to be peer jurors. We're in the business of training designers, and you don't have any design office where someone doesn't have an opinion. Students have to learn how to form and express an opinion in a way that doesn't alienate everyone [they] work with. That's important training for a life of practice, but it's tricky because they also want to support each other. Having a critical eye is integral to improving one's work.
Fultineer: So much of architectural critique has always been about what has not been done right. Or you're told you did something right, but you're not told what it is. So as teachers, we're focusing on describing more and better, on modeling the language and the process of inquiry for students. "What were you trying to do? What have you done? Let's talk about that." As they learn more and more of that language, they're able to become really effective peer critics. That's promising to me, because today, more and more practice is done in teams. I see the role of the principal as a final arbiter is naturally changing, but could change even more if the teams are better equipped. If you can get feedback from your peers, then suddenly you're in a much richer and more diverse critical environment than you were when you were relying on that one instructor.