A few years ago, designers started coming to Kravet with a problem: Clients were pushing back on price. Especially for bulk orders—say, 12 dining room chairs—it was difficult to justify the cost. Instead, many were turning to retail. The situation presented an intriguing challenge: Could Kravet make a dining room chair for under $1,000 and stay Kravet? Enter Maria Parasugo.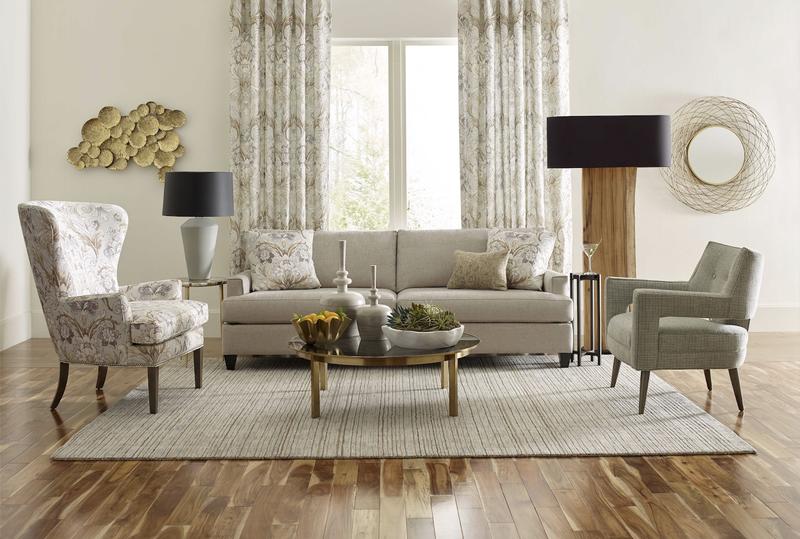 Parasugo is Kravet's vice president of furniture. In 2015, she and the furniture team began developing a value-oriented collection called Edge, which they hoped would entice designers to stay in the family at a lower price point. A self-proclaimed style junkie, she speaks fluently in the languages of both furniture and fashion.
"The concept of high/low design is nothing new. For me it all goes back to Sharon Stone in the Gap turtleneck—we weren't the first to the party," Parasugo tells Business of Home.
Edge isn't even the first time Kravet has explored value engineering. In 2009, it introduced Smart, a line that sits at a slightly lower price point than their premium collection, Design. This is, however, the first time the brand has locked swords with high-end retail (though Edge is still sold exclusively to the trade). The collection debuted in 2016 with a small selection of club and bar stools, then expanded in 2017 with more seating options. Today, Kravet presents the three options—Edge, Smart and Design—as a "good, better, best" package and markets as their levels of luxury.
For the furniture department, creating Edge required working backwards. Instead of starting with sketches or a mood board, Parasugo and her team took a trip down to the workroom. "We had our price point, and we went down and started talking about what construction could make it happen," she says. "Since it was our team, we were comfortable with the level of quality. We just had to be very disciplined about the design."
Discipline meant doing without a lot of details or flourishes, but the furniture department worked to turn that limitation into a strength. The Edge collection is based on classic, simple shapes that are designed to slot easily into a wide range of looks. The idea was to give designers affordable, versatile pieces. "It's like buying a white T-shirt that goes well with everything, and then you have the budget for that great bag," says Parasugo.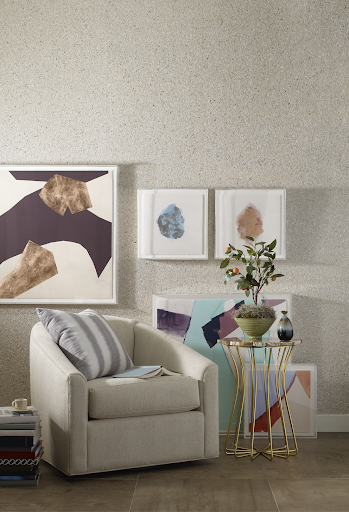 From a build perspective, the collection has roughly the same specs as other Kravet furniture offerings, with a few concessions. In seating, for example, Parasugo and her team opted for sinuous springs instead of the hand-tied construction used in their higher-end lines. However, most of the price-cutting tactics had more to do with limiting options than sacrificing quality.
Edge pieces aren't as customizable as Kravet's higher-end lines, which allow designers to specify pieces to the inch and draw from the Lee Jofa and Brunschwig & Fils fabric libraries (or use COM). Edge pieces can't be made bigger or smaller, and upholstery options are limited to Kravet fabrics. These restrictions allow the brand's workroom to handle the construction of Edge pieces in a time- and cost-efficient manner. They also make Edge a little less malleable, but, as Parasugo points out, these aren't drastic limitations. "Even with only six wood finishes and limiting the fabric options to Kravet, that's tens of thousands of combinations."
Indiana-based interior designer Amanda Lantz concurs. "Kravet has thousands of fabrics to choose from, so you still get a very customized look." She often uses the Edge collection in a client's secondary home, "where we need a lower price point but we still want to sell quality and great style."
Creating the collection was only one side of equation—how to market it was equally important. The risk inherent to creating a value line is simple: brand dilution. Once Kravet starts competing with retail options, is it still Kravet? (Though, notably, the brand remains trade-only.) And once you can buy a lower-priced Kravet chair, would designers keep buying the higher-end line? "Of course, we worried [about those things]," says Parasugo. "But it comes down to the discipline of creating a clear difference between the lines, which we did through the options we provide in our three levels of luxury."
Perhaps for that reason, Kravet plans to keep Edge to a limited number of SKUs—"a nice, tight collection," says Parasugo. The brand declined to provide specifics about what percentage of their business is now dedicated to Edge, but their plans point to at least some expansion: Soon, the collection will include beds. And as for brand dilution? "Any concerns have been relieved. Our best-selling pieces from 2014 [before the brand launched Edge] are still going strong."
Parasugo says the reaction from the design community has been positive, and that the Edge line has not only kept existing customers in the family, but introduced Kravet to a new clientele. "We've been able to work with designers who, before Edge, were a little nervous about our price points. This is a nice entry for them."
The one quibble: "People kept telling us the chairs were too heavy," says Parasugo, with a laugh. "What was happening was, at this price point, designers were used to a certain level of quality—you know, most retail chairs, you can pick them up and lift them over your head easily. Ours are a bit more sturdy and substantial. So they were just surprised."