I've worked as an editor in the interior design world for over a decade, and the furniture debuts are starting to blur together, but I remember Consort's. It was at New York's Architectural Digest Home show in the spring of 2018. A freakish late season blizzard had hit, and the carpets in Pier 94 were damp with wet footprints. In a show full of beautiful things, Mat Sanders and Brandon Quattrone's collection stood out. With pale pastels, modern lines and just a hint of vintage character, they had captured the zeitgeist without breaking a sweat. I remember trudging back out into the snow thinking, "Those guys get it."
I wasn't the only one. The collection was an instant hit, lauded by new and old media alike. A decade prior, Sanders had helped build the original incarnation of Domino as an editor—that summer, he and Quattrone would become cover stars. Their interior design business boasted a celebrity-studded client roster, a robust social media following, and two retail shops. Consort had arrived.
Almost a year later, I received a note from an interior designer. She'd had a strange experience ordering from Consort's website—her piece hadn't been delivered, and she was having a hard time getting in touch with the company. In the meantime, Consort's online shopping cart had shut down, and its normally bustling Instagram had been quiet for weeks. After describing what happened over the phone, the designer finally asked:
"Do you know what's going on?"
More stories followed. One expensive piece had arrived in poor condition. Others were never delivered. Refunds had been offered, then delayed. The company wasn't picking up the phone, and was taking forever to respond to emails. Adding fuel to the fire, while designers were attempting to placate their clients, Sanders was sharing carefree stories on his own Instagram. They had been fans, but patience was wearing thin—I'm spending unbillable hours trying to deal with this, and you're posting vacation pictures?
This story has a happy ending. But first: What had gone wrong?
+ + +
Mat Sanders got into interior design in a roundabout way. He originally moved to New York to be an actor, appearing in a handful of commercials while performing at the American Globe Theatre. At the time, Sanders was living in a tiny Greenwich Village apartment that he had decorated in an intentionally over-the-top nautical style ("It was Ralph Lauren meets Pee-wee's Playhouse," Sanders later told Dennis Scully on the Business of Home podcast).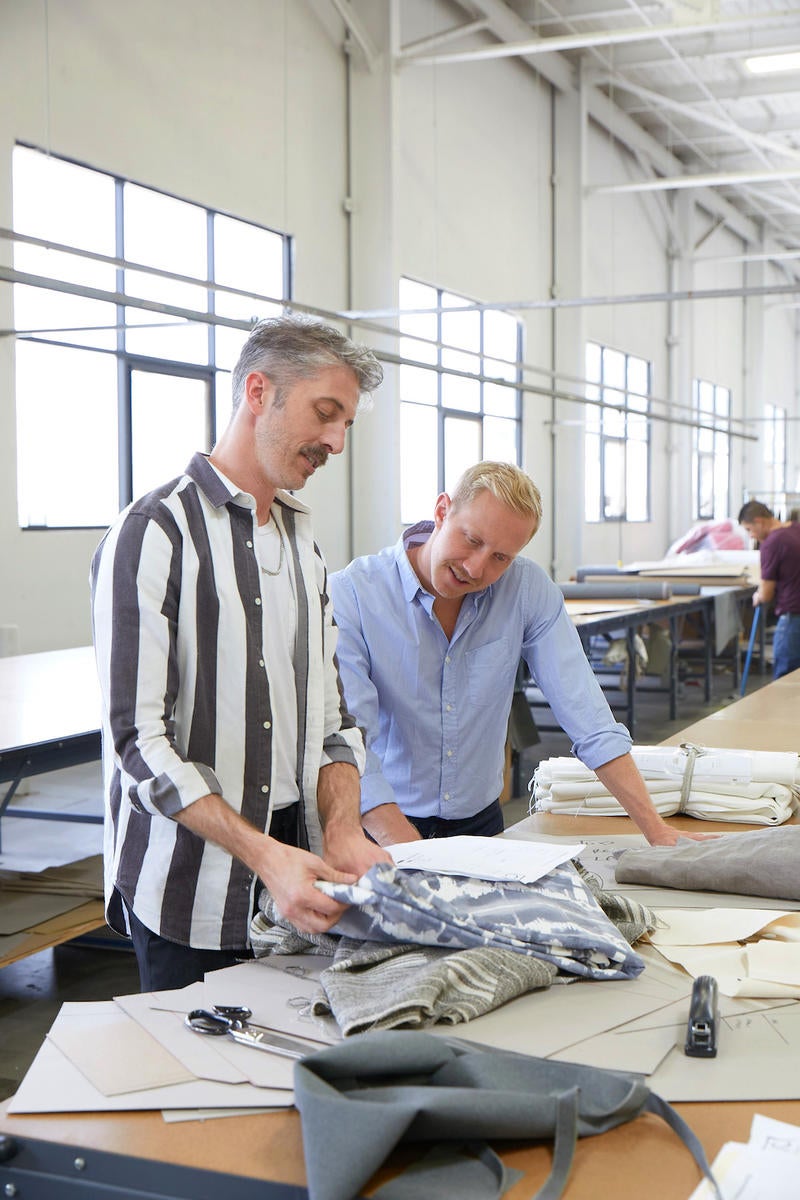 Encouraged by friends, Sanders submitted pictures to Apartment Therapy, one of which was chosen as the cover for the website's book Big Book of Small, Cool Spaces. The project also landed Sanders a new job. Under the tutelage of the site's founder, Maxwell Ryan, he blossomed as a market editor. Condé Nast soon came calling, and Sanders left to build out Domino's website. In 2011, he moved to Los Angeles to help start MyDomaine, where he served as the lifestyle and design brand's founding creative director.
By then, Sanders had a partner (in both senses of the word), Brandon Quattrone. After they met at a rooftop party in Brooklyn, Quattrone soon quit his job as an architect at SoulCycle and followed Sanders to California, where the young couple slowly began forming their own design company. In 2013, they made it official: Consort was a thing.
Though he was leaving media behind, Sanders brought an editorial approach to Consort's early days. His first hire was a content manager—a part-time employee who followed Sanders and Quattrone around, filming them and posting their adventures to social media. It was an unorthodox choice, but a strategic one. Sanders had seen the power of building a community online at Apartment Therapy and Domino; now he was doing it for Consort.
Sanders's social media presence is exactly like Sanders in real life: charismatic, great taste, a little kitschy, a lot funny, with a splash of acid. (He occasionally jokes that Consort's e-commerce business started with a middle finger—one of his earliest customer's first purchases was a bronze sculpture of a disembodied hand flipping the bird.) He shared a lot of himself online, and built a devoted following. Consort was making a name for itself—it was a little cooler, a little realer than most design firms.
Though Sanders has always been playful on social media, it was hard work—part of growing a brand and a business. So was design itself. Consort had good press and a roster of great clients, but the partners rarely had time to relax and bask in their success ("As I think any of your readers can attest to, this is the hardest job in the world," Sanders told BOH).
In 2015, after a particularly grueling week with a particularly grueling client, Sanders and Quattrone were quietly commiserating in the back of an industry party. They were both feeling beaten down by the business when they overheard a designer offer a nugget of wisdom to friends: "If you want to make any money in this business, you've got to get out of interior design and get into product."

If you want to make any money in this business, you've got to get out of interior design and get into product.
A lightbulb went on, and Sanders and Quattrone immediately began looking into opening a store where they could do just that. An early client, Marie Goble, became their first investor and joined as a partner. Near the end of 2015, the three opened a location in West Hollywood with industry darlings for neighbors—next to Lawson-Fenning and around the corner from JF Chen.
At first, Consort was mostly selling other people's products. "The initial challenge of starting the L.A. shop was finding stuff that no one else had seen before," says Sanders. "Things that are going to look really really fresh. We were discovering people through Instagram overseas and representing them." They combined these finds with textiles by Shilo Engelbrecht, bedding from Parachute and lighting by Sabin.
It was a stylish, of-the-moment mix, guided by Sanders's editorial eye. The store became a buzzy location on the L.A. design scene, earning media praise and a devoted following. Buoyed by their success, in 2016 Sanders and Quattrone began thinking bigger. What if they married their design business to their retail operation, and scaled up?
+ + +
The combination of design services and retail sales is a potent one. West Elm relies heavily on its designers to drive revenue, as does RH. If Consort could carve out a segment of the market and offer up a convincing hybrid of design services and decor, it could become a huge brand. Even better, Sanders already had a clear concept of the audience he was going after—a creative, design-savvy professional who fell somewhere between the Homepolish and Miles Redd ends of the spectrum.
"It was a customer who wasn't really being marketed to. We knew they existed, because they were our clients," he says. "It was young creative families who had $200,000 to furnish their homes. It was the woman who just got a big check from her dad to outfit her house, or she just married a Wall Street guy. She's super-cool and super-connected and obsessed with design. … It's a real person, and a fun person to work with."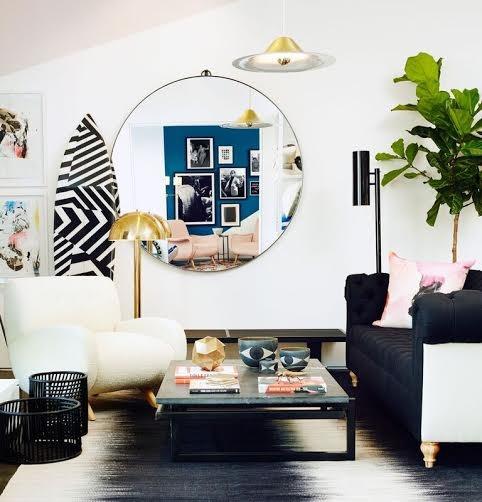 Sanders and Quattrone reached out to new investors (several clients jumped on board) and secured a round of funding, which they used to open and staff another location in New York. The idea was to start there, and build out to other metropolitan areas, eventually becoming a national presence.
The stores turned out to be logistical minefields. The flipside of curating a collection of hard-to-find, no-one-else-has-this sources, is that those sources aren't usually set up to do business at speed or scale. With more than 30 independent vendors across the globe, many one-person operations, Sanders and Quattrone struggled to keep their shelves stocked and accounts in order.
Staffing challenges compounded the issue. "It takes a special person who wants to work for a startup versus going somewhere bigger where the job might be safer," says Sanders. "At the very beginning we were relying on our sales team to do ordering for the store, and that got overwhelming for them. … As a small company trying to create structure, you're building really fast, and I think we experienced some communication issues with our vendors."
At the same time, Sanders and Quattrone were juggling almost 20 interior design clients. It was a stressful period. "In L.A., I would get calls at 6 in the morning from our retail associate in New York freaking out because the toilet had exploded," says Sanders. "We were taking on a lot at the time. … I'm a very ambitious person, I work very quickly and tend to execute things very quickly, and I think I believed I could do it all."
In 2017, Sanders and Quattrone, realizing that their hybrid boutique/design model was proving difficult to successfully scale, decided to abandon a potential third location. Instead they made a pivot, one that cut to the core of that long-ago overheard conversation: You've got to get out of interior design and get into product. Why not quit the middleman business and make their own product?
+ + +
Consort's debut furniture line had a soft open at the AD Home Show in 2018. A few weeks later, the full 44-piece collection officially debuted at High Point. Immediately, Sanders and Quattrone were beset by buyers. "One thing we weren't expecting was for people to be writing orders on the spot," says Sanders. "It was literally day one, we're standing in the booth, and in the first hour people are giving us checks." Powered by great press and turbocharged by Sanders's social media skills, Consort's collection had the kind of launch most designers can only dream of. Then came the hard part: actually making the stuff.
From a technical standpoint, Consort's collection was ambitious. Most first-time furniture makers try to work within a limited palette of materials, but their line made use of plaster, resin, glass and metal, plus multiple varieties of wood. Such diversity added a layer of logistical complication to an already difficult process.
On top of that, Sanders wanted the pieces to be customizable—not "regular people" customizable, but designer customizable. "I didn't want it to be like, you could go online and play with fabrics and finishes," Sanders says. "I wanted designers to look at it and be like 'I love that, I want to change it completely.' I wanted to create furniture that could be changed to the inch." Many pieces also allowed for COM—another layer of difficulty.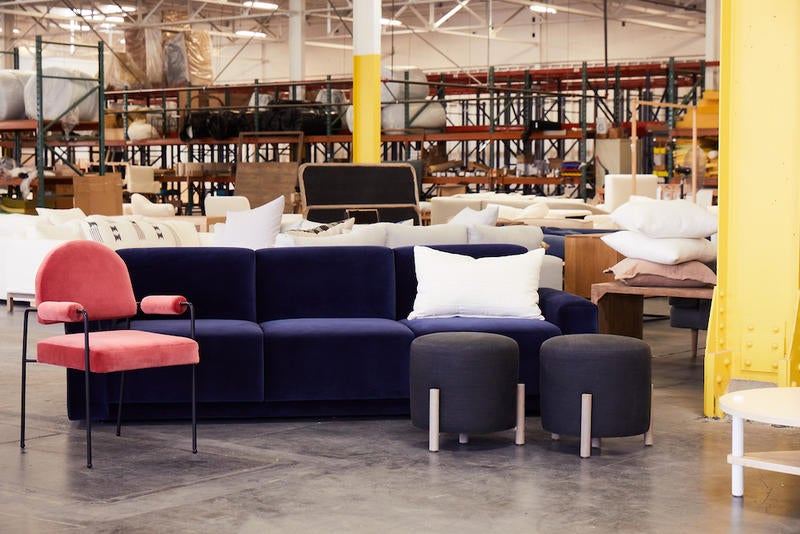 In order to achieve that level of customization at that degree of complexity, Sanders and Quattrone cobbled together a network of 10 manufacturers spread out over the country. Some pieces were constructed by three separate vendors, then assembled by a fourth before shipping. It was bold and scrappy and, at first, it worked. But the volume of orders and the complexity of the logistics began to catch up with Consort.
"As the orders kept coming in, we're trying to keep our heads above water," says Sanders. "But if a table is missing one screw, you suddenly have a logistical nightmare on your hands to get that product to the customer in time, and that tiny little issue takes an entire day for a single person to resolve. … It was draining the resources of our little team."
Earlier in 2018, Sanders and Quattrone had decided to shut down both retail stores to focus entirely on their furniture collection—quietly closing the New York location over the summer, followed by L.A. The move was a necessary pivot, but it shrunk Consort down. As logistical challenges mounted, the company consisted of only four people and a consultant. Sanders and Quattrone were able to keep the plates spinning throughout the summer, but it soon became clear that they would need a new round of financing, new hires, and a new logistical plan.
Sanders began sending out feelers in the fall. He was exploring options when, headed into the new year, the company hit a wall. Unable to fulfill a small batch of orders, Sanders realized he couldn't, in good faith, take any new ones. He and Quattrone disabled the shopping cart on their website and stopped posting to the company's social media accounts. Consort had gone silent.
+ + +
Soon after, a handful of designers started to notice that their orders hadn't arrived on time (Sanders says there were fewer than 30). At first they didn't think much of it—this is the design business, things happen. But as the weeks went by, they began reaching out to Consort with increasing urgency. It was difficult to get in touch with anyone via phone or email. Occasionally designers were told that the company was being sold, but it was difficult to tell what impact that would have on their orders.
Behind the scenes, Sanders was negotiating a deal to secure new partners. The legal conditions surrounding the deal prevented him from sharing specifics with customers, creating an awkward situation for someone who had built his reputation by sharing. "Because of the complicated transaction with our investors, I didn't even have answers to when and how [customers] could get their product," says Sanders. "We were offering professional responses that were a little vague."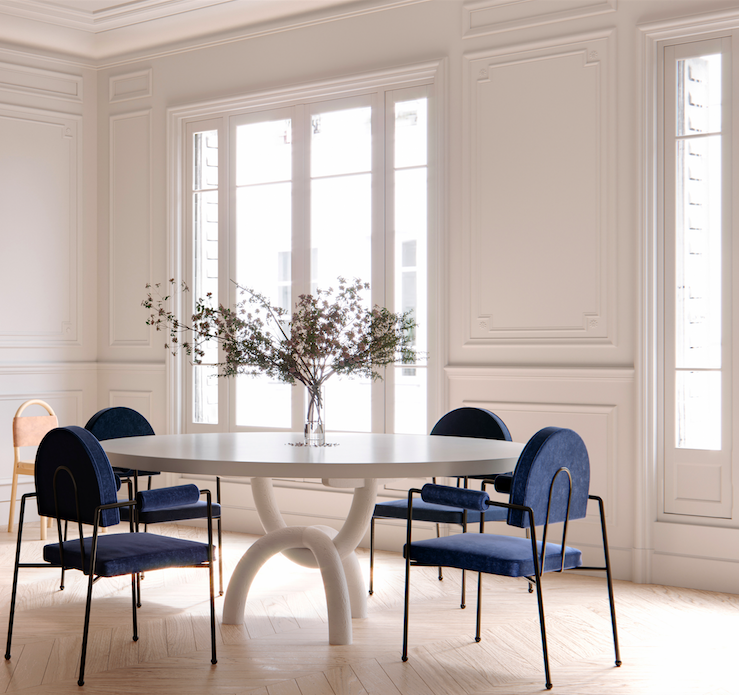 In the social media age, where brands (and their spokespeople) are expected to put on a pretty face no matter what's happening behind the scenes, perhaps it's too much to expect social silence during tough times. Nevertheless, for designers spending hours trying to sort out what had happened to their orders, it was galling to see Sanders posting to socials from his private account. A few began posting their complaints to Consort's Instagram account, asking pointed questions about their missing orders. Bad reviews had popped up on Yelp. The audience Sanders had built was turning against him.
"I've always felt a great deal of responsibility over online communities that I helped to create, and here I am struggling to resolve customer issues, and at the same time, people aren't happy with the answers that we're giving them, and they're not only taking it public, but they're also finding each other," says Sanders. "It was kind of earth-shattering. I'll be 100 percent honest, I had no idea how to deal with it."
Weeks passed, and designers found themselves broaching awkward conversations with clients, in some cases reaching out to banks and credit card companies, looking to see if the charges could be reversed.
+ + +
After a nerve-wracking few months, Consort stuck the landing.

In April, Sanders and Quattrone were finally able to close a deal with new partners and at long last clear up the legal red tape. Consort says they've reached out to customers with unfulfilled orders and delivered refunds or furniture, in some cases tacking on a make-good credit. The company will begin taking new orders before summer—the brand is back in business.
Sanders's new partner is actually an old partner: Community Manufacturing, an L.A.-based production house that had already been building several pieces for the brand. Now Community will absorb more of the manufacturing duties, creating all of Consort's upholstery and hard goods under the same roof. Vertical integration will eliminate the logistical snafus that gummed up the process—no more passing a piece across state lines from vendor to vendor, no more delays for want of a missing screw.
Community will also take over back-end operations for the brand, freeing up Sanders and Quattrone to focus on the creative side. Community's owner, Jason Chauncey, is looking forward to expanding his partnership with the brand. "I see a lot of product come through the factory but they had a fresh take and it was something I had not seen in the market," he says. "I'm excited Community can provide a testing ground for Consort to do what it does best: design."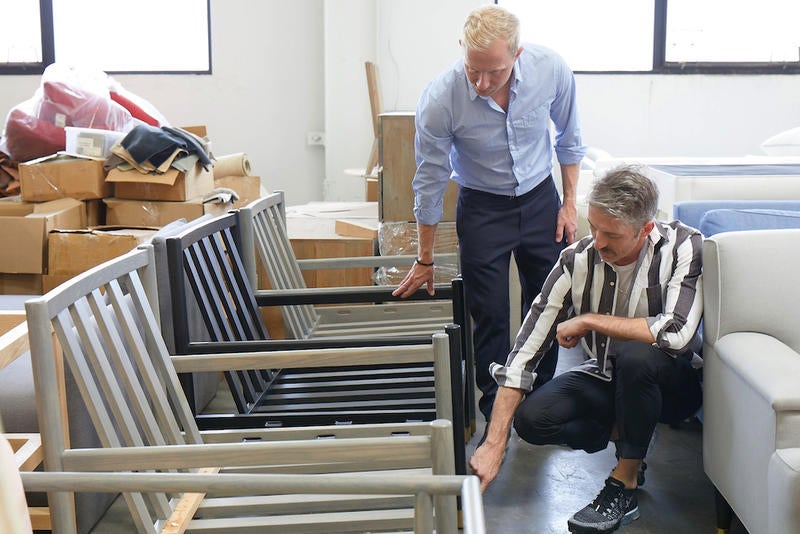 Sanders is excited, too; he's already got a content studio set up in a corner of Community's East Side location and will be sharing a behind-the-scenes look at the creation of a fall collection. ("It's going to be much different than the first collection. I'm trying to take a fashion approach, as if it were the new season of a fashion line," he says.) He's also looking forward to playing in a new sandbox: the factory floor. Rather than emailing with vendors all over the country to make changes, Sanders will be able to tweak pieces in real time.
In the shadow of a stressful year, Sanders hasn't lost his ambitious streak: He still wants to conquer the design world and look good doing it. The lesson from a difficult period hasn't been to scale back on goals, but to focus on strengths. Sanders will make the promotional rounds and nurture a burgeoning TV career (keep an eye peeled on Bravo), but there are no plans to relaunch Consort stores, build a national design service, or start any major new undertakings. Right now, it's all about furniture.
Another lesson: Sanders is planning to broaden what he shares publicly about Consort's lows as well as its highs. Don't expect a radical turnaround—one gets the sense that Sanders will be posting high jinks and the occasional thirst trap for a while to come—but he's looking forward to sharing a more complete picture.
"I think the biggest thing that I've learned throughout all this is that people want you to be as open and honest and transparent as possible," Sanders says. "I'm not afraid now to share the struggles and the journey behind what we did. I will never let this fail, but there are things that we did wrong, and there are things that we've learned to do in order to right the ship, and I really want everyone else to know those things as well."