In 2013, Apartment Therapy jumped on the e-commerce bandwagon, partnering with software firm Area 17 to make the daily news site a shoppable dot-com destination. But after four years of using the service, called Krrb at the time, the company realized they had a problem: It wasn't really making money.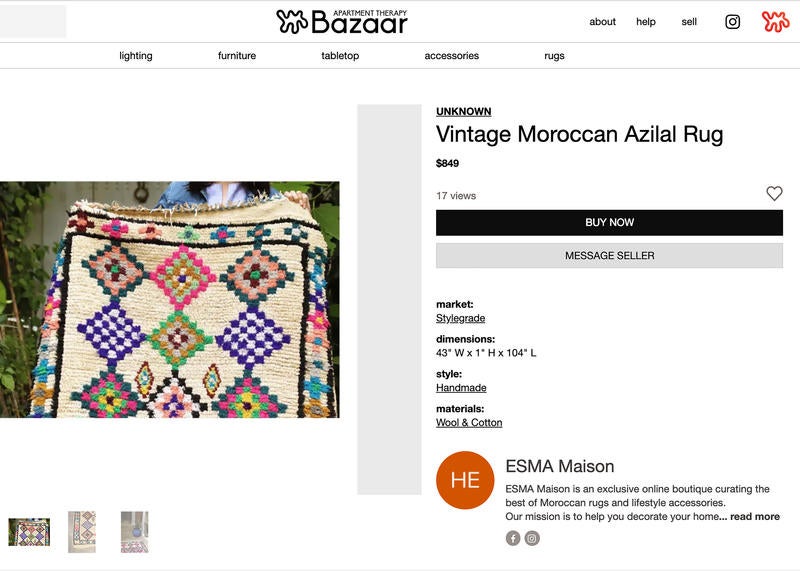 Courtesy of Apartment Therapy
Instead of seeking out a new partner, Apartment Therapy founder Maxwell Ryan bought the buy-and-sell platform from Area 17 two years ago. Now renamed Bazaar, the site's new "buy now" feature launched this week, allowing buyers and sellers to transact more efficiently for the first time. "Before this, we pushed the two parties to figure it out for themselves through clumsy back-and-forth messaging, and with no protection if the deal went awry," Ryan tells Business of Home. "I see our new Bazaar as the best place on the web to find really nice used and vintage designer furnishings and accessories—a few steps up from Craigslist and a few steps down from 1stdibs. [We're] the broad middle."
Bazaar will eventually be integrated with Apartment Therapy's two platforms: the eponymous website and its cooking-focused sister site, Kitchn. "In the United States, there is a huge, untapped resource of used and vintage furniture of incredible quality that there has yet to be a good marketplace for," says Ryan. "We are attempting to change that."
Not unlike Craigslist or Facebook Marketplace, Bazaar is a marketplace for buying and selling furniture based on location, predicated on the notion that proximity is important for consumers looking for used furniture. When Apartment Therapy took over Krrb, it decided to completely overhaul the platform with a focus on designer furnishings and accessories, rather than items from folks who wanted to clean out their garages; the company also focused on removing knock-offs and new furnishings from the site.
The most popular items are chairs, rugs, sofas and tables; Knoll, Milo Baughman and Hans Wegner products grace the homepage. "Our mission with Bazaar is to have one million pieces of furniture find a new home through our site," says Ryan of his ambitions for the platform. What sets Bazaar apart is how it functions, he says. "Our Bazaar is a true community service: it is fully peer-to-peer, and it has lower fees than other platforms because we are not trying to build a stand-alone business. We expect Bazaar to pay for itself as it grows and to be an integral service to our sites. In time, at high volume, it should more than earn its keep."
Bazaar also recalls features of some of the earliest Apartment Therapy content: "This was a mission-driven decision, which goes back to the days when I sent out a weekly email that carried items for sale from people in New York, and our first blogging days when we selected the best of Craigslist each day," says Ryan. "The investment [we've made in Bazaar], frankly, has been much more than I hope to earn back quickly, but I do believe in the long-term promise of community features like this. If it serves our community and helps us make homes easier to furnish, it will be worth the investment."