The day before 1stdibs's new West Side location opened to the public, we took a quick tour of the space, which was humming with night-before-the-big-show energy. Vendors applied the finishing touches to their exhibitions while staffers hastily arranged cut flowers in a dining room vignette that serves as a sit-testing laboratory for a variety of dining chairs. Elsewhere, a team of contractors wired a booth for European voltage (20 percent of the sellers in the space are based overseas).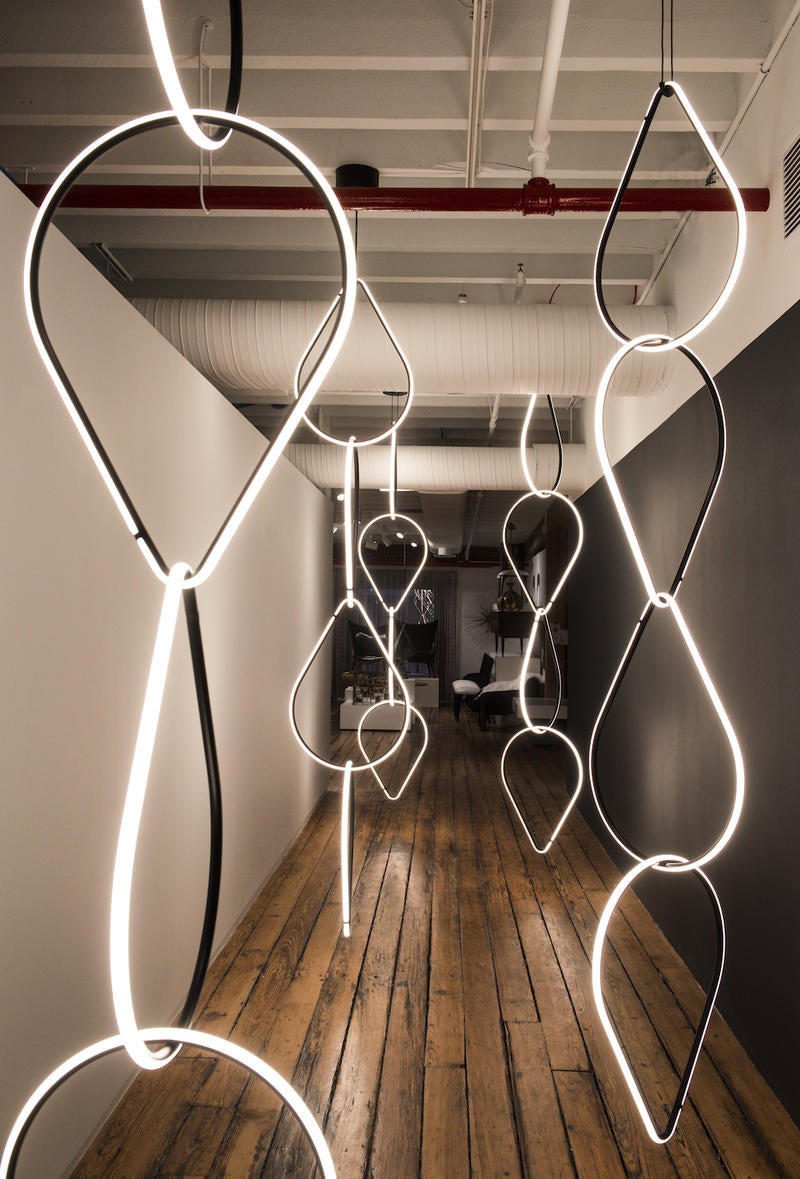 First impressions: The space is massive. Spread out over 45,000 square feet, it's significantly bigger than the company's first showroom, at the New York Design Center, with more than 50 vendors selling everything from antiques to rugs to books. "Over the last few years, we began to realize that there was an opportunity to create a different gallery experience that was more inclusive of both consumers and trade," Cristina Miller, 1stdibs chief commercial officer, told Business of Home. "Our new gallery is more representative of what you'd find on the platform."
The new location also offers clues about where 1stdibs is headed. With a large assortment of contemporary makers exhibiting their wares, the showroom reflects the company's ambition to carve out a slice of the custom market. The overall breakdown on the showroom floor—50 percent vintage and antiques, 50 percent makers—outpaces 1stdibs's current balance, but the online retailer is getting there. "The new and custom [category] was launched just over two years ago and it's already over 15 percent of our furnishings revenue and growing very quickly," says Miller.
The showroom itself, located on the seventh floor of the Terminal Stores Building on 11th Avenue, was transformed by architecture firm Davies Toews from an open industrial space into a sleek labyrinth of vendor areas, Instagrammable vignettes, meeting spaces and temporary exhibitions. Every piece is accompanied by a QR code, which shoppers can scan with their phones for pricing, a range of background info, and suggestions for similar products. The effect, which conveniently works with or without the 1stdibs app, is a pleasing piece of digital magic, and a neat integration of the company's on- and offline inventory.
Some in the design community have expressed skepticism about the Far West Side location, which is a hike from the design hub that has developed around the D&D Building. But 1stdibs's new neighborhood, a few blocks south of Hudson Yards and west of Chelsea's gallery scene, has an up-and-coming cachet of its own. It's not a stretch to imagine designers shopping with clients for art, then heading a few blocks over to pick up a vintage sofa to place under it. Plus, the company is hoping that the showroom itself will be reason enough for designers to make the trek.

Some in the design community have expressed skepticism about the Far West Side location. But 1stdibs's new neighborhood has an up-and-coming cachet of its own.
1stdibs is also planning event programming for the space and rotating art exhibits to draw foot traffic. (It currently features compelling installations by FLOS and Michael Anastassiades and Milan gallery Rossana Orlandi.) The showroom's hours—10 a.m. to 6 p.m., Monday through Friday—suggest a primarily trade audience, though Miller told us the company is discussing opening the location on weekends down the road.
As for the vendors, the company has enticed them into the building with a compelling offer: free staff, free marketing, and—perhaps most appealing of all—rock-bottom rents. One antiques dealer told us the rent he paid for his exhibition was cheaper than his Long Island City storage warehouse. "Though it's only cheap if we can sell anything," quipped another vendor, overhearing our conversation as we left the building.
If the early feedback is any indication, his prospects are good. "We were so happy that so many people turned up despite the snowy weather," says Miller, of the showroom's opening-night party. "We also had several sales during the party, which is, in many ways, the best feedback of all."
The 1stdibs Gallery is located at the Terminal Stores Building (269 11th Ave., Lobby 4, 7th Floor, New York).
Homepage photo: Courtesy of 1stdibs