In the spirit of connecting in a time of social distancing, we're bringing the news straight to your inbox—no travel necessary. Right now most of the news is focused on one thing and one thing only, and Business of Home is covering coronavirus updates here. But despite these strange times, business is carrying on. Read on for headlines, launches and events, recommended reading and more.
BUSINESS NEWS
RH announced its fourth-quarter earnings—and while the furniture retailer may have seen a 0.9 percent dip in revenue, the company still reported a nearly-doubled net income, capping off 2019 with an overall adjusted revenue increase of 5.4 percent. Net income for the quarter leaped to $68.4 million from $27.3 million, with earnings increasing to $220.4 million, reports Furniture Today. In spite of what CEO Gary Friedman deemed "an outstanding year" in a release, the company has seen a 40 percent slump in demand since the spread of the coronavirus pushed the company to temporarily shut down restaurants, outlets and galleries nationwide. RH stock dropped 11 percent in extended trading, when the company's reported $665 million in Q4 revenue fell nearly $44 million short of analyst predictions, reports CNBC.
In New York, the online auction house Paddle8 filed for Chapter 11 bankruptcy, one week after the company was faced with a lawsuit alleging the misappropriation of funds from a charity auction, reports Art Net. The filing also revealed that the company owes tens of thousands of dollars to various celebrity parties, including Justin and Haley Bieber, as well as Jay Z's Shawn Carter Foundation and the Rema Hort Mann Foundation.
The majority of Macy's 130,000 employees are furloughed starting this week, reported HFN. "The COVID-19 outbreak continues to take a heavy toll on Macy's Inc. business," the company said in a statement. "While the digital business remains open, we have lost the majority of our sales due to the store closures. We've already taken measures to maintain financial flexibility, including suspending the dividend, drawing down our line of credit, freezing both hiring and spending, stopping capital spend, reducing receipts, canceling some orders, and extending payment terms, and we are evaluating all other financing options." The furloughed employees will still receive health benefits through May.
Gary Van Elslander of Birmingham, Michigan–based Van Elslander Capital bid less than $1 million to purchase the Art Van brand name and trademark, reported Furniture Today. The company filed for Chapter 11 bankruptcy on March 8 and has since liquidated its stores.
LAUNCHES, COLLABORATIONS AND PARTNERSHIPS
Direct-to-consumer custom furniture brand The Inside is launching a collaboration with Old World Weavers, which was founded in 1950 by the iconic designer and businesswoman Iris Apfel. The new 16-pattern collection will include three of Apfel's original designs in celebration of the 70th anniversary of the maximalist brand. "As one of the most respected luxury textile brands in the industry, Old World Weavers's iconic patterns are rich with history and adventure," says Christiane Lemieux, founder and chief brand officer of The Inside, in a release. "By bringing this collection into the digital age, we're unlocking access to heritage design so that people everywhere can create the home of their dreams."
DesignTV, Sandow's latest design operation, kicked off Monday with a discussion on the state of the industry, featuring Interior Design editor in chief Cindy Allen and Gensler CEOs Andy Cohen and Diane Hoskins, reported Interior Design. The Facebook Live segment covered coronavirus-influenced future design features, like non-touch surfaces in hotel and retail design, and offices with more enclosed spaces.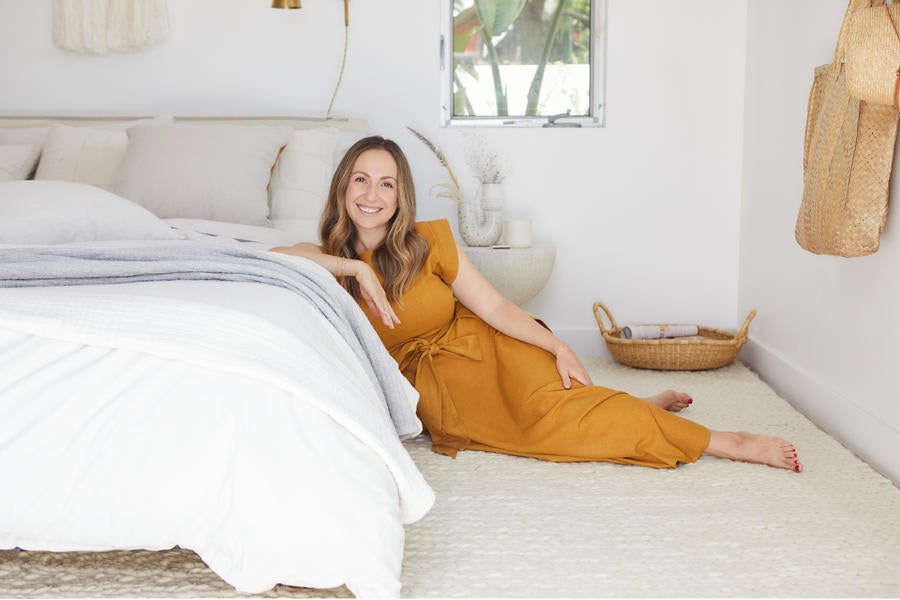 Home essentials brand Parachute, known for its airy linens, has introduced a new virtual design service by way of one-on-one virtual styling appointments with in-house design consultants. Clients can expect an initial email and video chat followed by a series of design recommendations that are made via email, in hopes of cultivating a more personal design experience. (Meanwhile, New York digital workspace Air has put together an interactive map of direct-to-consumer brands with New York storefronts that you can support from home. It includes Parachute, as well as bedding brand Buffy, cookware brand Great Jones, home organization brand Open Spaces, mattress brand Casper, and others.)
In response to the spike in videoconferencing through applications like Zoom, design world brands like home furnishings retailer Arhaus and fabric maker CW Stockwell have come up with a series of virtual backgrounds to make the space behind the person on the call look a little brighter, and for many of us disorganized work-from-homers, more put-together. From Arhaus comes a variety of decorated scenes, while CW Stockwell opted for graphic, wallpaper-esque virtual backgrounds based on the patterns that make up their wallcoverings and fabric categories.
Sandra Funk of New York design firm House of Funk has launched Standard, an interior design business platform that will offer new users a free demo module. Standard includes a comprehensive template for Funk's design process, fee calculator, recommended tools and more. The general enrollment period is open until April 6.
East Fork has launched a new buy-sell-trade Instagram account titled East Fork Flea, reported Domino. The account allows users to take photos of their own East Fork products, submit them, and share what they'd like in return—either a price or an East Fork item they'd trade it for. The brand recommends price and shipping costs, posts your listing, and lets you facilitate in the comments. "In a way, the buy-sell-trade account has become the 21st-century version of the Tupperware party: Everyone gets to walk away with something they wanted—or something they had no idea they even needed," writes Rebecca Deczynski. Submissions are still welcome, but the brand has paused listings for now.
RECOMMENDED READING
In what is shaping up to be the early aughts of an indeterminate stay-home spell, design editor and BOH contributor Sophie Donelson reflects on the function of the modern home in The New York Times: "The Pinterest-Instagram-HGTV-Airbnb hype machine has positioned the dwelling as, at best, a personal style statement and, at worst, an investment or moneymaker," she quips. Almost overnight, the demands on the home space have become multi-purpose, a humble reminder that it's more important that a home provides not likes, but comfort.
In The New York Times, Style writer Penelope Green points out that while we've all obliged the various state-to-state social distancing orders, in some ways, professionals are finding themselves better acquainted than ever before: Video meetings have given colleagues glimpses into the lifestyle choices of those who they normally only see in an office milieu. "The blurry visuals and weird angles have been a tonic for the overwrought environments of Instagram," writes Green, who touches upon the shared surprise when co-workers discover the impressive interior of another.
New York magazine design editor Wendy Goodman explored the home of her sister, fashion editor Tonne Goodman, in a recent piece for The Cut. "The living room is one of my favorite rooms anywhere, with its elegant French doors facing a huge tree that creates a green vale of light in the summer months," writes Goodman. "The fire goes for any and all gatherings."
The New York Times profiled local artist Liza Lou, who is weaving her way out of isolation with a project on Instagram that she's made communal. Titled "Apartogether," the project invites people to forage for old clothes and other materials from around the house to make a quilt, or, as Lou calls it, a "comfort blanket." Cue the awwws.
Among the strange silver linings of the coronavirus era is the fact that we average citizens now have more access into celebrity living rooms and at-home offices—and Apartment Therapy gathered a bunch for easy ogling. "To add some Jimmy Fallon flair into your own home, start pulling inspiration from nature," writes Olivia Harvey. "Unlike Fallon, Ellen [Degeneres] is seemingly all about open, airy, and bright spaces with a lot of natural light and smooth surfaces."
AWARDS SEASON
Judges for this year's Lighting Showroom of the Year awards at Dallas Market Center have been named: Bobby Berk, interior designer and star of Netflx's Queer Eye; Melissa Galt, interior design consultant and author; and Caroline Hipple, Norwalk Furniture president. Finalists will be selected in the categories of revenue under $2 million, revenue under $5 million, and revenue over $5 million, as well as special ones like outstanding merchandising display and exceptional community involvement.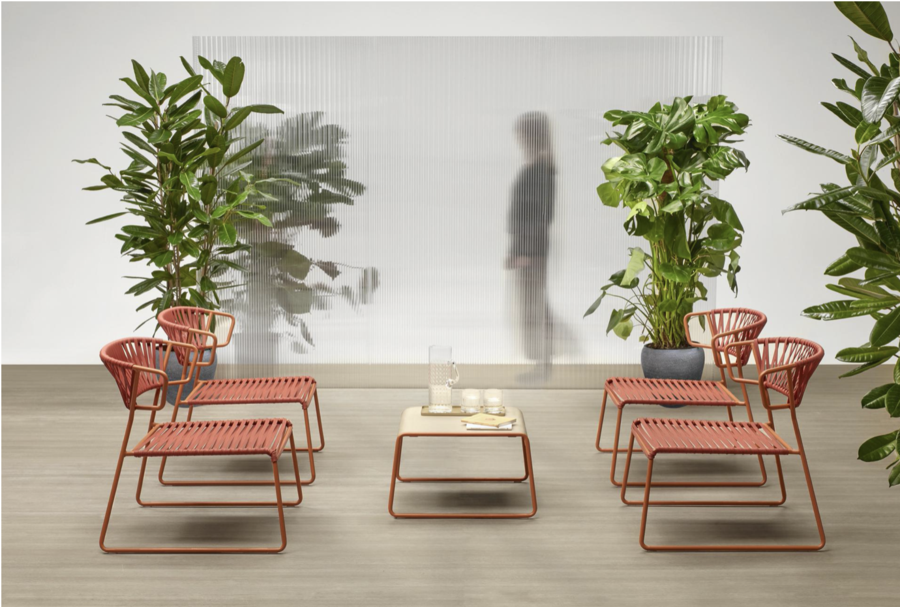 The Lisa chair, originally designed in 2018 by Italian architect and designer Marcello Ziliani, was awarded the Red Dot Award this month in the Product Design category for its reinterpretations: the Lisa Filò and the Lisa Club designs.
CALL FOR SUBMISSIONS
The submission deadline for the Interior Design Society Designer of the Year award has been extended to May 15, 2020; the original deadline was March 31, but the society has allotted extra time for rescheduled photo shoots and other adjustments. You may submit here.
The deadline to enter the NYCxDesign awards has also been extended—those eligible can apply here until April 9.
IN MEMORIAM
Michael Sorkin, New York–based architect and critic, has died due to complications from COVID-19, reported Fast Company. He was 71 years old. Sorkin was the architecture critic for The Village Voice in the 1980s, and wrote several books on urban design. For decades, he was a professor at the Institute of Urbanism of the Academy of Fine Arts, Vienna, and the Cooper Union of New York. At the time of his death, he was director emeritus of the graduate urban design program at The City College of New York. Sorkin also ran an eponymous firm and a nonprofit lab, Terreform.
Michael McKinnell, the architect who designed Boston's City Hall, died on March 27 from complications related to COVID-19. He was 84 years old.
Homepage image: A bed upholstered in Tawny Tiger, a pattern from The Inside x OWW collection | Courtesy of The Inside