Design can be a thankless job. No one knows this better than Bobby Berk (please, hold your applause). In his role as resident interior designer on Netflix's reboot of Queer Eye, which released its third season on Friday, Berk shines in every moment on camera. Whether he's staring down the lens and reminding us we all fall on the spectrum between masculine and feminine, or, in a three-day restaurant renovation, dedicating a mural of newspaper clips to the owners' family history, Berk serves both the clients and viewers with his dry wit and warm spirit.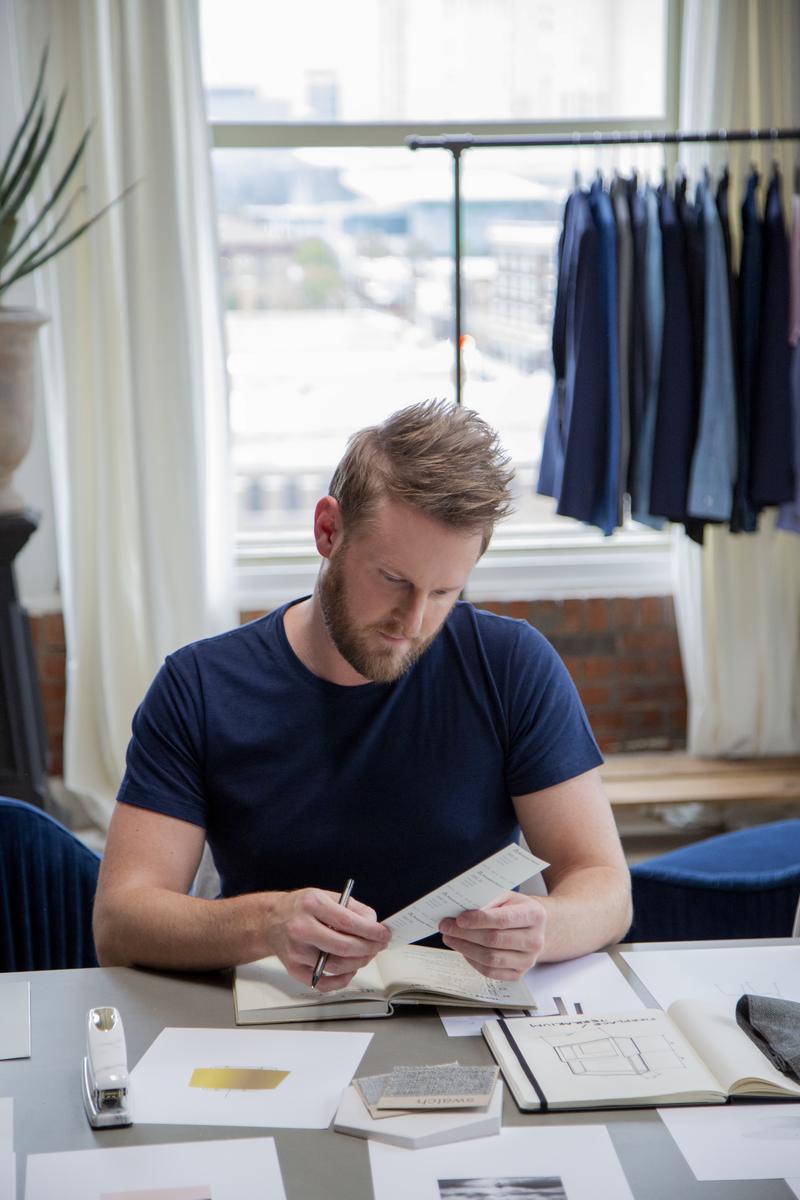 Christopher Smith, courtesy of Netflix
When we spoke on the phone recently, Berk talked about his new furniture collection with Ontario-based A.R.T. Furniture, which debuted in Asia this week, and will launch stateside at High Point Market next month. Without the show, he isn't even sure he'd have the collection—at least, not this readily. Berk gives Business of Home the inside story on the A.R.T. line, how television fame has affected his firm, and what he wishes made it into season three.
How did you know that A.R.T. was the right partner?
One of my dreams has always been to expand into Asia—I swear I was Chinese in my last life, I always feel so at home there, and my husband's from Vietnam. When I had my stores, my dream was to open up stores in Asia. So the fact that A.R.T. has such a strong presence in the U.S. and their own stores in China was a really big deal.
It wasn't until after I had signed the deal that I found out even more about the company that made me love them. I had dinner with Mark Feng, the son of Richard Feng, the founder of A.R.T., and his wife—they live out in Santa Monica [Berk is based in Los Angeles] and he told me the history of the company and the history of his father. Richard started out with nothing and turned his love of art into a furniture business, and would come to High Point, North Carolina, to sell chairs. No one would really give him the time of day.

It really drives home the fact that the American dream is not just the American dream. The Chinese dream is no different.
Bobby Berk
There are so many synergies, given my background of coming from nothing and building a brand. Richard ended up growing the company into a multibillion-dollar business all over China, and just built a multimillion-dollar, beautiful building in High Point, the very town that no one wanted to do business with him in. It was a beautiful story, because it really drives home the fact that the American dream is not just the American dream. Everyone in the world has that dream of coming from nothing and building something. The Chinese dream is no different from the American dream.
A lot of times, especially in this political climate and the trade wars we're having right now, people think of these big Chinese companies as, 'Oh, they're just state-funded money coming and taking over. It's not the case. This is a family-run business that is massive because it has been successfully run by a family who is passionate about what they do. Even now, Richard Feng, who is the founder of A.R.T. parent company Markor International Home Furnishings [which also owns Caracole and Jonathan Charles], was asked by the Chinese government to create a chemical company—there are a lot of natural resources in the region his family's from.
One of my favorite stories about him is that he only decided to take on the challenge because, he said, 'When I started designing the building, I loved the way the pipes looked, so I made patterns from the pipes and designed based on that.' I was like, What an amazing, artistic mind this man has. That's why I went with A.R.T., because they're a phenomenal company started by this one man passionate about art and furniture. Again, it was similar to my story, not just on a business level, but a personal level.
I'd love to hear more about your background and how it's similar.
I grew up in a little farmhouse in Missouri—we were by no means going hungry, but I didn't grow up in a fancy life at all. I left home at 15 because I had to come out, and in the little town I lived in, that just was not an option—we were very religious. I never finished high school, never went to college, and was just kind of out there in the world, fending for myself and trying to make something of myself. Design was a passion of mine, so I used that to build a career and build a brand. That's where the similarities come from—doing it on your own, not having anybody handing anything to you. It's taking something that you're passionate about and turning it into a business.
Tell me about your creative process in designing the collection.
Doing this while filming [season three of Queer Eye], my creative process was not what it normally is. It was all over the place: late-night emails; phone calls with Asia in the middle of the night. It was definitely rushed, but I think, in the end, it still turned out great. We had a very tight schedule for our launch in Asia, which [happened on Monday]. Normally, I would take a year or two to do something like this, but I think we condensed it into about nine months.
Courtesy of A.R.T. Furniture
My first thought was: What would I want in my own home? That's where this collection comes from. I'm obsessed with caning in furniture right now. There's a beautiful dining chair with a caned back and a bar cabinet with caning on the doors. I love a more modern Scandinavian look, but I also love deco, and so I married those two together.
You've gone on record to predict that midcentury is on its way out. But this new collection has elements of that style—sudden change of heart?
I feel like the straight-up midcentury look that has been so prevalent in the last decade—you know, the midcentury reproduction pieces that everybody is really loving, like the Knoll-inspired sofas and Eames chairs—has already hit the mass-market stores, and once it's there, it's pretty much on its way out. But I took the element of clean lines from midcentury and incorporated that into my pieces. There's also some tapering on the leg, just a few midcentury elements that I combined with a modern and deco look that I think made it unique.
How would you describe the aesthetic of your firm and your brand, and how does the new collection, both the art and furniture, continue that?
My firm always designs for the client, but we usually don't take on jobs that are super far off from what we would do personally. If that's not something you're passionate about, you're not the right designer for that client. I'm always the first to say to a client, "I don't think we're right for you. Here are other designers [for whom] this project would absolutely fit with their passion and their aesthetic." It's always better to have somebody designing your space that loves what they're doing, rather than designing a space that they don't feel passionate about.
My personal aesthetic is modern and minimalist. Our brand aesthetic is definitely very modern and clean. It leans more on the masculine side of the spectrum. Neutrals too—I definitely don't do a lot of color in my design or in my furniture. I like creating drama and detail in my furniture pieces by adding layers and textures—for example, the caned dining chair is a steamed wood with a caned back, a vegan leather seat, and then also a vegan leather wrap on the arms. I'm able to create depth and dimension not by doing a bunch of crazy pattern and color, but just by creating different layers and textures throughout the pieces.

I'
m able to create depth and dimension not by doing a bunch of crazy pattern and color, but just by creating different layers and textures.
Bobby Berk
When it comes to building relationships with the clients you do choose to work with, what does that look like?
When you're working for a residential client, this is their home, this is their space, this is where they're going to spend time with their family. It's all about feeling from them how they want the space to be and how it's going to work for their family, making sure you put those personal touches that make it feel like their home and not just the space they're living in. I find that sometimes designers don't worry about putting personal touches into their clients' homes, and in the end, the client's home can feel like a hotel or a museum.
I make sure I incorporate as many things as possible from the client's life. One example of that is framing art their kids made—you wouldn't really think it would go in the space but, in the right frame and the right gallery wall, it is amazing. Every time they walk by it, they really feel like they are surrounded by things they love. So it's really important to me to learn as much about the client as possible and to do things that they're passionate about that don't necessarily have anything to do with design, and incorporate them into their home to make it feel as much like their home as possible.
How has being on Queer Eye affected your firm?
It definitely has positive and negative impacts. Our main business for my firm is working with builders. We have a lot of builder partners that we've worked with throughout the years. We build and design the homes that they're going to sell from top to bottom. One of the negative impacts of the show is that I'm away so often and on such an international stage now. A lot of our building partners just thought, Oh, Bobby doesn't want to do this anymore.
I started noticing that we weren't getting new projects. I have a whole team, and I need to make sure that they always have jobs, so I had to start calling our customers like, "Hey, what's going on? What's in the pipeline? I'm noticing that we haven't gotten any presence from you." And they're like, "Oh, we just assumed you didn't want to do this anymore." I had to be like, "No, I do, I love doing this. This is my passion."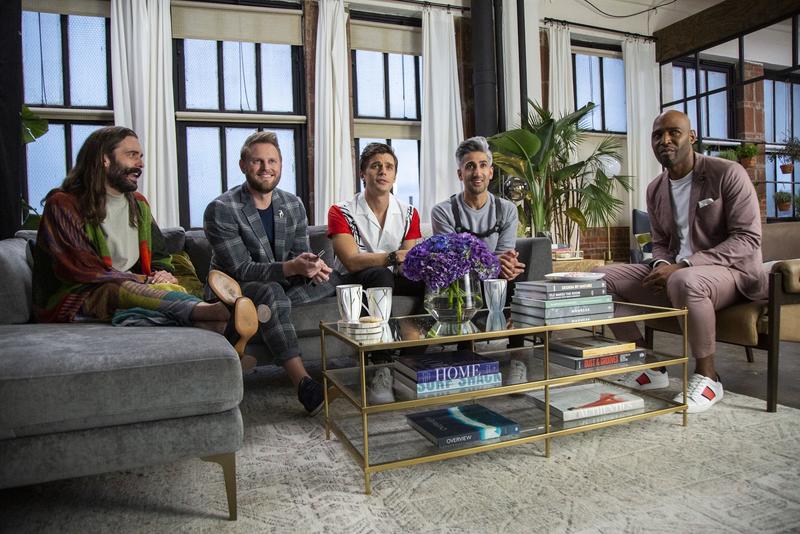 Christopher Smith, courtesy of Netflix
And at the moment, we don't really take on a lot of residential projects. I've found that the potential business that's been coming in since the show, a lot of times, it's just people that want us to do their home because they're fans, and not necessarily because it's the right fit. So we have to be very careful.
But for my product design, of course, it's definitely had a huge [positive] impact. I highly doubt I would have this new furniture line that's launching around the world right now—as well as the other new collections that we're working on—if it wasn't for Queer Eye and the exposure and the customer base that I bring to my partners at the moment.
To give you credit, you had a few stores in New York and Miami, both large markets, beforehand.
Yes, but the show has definitely helped. I had licensed collections before the show—rugs, wallpaper and an art line. But it's given me the power to steer my own ship, be a creative authority, and make sure the collections are what I want them to be.
Queer Eye viewers don't get to see much of your creative authority. What parts of the design process do you wish made it onto the show?
I wish there was more of the design process. There's just as many hiccups and dramas during this that you would see on a normal design show where you do everything so quickly. Like, in episode two of season three, you don't see it, but there was a huge storm that hit on day two and a tree knocked the power out, so we were in there painting and building with our iPhone flashlights.
What?!
And that just didn't make it. And then, in season two, Mayor Ted Terry, what didn't make it was that when we tore out that closet in the dining room and bedroom, we found a horrible termite infestation. We had to rip out way more walls of the house than we wanted to in order to get rid of those termites. And, that same episode, the day we were supposed to have the furniture show up, nothing showed up. We all had to frantically run around furniture stores in Atlanta. Luckily, West Elm let us decimate their sales floor.
That sounds like it could be compelling for fans of the show.
Believe me, there's been some moments where I'm like, "Come on, guys, can't we show a little bit more of this?" But I get it, you know. At the end of the day, our show isn't a makeover show. My vertical is just one of the five tools that we use to help effect change on the individual on the inside and on their life. It's not really about the process of the makeover, it's the process of how it changes them.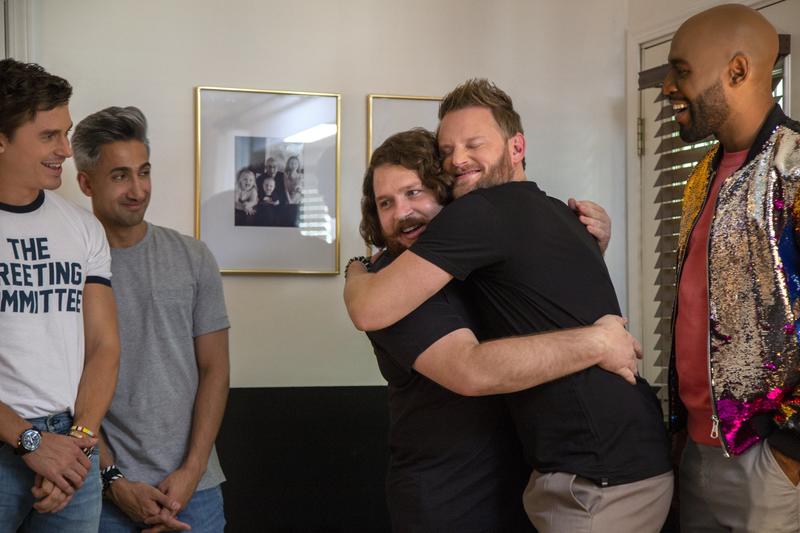 Christopher Smith, courtesy of Netflix