Savvy interior designers marketing their work to China's affluent consumers have discovered a vast population eager for design expertise—and a new set of customer expectations. What do designers need to know about doing business in the People's Republic of China? (Spoiler alert: It's probably not what you think.)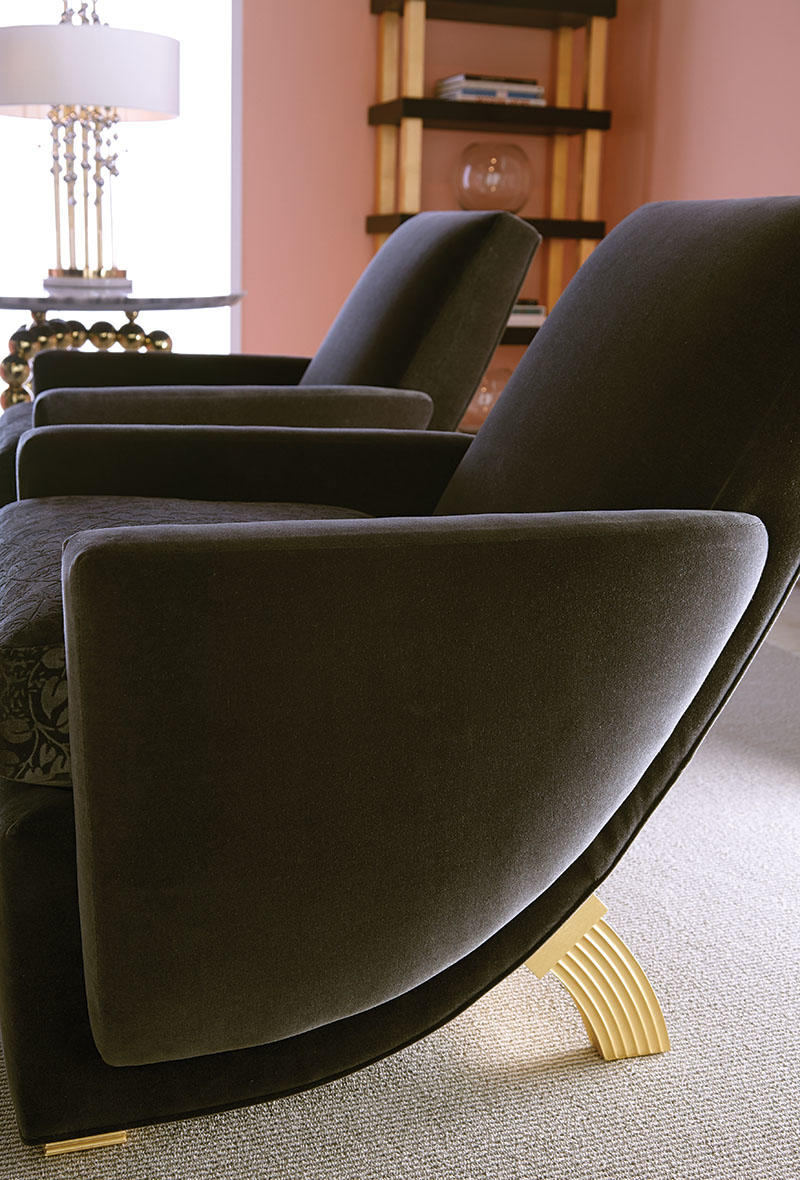 "I've heard that you're really big in China," I say.
"And hopefully getting even bigger," replies designer Jamie Drake, who has 11 eponymous stores with Theodore Alexander across China, from Beijing to Wuhan. "The amazing opportunity in China is its size. It's such an immense country with a huge population that, even if it goes through roller coaster cycles economically, there will still be a huge number of very wealthy people who want to live well." There's also intense demand for luxury home furnishings. "In America and Europe, people pass things down, but in China, they don't have a history of that," he explains. "Very few of them have anything inherited—there's not much to pass down—so they need things."
Forward-thinking American designers and furniture companies are closing the gap—7,000 miles from New York City—and marketing directly to the nation of 1,379,302,771. (If that number reads as unquantifiable, put it this way: This many people could fill 25,424 Yankee Stadiums. And, yes, everyone needs somewhere to sit.)
Of course, it's impossible to discuss an entire population and its habits uniformly. "To speak about China as one market is like speaking about Iowa as the same market as New York—it just doesn't work," says Brent D. Smith, who runs a boutique branding and retail consulting firm for American brands, including Ralph Lauren Home, in the Asian market. But our interviews yielded surprising trends regarding the design tastes and shopping preferences of the Chinese consumer. Here, some need-to-know tips from the experts.
Quest for Knowledge
After working in Asia for 24 years, Smith has gained insights into preferences that are unique to Chinese consumers. "China has its own tastes and color palette, as well as sizes and proportions based on historical cultural viewpoints—things like the standard seat heights and seat depths are completely different throughout Asia," he explains. "The seat height needs to be lower and the depth needs to shallower. The width only comes into play when it takes up too much space—visually, but also actually. Most Chinese homes don't have as much space as American homes, so scale needs to be carefully considered." Similarly, the color white represents mourning and death for the Chinese, so the American penchant for rooms outfitted in shades of white and cream doesn't resonate. (Consider Chinese wedding dresses, which are a festive, celebratory red to represent joy and good fortune.)
American designers and manufacturers can't just go with what works in their market. I can't tell you the number of times that I've heard them say, 'Well, we've never had a complaint from American customers.' 
BRENT D. SMITH
Another national preference? High-end furniture must be completely finished on each and every side and surface, visible or not. "Is the back the same finish as the front? Is the underside of a table finished completely? Are the drawers self-closing? If not, they do not see the value, and consider it inferior quality," says Smith. Above all, never assume that what's popular in America would fly in the Chinese market. "American designers and manufacturers can't just go with what works in their market. I can't tell you the number of times that I've heard them say, 'Well, we've never had a complaint from American customers.'"
Chinese-born Zhijian Qian is the director of the China Project at the New York School of Interior Design, a program launched in 2014 that brings 15 to 20 Chinese designers to New York for training each year. Just as in the United States, he says, the smackings of wealth displayed in decorating differ wildly depending on a person's tastes. "In China, I saw this very rich guy's house all in 18th-century British style, with carvings and decorations imported from England," recalls Qian. "In recent years, high-quality traditional Chinese furniture is coming back into fashion. It is made of very expensive wood and could last hundreds of years. Interior design is a very strange thing in China today, and it's very diverse."
"The voracious appetite with which the Chinese are eating up design and the process of design is mind-blowing," adds Smith. And many are taking what they learn abroad right back to China. John Conrad, executive director of the American Society of Furniture Designers, launched an annual Asia-Pacific version of the organization's Pinnacle Awards two years ago in Guangzhou. "We had close to 900 entries from eight different Asian countries," he says. "That's pretty good for the first time out! Our intention was to start in Asia, because if you look at the figures that are available from Department of Commerce, the number of students in American universities from these eight Asian countries are in the hundreds of thousands. Just a wild guess that 20 percent are learning about design and engineering and going back to their home country to hang their shingle." He notes that the last two winners of the student award at the Pinnacle Awards were both Asian students at American universities. "It's right here, right now. Those really good designers are going back home and being creative even as I speak."
The emergence of the market has sometimes come at literal and figurative costs for would-be customers. "With so much new wealth in China, unscrupulous opportunists are continuously descending upon the country in an effort to take advantage of cash-rich consumers," says Shawn Hiltz, chief strategy officer of China-based carpet manufacturer House of Tai Ping, which has a new factory in Xiamen. "Bogus overseas investments, including heavily marketed property development opportunities that never materialize, rank high among popular scams. The sale of fake luxury goods such as wine, art, watches and gemstones is also a concern for wealthy consumers in China." But while many have fallen victim to these schemes, it is becoming increasingly difficult to deceive Chinese buyers. "They are relying on brand reputation, user feedback and referrals from friends as part of their buying process," he says.
"Shoppers often step into a showroom and purchase the entire suite exactly as it is displayed—not just the furniture, but also the rugs, wallcoverings, and the art on the walls."
JAMIE DRAKE
That search for knowledge takes many forms: "They are going out to other countries to learn what exactly people are doing in other parts of the world," explains Qian. "They want something good, something better, something 'the best.'" As the wealthiest Chinese young adults return from elite universities abroad, they can have a strong impact on brand awareness. "They go back to China and tell their mom and dad what they should be buying," says Bruce MacDonald, now the chairman of Bruce Andrews Fine Benchmark Furniture, who previously spent 14 months living in Beijing and another six in Shanghai while heading up brand strategy and creative for Ethan Allen China, Caracole and Markor. "The parents are tutored into brand consciousness by their children."
Drake agrees. "China's newly made wealth is learning very quickly—they even have a second generation now," he says. The designer's line may resonate with some consumers because his name lends the collection an air of authority. (Drake is not the only big-name designer with a collection for Theodore Alexander; the brand has also cultivated relationships with Leigh and Leslie Keno, Michael Berman, Xander Noori, Stephen Church, and Hong Kong architect Steve Leung, and will debut a new collection with Richard Mishaan next year. "They understand the value of a designer's signature for their clients, especially in Asia," says Drake.) He has also curated a signature look: "My designs appeal to the global market because they have a sophisticated, European point of view—a lounge chair based on a French Art Deco model I spied in a London antique store window; a side table inspired by the work of the 18th-century cabinetmaker Adam Weissweiller that features paired legs. The high-end customer, especially in Asia, is embracing that look." Some of Drake's pieces also feature elements that resonate with Chinese consumers, like inlays and pulls in the form of the lotus on a dining collection. "In Chinese culture, it has many meanings of great importance, symbolizing the holy seat of Buddha, purity of heart and mind, and long life and honor. It was the perfect motif of tradition to incorporate."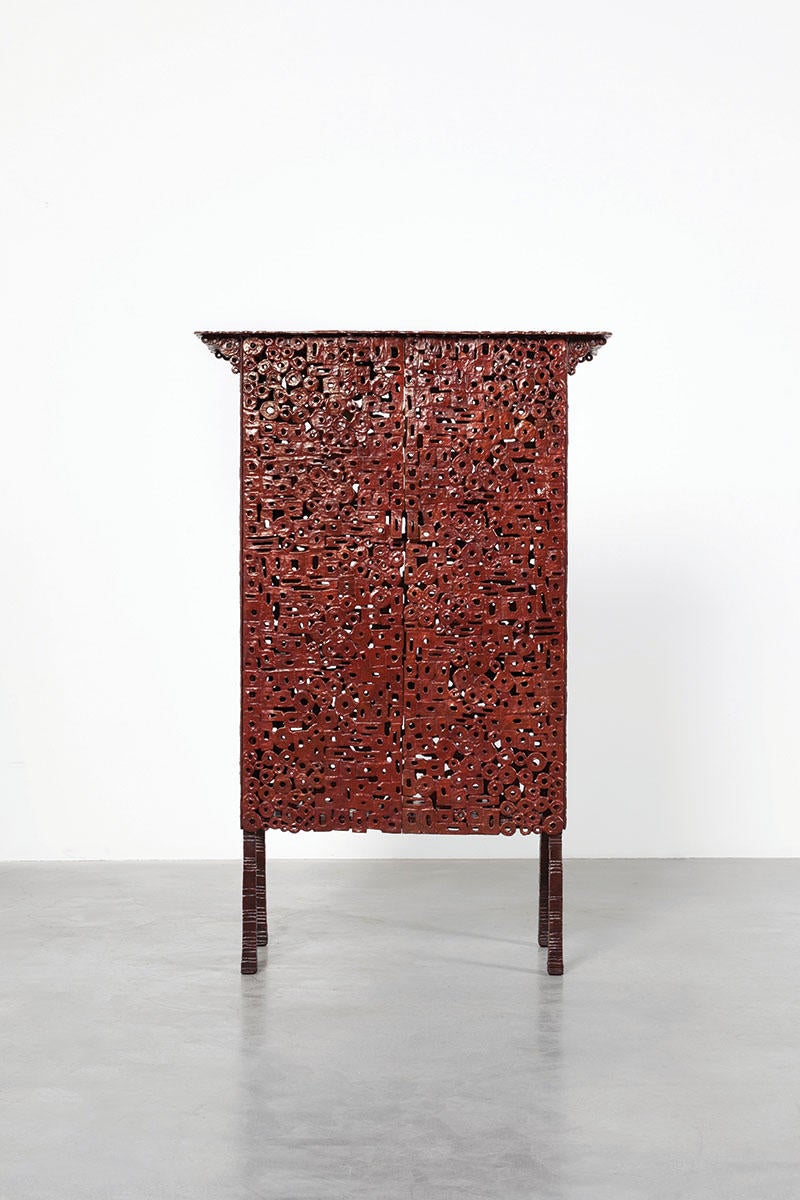 Carpenters Workshop Gallery co-founder Loïc Le Gaillard, who handles the brand's Asian market, estimates that in five years, one-third of the gallery's business will come from China. "The Chinese market is very educated—and if they're not, they want to do their homework and find out what's right or wrong," he says. Ingrid Donat's bronze work has especially resonated with his Chinese customers, perhaps because of its intricate sculptural panels. "It's definitely a market coming up with a lot of education and background," he explains. "They are trying to learn about the great continental artists they should be collecting."
Getting the Look
In China, says Drake, shoppers often step into a showroom and purchase the entire suite exactly as it is displayed—not just the furniture, but also the rugs, wallcoverings, and the art on the walls. "In America, that's a very old-school mentality in high-end furniture," he says, "but in China, there's a comfort factor to that—they get that it all goes together and it's all correct." 
MacDonald agrees. "What you showed them was what they bought," he says. "They'd walk into an Ethan Allen store and be obsessed with seeing how the product was laid out." Print catalogs are vital for a similar reason. "Many consumers buy exactly what is in the catalog. If they don't see the lifestyle shoots, they don't understand the lifestyle. You have to explain which coffee table works with which sofa, and what colors to put together," he explains. "I designed a collection for Henredon called Park Avenue, and I told the team, 'You have to have a catalog to triple sales—the line is going into 15 locations in China, and if you don't have a catalog, they won't buy it.'"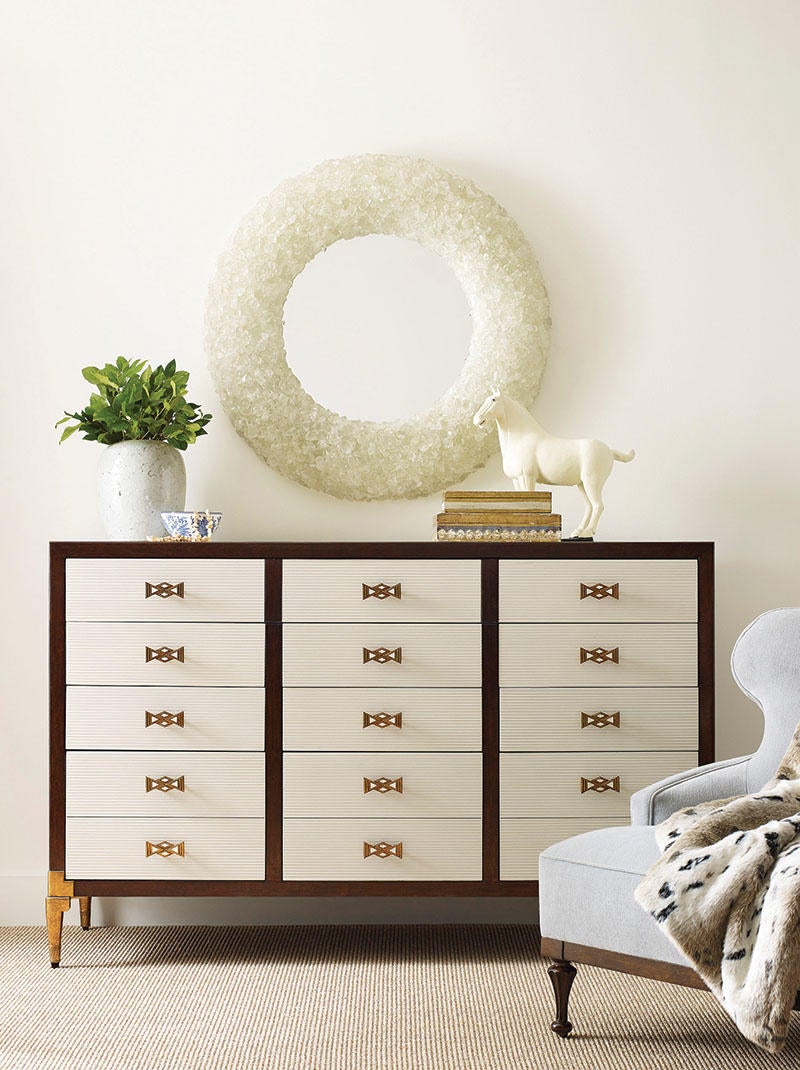 These customers also value speedy turnaround. "It is not uncommon for Chinese consumers to request immediate delivery, which presents a dilemma for brands like us at Tai Ping who are creating custom, made-to-order products," says Hiltz. "American consumers, on the other hand, tend to enjoy the collaborative design process. For them, waiting a little longer for a one-of-a-kind rug is a small price to pay for bespoke luxury." MacDonald's experience was that, much like the rest of the world, Asian customers want everything right now. "No one has time to wait six months for furniture to arrive from the U.S. The American furniture industry doesn't realize it, but it's a logistics game—if they can get product to people in an efficient manner, they have a future."
Drake has noticed that what matters in China is high-end materials and a luxurious sensibility. "I create pieces for Theodore Alexander that are based on the signature look I've developed in 40 years of having my own design firm," he says. "It's a very sophisticated, rich and tactile presentation both with case goods and upholstery, and it often involves using multiple materials in one piece, including mother-of-pearl, leather and inlay. Combining various materials into one piece appeals to the well-to-do customer."
Drake began collaborating with Theodore Alexander in 2014. The first Jamie Drake for Theodore Alexander stores, which are owned and operated by a Chinese investment fund called Creative Home Furniture, started opening across China last year. "When my collection launched, CHF was one of Theodore Alexander's biggest customers," he explains. In December 2016, CHF purchased Theodore Alexander in its entirety. "One of their biggest customers became their owner—clearly they saw the value of all the product and quality."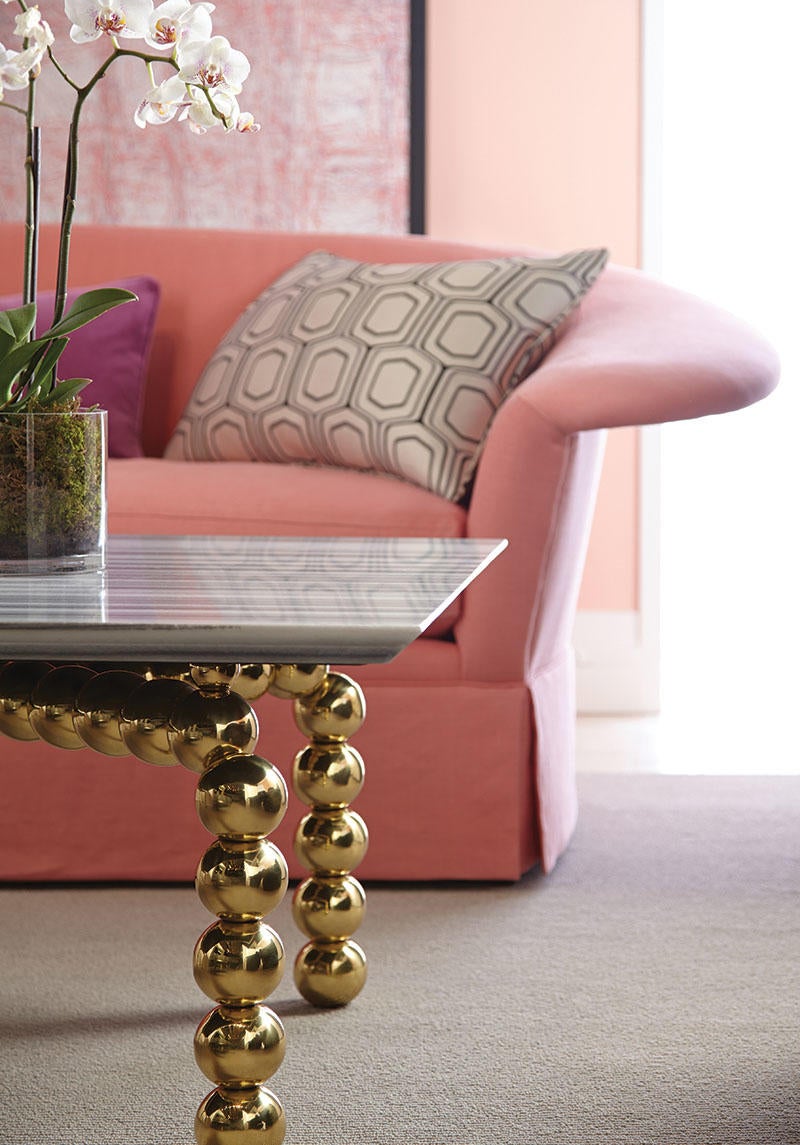 Theodore Alexander continues to make all of its case goods in a 1.5-million-square-foot factory in Vietnam. The brand's regional reach appeals to Drake: "The business is not just strong in China, it's also very strong throughout Asia, including Singapore, Malaysia and Hong Kong. The strategy is global, compared to many High Point–based companies, which are often North America–centric. This is an international brand, even though they've been known forever as a High Point–based company." The designer has found that licensing works the same with a Chinese-owned business as with an America-based brand. "We do make sure and protect our copyrights both in China and America," he says. "One beauty of Theodore Alexander is that the quality is so high. Having all those materials come together is so complex that it is very hard to knock off."
New York designer Richard Mishaan is banking on a change of attitudes with his new, hyper-customizable collection launching with Theodore Alexander next year. "Ten years ago, I did a line for the Chinese company QM, and the market was not nearly as sophisticated then as it is now," he says. His tack with this latest collection: ultra-luxurious finishes, like lacquer and hand-painting, that can be personalized. He believes that the buy-everything-they-see shopping methodology may soon become obsolete. "People in China may buy things exactly as they are in shops, but this collection is all very customizable," he says. "You can interchange finishes and materials in one piece, or even tweak the size to a certain extent. It's more consumer-directed."
I believe the Chinese high-end consumer is one of the most discerning. Everything must be considered, even the sound of a drawer when it closes. God is in the details.
BRENT D. SMITH
Pieces are tailored to customer demands. "We're doing fabulous dining tables with lazy Susans, which are very much a part of the culture there—they put it all on the table family-style," he explains. "Ours can match the table, or be in granite or stone—all materials that will survive a hot plate." Even the Theodore Alexander showrooms themselves have been reimagined—furniture is no longer displayed in compartmentalized niches and vignettes. "When you walk through the majority of showrooms all over China, they'll mix a private-label chair with a Richard Mishaan coffee table and other pieces. It creates excitement, as opposed to something right out of a commercial for Bob's Discount Furniture." 
What Buyers Want
As the epicenter of the American furniture industry, High Point Market rolls out the red carpet for international buyers. "For three years, we have had an office in Shanghai that is helping us to recruit buyers to come to the market," says Tom Conley, president and CEO of High Point Market Authority. Each market, approximately 10 percent of the buyers come from abroad. They register separately on their own floor, which is stocked with translators. "Being greeted in your native tongue is so important and welcoming. We try to treat international buyers with great respect and dignity," says Conley. But for all the interest Chinese buyers have shown in American product, Conley finds many American businesses reluctant to put down roots in China. "We're not seeing as many U.S. brands run into the country as I'd like. It's a more expensive way of doing business, and for some, it's a foreign way of doing business—no pun intended."
Ultimately, to be successful in Asia, interior designers and home furnishings manufacturers must do what the beauty industry did more than two decades ago, says Smith, including adapting packaging design for the local market—changes that were eventually applied to American offerings, too. Tubes for lotions, face washes and lipsticks were made with softer, more pliable plastic; the edges of the tubes were rounded so that package wouldn't cut anyone and to make it appear more luxurious. The snap of the cap had to be the right snap—not a thud or a flip, but a snap. 
"I believe the Chinese high-end consumer is one of the most discerning," adds Smith. "Everything must be considered, even the sound of a drawer when it closes. God is in the details."
Images: Courtesy of brands