It was the Monday before Thanksgiving and Connie Matisse was nervous. The co-founder and CMO of ceramics brand East Fork was prepping for the company's online Seconds Sale—when it offered up slightly imperfect pottery at a steep discount. The sale was poised to cap off a record year for the young company, but Matisse had had a bad feeling in the pit of her stomach all day. "Everyone else was really cheery, but I was pacing back and forth by myself, thinking: Something's wrong, something's wrong."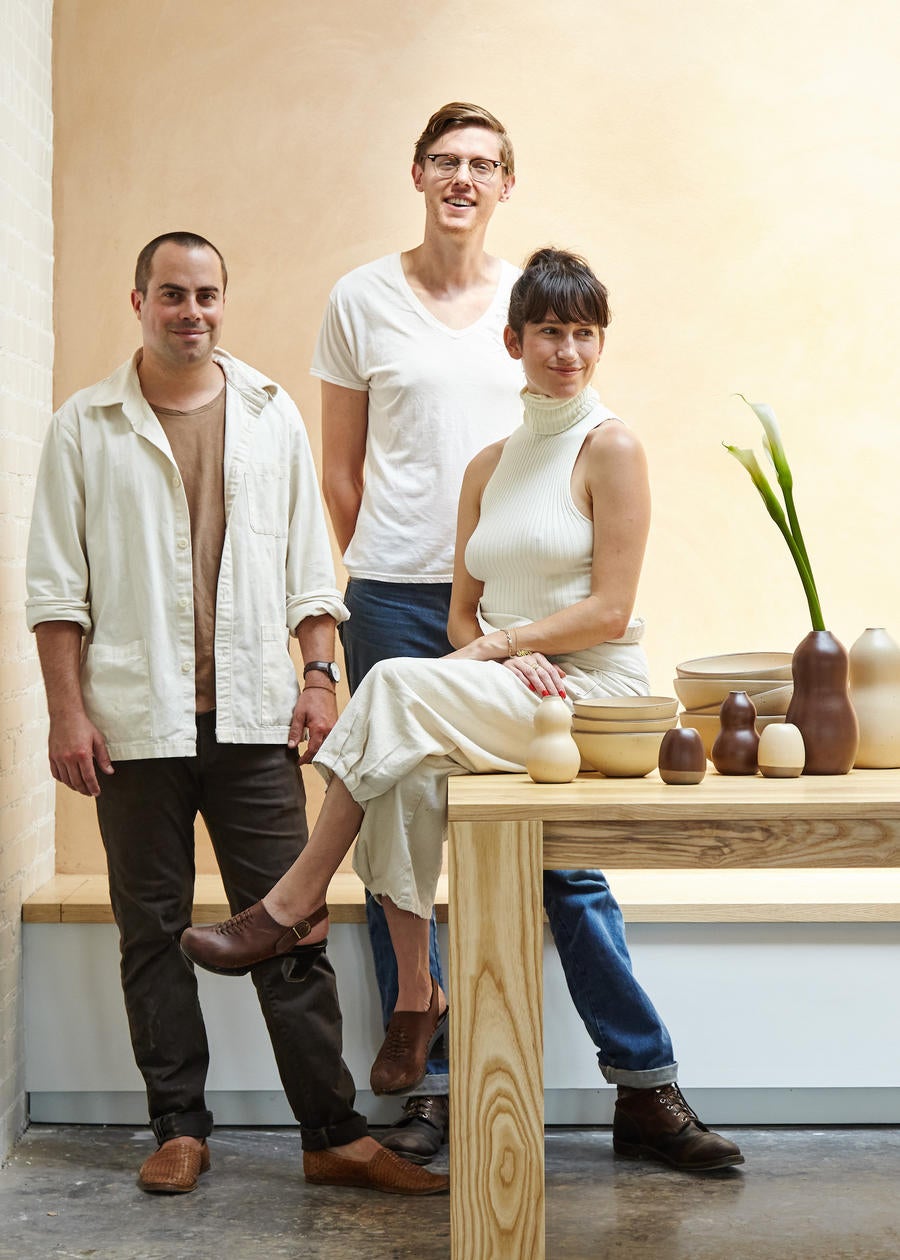 Founded in 2013 by Matisse, her husband, Alex Matisse, and their friend John Vigeland, East Fork is an easy company to misunderstand. Clever marketing and a direct-to-consumer model make it look superficially like a disruptive startup, the Warby Parker of ceramics. But unlike many of its fellow D2C brands, East Fork makes all of its own products in one place. Out of a small factory in North Carolina, it produces a full line of dinnerware, including a $36 mug that has became such a viral success (search Instagram for #themug) that the company struggles to keep it in stock.
Mass-producing pottery is a tricky business, and 30 percent of what East Fork makes comes out unsuitable for sale at full price. Also, margins are slim, and the company's model doesn't leave much room for discounts. Their Seconds Sale is an opportunity to deal with both problems at once: to unload imperfect inventory and to entice new customers with a promotion. All that is to say, for Matisse and East Fork, it's very much a Big Deal.
The sale was scheduled to go live at noon. A giant flat-screen was set up so that staff could watch orders pop up on a map in real time. Employees gathered to begin the countdown—the mood was buoyant. At 12 o'clock sharp, the digital floodgate was opened, and the sale went live.
Online sales like Cyber Monday, in contrast with the stampedes and misery of Black Friday, offer shoppers the allure of calmly snagging a deal from home. But behind the scenes, they cause their own kind of chaos. Instead of a swarm of hundreds rushing in 10 at a time, it's as though every customer is teleported instantly into a store. Online sales crash servers, freeze checkouts and generally wreak digital havoc. Another risk for sellers is the compression of time. Because a huge volume of purchases occurs very quickly, a small mistake can quickly snowball into a catastrophe.
Two minutes into East Fork's sale, the company's director of customer experience, Savannah Devore, jumped out of her seat and sprinted to the desk where Diana VanRooy, the director of e-commerce, was overseeing the site. "She was like, 'People are getting an extra discount—what's going on?!'" says Matisse. "I heard that, and I thought, That's going to be a huge loss."
East Fork had tested their process extensively in the days running up to the sale. But the prior evening, late at night, an employee had made a mistake. It was a tiny piece of code, buried deep in the system, but it caused the discount to be applied twice instead of once. "It was an immediate catch," says Matisse. "They found the problem and took it out. But by that time the damage was done."
The mistake had been live for roughly four minutes. It affected 2,000 orders, and cost East Fork over $66,000. Four minutes after the double discount was fixed, the sale was over.
+ + +
A few weeks after Thanksgiving, Matisse was in New York to moderate a panel at The Wing and we met up to discuss the Seconds Sale. The stress of the day had cooled, but she was still frustrated by the mistake. In many respects, the sale had been a success, moving thousands of pieces in a span of minutes. Still, for a company the size of East Fork, $66,000 is a significant loss.
"That's a salary," she told me. "That's a hire that we could have made next year that we potentially couldn't have." Matisse was also wary of the effect of the mistake on East Fork's reputation. Poised to grow from a midsize manufacturer—it currently employs 70—into a larger national brand, the company is at something of an inflection point. Missteps like the discounting glitch, Matisse worried, could convey the impression that East Fork was a "clunky North Carolina fuddy-duddy business who doesn't know what they're doing."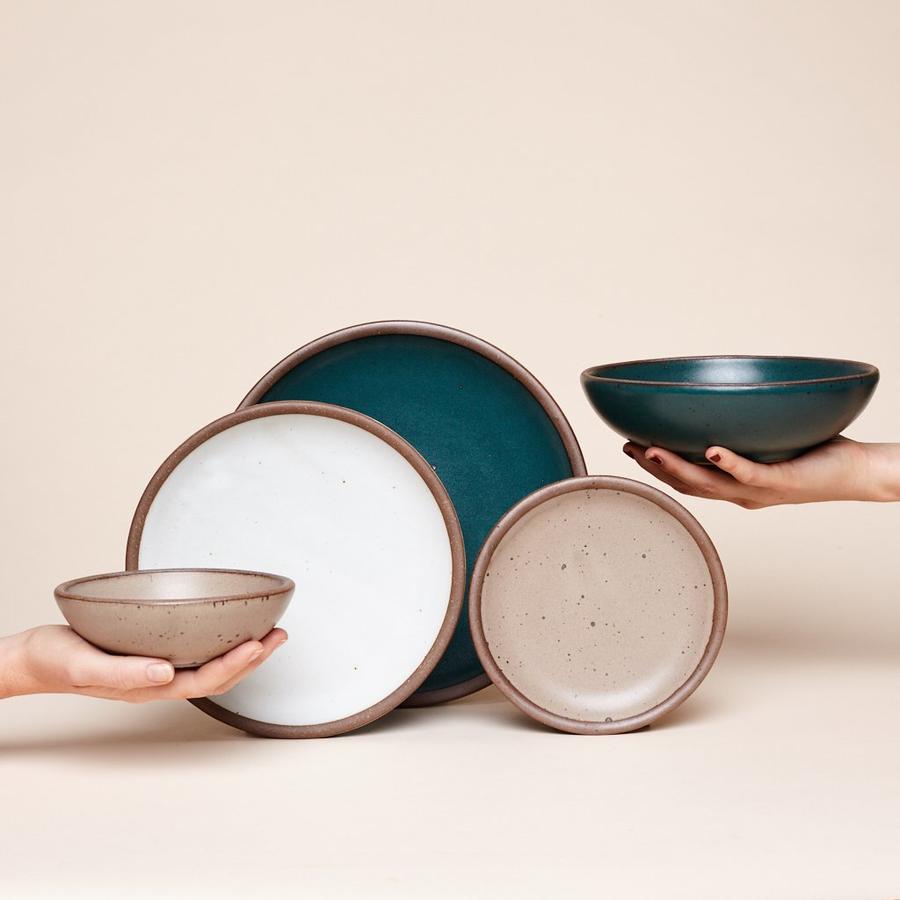 As it turns out, discounting errors are made by companies large and small, old and new. Last year, the country's biggest Burger King operator mistakenly gave customers Value Meal prices on regular purchases for six months. The loss? $8.2 million. Online, technical complexity makes such errors even more common. To pick one example from hundreds: Last year, as part of its Prime Day run of promotions, Amazon mistakenly discounted bundles of photography equipment. For 40 minutes, customers were able to buy $2,000 cameras for $95.
These mistakes happen so frequently online, in fact, that there are entire internet communities dedicated to spotting and exploiting them, complete with their own tricks and insider knowledge. Andrew Chen, a senior editor at discount aggregation site Slickdeals.net, described a pricing mistake to me in which Toys "R" Us offered a buy-one-get-one-free deal on a $3 toy that allowed customers to get one of anything else for free—including an Xbox. One problem: The company had stopped honoring the coupon for shipped orders. To get around that hiccup, Chen selected "in-store pickup," then raced to a local mall, receipt in hand. Toys "R" Us honored the purchase.
"Our community loves pricing mistakes. They're very exciting," said Chen. "It feels like you're misbehaving."
Of course, most people aren't scouring the internet for glitchy pricing. But sites like Slickdeals are only the most extreme example of an online shopping culture, largely defined by mass e-tailers like Amazon, where sellers are essentially anonymous and buyers are mostly looking for a low price and quick shipping. Given the depersonalization of doing business online, it's not shocking that customers who stumble into a sweet deal don't question it. And it goes without saying that they don't usually volunteer to give the money back.
Sometimes, however, they do. Almost immediately after East Fork's Seconds Sale closed, the company began receiving notes from customers who had received a double discount. Even more encouraging: They had noticed the mistake and wanted to know if they could pay the difference back.
The $66,000 shortfall was serious—serious enough that Matisse wondered if other customers might be willing to do the same thing. After speaking to advisers and conferring with the company's leadership team, she made the decision to send out an invoice and ask customers if they'd consider giving back the accidental discount. The move was risky, potentially a turnoff for new customers who had just come to the brand. But the outpouring of support convinced Matisse that it was worth taking a chance.
"The last thing that I wanted to do was send that email asking people to pay money after they'd already checked out, but I had to weigh the pros and cons, and we need some of that cash to be able to close out the year in a financially healthy place," she said. "Had we not gotten those [initial] people reaching out, we wouldn't have sent that invoice."
Later the same day, Matisse wrote a message that she hoped would convey sincere embarrassment along with a sincere request—tempered by an informal candor that is East Fork's house style (This is totally our dumb mistake and we feel really, really awkward and cheesy emailing you about this …). Over the next few days, the company began sending the note out along with an invoice, and Matisse waited to see what would come back.
+ + +
East Fork's rise has coincided with a growing cultural appetite for ceramics; over the last decade, pottery has gotten cool. Some attribute the phenomenon to a desire for handmade objects in an increasingly digital era. Others argue it's merely cyclical. Whatever it is, East Fork's timing has been good. So has its product. The company's colors are stylish pastels and neutrals, dotted by a friendly robin's egg speckle caused by the iron in its clay mix. Their pieces are durable, with a reassuring weight to them. It's not a surprise that people want East Fork's pottery.
Still, there are many companies making attractive stoneware. And some sell it for far cheaper: East Fork's dinner plate is $42—compared with startups like Our Place or Year & Day, whose plates go for $12 to $15 apiece (both manufacture overseas). Few of the brand's competitors, however, inspire the kind of devotion that leads to online sales clearing out in eight minutes, or customers volunteering to return extra discounts. East Fork's success has been driven not only by its products, but by the story of the brand—one that's been told largely by Matisse herself.
A California native with a degree in English from UC Berkeley, Matisse ended up in North Carolina after a nonprofit job in New York collapsed in the wake of the recession. She was volunteering and working at a farmer's market when she met Alex, a potter in the process of opening his own rural studio. They became a couple, and a few years later opened a business with Vigeland, another potter who is now the company's CFO.
In the early, scrappy days, Matisse was largely just documenting on Instagram what the three founders were up to. It wasn't a marketing strategy, it was simply three friends trying to get a pottery business going, mixed in with jokes and pictures of the Matisses's two young daughters.
As the brand grew, Matisse's approach became more radical by not changing much. She still gives East Fork's followers a candid look at her own life, only now it's for an audience of 112,000. At that scale, sharing Instagram stories of her daughter eating breakfast has a different connotation than it did in the early days.
Following East Fork on Instagram doesn't feel like following a midsize manufacturer of dinnerware, or even a buzzy D2C brand. Matisse does share beautifully styled photographs of the company's plates and bowls, behind-the-scenes process videos and announcements about new glazes and upcoming events. But you're just as likely to see her at home, wrangling her kids into bed, contemplating a tough day at work, or cracking lightly snarky jokes.
It's an extremely personal approach, distinct from both the polished cheeriness of the average Instagram personality and the stage-managed "realness" of a professionally vulnerable influencer. Matisse has been surprised by how customers react to a close look at her life. "Every time I post something, and I'm like, 'Should I post it?' it's our most engaged-with material," she said. One of the company's most popular Instagram posts is a photograph of Matisse breastfeeding.

Matisse's personal openness carries over to the way East Fork talks about its business. The company is remarkably forthcoming about how it works, publicly sharing everything from the specifics of its glaze chemistry to profiles of its factory staff to how it balances the books.
Want to know what East Fork is projecting to spend on payroll in 2020? Four million dollars, according to an open letter from Vigeland released last year. Want to know why it discontinued its Utah colorway? The chemical composition of the glaze proved difficult to tame. An ad that East Fork frequently serves on Instagram shows the breakdown of its unit costs in a ceramic pie chart.
The net effect of the brand's personal and professional transparency is that its fans tend to feel a personal connection to East Fork, a rare feat for a company that mostly sells online. I spoke with several customers who had paid back the accidental discount from the Seconds Sale, and they all had a deep familiarity with what was going on in the company generally, and Matisse personally.
"I don't know of any companies that are as transparent. I've seen emails from them that basically lay out their entire financial situation," said Stephanie Lamm, a regular East Fork customer (she owns about 20 pieces) who returned her discount. "I trusted the brand that if they were making this appeal, it was genuine."
Others did too. Over time, half of the customers who had received an accidental discount gave the money back.
+ + +
The Seconds Sale story has a heartwarming quality: A much-loved company made a mistake, and its community rallied together to help out—just in time for the holiday season, no less. Matisse was touched by the response, but frank about the fact that the mistake had been a serious one and a difficult moment for the company. The brand had survived a stress test. She wasn't eager to see if it could weather another anytime soon.
Nor was Matisse sentimental about the openness that has come to define East Fork. A brand story based on transparency suggests a kind of effortlessness: All you have to do is be yourself, and everything will work out! But the idea of "transparency" on its own means nothing. Companies still have to choose what they share with customers, and how they do it. Making those choices, she said, takes hard work, and involves complicated tradeoffs.
"[People think], Oh, she just says whatever she wants," said Matisse. "But I'm very, very careful about what I say on the internet. ... I'm personally a lot more radical than I am on Instagram. I'm a very political person, and I have a lot of strong opinions that I don't share." She doesn't post every minute of her life, nor does East Fork publicly proclaim every mistake it makes.
It was also clear that keeping up a never-ending, intimate conversation with customers is labor-intensive and emotionally complex. When I asked Matisse how she felt about sharing glimpses of her day-to-day life on Instagram account with over 100,000 followers, she laughed and fished out of her bag a just-purchased copy of Jenny Odell's How To Do Nothing: Resisting the Attention Economy, a buzzy book about the dangers of social media.
The public performance of a brand—however authentic—is its own kind of labor.
Throughout our conversation, Matisse's comments about Instagram ranged from mock exasperation ("I hate it!") to soul searching about how seriously to take her role as an influencer to an acknowledgement of the platform's impact on growing the brand's audience. It has clearly been good for East Fork. Whether it's good for Matisse herself is a more complicated question. "I like the word grappling ... with the good and the bad in everything," she said. "I grapple with Instagram."
It's a sentiment likely shared by other founders who do business online. When small-scale companies are looking to grow in a crowded market, their most powerful differentiator is often their own story. But the notion that telling that story is simple or tradeoff-free is clearly wrong. Customers don't connect with every company that has a cute origin story—certainly not to the degree that they're willing to return a discount. And the public performance of a brand—however authentic—is its own kind of labor.
It also comes with its own quirks. For example: In recent months, East Fork has been getting too many direct messages on Instagram for Matisse to respond to personally, so another employee was chipping in. She had adopted a Connie Matisse-like tone, using specific emojis and recommending Matisse's favorite shades of lipstick (a common customer question).
Matisse's direct, personal approach to East Fork's marketing had succeeded to the point that it could no longer practically be done by one person. It was an irony that Matisse found both amusing and slightly creepy. Something new to grapple with.