There was no gap in the market. There was no middleman to cut out. There was just a run-down tobacco farm at the end of a road in North Carolina where three friends made pottery. Yet over the past decade, East Fork has grown into a thriving direct-to-consumer brand, manufacturing and shipping thousands of pieces of ceramic dinnerware across the world—including a much-coveted mug they literally can't keep in stock. In the latest episode of the Business of Home podcast (sponsored by Datacolor), two of the brand's co-founders, Alex and Connie Matisse, share the company's story with host Dennis Scully.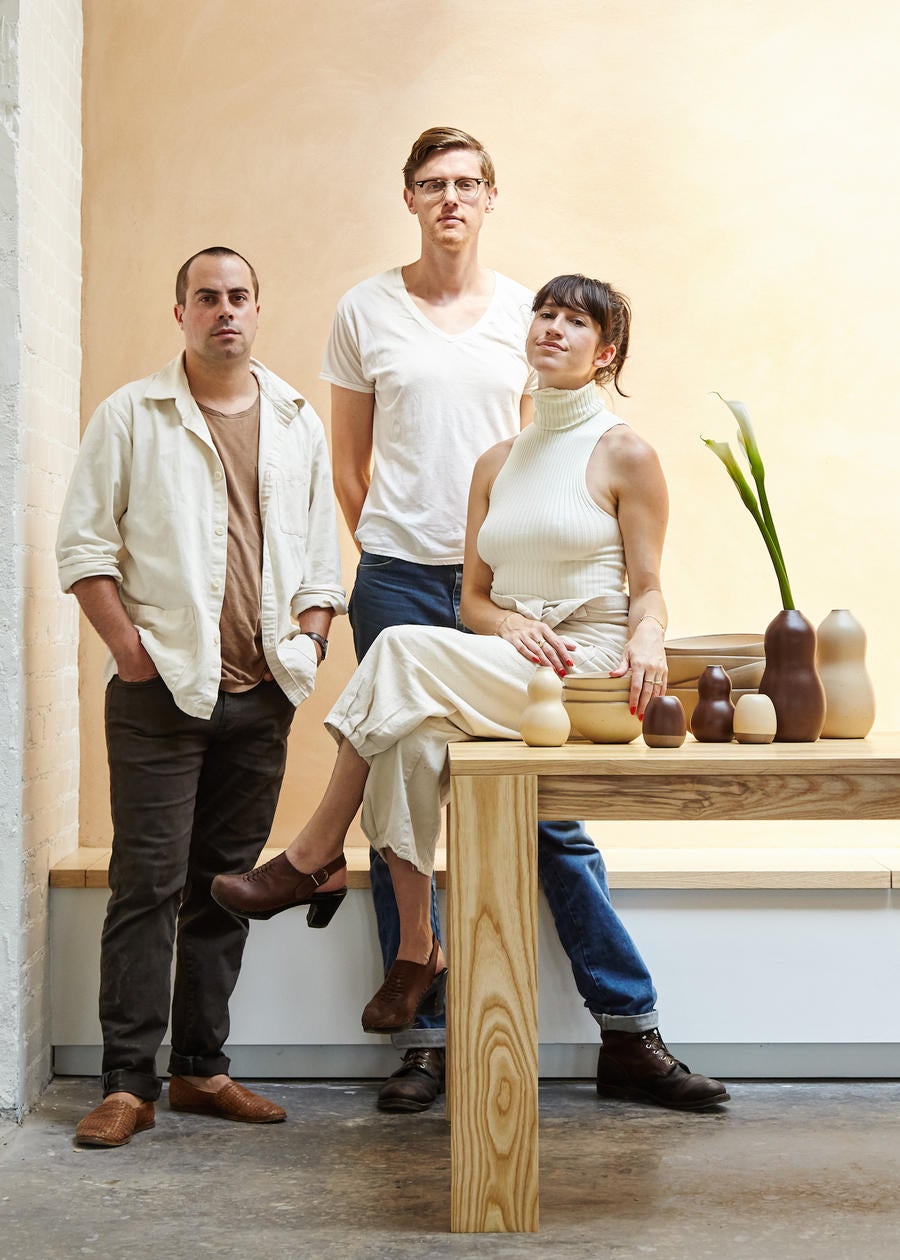 East Fork's earliest incarnation starts with Alex. The great-grandson of painter Henri Matisse, he had grown up in an artistically rich environment, but always slightly chafed under the burden of the family name. In college, he found a calling in ceramics, and after an apprenticeship was on track to join a long lineage of traditional Southeastern potters. Then Alex met Connie (you'll have to listen to find out how) and the two fell in love. Together with their friend John Vigeland, they decided to go into business to produce a more consumer-friendly line of dinnerware. The immediate reaction? Crickets.
"We showed it out at the workshop, like a kiln sale. We invited all of our old collectors to check it out, and nobody came," says Connie. "Nine o'clock, we're used to there being twenty-five, thirty people coming," adds Alex. "Maybe ten thirty or eleven, the first car meanders up the driveway to check it out. … That was a shocking start."
The young company soon found a new audience, and a chance encounter at a bridal shower lead to a commission for Calvin Klein. "That was the moment we realized: If we don't change, we're not going to be able to play in this world," says Alex. After raising money from a small group of private investors, the three partners bought new kilns, opened up a shop and began growing. East Fork now has a 15,000-square-foot factory in Asheville, North Carolina, and two stores (one in Asheville, one in Atlanta), employing over 50.
Intriguingly, though the company's beginnings are often painted as a romantic rural idyll, neither Matisse is nostalgic for the good old days. They want to grow the company—a lot. "Your point of reference is always changing," says Alex. "We were looking at Heath, and we're still much smaller than Heath in scale, but Heath seemed like the unattainable crazy thing. Now I look at Homer Laughlin [the largest U.S.-based ceramics maker, and the company behind Fiestaware]—that's the challenge that I like to have in my head."
The growth isn't without its difficulties, especially as the Matisses push for a values-oriented workplace, where all employees have a say in company policy. But their goal isn't growth for its own sake. "We have the opportunity to provide long-term sustainable employment, with benefits, to people who've had a hard time finding that in Asheville," says Connie. "We have to grow, because we want to do all these things that are beautiful and impactful and special, but to do that we have to make a lot of pottery, and sell a lot of pottery."
Thus far, East Fork hasn't had much trouble doing that. It's partly the brand's compelling voice, which is essentially Connie's—she's the brand's chief creative officer and CMO. Largely broadcasted from the brand's Instagram, East Fork's marketing is a compelling mix of the stylish (evocative, colorful product shots), the informal (pictures of the Matisses' two young kids), and the idealistic (a transparent breakdown of the company's production and marketing spend). Taken in total, East Fork feels like a cool best friend. It's an authentic voice; but not a careless or naive one.
"We've never had to question what our story is," says Connie. "But there's this fine line that has to be walked. … A lot of people see what we're doing and say, 'They're being honest, they're being raw, they're being authentic, they're speaking from the heart.' And sure, yes, I would never say something that was dishonest. But I come from a writing background and I believe that words are really meaningful, and choosing the right words is really important."
Beyond messaging, East Fork's identity—and its potential for scale—is also simply rooted in the work itself. The brand's pottery is informed by the co-founders' deep experience as ceramicists. It's durable, stylish and versatile. "There are a lot of bad products with great marketing campaigns," says Connie. "That's never our intention."