On a recent visit to The Urban Electric Co.'s workshop in Charleston, South Carolina, I noticed a life-sized cardboard cutout of Elvis draped in a gold Mylar boa, standing alongside a row of chemical-filled dunk tanks. Mr. Presley doesn't have anything to do with the company's nickel plating, but his presence on the manufacturing floor has everything to do with the way company founder and CEO Dave Dawson runs the 15-year-old lighting business.
Courtesy of The Urban Electric Co.
"About five years ago, there was a period where I felt like there wasn't enough focus on all of the good things people were doing," says Dawson. So he started a peer-nominated Rock Star of the Month program. Every month, the team creates a surprise "flash mob," with a boombox playing Elvis songs, tambourines, and plenty of singing and shouting as employees parade through the factory to deliver the cardboard King to the chosen star. Dawson also orchestrates the flash mobs to celebrate promotions, like when an employee finishes an apprenticeship and becomes a craftsman. "You hear it coming, but you don't know where we're going to stop," he explains. "Then, all of the sudden, you find yourself surrounded by 15, 20, 25 people cheering, yelling and high-fiving you. On a fundamental level, there's something very satisfying about it that most people don't experience in their daily work."
Inside the factory, the company's values are omnipresent—both among the people I met and in the space itself. As he walked me through the manufacturing process of Urban Electric's fixtures, Dawson greeted employees from all corners of the factory by name, often tossing in an anecdote about their strengths or a recent accomplishment. And over each of the workshop's two floors, banners that read "Always proud, never satisfied" hung overhead—a battle cry for the entire company that complements its six core values, which are emblazoned atop every performance review and on the training room's wall.
"For years, we did not have a set of core values written down," recalls Dawson. "You're busy and you think, 'Oh, we've got values: We want a respectful culture, we're kind to one another. Everyone knows what our values are.'" Then, a business acquaintance of Dawson's asked to see them. "We'd been running the business for seven years at that point, and it dawned on me: Having core values is not the same thing as having them written down."
Today, new employees get their own letter-pressed copy of the company's core values. For Dawson, those characteristics are aspirational—a guide to what to strive for in one's daily work. "You know it's working when [those values are] sent back to you," he tells me. "I get dozens of Elvis nominations every month with paragraphs about why a certain person should win—and eight times out of 10, the person doing the nominating writes about the core value the nominee is exhibiting. That means it's come full circle."
| | | | | | | |
| --- | --- | --- | --- | --- | --- | --- |
| | | | | | | |
| "In some places, folks use the idea of culture as a way to make a homogeneous environment, but I [want] every type of diversity I can find—age, race, sexual orientation. I want the full gamut of perspectives. Ideas are better, product is better, and experiences are better when you have a lot of people giving their vantage points." —Jean Brownhill, Sweeten founder and CEO | | | | | | |
| | | | | | | |
| "People today have more options, so I'm cognizant that if we can find the right people, we want to keep them and keep them happy. We've started a Slack channel to [publicly] thank team members for a job well done. We want to make sure we are really celebrating when people demonstrate clear cultural objectives." —Rob Royer, Interior Define founder & CEO | | | | | | |
What Is Culture?
Leadership experts weigh in.
Tech startups have made company culture a phenomenon with their unlimited vacation days, Ping-Pong tables and beer on tap. But there's much more to culture than perks. "Culture is the tacit social order of an organization. It shapes attitudes and behaviors in wide-ranging and durable ways," wrote Boris Groysberg, Jeremiah Lee, Jesse Price and J. Yo-Jud Cheng in a recent Harvard Business Review article that helps leaders take stock of their organization's culture and shape it for the future. "Cultural norms define what is encouraged, discouraged, accepted or rejected within a group. When properly aligned with personal values, drives and needs, culture can unleash tremendous amounts of energy toward a shared purpose and foster an organization's capacity to thrive."
In the formative stages of building a business, culture may not feel like a top priority. But as Jean Brownhill, the founder and CEO of Sweeten, a free service that matches renovation-seekers with vetted general contractors, discovered, culture exists with or without executive oversight. "Once we had more than 10 employees, it became pretty clear that culture was something that either I was going to shape, or it was going to form around me," says Brownhill. There's no cookie-cutter formula for the "perfect" company culture. ​In shaping the culture at Sweeten, she looked to companies she admired for inspiration, then adapted their best practices to suit her team and her business. "It's like any recipe—it's always a little bit different," says Brownhill. "​It's not possible to completely copy a culture of another company. Our recipe is our own, unique to us."
The practice of forming a culture is often a misunderstood or underutilized tool, but culture is also increasingly vital for business success. "Leading with culture may be among the few sources of sustainable competitive advantage left to companies today," according to the HBR article. "Successful leaders will … use [culture] as a fundamental management tool."
The Perfect Score
Interior Define unlocks the secret to employee satisfaction.
At press time, custom upholstery company Interior Define boasted a rare superlative—a perfect 5.0 score on Glassdoor, a website that allows employees to anonymously review their employers. So it comes as no surprise that for Rob Royer, the company's founder and CEO, culture was a concept he thought about from the get-go. "I wanted to build a culture where everyone felt they were sharing the same mission to deliver a superior customer experience," he explains. Team leads share weekly updates, and sales metrics are distributed to all employees daily. That level of transparency with the inner workings of the business keeps employees invested in the company's success. "People have a lot of accountability, but we are trying to do that in a way that empowers the team so that they feel even more passionate about their roles."
Interior Define launched in Chicago in 2014 with three employees. As the team grew, communicating that culture—as well as codifying it in more concrete ways—became increasingly important. The company now has 44 employees at its headquarters, as well as an additional 30 in its six shops across the country. "We do worry about being disconnected as we expand nationally," says Royer. "We're thinking about how we get design specialists [in the regional storefronts] to spend more time in the office to make sure we remain closely connected."
Royer also creates opportunities to send team members to other locations, including the production facilities overseas. "As a company, we are very connected with the people making our pieces," he says. Organizing a factory visit abroad for a team member is not only a reward for a job well done, it has an added bonus for the company as a whole too. "When employees come back and share [what they learned] with others, it makes everyone better at their jobs. The team is knowledgeable not just about what we're doing here, but also how we're actually achieving it."
"Culture is a serious fuel for corporate success. There's that saying: 'Culture eats strategy for breakfast.' I really believe that."
Dave Dawson
Interior Define offers some of the perks synonymous with startup culture, like free lunches on Friday. More radical is the company's unlimited paid time off. "We allow people to take what they need," says Royer of the policy, which he feels has made his employees more committed and conscientious about leaving their work in a good place before taking days off. "It has created a really nice dynamic where people are comfortable taking time off, but also feel a real sense of responsibility to make sure their coworkers are well prepared for when that time off occurs. Our team members take that very seriously."
Royer's employees have been the strongest proponents of preserving the company's culture. "What's interesting about starting a business and having a small team is that you can see so clearly when someone who doesn't share the same values, how quickly that can change the dynamic of the business," he says. "We're lucky that our people were excited about what we were doing in the early days. Getting the initial team members right has continued to lead to good hiring decisions." The company originally included all employees in the interview process out of necessity, simply because the office was too small to interview privately. But over time, the team interview, in which several employees meet each candidate to assess fit—has become institutionalized as an integral part of Interior Define's growth.
"Everyone feels a level of ownership over the types of employees we hire," says Royer. "We filter candidates and hires based on criteria that goes beyond traditional factors, like level of experience or pedigree." A year after launching, as Royer began to formalize the annual review process, he and his team defined those characteristics for the first time. The company also launched a culture committee last year, which comprises a rotating group of team members at various levels of seniority; feedback from the committee, as well as from employee surveys, has been put into practice in the performance review and hiring processes. "We're looking for things like empathy, which can be hard to screen for, but that is a core characteristic of our team members. We want to demonstrate empathy at every level and interaction with our customer—and with coworkers too."
Growth experience
Workshop/APD scales responsibly.
At design studio Workshop/APD, the desire to create a collaborative workplace started with the name. "We wanted to build a firm that was about the people, not the singular person with his or her name on the door—a place that feels like it could grow regardless of the leaders of the firm," says Andrew Kotchen, who founded the company with Matt Berman. "Even at the beginning, when it was just two of us, the goal was always to have a collaborative studio environment."
| | | | | | | |
| --- | --- | --- | --- | --- | --- | --- |
| | | | | | | |
| | | | | | | "We think about creating an environment where people are engaged and feel happy and empowered when they come to work each day. Our team is working on a wide range of projects, so it's no easy thing to ensure that everyone has the right balance of different types of work and gets the right experiences." —Andrew Kotchen, Workshop/APD co-founder and partner |
The co-founders' primary struggle was finding the right way to grow without disrupting the culture they had established. "This business is so project-driven that the quantity and scale of your projects determines how many people you need," explains Kotchen. "We were very intentional about building a practice that never scaled because of projects, but instead grew to advance our big-picture goals. We've never ballooned in size and then had to let people go because of workflow. That's challenging, because when things are slow, we are essentially reducing our income to sustain the business."
Growth brought its own challenges. As the firm hires more employees, from support staff to senior management, Kotchen and Berman have developed a hierarchy among the design talent on both the architecture and interior design sides—sometimes with success, sometimes without. "We want to implement a hierarchical structure so that growth and advancement are clear, but it creates a ripple effect, where you begin to create more distance between senior and junior people," explains Kotchen. In one misstep, Workshop/APD implemented a series of titles and positions within each team that proved to be too complicated, so the founders backtracked. Kotchen and Berman have worked with several business coaches to navigate their 19-year-old firm's evolving needs. "We're still learning every day," he says. "Culture is not an accessory within a space, it's the energy of an office. That fluctuates—sometimes high, sometimes low—but you try to create a great environment for people to be in."
Creating a physical environment that meets employees' needs is another critical way to empower a team. The Workshop/APD founders listened to their team, and are currently renovating 80 percent of their office as a result. "One person said it best: Our kitchen was great for a single person with five cats, not a 45-person office," jokes Kotchen. The new layout creates a large kitchen for socializing. "It's expensive, it's daunting, but it's the right thinking to maintain positive energy and morale in the workplace."
Workshop/APD also celebrates staff successes. Kotchen says they aim to plan at least one out-of-office event each quarter, often visiting co-workers' completed job sites. "Talent is a scarce commodity, and you have to create an environment where people want to stay," he says. Allowing employees to show the rest of the team what they've been working on has proven to be a highlight for staff members—one of many moving parts that lead to employee retention. "It's money, but it's also culture, the people you're surrounded  by all day, the project you're working on—and how you pull all of those elements together."
Pottery Is Political
East Fork Pottery stands by its beliefs.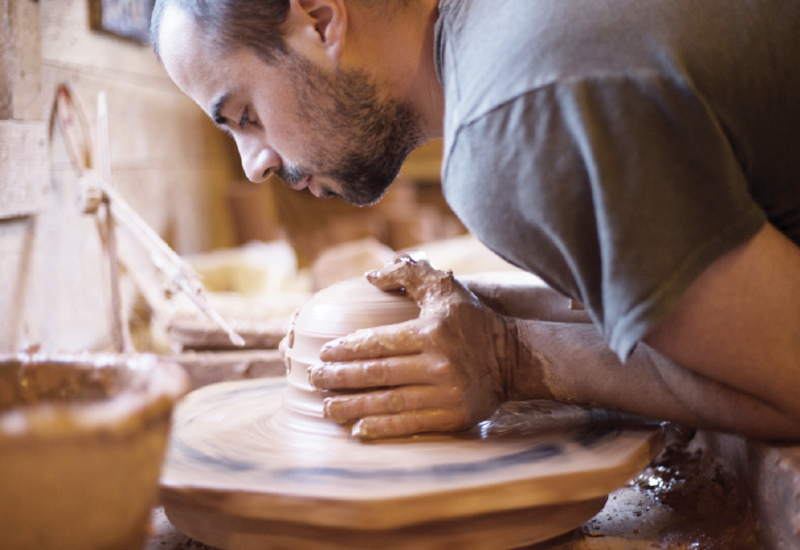 Courtesy of East Fork Pottery
Growth at the Asheville, North Carolina–based ceramics studio East Fork Pottery has been more rapid than co-founder Alex Matisse expected—or planned for. "The early team was just me, my wife [company creative director] Connie, and my business partner, [CFO] John Vigeland, making things," says Matisse. Over the past two and a half years, their staff has swelled to 31 people, including marketing, creative and production teams, plus retail staff for the Asheville storefront as well as the one in Atlanta, which is set to open this fall. As the transition from scrappy startup to midsized operation begins in earnest, Matisse knows that he has to set the tone. "The hardest thing for us right now is learning how larger organizations work—making sure our vision is communicated to everyone in a way that gets people excited and inspired."
The nine-year-old company is currently transitioning from two production workshops and an office space to a new 15,000-square-foot studio. At the heart of the new space is a big kitchen with a long communal dining table, which was designed to preserve a company tradition of coming together for lunch and drinking Hu-Kwa, a smoky lapsang souchong tea Matisse grew up with. When the company was small, individuals would take turns preparing a meal for the rest of the staff; today, teams work together to make the daily meal. "The goal is to maintain the things that are important," says Matisse. "It's a way of being in the world that we'd like to model. We make dinnerware that enables what happens around the table. A big part of what we're doing is manufacturing ceramics—it's dirty work—so we think about how to have an ethical place for people to work that's not a dingy grind."Growth at the Asheville, North Carolina–based ceramics studio East Fork Pottery has been more rapid than co-founder Alex Matisse expected—or planned for.  "The early team was just me, my wife [company creative director] Connie, and my business partner, [CFO] John Vigeland, making things," says Matisse. Over the past two and a half years, their staff has swelled to 31 people, including marketing, creative and production teams, plus retail staff for the Asheville storefront as well as the one in Atlanta, which is set to open this fall. As the transition from scrappy startup to midsized operation begins in earnest, Matisse knows that he has to set the tone. "The hardest thing for us right now is learning how larger organizations work—making sure our vision is communicated to everyone in a way that gets people excited and inspired."
| | | | | | | |
| --- | --- | --- | --- | --- | --- | --- |
| | | | | | | |
| "We speak out when other companies will not, and I think that attracts talent. I'm always the one that's concerned about alienating someone, but in the end, the things we stand for—like human dignity—are too important." —Alex Matisse, East Fork Pottery co-founder and CEO | | | | | | |
| | | | | | | |
| "We're only successful based on the effort and tenacity our team brings. As owners, we believe that to win without sharing that success doesn't feel right." —Eric Edelson, Fireclay Tile CEO | | | | | | |
Another defining characteristic of the East Fork ethos that Matisse hopes will continue to withstand the company's expansion is its willingness to take a stand on political issues. For the past three years, it has made special-edition mugs to benefit LGBTQ advocacy groups that consistently sell out in under 15 minutes; when Instagram commenters pushed back at the campaign's beneficiary and suggested that the company shut up and stick to making plates, Connie Matisse manufactured a T-shirt with the slogan "Pottery is political." (Proceeds from each sale benefit Higher Heights, a nonprofit that supports and develops black female leadership, and Everytown for Gun Safety, an organization working to end gun violence in America.)
"We don't want to build this thing for the sake of building some profit machine—we want to be part of a bigger conversation," says Alex Matisse. "We're pretty outspoken politically toward anything that centers around inclusion and equality—that's a big part of East Fork. I've wondered if that changes as we grow; does it need to change? For now, I don't think it does. I think it's pretty important to take a stand and not just sit back and watch these conversations happening."
Running an Ethical Business
Fireclay Tile puts its values to the test.
In the Bay Area, Fireclay Tile has found a road-less-traveled approach to living its values: The eco-friendly handmade tile company has gone through the rigorous application process to become a Certified B Corporation, joining a consortium of more than 2,500 businesses in 150 industries that have been independently evaluated for their focus on both purpose and profit. (Notable B Corps include Ben & Jerry's, Patagonia and Kickstarter; Fireclay is one of the few in the home space.)
When Eric Edelson joined the company in 2009 as a consultant, it was effectively insolvent. Fireclay's founder then hired Edelson as CEO to implement the vision he had outlined. "The company had suffered for years, paycheck to paycheck. So, to be frank, culture wasn't an early focus for me," says Edelson. "It was a good group of people who enjoyed being there, so that was not the most immediate challenge; the focus was keeping people employed." In 2014, he had an epiphany. "I had this Jerry Maguire moment one night and started writing a manifesto," he says. Inspired by brands like Flor and The Shade Store, he outlined a new direct-to-consumer business model. "We had done a good job building a website, so people were finding us—but we kept directing them back to a dealer channel that didn't give a shit about us." The brand relaunched that year as a vertically integrated company—"from dust to doorstep," says Edelson—for its residential and commercial clients.
The move ushered in a welcome period of growth, but it was also a disruptive change for much of the Fireclay team, some of whom had been with the company for decades. In response, Edelson finally turned his attention to the company's culture. "We wanted to define what our values are in terms of how we treat people, the planet and the community," he recalls. "You can talk about culture, but it's hard to measure. And we have such a diverse workforce—white-collar and blue-collar. We got passionate about the idea of being a B Corp because it allowed us to measure ourselves in a highly accountable, public way."
Becoming a B Corp is no small undertaking. The independent nonprofit B Lab's guiding mission is to leverage the business community to address societal challenges; as part of the B Corp application process, B Lab conducts an assessment to measure how a company's practices impact its workers, the local community, the environment and customers. No stone is left unturned—everything from a business's supply chain to its charitable giving are factors. B Corps are also legally required to make structural changes to their businesses, rewriting their articles of incorporation to explicitly include the importance of balancing purpose and profit.
Fireclay offers competitive benefits, an employee ownership option (12 percent of the company is owned by employees), and a fair living wage. What does that look like in practice? The company uses a living wage calculator developed by Amy Glasmeier, a professor at the Massachusetts Institute of Technology, that assesses the cost of living in a community or region to help employers determine a fair wage. "We look at that annually for the community where our factory is located," explains Edelson. This year, the calculated wage jumped from $11.49 an hour to $13.29—a 16 percent increase that Fireclay honored for all of its employees. "But if you raise the starting wage, you have to raise everyone else's, so we ended up giving 55 people raises. It's easily $11,000 more in pay each month just because of this benchmark. You can sit there and talk about parties and fun, but as a basic premise, we are taking care of our people."
Big Business
Rejuvenation balances corporate goals with local culture.
In the corporate world, culture looks a little different. Ryan Ross, executive vice president of Portland-based design brand and manufacturer Rejuvenation, is tasked with finding the balance between a corporation's goals and the quirky, free-spirited quality that underpins the brand. The company, which celebrated its 40th anniversary last year, began as an architectural salvage shop. While it has since grown into a well-known retailer of lighting, hardware and furniture, and was acquired in 2011 by Williams-Sonoma, Rejuvenation still maintains its local roots and manufactures the majority of its own lighting products in an 87,000-square-foot Portland factory.
| | | | | | | |
| --- | --- | --- | --- | --- | --- | --- |
| | | | | | | |
| | | | | | | "When people come in for interviews, they want to work for a brand that means something." —Ryan Ross, Rejuvenation executive vice president |
| | | | | | | |
| | | | | | | "It's important to celebrate small wins. It may feel kind of corny, to be honest, but public praise and real celebration are meaningful to people. It's simple, straightforward, authentic." —Dave Dawson, The Urban Electric Co. founder & CEO |
"We were acquired by Williams-Sonoma, but we have maintained a lot of those small company values and an entrepreneurial spirit," explains Ross. "We are a small organization within the overall portfolio, but we're growing quickly. We need to build a culture that allows us to scale the business, while maintaining the closeness of the teams themselves."
Ross has experience with that mandate: He was at Pottery Barn, ultimately as vice president of e-commerce, from 2000 to 2008. At the time, he says, "Pottery Barn was starting to hit its stride in terms of sourcing and proprietary design, determining its point of view, and controlling that experience a lot more within its stores—and that's what we're doing with Rejuvenation today: evolving our business model to be more proprietary and product-led."
Rejuvenation's ability to leverage local craftsmanship is an added bonus—one that wasn't in the mix during Ross's Pottery Barn days. With 250 employees, the company is not exactly small, but they're all based locally, and Ross considers the team "a close community." And although he makes an effort to know everyone's names and what they do, part of his success in preserving the company's ethos is in being hands-off. "You have to, culturally, ride a fine line between myself being in charge of the brand, versus my direct reports cultivating a culture that's right for their teams," he explains. "It's being very clear with the strategy for the brand, where we're headed and what we need to do—but allowing them to identify the nuances of what they need to do with their teams. We all roll up to the original vision, but we embrace the microcultures that exist. The teams need to be able to celebrate their own strengths and uniqueness."
Celebrating Talent The Urban Electric Co. throws itself a party to look back—and ahead.
Back at The Urban Electric Co., the leadership team is preparing for the annual company retreat, coming up in December. Past iterations of the off-site have taken place at a state park, a movie theater, a bowling alley, a restored Navy chapel and a plantation. No matter where it is held, the daylong event is a celebration of Urban Electric's accomplishments that year, as well an opportunity to unveil the Blueprint, a document that outlines goals for the year ahead.
"It's a big pep rally to get everyone fired up," explains CEO Dave Dawson. "It's a relatively simple way for everyone to stay on the same page, especially as we grow. It's helpful for everyone—a member of the senior team, a craftsman, or someone in the shipping department—to know the company's priorities, how we measure success, and how their work impacts that." At the end of each retreat, the whole team signs a giant poster board emblazoned with that year's theme, not unlike signing a yearbook.
Those poster boards hang on the wall at the entrance to the café, one of the spaces that most represents the company's commitment to its employees. It's a bright, open room with whitewashed brick, a stylishly mismatched assortment of antique tables and metal chairs, and a bevy of metal lanterns and fixtures overhead—more indie Brooklyn coffee shop than manufacturing site, with a full-time barista serving free coffee, tea and snacks. "Our business is based on the celebration of craftsmanship," says Dawson. "The break room shouldn't be an afterthought—a sad place to eat a sad lunch, with folding chairs and a microwave. This is a subtle message that what we do here is worthy of cool design and progressive amenities that are standard in other industries these days." The free drinks and snacks are in addition to the company's medical and dental insurance contributions and 401K matching, paid parental leave for mothers and fathers, and a generous PTO policy, rigorous in-house training programs, and help with tuition, books and fees for professional development.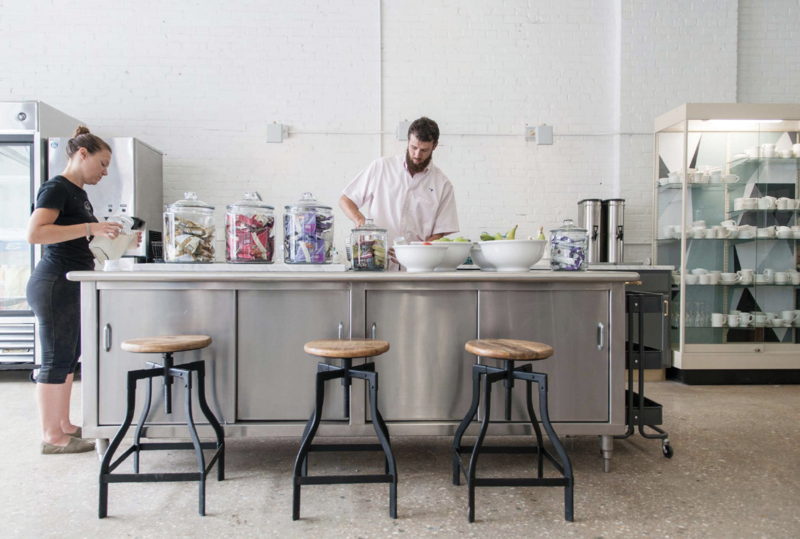 Courtesy of The Urban Electric Co.
Urban Electric listens to its employees—and takes their recommendations seriously. The manufacturing teams now work four 10-hour days each week, largely at the urging of the employees. It was a move that Dawson opposed early on, he says, but he acquiesced after a trial run proved to be a hit—and increased the team's productivity too.
"Culture is a serious fuel for corporate success," says Dawson. "There's that saying: 'Culture eats strategy for breakfast.' I really believe that. It's not to say you don't need strategy, but you can have a great strategy in a white paper, and if the team's not behind it, it won't work. If you've got people who are aligned, working with a sense of purpose and passion—the rest gets figured out."
Portraits: Matisse, courtesy of East Fork Pottery; Kotchem, Arthur Cohen; Dawson, courtesy of The Urban Electric Co.; Ross, courtesy of Rejuvenation