Bobby Berk is one of the most famous interior designers on earth. The resident design expert on Netflix's hit Queer Eye, Berk's decor pointers and space planning tips are streamed into millions of homes in 190 countries across the globe. He's recognized on the street. Strangers sidle up to him in restaurants and just start talking. "Three minutes into it, they'll say, 'Oh, I'm sorry, you do not know me, this is probably crazy to you,'" Berk tells host Dennis Scully, on this week's episode of the Business of Home podcast, sponsored by The Shade Store. "It can be a lot sometimes, but we're really lucky that our show attracts great people."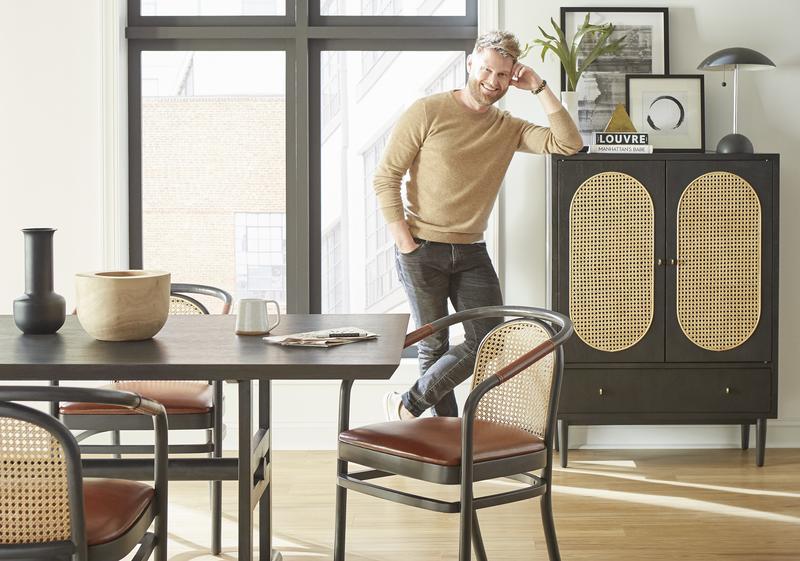 Courtesy of A.R.T. Furniture
It's a level of fame that most designers can only dream of (or dread), but Berk takes it in stride. Very much the down-to-earth, funny young designer audiences have come to know through the show, he has paid his dues. Raised in the buckle of the Bible Belt—Mount Vernon, Missouri—Berk left home at age 15 and struggled to make ends meet. Eventually he made his way to New York with only a suitcase and a few months' rent money to his name. There he began climbing the retail ladder, working for RH, Bed Bath & Beyond, Portico, and eventually himself, after opening a furniture store in 2007.
Retail, however, was never Berk's final objective. "The goal was to open up enough retail stores that the brand has enough awareness that I could start licensing things out," he says. When crafting the brand, he looked to fashion, noting that the most successful work at the time was by designers who created under their own names. He reasoned the same concept could work for home, and began building the brand around his own story. "It was somebody who built something on their own, someone who had struggled just like you," says Berk. "It wasn't someone who had all this money. … I always wanted my brand to be attainable. I'm not personally fancy."
After Berk's mini furniture empire hit a rough patch (an embezzling accountant started the downward spiral), he moved to Los Angeles to slow down and lead a simpler life. Then he got a call to audition for a reboot of the aughts Bravo show Queer Eye f0r the Straight Guy. One agonizingly drawn-out rehearsal process later, Berk had joined the new Fab Five, and was on his way to streaming stardom.
Interestingly, the reboot's original concept was far more makeover-centric, says Berk. It was the unique chemistry of the hosts that created the more holistic, healing vibe of the Netflix hit. "We use our crafts as tools to effect lifetime change," he says. "I don't get in to decorate their house to make it pretty, I go in and I change their home to function better for them and their family."
Now that Berk is in a position to negotiate for a little more free time, he's focusing on his new line of furniture for A.R.T., debuting at High Point this week. Berk says he chose to work with the Chinese furniture giant partially because its founders' story echoes his own: "[Mark Fung] is not just the son of some rich guy. Hearing the story of [his] family made me excited about the company," says Berk. "This isn't some big Chinese company coming in buying American companies with state money. They're this little company that loved design and loved art and built a business out of it, just like I did."